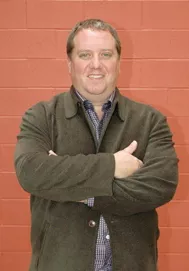 Artpace San Antonio's Board of Directors announced today that  Matthew J. W. Drutt is leaving his position as executive director after more than four years at the helm. Artpace External Affairs Director Mary Heathcott will step in as interim managing director. During Drutt's tenure he expanded the non-profit's programming with exhibitions and artist and curator residencies. Of special note is the International Artist-in-Residence (IAIR) program, introduced by Drutt in 1995 by Artpace founder Linda Pace.*
Since 2007, the Hudson (Show)Room has also included commissions by IAIR artists, presenting new works by artists Kate Gilmore, Oliver Lutz, and others. Currently on view at Artpace are installations by two young artists curated by Drutt, "The Teeth of the Wind and the Sea" at Hudson (Show)Room by Gabriel Vormstein of Berlin and "Ever So Much More So" in WindowWorks gallery by Texas-based Joshua Bienko (read our full review when it hits the streets/online tomorrow!). It is a fortunate pairing, for it places Texas art as not just a local concern, but within world art.
In addition to managing Artpace, Drutt has  been engaged in numerous art development projects in San Antonio such as Public Art San Antonio, The Cultural Alliance of San Antonio, and the San Antonio River Foundation. He has been a presence both nationally and internationally, serving on the advisory boards of many arts endeavors, including Dokumenta in Kassel, Germany; the American Academy in Berlin, Germany, and The Arts Initiative Houston, where he served as vice president from 2005 through 2009.
Mary Heathcott assumes direction of Artpace after six years at the institution.  As director of external affairs, she has been responsible for  development, marketing, and public relations. Heathcott, a San Antonio native, returned to the city after holding positions at Museum of Contemporary Art, Chicago.
*correction made 1/26/2011