By Rudy Gayby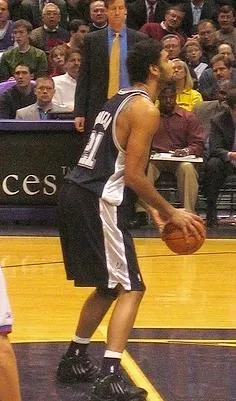 Thirty-five years ago, today, Tim Duncan was born to Ione and William Duncan in the U.S. Virgin Islands.
Initially a swimmer, as the story is often repeated, Duncan took up basketball when Hurricane Hugo destroyed his island's sole Olympic-sized swimming pool.
The rest is San Antonio Spurs and NBA history.
Here is a list of random trivia relating to Duncan's date of birth: April 25, 1976
The top-seeded Boston Celtics lose game three to the Buffalo Braves in the Eastern Conference Semifinals, but eventually go on to win the 1976 NBA Championship, besting the Phoenix Suns 4 - 2 and earning their 13th NBA Championship.
Rick Monday, center fielder for the Los Angeles Dodgers, thwarts the efforts of a father-son duo who were attempting to torch the American flag in the Dodger Stadium outfield.
Edward R. Murrow celebrates his 57th birthday, but dies two days later after a lifetime of smoking Camel cigarettes.
Released three weeks prior, All The Kings Men tops the weekend box office and goes on to become the third highest grossing film in 1976, behind Rocky and A Star is Born.
Twelve days later, the first-generation Honda Accord is launched in the form of a three-door hatchback.
According to The Beatles Bible website, John Lennon and Paul McCartney meet face-to-face for the last time on this date.
Reminder: The Spurs - Grizzlies tip-off game four at 7:00 pm on TNT and Fox Sports Southwest.