We keep telling you that arts ed in SA is the tops. Seems the word has gone out nationwide. This just in from SAY Sí, one of our favorite city arts education programs-
High school visual arts student Hyland O'Brien has received the prestigious American Visions Medal for her  sculpture  through The Scholastic Art & Writing Awards, the 87 year-old national program that recognizes outstanding creative teenagers and offers scholarship opportunities for graduating high school seniors.
The Alliance for Young Artists & Writers, the national nonprofit organization that presents The Scholastic Art & Writing Awards, honored the National Award students on May 31, 2011, at a gala celebration at Carnegie Hall in New York City. Hyland O'Brien and her family attended the National Awards Ceremony at Carnegie Hall for her sculpture titled Silent Chair.
Past Scholastic Art & Writing Awards winners include Robert Redford, Andy Warhol, Truman Capote, John Lithgow, Bernard Malamud, Joyce Carol Oates, Tom Otterness, Sylvia Plath, Richard Avedon, and Robert Indiana.
Here is a pic of Hyland's award-winning sculpture-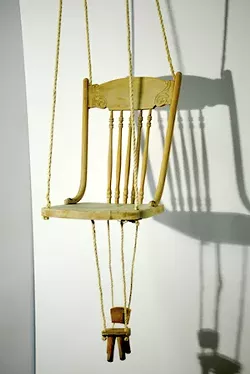 Silent Chair, Found large chair, small chair constructed from found wood/leftover legs of larger chair, handmade rope.