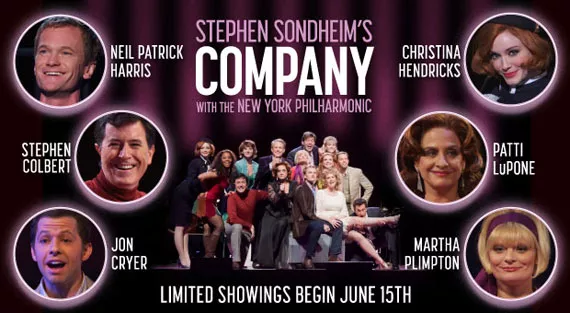 Stephen Sondheim's
Company
—filmed this past spring in a production by the New York Philharmonic—plays just three more screenings in San Antonio (at the
Bijou
, for instance), and judging by "opening night's" performance on Wednesday, it's a crowd-pleaser. With an all-star cast (including Neil Patrick Harris
a.k.a
"Doogie Howser," Pattie LuPone, and, somewhat incredibly, Stephen Colbert),
Company
presents a faithful, if not exactly visionary, production of Sondheim's iconic work, directed with obvious love by Lonny Price. (I'm not always a fan of Price's work—his
Camelot
, also for the Philharmonic, was a hundred ways of horrible—but here he seems to be back in fine form.) Aficionados of
Company
will be either pleased or appalled by the rare inclusion of "Tick-Tock," the second act dance break that demonstrates why Sondheim never wrote a disco musical. While the first act's "You Could Drive a Person Crazy" had some questionable musical moments, there was generally fine singing and staging throughout; certainly, all was forgiven by the time LuPone razed Lincoln Center to earth in the boozy, scorching "The Ladies Who Lunch." As for the picture quality at the Bijou  look, nobody is happier than I that the Bijou is taking a chance with limited-run performances, and I would be elated if they'd likewise bring the
National Theater Live's performances
to the Alamo City. That said, for $18, the quality of the picture and sound was disappointing: the video was so blurry and overexposed that my companion quipped it was like watching a 3D movie
without
the classes. (But
there's
an idea for an enterprising producer:
Company in 3D! It's like having Bobby-baby-Bobby-bubbi-Bobby in your own living room!
). Sound volume was generally low (and some weird editing didn't help, with sudden spikes), but acceptable. While the blogs are reporting that some performances are selling out in other cities (as in DC), the Bijou's opening night looked to have scattered seats available. That said, I'd get there early for your best choice: it looks like you'll have plenty of company. -Thomas "Tick-Tock" Jenkins,
Current
theater critic.