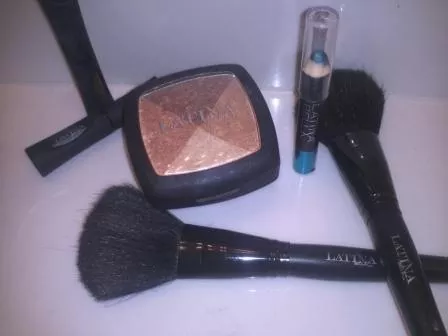 Like its name suggests, Latina Bella is intended for women with gold and olive skin tones. I had the opportunity to speak with the makeup company's marketing department, who informed me that most makeup companies use rose and pink tones to create their foundations—which is fine if you're skin is on the white side or if you're in fact white. If you're Latina, then you probably need a foundation that is created with gold and olive undertones instead.   "Our makeup line is tailored to fit your look, not everyone else's," says their slogan. I decided to try most of the products they sell to decide for myself. This review is about what I love and what I'm leaving for you to decide.
The foundation: Latina Bella's cream-to-powder foundation is lightweight coverage. Sometimes foundation can create the caked-on old lady look, which sucks considering makeup should make you look like a more youthful, better you. I love Latina Bella's cream-to-powder foundation because it doesn't feel or look like I'm wearing anything at all. It evens out my skin tone, covers red spots and blemishes; like a good foundation should, but without the thick, "she's wearing too much makeup" look.
The bronzer: I'm in love with the bronzer and want to marry it, but instead I plan to keep putting it on my face, and perhaps even arms, neck and other fun areas. One of the reasons why I love the bronzer so much is because it's mixed with four different colors that all shimmer: a dark bronze, lighter bronze, reddish bronze and a pretty white/pink bronze. I like to sweep the lightest bronze shimmer straight down my forehead, t-zone and nose, as this brings light to my face and is perfect for photographs.
The blush: The blush comes in an array of colors to match the average Latina. But to me, it's just blush. It didn't change my life, but maybe it will change yours.
Eye shadow: Very fun. In particular, the colors ebony, platinum and tuxedo are perfect for a night-out-on-the town, and are complimentary. For every-day eye shadow, I like the pearl, flan and caramel colors, as well as the copper and tawny illuminators for the area below the eyebrow.
Mascara: The light-weight mascara features zero clumps while lengthening my lashes. As I write this, I'm thinking about buying more.
Lip glosses: I absolutely love the colorful lip glosses in red and pink. They make me want to make-out with myself. But unless Latina Bella develops the product so that it dries quickly and isn't sloppy—like I'd already made-out with myself—then I won't be buying it again.
Eyeliners: The pencil eyeliners are your typical pencil eyeliners; however I really liked the liquid eyeliners, such as the metallic turquoise, bronze and brown. Unfortunately—like the lip gloss— I had to be patient and careful with application, cause if I didn't freeze for a few minutes while waiting for it to dry, it also looked like I made-out with my eyeball.
The Jumbo Eye Pencil in the color "Rockstar" is tr

è

s chic. The Rockstar color is a sexy "rock n' roll" turquoise. The pencil is fat and comes on quick, but it's a must-have for wild nights and concerts, and for days you just want to be noticed.
Do you already wear Latina Bella? Tell me what you think at fashionation@sacurrent.com or leave a comment below. Latina Bella can be found at an H-E-B near you.