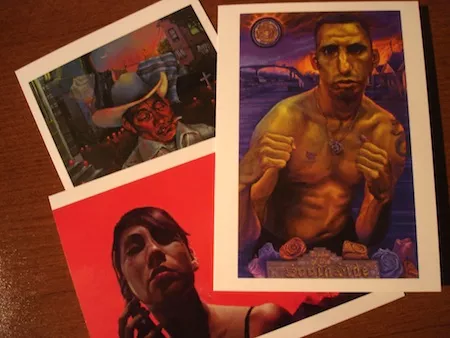 For those who prefer not to add to the deluge of reindeer-themed holiday cards this season, San Antonio's own Aztlan Libre Press has just released their first offering of Xican@ Art Notecards.  Formed in 2010 by Anisa Onofre and Juan Tejeda, the press is "dedicated to the promotion, publication, and free expression of Xican@ literature and art." Their first book was Tunaluna, a collection by poet/activist Alurista.
The 5 x 7" fold-over cards feature full-color reproductions of four paintings by local art hero Vincent Valdez: Recuerdo; Kill the Pachuco Bastard!; Pride of the Southside ; and Ah Yes, That Notorious Place Everyone Speaks Of (2007). The insides are blank, so you can add your own sentiment.
About his painting Recuerdo, Valdez writes: "My Grandpa Santana was the hardest worker I knew. He was the most stubborn man I will ever know. He cut yards his entire life. With arthritic fingers, emphysema, a busted arm, skin cancer, and tired bones, he cut yards under the scorching Texas sun almost up until the day he died. He always drank and told fantastic tales. How many of them were exaggerated, I will never know. But I will always remember."
You can order the cards direct from the publisher at aztlanlibrepress.com, or call  (210) 710-8532.