Late Friday, Artifacts found this email message: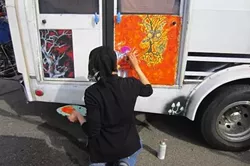 "There is a minibus/RV traveling around the U.S., collecting art, which will be stopping in San Antonio, at Brackenridge Park, tomorrow morning.
Their idea is to have various artists paint the minibus as a collaboration of sorts.  So, the art collected will actually be displayed on the vehicle."
A website was provided: mobileartcollective.wordpress.com/
Who is doing this, and why? we wondered. Finally, found the story:
"Okay so it was before last night. But last night, we decided to try and make this dream  happen. So the dream (the kind that happens whilst sleeping) was that we use our bus as a canvas for mobile street art; inviting artists to paint portions of our bus and then sharing the journey by displaying the bus along with film and still footage of the process (from little white minibus to collaborative art).
At first I thought, that sounds like such fun- getting to share work from various locations that don't usually get to travel (unless it's on a rail car of course) and then I thought, impossible- I don't know any such artists and I'm a parent with two little kids.
I had the dream a second time, months later. So we're going to try. End of story.
Peace, Linnea"
What time will the bus, which has travelled from Michigan, to Arizona, then to Marfa in West Texas, finally hit SA? We're not sure, but check out the website. They seem to be having fun, give 'em a welcome if you can. And bring your paints.
Brackenridge Park is at 3700 N St. Mary's.