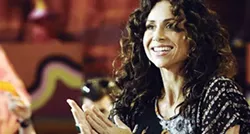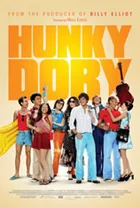 Academy Award nominee Minnie Driver (Good Will Hunting) is doing her small part in helping to save arts programs in the U.S. According to the Creative Coalition, a nonprofit organization Driver advocates for on the importance of music, theater and art classes in public schools, children exposed to and involved in the arts score higher on standardized tests and are more likely to graduate.
Driver also conveys her support for the arts in her work as an actress. In her newest film Hunky Dory, which made its North American premiere at the 2012 South by Southwest Film Festival this past March, Driver plays Vivienne, a drama teacher in 1976 who inspires her class in interesting ways during their preparation for their end-of-the-year performance of William Shakespeare's The Tempest.
During an interview with me in Austin, Driver talked about her experience as a high school drama student and explained why it drives her crazy when she hears about school districts cutting arts programs.
I was hoping you were going to do this interview with your megaphone. (Her character uses one during class).
(Laughs) I like that. That's funny.
Did any teachers influence or inspire you like your character does with the kids in this film?
Yeah, I had a lot of teachers like Viv. Actually, when I was 11 one of my teachers told our class we were going to do a play called As You Like It. In this play there is this forest called the Forest of Arden. He gave us a survey map and a compass and he said, "Go out and find the best location where you think the Forest of Arden would be." So we went out and scouted all these locations and decided where we wanted to perform the play. That's exactly the kind of thing Viv would've done. That kind of connection between teachers and kids has been lost today because of pay cuts and arts programs that have been lost in American high schools. This story kind of reminds us of what's important in education.
Were you in plays growing up?
Yeah, I was in a lot of plays.
So, you must understand how important a theater teacher is, especially during a student's formative years.
Oh, you definitely love your teacher. You idolize that person. They are setting you free and giving you this way out of the drudgery. It's different in high school now. Now, they have to make sure you can read and write first.
Well, American students today aren't doing so well in core classes when compared to other countries. But you bring up a good point. Arts in general are getting pushed to the side for everything else. What do you think about that? I know you've done some work with the Creative Coalition.
It's madness! I was just in D.C. a few months back with the Coalition. We went to lobby the Secretary an Assistant Secretary of Education. We had this forum and 12 incredible principals from these very rough schools attended. What's been lost in the debate is that art makes creative thinkers. Whether you're going to be a scientist or a physicist or a mathematician or an astronaut, creative thinking comes from our art programs. For some reason, "art" has become this dirty word. It's seen as dessert. It's seen as this thing that maybe you're allowed to have. It's seen as this frippery and not part of the meal. It's just this extra thing. That's absolute bollocks.
I mean, aren't there plenty of studies that prove students who play musical instruments or paint or participate in other artistic activities do better in school than students who don't?
Right, it is vital to the expansion and the grown of a child's mind. I started understanding math when I started playing music. I was completely dyslexic or "numalectic" (laughs), if we want to make up a new word. It wasn't until I was sent to music school when I started to figure out the patterns. That part of my brain that controls math and music was ignited. I don't think there is anything that makes me crosser about our school systems than these programs being cut.
So, your message would be that getting an education is more than just learning how to read and write?
Yeah, I mean, that idea is so reductive. It's trying to squish these kids into this tiny academic bottle. It's not even expansive academia. It's all fundamentally basic. They think that's going to set [students] up to function in this world socially, emotionally, spiritually, and physically? It's ridiculous. The incredible grace and energy of young people needs to get funneled into something they can let out. That's what Viv talks about in the film.
Where do the theater kids in the U.K. find themselves on the high school social ladder? Here in the U.S., there's always been this stigma that theater kids are a little on the weird side. Well, at least that's what we see in the movies.
It's not like that in England. I don't think it's as factionalized as it is in America. If you were involved in a school play, it was actually quite cool. The students in my class were from all walks of life. As such, you had a better understanding of everyone and there was less bullying in our school. You had the gay kids mixed with the jocks mixed with the nerds. They were all together and all with this common ground. It was a great leveler.
Speaking about that commonality, I think Hunky Dory really shows how important something like music can be when shared with someone. Do you think a relationship can last if two people have different tastes in music? I mean, would you break up with someone because of what they have on their iPod?
It's funny because I don't like the same music as the guy I'm dating at the moment. Weirdly, he does love it when I play the guitar and when I try to play my versions of the songs he likes. But I find that we don't listen to music together. It's interesting because music for us is a much more separate thing. We've had some really good conversations about why that is. I found that stimulating. I mean, music is just such a fundamental part of who I am. I'm actually more fascinated with people who like shit music. I always want to know why that is. It's always about their experience with the music. I respect that. I might loathe – ugh – Journey and Chicago and Boston and America, all these one word bands, but I love the stories about why other people like them.