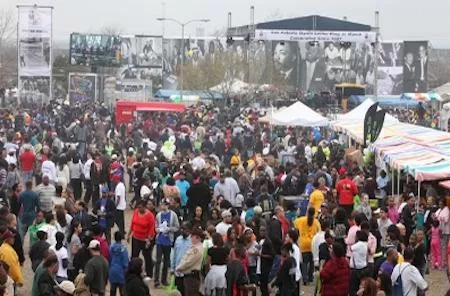 Each year, a variety of educational, inspirational and celebratory events honor one of the nation's most revered civil rights leaders. The signature event, the annual Martin Luther King, Jr. March, is scheduled for Monday, January 21, 2013.
The march will begin at 10 a.m. at the MLK Academy located in the 3500 block of MLK Drive and end at Pittman-Sullivan Park, 1101 Iowa (march route and info). Once again, it is expected to draw more than 100,000 adults and children. San Antonio hosts one of the largest marches in the United States.
The MLK Commission organizes the march and leads the community effort of various events paying tribute to Dr. King. The wide variety of educational, inspirational and celebratory events, take place at locations across the city.
Although the City of San Antonio this year celebrates the 26th anniversary of its City-sponsored event, the history of the local MLK, Jr. March goes back even further. The late Rev. Dr. Raymond "R.A." Callies, Sr., a San Antonio teacher, pastor and one of the founders of the San Antonio MLK, Jr.March began leading processions in San Antonio honoring Dr. King's legacy soon after Dr. King's death on April 4, 1968 and worked tirelessly to have a statue of Dr. King erected. Since then, community members, each year increasing in number, have gathered to honor the life and legacy of Dr. King. San Antonio's 2012 march included an estimated 150,000 participants.