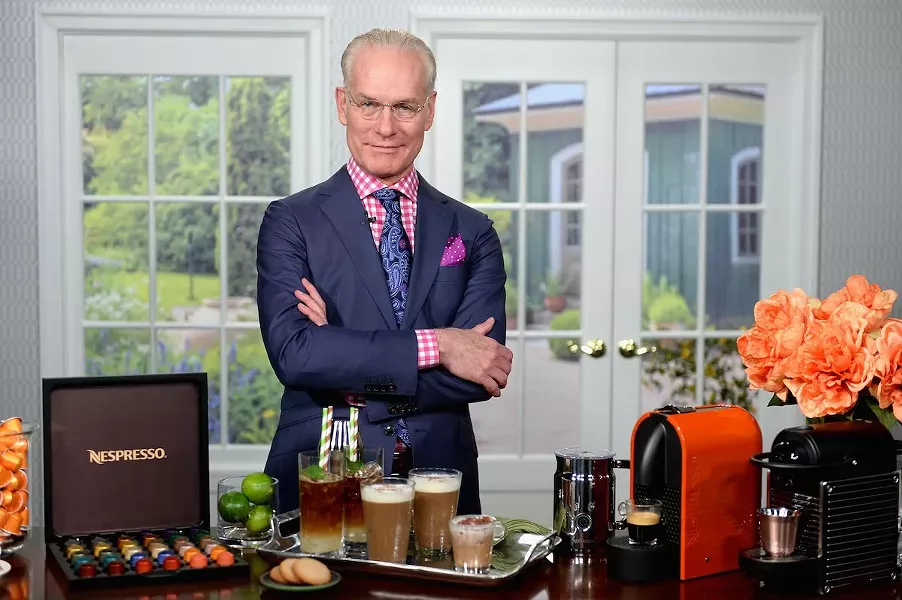 As if reminding us that most of the stuff worth watching nowadays comes from the flat screen, not the big one, in 2014 three big shows return and two new promising series debut. Popular and critical favorite
Downton Abbey
returns for its fourth season; Dan Harmon is back as showrunner for the fifth season of cult fave
Community
(which started January 2), and the criminally underrated, Elmore Leonard-based
Justified
launched its fifth season on January 7, still crackling despite Leonard's death. The new shows take no prisoners: style mentor Tim Gunn (
Project Runway
) launches his new fashion competition
Under the Gunn
on January 16 (with a local connection!) and HBO puts all the meat on the grill with the new, creepy and star-studded
True Detective
series premiering January 12. I know there's a lot of good TV to watch but, as Mr. Gunn would say, we recommend you "make it work."
>>>> The Imported Drama >>>>
The Imported Drama: Downton Abbey
8pm Sundays, PBS
I am a Jane Austen fan, and the dynamics of
Downton Abbey
(one of the most popular television shows in the world, according to
The New York Times
) take me back to my weekend visits with my grandmother when we'd sip martinis and binge on the BBC mini-series
Pride and Prejudice
.
Downton
has a captivating combination of order and random, etiquette and subversion. Season Four made its stateside premier this Sunday (January 5), and Matthew Crawley is dead. While he survived a war and recovered from spinal cord damage, he died in a stupid motorcar accident, just minutes after meeting his newborn son, George. Is this mere soap-tastic plotting or a commentary on life's cruel randomness? That's the sort-of genius behind
Downton
's blend of high manners and low gotchas. Mary Crawley is in mourning and has been "living among the dead" for the past six months. While her black silk smocks seem weightless, the heaviness of her grief is in her leaden gaze and spiritless manners. Writer and creator Julian Fellowes describes the season's
story arc for Mary
, as her journey back to a point where she can entertain the notion of falling in love again, and a string of dashing suitors will make their appearances. Honestly, I wish she could go without a man in her story for once. How thrilling it was to see Old Lady Grantham spur her granddaughter to take on the reins of the Downton Estate—in Matthew's place, as co-owner with Lord Grantham. Flitting off to London in every other scene, Lady Edith is tangled in yet another love affair—this time with her editor, whose wife is locked away in a mental institution. Thomas Barrow returns as the under-butler, and he is no less lofty or conniving despite his near-ruin in last season's battered outing. It's also the early 1920s and the Jazz Age appears with the return of young wild child Rose MacClare who stays with her great aunt Violet, the Dowager Countess of Grantham, while her parents are in India. The big question is: will all of Downton be able to keep up?
—Joy-Marie Scott
PBS (streams for free on pbs.org/masterpiece shortly after the episode airs, and available to purchase via Amazon Prime Instant Video and iTunes)
>>>> The Cult Comedy >>>>
The Cult Comedy: Community 
7pm Thursdays, NBC
With primetime filled to the brim with painstakingly annoying cheeseball procedurals, Whitney Cummings-produced
Broke Girls
and pitchy glee clubs, TV viewers hungry for something more could always bank on the fast-paced and nod-filled ensemble sitcom
Community.
Pithy and almost too smart for its own good, the show is possibly the closest modern-day interpretation of John Hughes'
The Breakfast Club
(albeit with more anxiety-prone characters). So when Sony Pictures pulled the plug on creator Dan Harmon's stint as showrunner in May 2012 due to persistently low ratings, fans were immediately incensed. Greendale aficionados, or Human Beings, took to Twitter and Tumblr using the #SixSeasonsAndAMovie hashtag to fight the loss of their comedic Messiah by urging Sony to rehire him. Crotchety Harmon's disappearance was evident in the boring-as-fuck fourth season (or was it possibly the darkest timeline?), which also saw the end of the line for comedian-turned-senile-racist Chevy Chase. The production company eventually flipped its decision and reinstated Harmon to helm Season Five, which returned January 2 for an hour-long premiere. This means we can get back on track following the antics of these far-from-traditional students. The season premier was a return to form even with Joel McHale's Jeff Winger as part of Greendale's staff and the eventual exit of actor-rapper Donald Glover (immediately harpooned with a jab at Zach Braff's exit from Season Nine of
Scrubs
). We've got our fingers crossed for more animated specials, paintball tournaments and "streets ahead" laughs.
—Jessica Elizarraras
NBC (Streams on Hulu Plus)
>>>> The Sleeper Hit >>>>
The Sleeper Hit: Justified
10pm Tuesdays, FX
The late, much-loved crime novelist Elmore Leonard hated most Hollywood adaptations of his work, but 
Justified
 was such an exception he signed on as executive producer. Even so,
the Kentucky-based crime procedural remains a sleeper. I didn't even start watching until the third season had passed, and then only based on demure word-of-mouth, not media gushing and Twitter buzz that launch shows like 
Game of Thrones 
and 
Scandal 
into hits these days.
Justified centers on Leonard archetype U.S. Marshal Raylan Givens, a trigger-happy, cocksure cowboy for modern times, and an expert marksman with both bullets and bon mots. As apparently dreamy as Givens is, I watch mainly for his dramatic foil Boyd Crowder, a radiantly charismatic career criminal and frenemisis (if such a thing existed) not played so much as embodied by Walton Goggins. Crowder matches Givens' terse one-liners with 50-cent word-laden silver-tongued spiels as slippery as his moral code, which has encompassed Neonazism, drug dealing, pimping and born-again Christianity, all offset by an endearing love for his lady, Ava, and coy appreciation for Givens and their ancestral home of Harlan County.
Yet, he's still likeable, and Givens, for all his "shoot first, ask questions later" machismo, is too. In Season Five, the old coal mine buddies don't engage in a seedy hillbilly crime world pas de deux for at least three episodes, but they already have a common enemy. Fans favorite Dewey Crowe, previously used mostly for idiocy-induced comic relief, comes into a small fortune and soon enough his "bad news" family from Florida start sniffing around. One cousin, played with a wavering Southernish accent by New Yawker Michael Rappaport, makes a play to take over Crowder's floundering heroin dealings while Crowder is preoccupied with freeing Ava from jail. Givens, however, is already hot on the Crowes' trail. This could be the season Crowder really does lose it all. And it should be the season the often-nominatedJustified cast and crew finally get their Emmys. As Givens would say, such an outcome would be justified.
—Callie Enlow
FX (Available for purchase on Amazon Prime Instant Video)
>>>> The Star-studded Award-bait >>>>
The Star-studded Award-bait: True Detective
8pm Sun, HBO
Matthew McConaughey is on a roll. After Oscar-worthy roles in
Dallas Buyers Club
and
The Wolf of Wall Street
, he co-stars with Woody Harrelson as one half of the eight-episode
True Detective
formula. Set in Louisiana in 1995, 2002 and 2012,
True Detective
proceeds through flashbacks and separate present-day interviews with detectives Martin Hart (Harrelson) and Rust Cohle (McConaughey), who couldn't be more different and who investigated a creepy murder in the '90s that appears to have striking similarities to a 2012 crime. Martin is an unhappily married and flawed human, while Rust is a lonely, brilliant and undecipherable enigma that at times speaks like a robot; think Christian Bale as Batman—shortly before his delivery got on my nerves, the series revealed itself to me, so give it some time. This isn't the type of series that comes out swinging—it grows on you, with Episode 1 ("The Long Bright Dark") setting the stage through slow-paced, dialogue-heavy scenes; Episode 2 ("Seeing Things") is when things get steamy and Marty shows his true colors; and Episode 3 ("The Locked Room") finally ignites, with an increasingly creepy Rust going wild. By the time the third episode is over, viewers will be hooked and aching to know what makes Rust tick while Marty, still cocky on the outside, displays more of his slowly rotting internal self. Don't worry about who the killer or killers are:
True Detective
seems to be a psychological thriller less concerned about what these detectives do for a living than about what happens between them, and I can't wait to keep watching.
—Enrique Lopetegui
>>>> The Campy Reality Show >>>>
The Campy Reality Show: Under the Gunn
8pm, Thursdays, Lifetime
Having already inspired the spin-offs
Project Runway: All Stars
,
Project Accessory
and
Models of the Runway
(not to mention dozens of exports like Brazil's
Projeto Fashion
, Jamaica's
Mission Catwalk
and Germany's
Fashion Hero
) the reality competition series
Project Runway
might seem at risk of overexposure. Yet the show, which premiered on Bravo in 2004, keeps fans hooked with the promise of watching hopeful fashion designers concept and create garments to be critiqued by a panel of comically bitchy judges while absorbing pearls of wisdom from silver-haired fashion guru Tim Gunn. From his sincerity (which plays out in both stern pep talks and tearful goodbyes) to his unique way with words (which ventures far beyond the mantra "make it work"), Gunn is more than just
Project Runway
's breakout star—he's the glue that holds the show together. On January 16, the Emmy Award-winner gets his own reality competition series in Lifetime's
Under the Gunn
. While it follows the familiar premise of beat-the-clock challenges and celebrity-judged runway presentations,
Under the Gunn
focuses on mentoring skills by dividing 15 up-and-coming designers into three teams led by
Project Runway
alums Mondo Guerra, Anya Ayoung-Chee and Nick Verreos. (One mentor and one designer will be declared winners.) As a quick refresher: Guerra came clean about his HIV+ status on Season Eight, emerged as a creative voice for AIDS awareness and later won the first season of
Project Runway: All Stars
; former Miss Trinidad and Tobago Universe 2008, Ayoung-Chee survived a sex-tape scandal circa 2009 and won
Project Runway
's ninth season along with a Fan Favorite award; and Verreos—whose parents and sister Rita (of
Survivor: Fiji
fame) live in San Antonio—competed on Season Two and is a regular panelist on the TV Guide Network's
Fashion Wrap
.
—Bryan Rindfuss