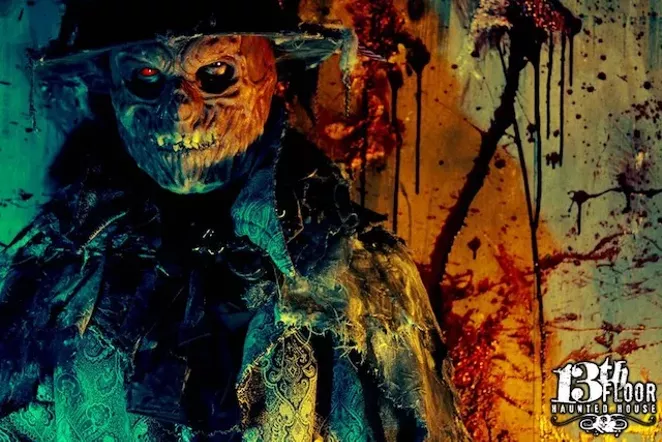 Haunted Houses


Nothing screams Halloween quite like a good ol' haunted house. This year, forget your creepy neighbors and supporting their sad excuses for homemade haunts (Trash bag-lined garages? No, thank you). Check out San Antonio's local haunted attractions instead. Sure, you have to pay, but that means live-action ghouls are getting money to scare you—they literally mean business. Also, you won't have to stick your hand into any bowls of grape eyeballs or reassure anyone that, yes, they were scary and, yes, you had a great time. After visiting one of these SA haunts, the look of pure horror on your face will speak for itself.




13th Floor Haunted House


San Antonio's most popular jump-out-and-scare-you haunt has added two new attractions this season. "Ground up and Spit Out" features a mean mugging minotaur, chain saws, and a terrifyingly dark slide that literally spits you out of the house, while the other new addition, "Dwellings of the Dead," features Dia de Los Muertos-themed ghouls.
$24.99, 13th Floor, 1203 E. Commerce St, (210) 338-0382, 13thfloorsanantonio.com




Fearesta


Formerly the beloved Nightmare on Grayson, Fearesta is being called San Antonio's newest and oldest haunted event. The revamped spook fest is open and waiting for its next willing victims at its new location across from the AT&T Center.
$20, Fearesta, 3363 E. Commerce St, (210) 979-5522, fearesta.com


Terror Mansion


This haunted house forces you to venture through 23 rooms, each of which is designed to exploit a different fear in all those brave enough to attempt the trek, be that fear of rats, hospitals, or clowns—you name it, Terror Mansion's got you covered.
$20, Terror Mansion, 414 W. Laurel, (210) 226-2666, terrormansionusa.com


Psycho Asylum


Known previously as Rivercity Asylum, Psycho Asylum was once a home for the sick and criminally insane. Now the asylum reopens every Halloween season so visitors can experience the horrors of life within the hospital's walls. Be careful during your stay, or you may find yourself committed.
$25, Psycho Asylum, 1301 E. Houston St., (210) 705-1924, psychoasylumsa.com


Nightmare on Fright Street


Part of Traders Village's Halloween festivities, Nightmare on Fright Street is a maze of tricks and monsters that's sure to creep out the whole family. Unlike most haunted attractions, this house isn't open late into the night so the earlier you get there, the sooner you can get to bed and revisit Fright Street in your dreams.
$3, Traders Village, 9333 SW Loop 410, 210-623-8383, tradersvillage.com


Ripley's Haunted Adventure


The old standby Ripley's Haunted Adventure is open year-round and invites "house guests" to tour a creepy mansion where bogeymen and monsters lay in wait just around every corner, eager to welcome you into their home.
$20.99, Ripley's Believe It or Not!, 301 Alamo Plaza, (210) 224-9299, ripleys.com/sanantonio


Terror on the Plaza
This year, Terror on the Plaza, the haunted site of a former casket company, is being overrun by terrifying local legends. SA natives will find themselves face to face with the stuff of their nightmares at the plaza, specifically La Llorona, La Lechuza, and the unfortunate Donkey Lady. $25.99, Terror on the Plaza, 300 Alamo Plaza, (210) 226-2828, terrorontheplaza.com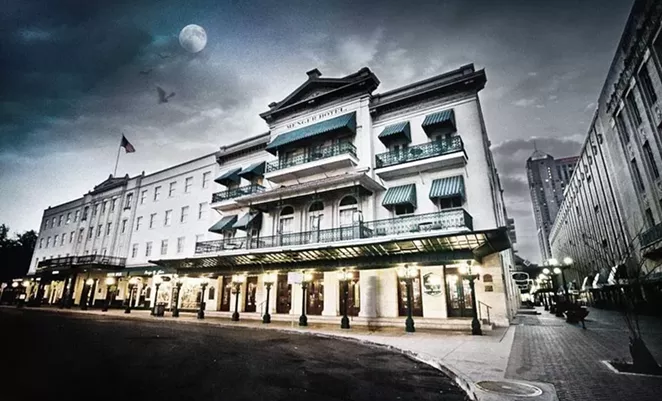 Ghost Tours & Haunted Hotels


Everyone knows San Antonio is, like, way haunted. But do you know all the ins and outs of the city's ghost lore besides the fact that everything within a two-mile radius of the Alamo is teeming with mad military ghosts? I didn't think so, but that's where ghost tours come in. Any of the tour groups listed below will guide you around the city's most haunted locations and share stories with you about the places' resident ghosties. After learning about the hauntings in SA's three most spiritually active hotels, you may even consider staying the night in one ... if you're brave enough.
Cue spooky music, y'all.


Terror Mansion After Life Ghost Tours


Terror Mansion, the haunted house attraction, opened in 1999. Shortly after, the mansion's staff noticed strange happenings in the building. Unusual noises were heard, doors opened and closed on their own, creepy shadows were seen in doorways—basically your typical cocktail of ghostly activity. Now you can tour the real haunted Terror Mansion for yourself, away from the live actors and manufactured scares.
$50, Terror Mansion, 414 W. Laurel, (210) 226-2666, terrormansionusa.com


Sisters Grimm Tours


Sisters Grimm offers a ghost walk of downtown San Antonio, beginning right outside the Alamo. The tour is roughly 90 minutes long and is led by a guide in period clothing who will eagerly accompany you throughout the city, lighting your way to ghostly encounters by candlelight.
$15, (210) 638-1338, sistersgrimmghosttour.com


Alamo City Ghost Tours


This group has been offering guided walking tours of San Antonio's most haunted locations for the past ten years. What sets Alamo City Ghost Tours apart from other similar tours is that each participant is provided with ghost hunting equipment, making it a truly interactive experience. You could return home having busted your very own ghost.
$15, 307 Alamo Plaza, (210) 336-7831, alamocityghosttours.com


Emily Morgan Hotel


Now a DoubleTree by Hilton, the Emily Morgan hotel was once the Medical Arts Building. In the 1920s, the hospital here saw many ill patients, and the spirits of those who died in the Medical Arts Building are still known to walk the halls of the towering Emily Morgan. The third, seventh, ninth, 11th and 12th floors are the most alive with ghostly activity: people are seen crying in hospital gowns, the sound of phantom gurneys is heard, and the smell of alcohol often sweeps over these floors. A ride in one of the Emily Morgan's elevators could be enough to convince skeptics of the building's supernatural activity—the elevators have been known to act of their own accord, even sending visitors straight down to the morgue.
705 E Houston St, (210) 225-5100, emilymorganhotel.com


The Menger Hotel


William A. Menger opened a hotel to serve the visitors of his brewery in 1836. The luxurious Menger Hotel quickly became a social watering hole and one of the best-known hotels in the southwest, largely due to the popularity of its bar and its restaurant, the Colonial Dining Room. Because the Menger was frequented by so many in its time, it is said to be heavy with spiritual activity and houses nearly 30 resident ghosts. One of its most famous ghosts is Teddy Roosevelt, who reunited his gang of Rough Riders inside the Menger bar. Captain Richard King, owner of King Ranch, is also said to haunt his old suite, the King Ranch Room, where his ghost is frequently spotted. A dinner and ghost tour with Sisters Grimm will take you inside the King Ranch Room and give you a chance to spot the captain for yourself.
204 Alamo Plaza, (210) 223-4361, mengerhotel.com


Sheraton Gunter Hotel


The Sheraton Gunter's haunting is a product of a grisly murder which took place in its Room 636 in February of 1965. Walter Emerick, under the name Albert Knox, checked into this room accompanied by an unidentified blonde woman. Days later, Walter was discovered by a maid in his blood-soaked hotel room with a bundle of stained sheets which presumably contained the blonde woman's body. Her blood was spilled throughout the hotel room, leading investigators to believe she had been butchered there. Since then, the woman's spirit has been seen in and around Room 636 with her arms outstretched, in need of help.
205 E Houston St, San Antonio, TX 78205, (210) 227-3241, sheratongunter.com