Thu 11/13
Pepper, The Movement, New Beat Fund

Are you one of the many people who find themselves wishing that Texas had passed similar legislation to Oregon last week? Take solace. Thursday's reggae-rock, g-punk bash at the Aztec should suffice to at least make you feel like you're living in the land of the legally stoned. The headlining band Pepper started out in the late '90s and rose to relative popularity by sounding a whole lot like Sublime at a time when people were still into that sort of thing. Meanwhile, New Beat Fund and The Movement each put their own spin on that whole Americanized reggae-punk thing.
$23-$40, 7pm, The Aztec Theatre, 104 N St. Mary's, (210) 812-4355, theaztectheatre.com
.
—James Courtney


Thu 11/13
Les Ballets Trockadero de Monte Carlo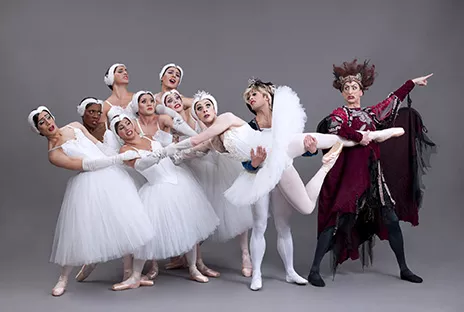 Balancing en pointe in full drag since 1974, New York's all-male Les Ballets Trockadero de Monte Carlo spoofs the hauteur of ballet in productions combining exaggerated antics and classical mastery. Since graduating from "late-late shows in off-off Broadway lofts," the Trocks have unleashed their satirical brand of ballet on more than 30 countries, winning numerous awards and even performing for British royals. ARTS San Antonio brings the troupe back to town to reprise irreverent highlights from previous programs, including
Go For Barocco
,
ChopEniana
,
Don Quixote
and
Swan Lake
.
$29-$110, 7:30pm, The Majestic Theatre, 224 E Houston, (210) 226-3333, artssa.org
. —
Bryan Rindfuss

Thu 11/13
International Artists-in-Residence




An emerging force at Washington D.C.'s Hirshhorn Museum and Sculpture Garden, curator Mika Yoshitake notably served as project coordinator for the Museum of Contemporary Art–Los Angeles' traveling Takashi Murakami retrospective (from 2005 to 2009) and brings her sharp take on contemporary art to San Antonio as ringleader of Artpace's final International Artists-in-Residence exhibition of 2014. Representing three months of work (September to November) and on view through January of 2015, the endeavor unites Tokyo-based Takashi Arai, Austinite Anna Krachey and New Yorker Adam Helms. A contemporary photographer championing the daguerreotype, Arai creates images that chiefly celebrate the aesthetics of the archaic process Louis Daguerre introduced in the 1800s. Also experimenting with historical references and archival sensibilities, Helms addresses themes of violence, unrest and decay via charcoal drawings, prints, assemblages and tintypes depicting militants, insurgent movements and rebel soldiers. A native of New Hampshire, Krachey lectures at St. Edwards University and is one of 11 members of the artist collective Lakes Were Rivers. Informed by domestic narratives and everyday objects, her photographic vignettes explore "the relationship between the beholder and the work of art."
Free, 6-9pm (artists' dialogue at 7pm), Artpace, 445 N Main, (210) 212-4900, artpace.org
.
—Bryan Rindfuss

Thu 11/13 - Sun 11/16
Who's Afraid of Virginia Woolf?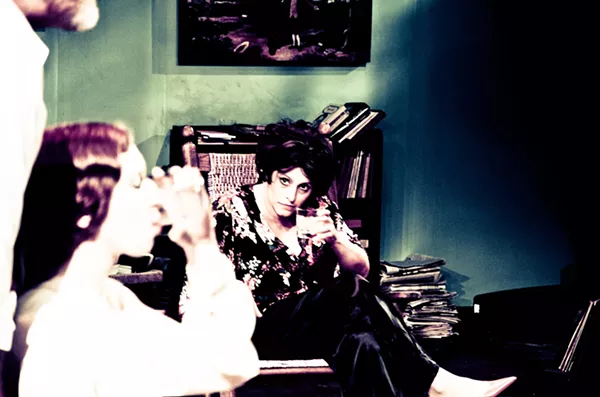 George and Martha are middle-aged and married. George and Martha are also drunk. When a much younger couple arrives at their door, drinks flow, inhibitions fade and reality drifts away. Riddled with fast-paced banter, Edward Albee's 1963 Tony winner has received countless revivals. This production marks a collaboration between AtticRep's artistic team and local fashion designer Angelina Mata, whose vision includes a monochromatic palette that "drowns out the reality of the characters' lives and interrupts the intensity of their emotional state."
$18-$28, 8pm Thu-Sat, 2:30pm Sun, Tobin Center for the Performing Arts, 100 Auditorium Circle, (210) 223-8624, atticrep.org
.
—Murphi Cook
Fri 11/14
"Pop"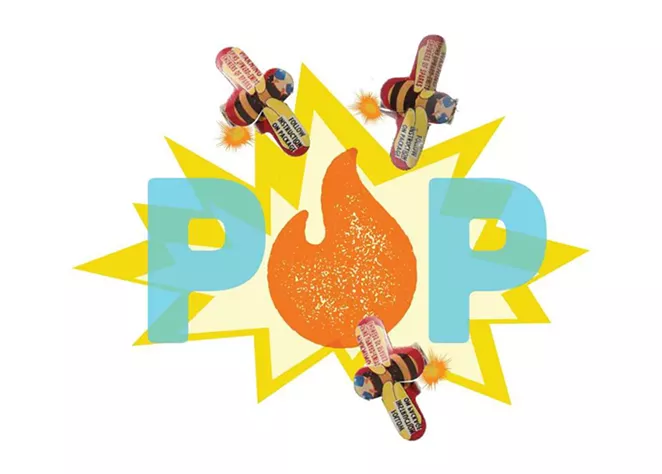 Clamp Light resident artist Carol Cunningham continues her research into the world of animals and the consumer market through a new interactive experience including popping fireworks, popping balloons and pop culture in her latest exhibition "Pop." Cunningham was inspired by the childhood song "Pop Goes the Weasel" and the everyday interaction between humans and animals. She uses common childhood objects such as tootsie pops, popsicles and actual fireworks you can pop in her exhibition. Embrace your inner child—come out and pop something!
Free, 7-10pm, Clamp Light Artist Studios & Gallery, 1704 Blanco, (620) 218-1568, facebook.com/ClampLight
.
—Ainsley Caffrey
Sat 11/15
Dropkick Murphys

No Celtic punk band in the last two decades has been more ubiquitous than Dropkick Murphys. From being featured on movie soundtracks to being the unofficial house band of the Boston Red Sox, the Murphys have become synonymous with punk rock and bagpipes. Influenced by Celtic punks The Pogues, the seven-piece band has transcended into the pop consciousness without losing its edge. Expect flowing accordion melodies and gallant bagpipe reveries juxtaposed with overdriven power chords, punk beats and good old-fashioned gang vocals when the Bostonites land at Backstage Live with Dublin's Blood or Whiskey in tow.
$25, 8pm, Backstage Live, 1305 E Houston, ticketfly.com
.
—Erik Casarez


Sat 11/15
Lewis Black: The Rant is Due


When Bill Hicks hopped off this ride, people were still using America Online, and George Carlin's final special features a bit about honest-to-god person-to-person phone calls (remember those?), so the only person left to rant about Facebook is Lewis Black. He does so masterfully ("Doesn't anyone do anything anymore?") on his latest special,
Old Yeller
, but Black, like Hicks and Carlin, doesn't waste real ire on the easy marks. He's at his most rabid with his jaws locked on the flank of the kind of big game—Social Security, health care, gun control—that most of today's comics are too timid to even attempt stalk.
$38-$70.25, 8pm, The Majestic Theatre, 224 E Houston, (210) 226-3333, majesticempire.com
.
—Jeremy Martin
Sat 11/15
The Robert Johnson Sessions

The thing about Robert Johnson was that he only existed on his records," says Martin Scorsese on the blues master. "He was pure legend." Little is known about the life and times of the Mississippi native—even his death (presumably by poison) and exact gravesite remain unsure. But we do know that 78 years ago, in room 414 of the Gunter Hotel downtown, Brunswick Records set up a pop-up studio to record the 25-year-old. To celebrate the 16 definitive tracks that emerged from the session, the San Antonio Blues Society returns with their annual November show with a lineup to make the devil jealous he wasn't included in the deal. Moreland & Arbuckle headlines the gig with a burning take on the Delta blues. As Dos Bros, Tony Vega and the Mighty Orq blend taut plucking with a loose slide guitar feel. Boerne native Mark Searcy earned his title as the Texas Music Awards' 2014 Musician of the Year with a slow-cooked, Lucille-loving six-string style.
$15, 7:30pm, Sam's Burger Joint, 330 E Grayson, (210) 223-2830, samsburgerjoint.com
.
—Matt Stieb


Sat 11/15
Allah-Lahs


Remember those old high-school friends and how you never got around to doing all the rad things you planned to do with them? Well take heart, for Los Angeles psych-rock quartet Allah-Las is living out the dream for the rest of us. Band members Matthew Correia (percussion), Spencer Dunham (bass), and Miles Michaud (vocals, guitar) went to high school together and shortly thereafter formed Allah-Las. Later on, while Dunham and Correia were working at the famed Amoeba Records in LA, they met the fourth member of the band, Pedrum Siadatian, and casually started playing music together. Now, with their second album
Worship the Sun
out on Innovative Leisure, the band will stop in San Antonio as a part of an extensive U.S. tour. With L.A. dreampop-psych duo Tashaki Miyaki. $
10, 9pm, Limelight, 2718 N St. Mary's, (210) 735-7775, thelimelightsa.com
.
—James Courtney

Sat 11/15
"Studies for Siding"

Curators Margaret L. Honeytruffle and London Idyllwild James unveil a new project by Randall Anderson, whose work explores "marginal contexts, like storage facilities, highways, trailer parks and transitional visual information, as in, the information that you may pass on a street but not openly acknowledge." Anderson seeks to find the extraordinary in the ordinary and does this by using decrepit, disregarded materials that most people would overlook, such as a public bulletin boards. By finding potential in the understated Anderson can "mine meaning where it appears to be none."
Free, 6-9pm, Epitome Institute, 222 Roosevelt, (210) 535-0918,
epitomeinstitute.com
.
—Ainsley Caffrey