Monday, 11/17
Primus and the Chocolate Factory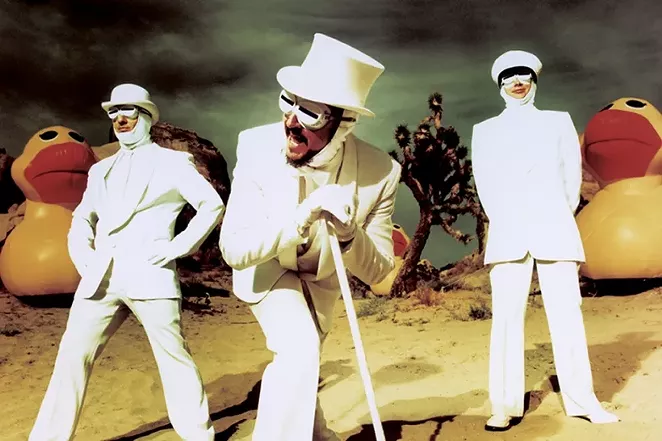 If you're totally tweaked to see Primus touring in their original configuration but a little bummed they'll be covering the Oompa Loompa-filled soundtrack to 1971's Willy Wonka & the Chocolate Factory instead of taking you through the wondrous worlds of their own creation (the Seas of Cheese, the Punchbowl, et al), have no fear. Apt for a tour inspired by a movie about a "man who suddenly got everything he always wanted," the band opens with a set of classics and closes with a tour through their brown-as-Hershey return to elaborately staged, technically demanding lunacy.
$39.50-$44.50, 8pm, Monday, Majestic Theatre, 224 E Houston, (210) 226-3333,
majesticempire.com
Tuesday, 11/18
The Misfits

The Misfits are a rare exception in rock 'n' roll: the band that is truly better off without their original frontman. With Glenn Danzig out of the picture, throwing onstage hissy fits and buying cat treats in New Jersey, original bassist Jerry Only has custody of the band's iconic horror-punk library, playing the tunes in all their fake-blood delight. Though the 2011 album The Devil's Rain may not live up to 12 Hits from Hell standards, Only's faux-Danzig murmur carries the record with help from Black Flag's Dez Cadena. Even if it's a few weeks off from Halloween, they still want your skulls.
$20-$25, 7:30pm, Tuesday, The Korova, 107 E Martin, (210) 995-7229
Tuesday, 11/18
PechaKucha San Antonio vol. 16

PechaKucha, which is Japanese for chit-chat, is a quarterly event series wherein creative types from across the spectrum share ideas and projects in the spirit of intellectual cross-pollination. A $5 donation lets you enjoy the 16th incarnation of the San Antonio chapter, with a cash bar happy hour (6:30 p.m.) and a series of PowerPoint presentations—all strictly limited to six minutes and 40 seconds. Presenters include renowned SA chef Andrew Weissman, former Spur Brent Barry, artists Ray Chavez and Marilyn Lanfear, and journalist Rick Casey, among others.
$5, 6:30pm cash bar happy hour, 7:30pm presentations, Tuesday, Charline McCombs Empire Theatre, 226 N. St. Mary's, (210) 226-3333,
pechakucha.org/cities/san-antonio
Thursday, 11/20
This is a Tribute: A Hunger Games Quiz


It's reaping day, so volunteer as tribute for the games and show The Capitol that they don't own you. Geeks Who Drink bring you the pub quiz President Snow doesn't want you to see. Spend some time at the training center and remember that the Hunger Games can only have one winner. Fame and riches await you.
$5, 8pm, Thursday, Firehouse Pub & Grill, 5380 Walzem, (210) 946-9600, firehousepub.com

Friday, 11/21
Rooftop Jazz Concert Series at Artpace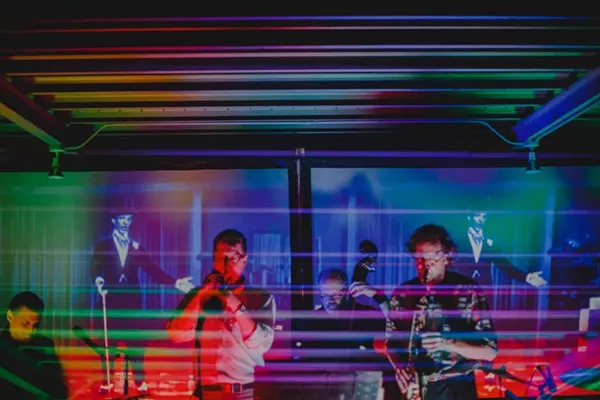 Justin Brownell, courtesy of Artpace
KRTU, Artpace, The San Antonio Current & Maverick Music Festival bring you the Artpace and KRTU 97 Rooftop Concert Series: Hot nights, Cool Jazz, Fresh Art. Each event focuses on a particular jazz theme celebrating historical figures and styles performed by local and regional artists. Alongside the jazz component, each event includes a visual element to compliment the performance with relevant and spontaneous new media. The perfect blend of contemporary art and dynamic jazz is not available anywhere else in San Antonio except at Artpace.
Free for Artpace and KRTU members, $15-$20, 8pm, Friday, Artpace, 445 N Main, (210) 212-4900, artpace.org