Wednesday, November 19
International Artists-in-Residence


An emerging force at Washington D.C.'s Hirshhorn Museum and Sculpture Garden, curator Mika Yoshitake notably served as project coordinator for the Museum of Contemporary Art-Los Angeles' traveling Takashi Murakami retrospective (from 2005 to 2009) and brings her sharp take on contemporary art to San Antonio as ringleader of Artpace's final International Artists-in-Residence exhibition of 2014. Representing three months of work (September to November) and on view through January of 2015, the endeavor unites Tokyo-based Takashi Arai, Austinite Anna Krachey and New Yorker Adam Helms.
Free, noon-5pm Wednesday-Sunday, Artpace, 445 N Main, (210) 212-4900.
Thursday, November 20
'Intense and Fragile'


If you break it, you buy it. With that said, the Southwest School of Art's Russell Hill Rogers Galleries open "Intense and Fragile," an exhibition exploring "the conjunction of physical properties and conceptual frameworks in contemporary porcelain scultpture." Featuring artists from all around the country, including SA's own Jennifer Ling Datchuk and Ryan Takaba, the group show highlights a wide range of work—from meticulous miniatures to grand wall and floor installations. Concurrently, Austin-based Liz Rodda unveils a group of cough-syrup dye transfer works in the Ursuline Gallery.
Free, 6-8pm, Southwest School of Art, 300 Augusta, (210) 224-1848, swschool.org.
–Murphi Cook
Thursday, November 20
The Birdcage

The Bijou is screening yet another Robin Williams film this week. The free movie this Thursday is
The Birdcage
, the one where Robin Williams and Nathan Lane are lovers that have to pretend to be straight in order to impress Gene Hackman.
Free, 7pm Thursday, Santikos Bijou Cinema Bistro, 4522 Fredericksburg, (210) 734-4552, santikos.com
Thursday, November 20
Get REEL: Brigadoon
Set in an enchanted Scottish village that appears but once a century, Alan Jay Lerner and Frederick Loewe's elaborate musical
Brigadoon
found staying power on 1940s'-era Broadway thanks to a winning mix of stellar dancing, memorable show tunes and a plot fusing romance with fantasy. Although it scored three Oscar nods and sparked an Emmy-winning TV movie, director Vincente Minnelli's fairly faithful MGM adaptation got dissed by
The New York Times
as "curiously flat" and "pretty weak synthetic Scotch." Beyond its fairy-tale appeal and vintage charm, the 1954 film is distinguished by fanciful sets, covetable costumes by Oscar winner Irene Sharaff and dance sequences that showcase the legendary talents of Cyd Charisse (as nimble lass Fiona Campbell) and Gene Kelley (as American hunter Tommy Albright). As part of its 60th anniversary film series, the McNay brings Brigadoon back out of the mist with a screening of Minnelli's G-rated gem.
Free, wine reception at 6pm, film at 6:30pm, McNay Art Museum, 6000 N New Braunfels, (210) 824-5368, mcnayart.org.
–Bryan Rindfuss
Friday, November 21
Art opening: 40th Annual Juried Fiber Art Exhibit


The Fiber Artists of San Antonio showcase more than 70 pieces (encompassing traditional techniques as well as current trends in contemporary fiber art forms) selected by juror Barbara Schneider.
Free, 5-8pm, SAY Sí, 1518 S Alamo, (210) 860-9468, saysi.org
Friday, November 21
The Searchers

In conjunction with the exhibit "Firearms of the Texas Frontier," the Alamo and Slab Cinema co-host an outdoor screening of John Ford's landmark Western starring John Wayne in the role of Ethan Edwards, a civil war veteran who spends years in pursuit of his niece Debbie (Natalie Wood), who was abducted as a child only to become the squaw of a Comanche chief.
Free, 6:30pm, The Alamo, 300 Alamo Plaza, (210) 225-1391, slabcinema.com
Saturday, November 22
Makevember
Billed as "soon-to-be-makerspace," local upstart Make San Antonio aims to foster innovation and collaboration by putting creative types under one roof with state-of-the-art tools and software. According to co-founder Greg Reyes, the outfit's hands-on Makevember event is designed to "show that there's a thriving creative force in San Antonio" that could benefit from such a hub. In addition to kid-friendly offerings from 4-6 p.m. (courtesy of engineering-focused after-school program Robotics Explorer Post 42; creative reuse specialist Mary Elizabeth Cantu's Spare Parts; science/technology/engineering/math advocacy group SASTEMIC; and "Uncle" Dan Suttin's educational OCTA-TETRA Museum), Makevember promises 3D-printing, screen-printing and bicycle-maintenance demos, along with top-notch tunes by Foolish Sounds.
Free, 4-10pm, Lone Star Studios, 107 Lone Star
–Bryan Rindfuss
Saturday, November 22
Howliday Bazaar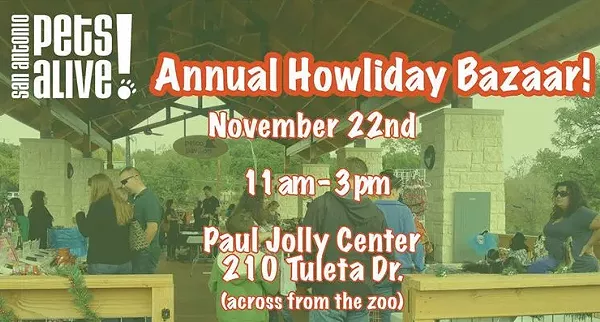 San Antonio Pets Alive's Howliday Bazaar includes pet-friendly vendors, discounted adoptions, food trucks and photo ops with Santa Paws.
Free, 11am-3pm, Pauly Jolly Center for Adoptions, 210 Tuleta, (210) 370-7612, sanantoniopetsalive.org
Saturday, November 22
Mustachicuffs
For a while it seemed the mustache was out of fashion – either a throwback to antiquated peacocking or '70s-era porn stars. Thankfully, the art of the 'stache is back and enjoying a resurgence thanks to the organizations like the Alamo Beard Club. On Saturday, the bearded brethren celebrate the upper lip strip with their third annual mustache competition. Categories include Natural, Styled, Sprint, Ugliest, and Ladies Creative. Yoshimoto provides the soundtrack and comedian Bryan Powell hosts, with all proceeds benefiting the San Antonio Food Bank.
Free with nonperishable food donation ($10 to compete), 7-11:30pm, The Hangar, 8203 Broadway, alamobeardclub.com.
–Jay Whitecloth