Tuesday 12/2 & Saturday 12/6
OPEN: Downtown Pop Up Shops
Easily among the nicest surprises of last year's holiday season, the Center City Development Office's OPEN: Downtown Pop Up Shops return to activate underutilized Houston Street storefronts every Tuesday and Saturday in December. Although the collab between property owners, small businesses and artists has yet to release a full list of this year's participants, it promises a rotating mix of "art, wine, jewelry, pet accessories, clothing and culinary treats," and the revival of 2014 fave Canvas—a self-billed "wine gallery and art bar" set to refresh guests with beverages via Vinously Speaking and Revolucion Coffee + Juice. Free,
12pm-9pm, Tuesday and Saturday, The Book Building, 140 E Houston, The Milam Building, 115 E Travis, The Schaum Building, 231 E. Houston, (210) 207-4080, Facebook event page

Wednesday 12/3
Blackalicious

Sacramento hip-hop duo Blackalicious is comprised of two equally important parts: world-wise, wowsome and wily wordsmith Gift of Gab and old-school beatmaker extraordinaire Chief Xcel. Active since the early 1990s, the pair has produced three excellent and well-received albums, with the most recent being 2005's The Craft. While this would be a must-see show even if that was the end of the story, recent news of the impeding 2015 release of Blackalicious' fourth LP, and first album in 10 years, gives us cause to reasonably hope that Wednesday's show will feature some never-before-heard jams. $15, 7pm, The Korova, 107 E Martin, (210) 995-7229,
thekorova.com
.
—James Courtney
Thursday 12/4 - Sunday 12/7
Sweater Curse: A Yarn About Love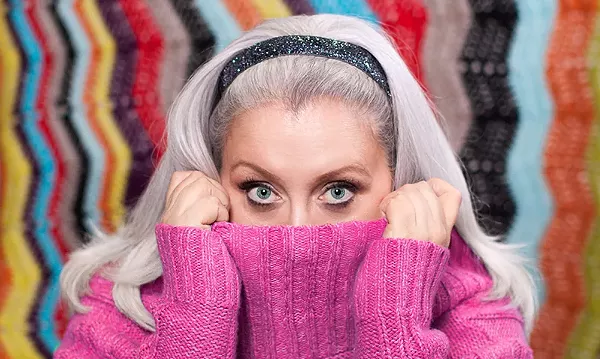 It's time to bust a stitch with Elaine Liner and the only knitting circle you'll find inside a theater. Sweater Curse is a one-woman show inspired by an old wives' tale warning to never knit for a lover or else he'll leave you before the last thread's stitched. As part of the Classic Theatre's Classic Presents series, the Dallas theater critic and Trinity alum brings her show to SA after runs at the Edinburgh Fringe Festival and the New Orleans Fringe. And we're not kidding about the knitting circle: Stitching during the show is encouraged. $
25, 8pm Thu-Sat, 3pm Sun, Classic Theatre of San Antonio, 1924 Fredericksburg, (210) 589-8450, classictheatresanantonio.org
.
—Murphi Cook
Thursday 12/4
Elf Ball
Artist Foundation of San Antonio/Facebook
Party preparations are well underway at BRICK for the first annual Elf Ball, benefitting the Artist Foundation of San Antonio.
The Artist Foundation of San Antonio is hosting its first annual Elf Ball on December 4 at BRICK (108 Blue Star in the Blue Star Art Complex). The holiday celebration, which will raise funds for The Artist Foundation's ongoing grant program for local artists, will transform BRICK at the Blue Star Art Complex into a fantastical winter wonderland, complete with guests dressed as elves. The celebration includes a silent art auction featuring works from San Antonio's most respected artists as well as performances by aerial artists group Aerial Horizons and music by Los #3 Dinners and DJ Arturo Cuellar. Food will be provided by local restaurants Stella, Hot Joy, Starfish, FOLC and Bakery Lorraine.
$125, 7pm-11pm Thursday, BRICK, 108 Blue Star, info@artistfound.org, artistfound.org

Saturday 12/6
Tamales! Holiday Festival
Food festivals don't get any better than this free, family-friendly and tamal-centric pachanga known as the Pearl's Tamales! Holiday Festival, which returns for its fifth installment this Saturday, December 6, noon to 6 p.m. There will be more than 20 tamal vendors to choose from, all hawking classic and creative iterations of our holiday favorite while Selena tribute band, Bidi Bidi Banda and Max Baca & Los Texamaniacs provide live jams. Pro-tips: Have a light breakfast, take plenty of singles and plan for a tamal break while you wander the grounds aimlessly hoping to find your next corn-husk-wrapped victim.
Free,12om-6pm, Saturday, Pearl, 303 Pearl Pkwy, atpearl.com
—Jessica Elizarraras