Tuesday 12/2
Bohanan and Say Sí's Annual Downtown Celebration
'Tis the season to enjoy candy canes, bright lights, merry tunes and festive trees, but what would the holidays be without a festive range of classic cocktails, delicious bites and your favorite wines? Join Bohanan's Restaurant & Bar for Holidays on Houston Street, as Executive Chef and Owner Mark Bohanan and co-sponsor Reata Property Management Inc. invite the community and light the tree in celebration of the season. Guests will be dazzled as the switch is flipped to illuminate over 34,000 LED lights along Houston Street all complementing Bohanan's Texas-sized Christmas tree adorned with beautiful handmade ornaments by the talented young artists of Say Sí. Bohanan's will offer $10 Red Ryder and Humbug cocktails and donate half the proceeds to the programs at Say Sí.
Free, 5:30-7:30pm Tuesday, Bohanan's, 219 E Houston Ste 275, (210) 472-2600
Wednesday 12/3
Noah Peterson
Noah Peterson, a multi-genre saxophonist, composer, arranger and producer, plays a live concert at J&O's Cantina.
Free, 7pm Wednesday, J&O's Cantina, 1014 S Presa, (210) 485-7611
Thursday 12/4
Scrooged

This week, the Bijou is showing the Christmas classic
Scrooged
. The film is about a selfish TV executive (played by the beloved Bill Murray) who gets haunted by three spirits bearing life lessons on Christmas Eve. Bill's a total jerk in it and he wears a fun hat.
Free, 7pm Thursday, Santikos Bijou, 4522 Fredericksburg Rd, (210) 734-4552, santikos.com

Thursday 12/4
A Glimmer of La Cantera Living Rooftop Party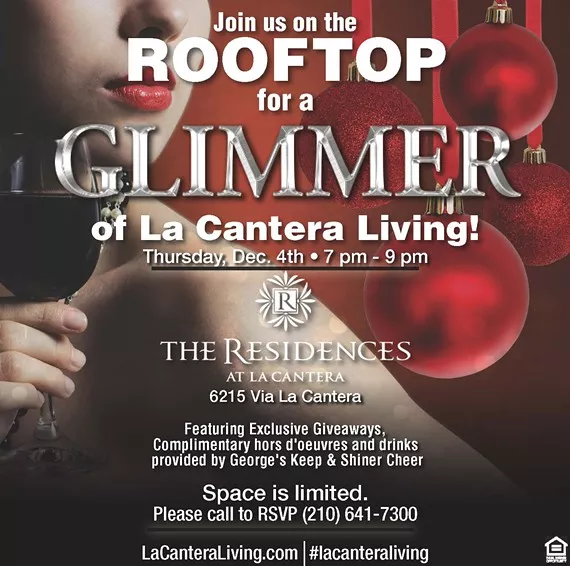 Join the
Current
for a glimmer of La Cantera Living on Thursday, December 4 from 7 p.m to 9 p.m at The Residences at La Cantera rooftop. Party guests will receive exclusive giveaways, complimentary hors d'oeuvres and drinks provided by George's Keep and Shiner Cheer. Space is limited, so please call to RSVP at (210) 641-7300.
Free, 7pm, Thursday, The Residences at La Cantera, 6215 Via La Cantera, (210) 641-7300.
Thursday 12/4 & Friday 12/5
December Exhibitions at Blue Star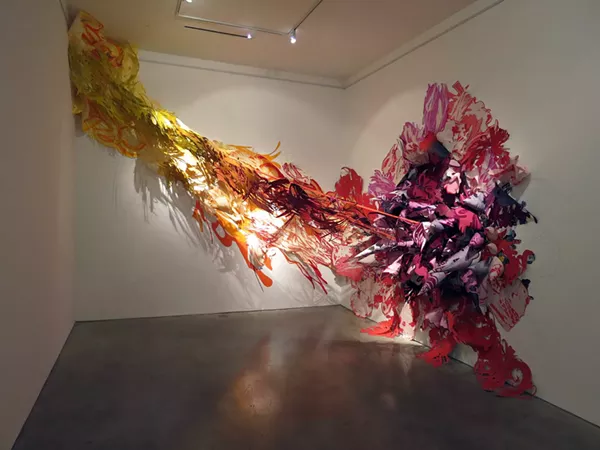 While the allure of four exhibitions opening simultaneously at Blue Star Contemporary is traditionally enough to bring Southtown out en masse, 2014's final First Thursday and Friday pack a particularly solid punch. On view in the Main Gallery, the group show "Spatial Planes" uses print-based imagery as a thread linking 11 artists, including Texas State University professor Jeffrey Dell and SA's own Angela Fox. A native of Coahuila, Mexico, locally based Fernando Andrade creates masterful drawings with a socio-political bent. Furthering themes presented in his series Jugando a la Guerrita, Andrade takes over the Middle Gallery with "Tierra y Libertad," which employs "common games played by children" as a means to address drug cartel violence, deaths and disappearances. Led by artists Jason Reed and Mark Menjivar and art historian Erina Duganne, Borderland Collective is billed as a "social art project that facilitates the participatory exploration and documentation of geographic and sociocultural borders." Named after the Central American region encompassing El Salvador, Guatemala, and Honduras, and featuring contributions from Adriana Corral, Joey Fauerso, Noah Sadowski, Vincent Valdez, Jennifer Whitney and Ricky Yanas, the Collective's "Northern Triangle" is set to "activate the Project Space at Blue Star as a history museum, community center, and classroom" via photographs, maps, art objects, personal accounts, political documents, lectures and film screenings. And in Gallery 4, Director of Special Projects Bill FitzGibbons curates "Del Corazón," a solo exhibition of paintings by Chicano artist and Gallista Gallery founder Joe Lopez.
Free, 6-9pm Thursday-Friday, Blue Star Contemporary Art Museum, 116 Blue Star, (210) 227-6960, bluestarart.org.
—Bryan Rindfuss
Thursday 12/4 & Friday 12/5
"WERK | In the Zone"


The vibrant beat of the city pulses through the energetic paintings, drawings and videos of Raul Gonzalez's "WERK | In the Zone," an MFA thesis exhibition hosted by UTSA Terminal 136. The colorful, chaotic pieces work together to create a rhythmic environment complemented by two performance pieces—the joyful sound and dance performance "Mr. Playlist" (6:45 p.m. Thursday) and "Existential Disco Dilemma" (8:15 p.m. Thursday), which takes a more introspective look at the struggles and joys of art and life. On Friday, a repeat performance of "Mr. Playlist" starts at 8:45 p.m.
Free, 6-9pm Thursday, 6-10pm Friday, UTSA Terminal 136, 136 Blue Star, (210) 458-4391, art.utsa.edu.
—Sarah Fox
Friday 12/5
AIDS Awareness Week Event: The AIDS Lady


The City of San Antonio Department of Culture and Creative Development and Project Hope co-host The AIDS Lady, written and performed by Anna De Luna. The host venue transforms into a roller- skating rink and bowling alley after the performance with music by DJ Donnie Dee and free HIV tests.
Free, 6:30-10:30pm Friday; Second Baptist Church, 3310 E Commerce, (210) 218-2459, sanantonioaids.org
Friday 12/5
Public Axis 100th Episode – Live Podcast Recording
Comedia A Go-Go celebrates the upcoming 100th episode of their comedy round table podcast
Public Axis
, with a special live recording at The Blind Tiger Comedy Club. CAGG is pleased as punch to invite all past guests and current listeners to make sound in the underground at The Blind Tiger Comedy Club for a special live recording that promises to be bold and brash as always, touching your topics inappropriately.
Free, 9-11:30pm Friday, The Blind Tiger Comedy Club, 902 NE Loop 410, (210) 828-1470, comediaagogo.com
Friday 12/5
Mitch Webb and The Swindles
Mitch Webb is a gifted songwriter straight from the music melting pot of San Antonio. He will play along with Grammy-winning musician Joe Reyes at the Alamo Street Eat Bar.
Free, 8pm Friday, Alamo Street Eat Bar, 609 S Alamo, (210) 227-2469, theswindles.com
Friday 12/5 & Saturday 12/6
Mockingbird Holiday Market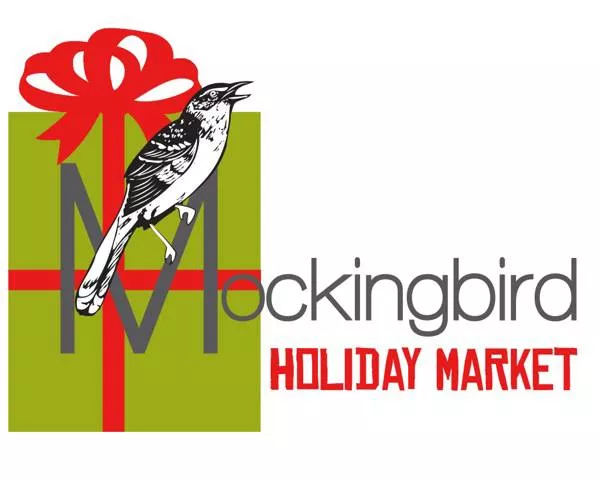 Exceptional artists will be displaying their hip and spirited holiday gifts in the large, loft-like Brick Marketplace space at Blue Star this year on First Friday, December 5th as well as Saturday, December 6th.
Free, 6pm Friday, 10am Saturday, Blue Star Arts Complex, 1414 South Alamo
Saturday 12/6
Girl's Night Out
Giuliana Rancic hosts Girl's Night Out for the women of San Antonio. A night of fun with food, beverages, and a lively discussion about love, intimacy, and life planning. Girl's Night Out is a free event for women in the San Antonio area on December 6th at the Henry B. Gonzalez Convention Center. Joining Ms. Rancic will be Dr. Laura Berman, notable sex and relationship expert, best-selling author, and host of In the Bedroom on the Oprah Winfrey Network.
Free, 5:30-8pm Saturday, Henry B. Gonzalez Convention Center, 200 E Market