Thu 12/4
Elf Ball


In less than a decade, the nonprofit Artist Foundation of San Antonio has awarded $512,000 to 92 artists working in varied disciplines, including performing, visual, media and literary arts. Although supported in part by the San Antonio Department for Culture and Creative Development, the Tobin Endowment and others, the AF hosts fanciful fundraising fêtes such as Contemporary Art Month's Moveable Art Party and the new holiday-themed Elf Ball. Set to turn Brick at Blue Star into a "fantastical winter wonderland, complete with guests dressed as elves," the inaugural event promises a silent art auction, giftable wares available for purchase from local artists Leigh Anne Lester, Jake Zollie Harper and Justin Parr, music by Los #3 Dinners and DJ Agosto Cuellar, an aerial performance by Artist Foundation grant winner Julia Langenberg (pictured), bites from Hot Joy, Starfish, Folc, Stella and Bakery Lorraine and cocktails via Park Social.
$125, 7-11pm Thu, Brick, 108 Blue Star, artistfound.org
.
—Bryan Rindfuss
Thu 12/4
Taylor McFerrin

The son of famed jazz singer and conductor Bobby McFerrin—who's also the owner of the '88 surprise hit "Don't Worry Be Happy"—Taylor McFerrin stepped out of the long shade of his father's career on his 2014 debut LP
Early Riser
. Out on the welcome jazztronica home of Flying Lotus' Brainfeeder label,
Early Riser
carves into jazz and hip-hop with precise cuts. On "Already There" and "4:00 AM," McFerrin tries out the contemporary jazz of BADBADNOTGOOD and Thundercat, sewing the tunes with his interstellar work on the Rhodes piano. Meanwhile, on "Place in My Heart," McFerrin pours out a Björk-like pop hit over a straight-marching rhythm. Though
Early Riser
was recorded with a good deal of live instruments, McFerrin structures his live set on the computer and mixer. Still, the live date loses no energy, with McFerrin pulling out wild textures and vicious runs from the Rhodes at the center of his workstation. $
5-$10, 8pm Thu, 502 Bar, 502 Embassy Oaks, (210) 257-8125, 502bar.com.
—Matt Stieb


Thu 12/4 - Fri 12/5
"WERK | In the Zone"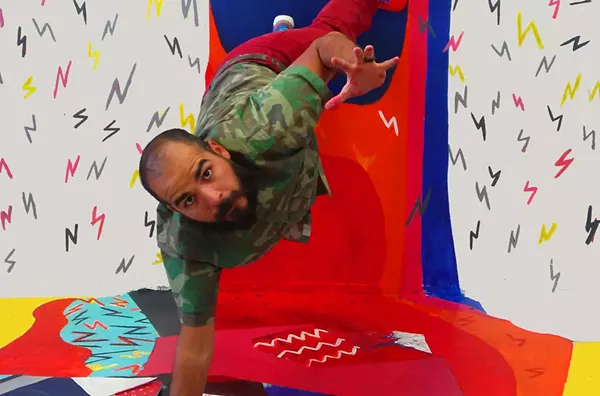 The vibrant beat of the city pulses through the energetic paintings, drawings and videos of Raul Gonzalez's "WERK | In the Zone," an MFA thesis exhibition hosted by UTSA Terminal 136. The colorful, chaotic pieces work together to create a rhythmic environment complemented by two performance pieces—the joyful sound and dance performance "Mr. Playlist" (6:45 p.m. Thursday) and "Existential Disco Dilemma" (8:15 p.m. Thursday), which takes a more introspective look at the struggles and joys of art and life. On Friday, a repeat performance of "Mr. Playlist" starts at 8:45 p.m.
Free, 6-9pm Thu, 6-10pm Fri, UTSA Terminal 136, 136 Blue Star, (210) 458-4391, art.utsa.edu
.
—Sarah Fox

Thu 12/4 - Fri 12/5
December Exhibitions at Blue Star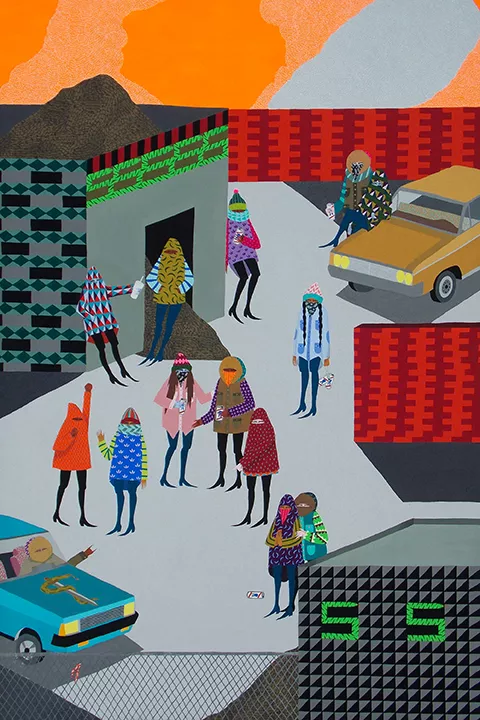 While the allure of four exhibitions opening simultaneously at Blue Star Contemporary is traditionally enough to bring Southtown out en masse, 2014's final First Thursday and Friday pack a particularly solid punch. On view in the Main Gallery, the group show "Spatial Planes" uses print-based imagery as a thread linking 11 artists, including Texas State University professor Jeffrey Dell and SA's own Angela Fox. A native of Coahuila, Mexico, locally based Fernando Andrade creates masterful drawings with a socio-political bent. Furthering themes presented in his series Jugando a la Guerrita, Andrade takes over the Middle Gallery with "Tierra y Libertad," which employs "common games played by children" as a means to address drug cartel violence, deaths and disappearances. Led by artists Jason Reed and Mark Menjivar and art historian Erina Duganne, Borderland Collective is billed as a "social art project that facilitates the participatory exploration and documentation of geographic and sociocultural borders." Named after the Central American region encompassing El Salvador, Guatemala, and Honduras, and featuring contributions from Adriana Corral, Joey Fauerso, Noah Sadowski, Vincent Valdez, Jennifer Whitney and Ricky Yanas, the Collective's "Northern Triangle" is set to "activate the Project Space at Blue Star as a history museum, community center, and classroom" via photographs, maps, art objects, personal accounts, political documents, lectures and film screenings. And in Gallery 4, Bill FitzGibbons curates "Del Corazón," a solo exhibition of paintings by Chicano artist and Gallista Gallery founder Joe Lopez.
Free, 6-9pm Thu-Fri, Blue Star Contemporary Art Museum, 116 Blue Star, (210) 227-6960, bluestarart.org
.
—BR
Thu 12/4 - Sun 12/7
Sweater Curse: A Yarn About Love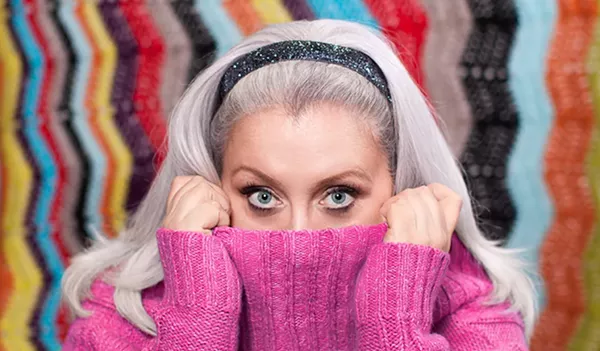 It's time to bust a stitch with Elaine Liner and the only knitting circle you'll find inside a theater.
Sweater Curse
is a one-woman show inspired by an old wives' tale warning to never knit for a lover or else he'll leave you before the last thread's stitched. As part of the Classic Theatre's Classic Presents series, the Dallas theater critic and Trinity alum brings her show to SA after runs at the Edinburgh Fringe Festival and the New Orleans Fringe. And we're not kidding about the knitting circle: Stitching during the show is encouraged.
$25, 8pm Thu-Sat, 3pm Sun, Classic Theatre of San Antonio, 1924 Fredericksburg, (210) 589-8450, classictheatresanantonio.org
.
—Murphi Cook

Fri 12/5
Pedrito Martinez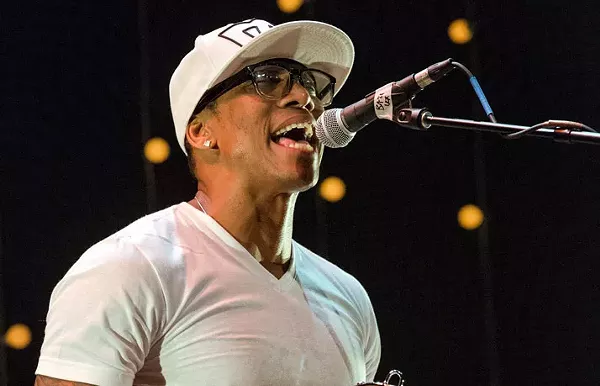 With the rhythms of his hands in conversation with his booming voice, percussionist Pedrito Martinez bobs through the Afro-Cuban tradition with the knowledge and verve of someone who lives it without rest (Martinez is a devotee of the Caribbean religion of Santería, spoken in the African language of Yoruba). Since arriving in NYC in '00, Martinez has played with the who's who of jazz: Wynton Marsalis, John Scofield and Steve Gadd (those are just on his most recent LP). But Martinez doesn't need co-credits to hype his name. Once his rumba and batá rhythms get going, good luck staying still.
$35, 8pm Fri, Jo Long Theatre, 226 N Hackberry, (210) 207-2234, thecarver.org
.
—Matt Stieb
Fri 12/5 - Sun 12/7
Fiddler on the Roof


Stop by the village matchmaker and head to the Playhouse for
Fiddler on the Roof
. First produced on Broadway in 1964, the nine-time Tony-winning musical follows a poor Jewish milkman and his five daughters as he attempts to preserve both religion and happiness in 1905 Tsarist Russia. These timeless songs have remained tethered to pop culture; chances are you've heard iterations such as "Rich Girl" performed by Gwen Stefani and Eve; "Matchmaker" sung by the incomparable Mrs. Doubtfire; or "Sunrise, Sunset" played at any wedding ever. Lee Cusenbary directs the production.
$12-$30, 8pm Fri-Sat, 3pm Sun, The Playhouse, 800 W Ashby, (210) 733-7258, theplayhousesa.org
.
—MC

Fri 12/5 - Sun12/7
The One I Wrote for You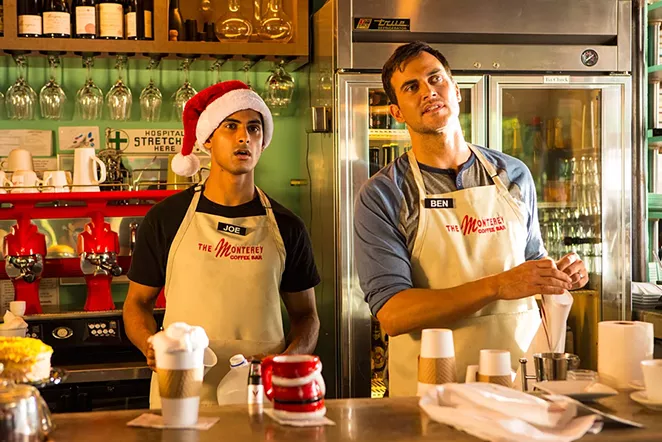 Opening in Texas theaters before rolling out nationally, director Andy Lauer's family drama—which was shot in San Antonio—follows Ben Cantor (Cheyenne Jackson), a coffee shop barista and family man who decides to rekindle his dream to make it big as a musician by competing in a reality TV show for songwriters. Along with Jackson, the film stars Kevin Pollack (
The Usual Suspects
) and Christopher Lloyd (
Back to the Future
). Original songs for the movie were written by David Kauffman, founder and creative director of San Antonio-based Good for the Soul Music.
$6.50-$10, Santikos Embassy 14 (13707 Embassy Row); Cinemark McCreless Market (4224 S New Braunfels); Regal Cielo Vista 18 (2828 Cinema Ridge); Regal Live Oak Stadium 18 (7901 Pat Booker). For a full list of locations and showtimes visit theoneiwroteforyou.com
.
—Kiko Martinez


Sat 12/6
Christmas Burrr-lesque Show

Baby it's cold outside, so throw on some pasties and jingle those bells all the way over to The Pastie Pops 4th Annual Christmas Burrr-lesque Show. Your favorite Pops will "tease the season" and shimmy to holiday classics alongside Santa's naughtiest out-of-towners in a performance hosted by Katie Red. Guests can expect a seasonal spectacle akin to vaudeville as the four-year-old troupe's shows incorporate a range of styles, including classic burlesque, boylesque, draglesque and comedy skits. And don't forget to peek into grandma's closet and nab an ugly sweater for a chance to win a prize.
$10-$30, 9pm Sat, The Uptown Studio, 700 Fredericksburg, (210) 387-1617, theuptownstudio.com
.
—MC

Sat 12/6
Circus of the Self

Movies, music and mighty meals, oh my. This Saturday, Dreamland Collective invites you to preview its new film
Circus of the Self
. In the cozy setting of High Wire Arts, premiere attendees can catch the screening and enjoy a top-notch, five-course meal along with musical performances by Jeannette Muniz, Aliens WITH Halos and Blend Phonetics. But the movie itself—an abstract, psychological thriller about a young woman seeking a kind of Buddhist balance beyond the self—is the evening's main dish. After the showing, there will also be a Q&A session with writer/director Kavi Karnapura.
$20, 6pm Sat, High Wire Arts, 326 W Josephine, (210) 827-7625, dreamlandcollective.com.
—James Courtney