Courtesy
Hecho a Mano Holiday Fesitval at the Guadalupe Cultural Arts Center
This holiday season, support San Antonio artists and entrepreneurs by shopping local. A host of holiday markets are being put on this December, each with its own cause such as community building within neighborhoods, supporting artists, women or LGBTQ/allies. Buying from local vendors and artisans stimulates creative, connected communities. In local market you encounter distinctive shopping experiences, a great diversity of products and personalized service, all while supporting your San Antonio economy. This month, don't scoure the internet or stand in eternal lines at chain stores, check out these festive holiday shopping experiences instead.
OPEN: Downtown Pop-Up Shops
Holiday shopping begins at OPEN, a rare pop-up market. Storefronts rotate on Houston Street, offering art, wine, jewelry, pet accessories, clothing, food and more. The pop-up shops' initiative is stimulating retail business downtown with small businesses and entrepreneurs. The eclectic collection of vendors sets up shop every Tuesday and Saturday this month. One such vendor is the AME Pop Up Art Gallery, a "collaborative art studio and gallery" located at The Milam Building. AME art on display includes unique mixed media pieces. Another OPEN vendor is CANVAS local art, a self-named "wine gallery and art bar". It is located in the historic Book Building. CANVAS's artist showcase features creative pieces, including Humans of San Antonio. Coffee and juice is provided by Revolucion Room and wine tastings via Vinously Speaking.
Free, 12pm-9pm, Tuesday and Saturday, The Book Building, 140 E. Houston; The Milam Building, 115 E. Travis; The Schaum Building, 231 E. Houston, (210) 207-4080, Facebook event page
Mockingbird Holiday Market
The lofty Brick Marketplace in Blue Star Arts Complex will play host to the Mockingbird Holiday Market. Handcrafted finds include ceramics, prints, recycled art, upcycled antique textiles, mixed media, metals and more. The Blue Star market is constructed for independent artists to collectively showcase their original pieces for the shopping season.
Free, 6pm-10pm, Fri December 5 & Sat December 6, Brick Marketplace at Blue Star Arts, 108 Blue Star, (210) 262-8653, Facebook event page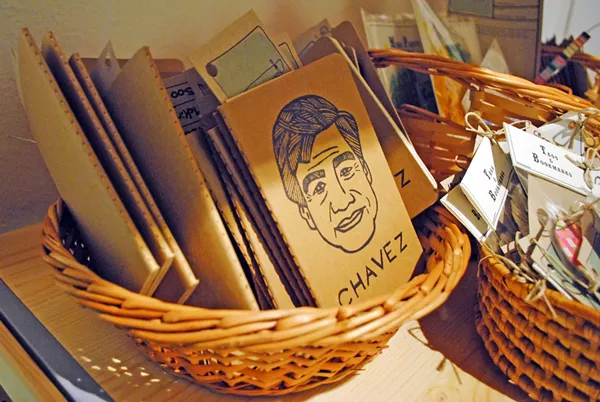 Stephen Guzman
Cesar Chavez notebooks from last year's Hecho a Mano Holiday Festival

Hecho a Mano

Hecho a Mano returns to the Guadalupe Cultural Arts Center with a three day festival. Friday attendees celebrate the beginning of festivities with a ribbon-cutting reception with honorary chair Arturo Infante Almeida, Curator of the UTSA Art Collection. Meet local artists and shop fine art and handmade designs. Entry on opening night costs $10 and includes food, drinks and door prizes. Entry on Saturday and Sunday is only $2 or 2 canned food items to benefit the Inner City Development Food Bank.
$2-$10, 6pm-9pm, Fri December 5, 10am-8pm, Sat December 6, 11am-6pm, Sun December 7, Guadalupe Cultural Arts Center, 723 S. Brazos, (210) 271-3151, guadalupeculturalarts.org
San Antonio Art Museum Holiday Bazaar & Texas Clay Festival
SAMA's Holiday Bazaar and Texas Clay Festival are coinciding efforts for a River of Lights Holiday Shopping and Celebration event. In the Museum's West Courtyard, shop jewelry, folk art, fabrics and the goods of over 30 Texas potters. Entertainment also include demonstrations, art activities, live music, food trucks and gallery tours at 11:30 am and 1 pm. The Museum Reach will light up at 6 pm and shine for a procession of music barges, carrying the sounds of the Youth Orchestra of San Antonio, Trinity University Jazz Ensemble and Mariachis, among others.
Free, Holiday Bazaar 10am-5pm, Clay Festival 10am-5pm, Sat December 6, San Antonio Museum of Art, 200 West Jones Ave, (210) 978-8100, samuseum.org
PSG Christmas Art Show
Parchman Stremmel Gallery hosts a reception for their December group collection featuring unique artwork by Elizabeth Walker-Carrington, Claudio Aguillon, Brenda Kingery, Laddie John Dill, Thomas Glassford, Joe Harjo, Gary Sweeney, Joan Frederick, William Carrington, Paige Holland and Penelope Spier with special holiday pricing.
12pm-3pm, Sat December 6 & Sat December 20, Parchman Stremmel Gallery, 7726 Broadway, (210) 824-8990,
psgart.com
Courtesy
Jennifer ling Datchuk and Ryan Takaba will sell their vintage-inspired household ceramics at the Mockingbird Holiday Market and Southwest School of Art's Articopia.

Articopia
This December the historic Coates Chapel will be decked out in holiday regalia and unusual treasures by San Anto and Austin artists. The potential gift list is long and includes clothing, jewelry, ceramics, upcycled glassware, letterpress cards, photography and original fine art. Music, food and delicious cocktails from the Institute of Chili make this holiday event very merry.
Free, 4pm-6pm SSA member previews, 6pm-9pm general admission, Fri December 12, 10am-6pm, Sat December 13, Southwest School of Art, 300 Augusta, (210) 200-8228, swschool.org/articopia
So-Flo Holiday Market
The So-Flo Market offers a special holiday shopping experience, with an opportunity to meet the artisans who carefully crafted your handmade goods. Based in the South Flores Arts District, the urban art and craft market creates community ties through local business and personal contact, even as the artsy SoFlo neighborhood grows ever larger.
Free, 10am-4pm, Sat December 13, 1344 S. Flores St, soflomarket.com
Queer the Cheer
This year the Queer for Cheer Holiday Market is presented once again by the San Antonio Queer Collective. The organizers behind the market set out to create a space in which LGBTQ and ally artists, crafters, performers, dancers and musicians could display their art. In this creative space, the diverse, multifaceted work of LGBTQ and allies can be appreciated and celebrated this holiday season. The community event offers shoppers local, handcrafted gifts and one-of-a-kind artwork. A small donation will be rewarded with beer, wine and tamales.
Free, 4pm-10pm, Sat December 20, Pride Center, 147 E. Mistletoe Ave, Facebook event page
Mujeres Mercado
Mujeres Mercado is about "creating marketplaces and cultural spaces that support and connect women artisans and traditional healers building alternative economies." Its founders believe in the importance of women creating space for other women. The night market has everything from fashion, live music, handmade wares, educational and hands-on workshops, to traditional healers and a video installation dubbed
The Saga
. There will be a variety of food trucks on site, Blue Star Icehouse, El Oasis Cafe and Cupcakes, as well as organic local craft beer and wine. The mercado displays the Main Plaza's historic beauty and the possibilities of the urban space, while providing opportunity for female artisan sellers.
Free, 7pm-11pm, Sat December 20, Main Plaza, 115 N. Main Ave, (413) 695-0203, mujeresmercado.wordpress.com