Thursday, December 18
Miracle on 34th Street
This week's Wonderland of the Americas free movie the week is the timeless Christmas classic
Miracle of 34th Street
, a touching legal drama—as touching as legal dramas
can
be— about a institutionalized man who claims to be Kris Kringle. SPOILER ALERT: He is Kris Kringle.
Free, 7pm, Santikos Bijou Cinema Bistro, 4522 Fredericksburg, (210) 734-4552, santikos.com.
Thursday, December 18
GET REEL: 60th Anniversary Film Series: White Christmas
Irving Berlin's 1954 musical follows two former U.S. Army soldiers (Bing Crosby and Danny Kaye) who make it big on Broadway and fall for two sisters who help them save their beloved Army General's Vermont lodge from closing.
Free, 6pm Thursday; McNay Art Museum, 6000 N New Braunfels, (210) 824-5368, mcnayart.org.
Thursday, December 18
'Ridin' Dirty'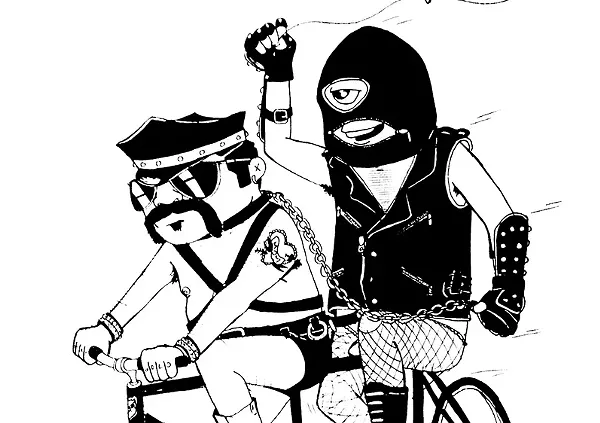 Named after a scent introduced in Tom Robbins' 1984 novel
Jitterbug Perfume
, Beacon Hill's K23 Gallery aims to "provide a platform for artists who might otherwise not have one." Billed as an "erotic bicycling multimedia event," K23's first ever group show comprises works by Louie Chavez, Frances Minten, Mark Olivares, Jessica Garcia, Tony Gnosis, Marc Montoya, Bryan Duff and Shannon Wingate; a performance by Zombie Bazaar Belly Dance; and a screening of Portland's 8th Annual Bike Smut Film Festival—a traveling program of shorts designed to bring the "synthesis of transportation and sexuality to life."
Free, 7pm-midnight, K23 Gallery, 702 Fredericksburg, k23gallery.com.
—Bryan Rindfuss
Friday, December 19 and Saturday, December 20
Screen Printing Workshop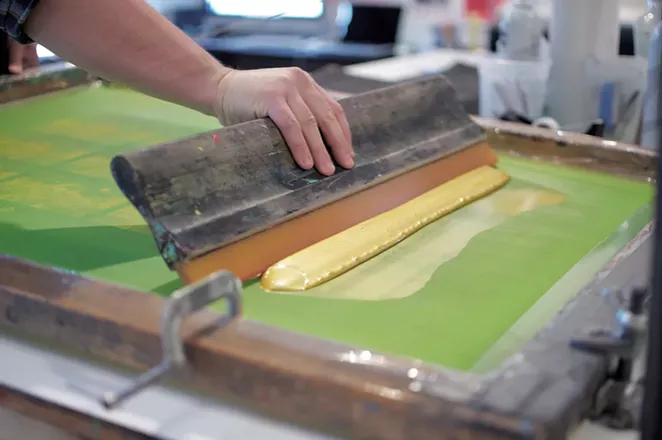 Learn how to screen print and create your own T-shirt at this two-part workshop organized by San Anto Cultural Arts for ages 13 to 19.
Free, 4-7pm Friday and 11am-2pm Saturday; San Anto Cultural Arts, 2120 El Paso, (210) 226-7466, sananto.org.
Saturday, December 20
Queer the Cheer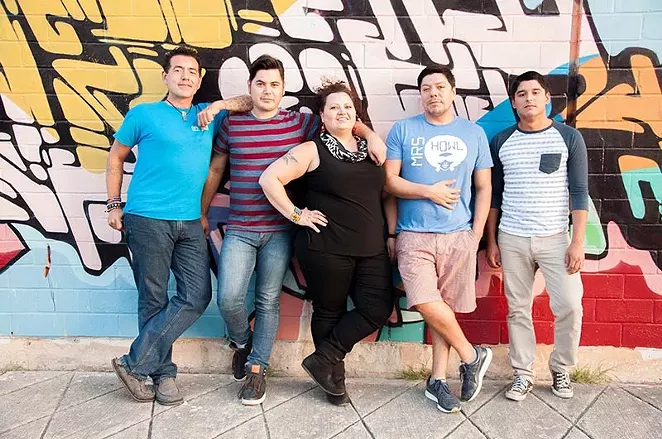 Launched in 2013 by Ernesto Olivo, Rosalynn Warren, Manuel Davila and Beto De Leon, the San Antonio Queer Collective seeks to "emphasize and promote the amazing talent of San Antonio's queer community." Sparked by the absence of an LGBT-focused holiday market, the DIY-minded crew of queer creators, organizers, artists and makers hosted its inaugural Queer the Cheer event last December at the Southwest Workers Union's Roots of Change Urban Garden. For year two, SAQ Collective brings together more than 20 LGBT/queer/ally artists, crafters and makers—including Sisters of Yarnage, David Zamora Casas, The Odd Macabre, Luna Kitty Designs, Malice in Chains, Linda Monsivais (aka Lovely Minivans), Dino Foxx, Logan Magz, Rasqua-Chic and The Aesthetic of Waste—for an eclectic gift market enhanced with beer, wine and tamales (by donation), music by local electronica act Saakred and DJ Neto, and "Homo for the Holidays"—a drag/burlesque revue with performances by Foxxy Blue Orchid, Maxxy Radd, Keelin Christopher, Miss Black Orchid and Pantie Oaklie.
Free, 4-10pm, Pride Center, 147 E Mistletoe, (210) 370-7743, facebook.com/saqcollective.
—Bryan Rindfuss
Saturday, December 20
Texas Toy Show (Free for Kids)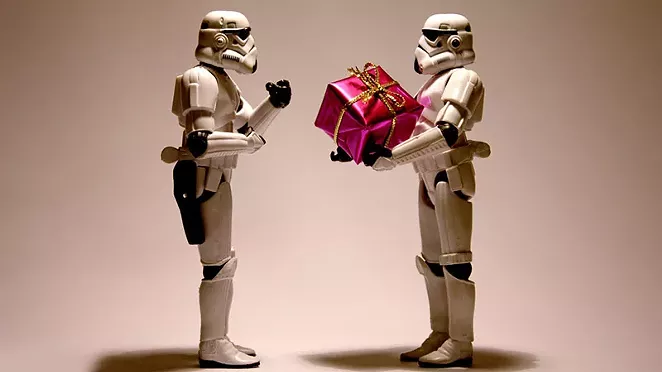 Does a nostalgic longing for things past haunt your holidays? Are you a toy collector or a parent or a child or just a person with a free Saturday looking to get lost in a veritable toy wonderland? If you answered yes to any of those questions, the Texas Toy Show is about to make your weekend. Whether you're still looking for gifts or just in the mood to take a stroll while marveling at the myriad manifestations of our collective imagination, this event is sure to please. With thousands of vintage and new toys and comics for purchase and perusal, it's a gift that gives at every turn.
$5 (free for kids), 9am-5pm, San Antonio Shrine Auditorium, 901 N Loop 1604 W, (210) 496-6334, texastoyshow.com.
—James Courtney
Saturday, December 20
Mujeres Mercardo Night Market


Whether you've hit the snooze button on holiday shopping or wrapped it up, Mujeres Mercado's final Night Market of 2014 beckons with handcrafted giftables and an intriguing music lineup. Organized by Cristina Martinez and tk karakashian tunchez, the affair rounds up hyperlocal T-shirts (BarbacoApparel), accessories that look good enough to eat (Sweet Craft Jewelry), locally produced candles (Karma Candle Makers) and lots more to peruse while taking in the soulful arrangements of Valerie Fernandez, "mariachi canciones de corazón" by Dr. Rachel Yvonne Cruz and Nizhoni Camille Begay, and the Latin fusion-rock of The Indigenauts.
Free, 7-11pm, Main Plaza, 115 N Main, facebook.com/mujeresmercado.
—Bryan Rindfuss
Saturday, December 20
Los Pastores

In a typical nativity play, we witness the birth of Jesus through the eyes of Mary and Joseph; but the Guadalupe Players are anything but typical. Los Pastores follows the shepherds' journey and the obstacles set forth by the devil, culminating in a battle between Michael the Archangel and Lucifer. First brought to SA from Mexico in 1910, this folk play is sung in Spanish and celebrates its 67th year at Mission San José. Expect memorable costumes—cast member Debbie Covarrubia-Barcenez teases, "We do dress like Texas shepherds and not necessarily Bethlehem shepherds."
Free (lawn chairs welcome), 7pm, Mission San José, 6701 San José, (210) 386-4177, guadalupechurchsanantonio.org.
—Murphi Cook
Saturday, December 20
Zac Cimi Arte Grand Opening

This Saturday, you're invited to be a part of welcoming the latest addition to SA's thriving Westside art community. Zac Cimi Arte, owned by artist Nina Donley, is part of the unique live/work units at the Gardens at San Juan Square on Zarzamora. Donely—who was born Juanette Manuela Hernandez, but renamed by foster parents at age five—comes to this momentous and exciting opening after a lifetime of struggle and suffering at the hands of poverty, abusive parents and foster parents, institutionalized living, disillusionment and drug abuse. Creativity has been her saving grace. Her art, which takes many forms and will be on display and for sale along with the work of more than 25 other local artists, deals with issues of cultural and sexual identity and revels in the explosively restorative power of bright, rich color and loose, delightfully idiosyncratic execution. Aside from exhibiting and selling art, Donley plans to use Zac Cimi Arte to serve the community through workshops, classes and general activism for the underserved. This special event will also feature food for purchase, live music and giveaways.
Free with donation of a nonperishable canned good, 10am-3pm, Zac Cimi Arte, 2003 S Zarzamora #3104, (210) 725-0391, zaccimiarte.com.
—James Courtney