Thu 1/8
Granito: How to Nail a Dictator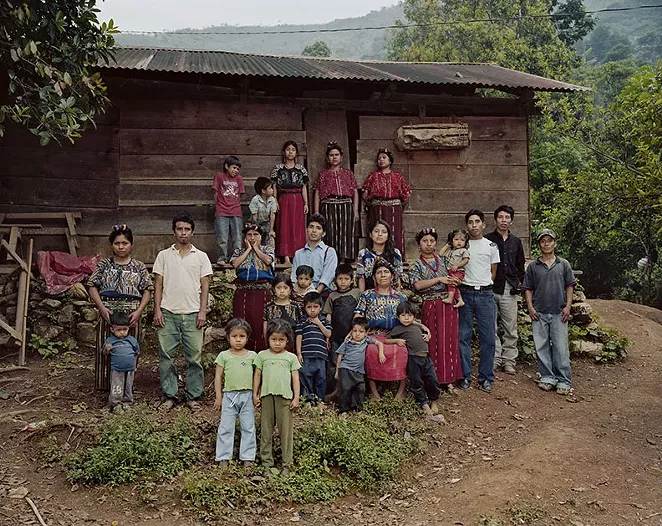 With the forensic evidence captured in her 1983 documentary
When the Mountains Tremble
, filmmaker Pamela Yates helped a Spanish court find former general and dictator Efraín Ríos Montt guilty of genocide and crimes against humanity for the deaths of thousands of indigenous people during his reign between 1982-83. In January of 2012, Montt was formally indicted on the charges. He was sentenced to 80 years in prison in May of 2013, but the conviction was quickly overturned and the trial was reset for 2015. During the time of his indictment, Yates revisited Montt's atrocities in a new documentary—
Granito: How to Nail a Dictator
, where she reflects on how her 1983 directorial debut became such an integral part in the fight to bring Montt to justice.
Granito
, which was an official selection at the 2011 Sundance Film Festival and part of PBS'
POV
series in 2012, screens in conjunction with Borderland Collective's exhibition "Northern Triangle," an installation created in response to the thousands of unaccompanied children from Central America apprehended this year at the U.S.-Mexico border.
$3-$5, 6:30pm Thu, Blue Star Contemporary Art Museum, 116 Blue Star, (210) 227-6960, bluestarart.org
.
–Kiko Martinez




Thu 1/8 & Sun 1/11
Salome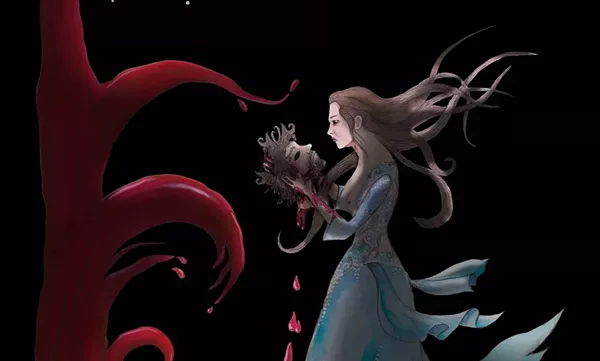 There are few things more erotic than a man's head on a platter—unless, of course, you're the man who's lost his head. Richard Strauss' thrilling adaptation of Oscar Wilde's 1891 tragedy
Salome
tells the tale of a nubile princess who performs a naughty dance for her father in exchange for the imprisoned John the Baptist's head. Sung in German with English subtitles, this one-act has shocked audiences since its 1905 premiere for its erotic take on a biblical theme. Opera San Antonio's production is intended for mature audiences only.
$29-$211, 7:30pm Thu, 2pm Sun, Tobin Center for the Performing Arts, 100 Auditorium Circle, (210) 223-8624, tobincenter.org
.
—Murphi Cook
Fri 1/9
Spurs vs. Suns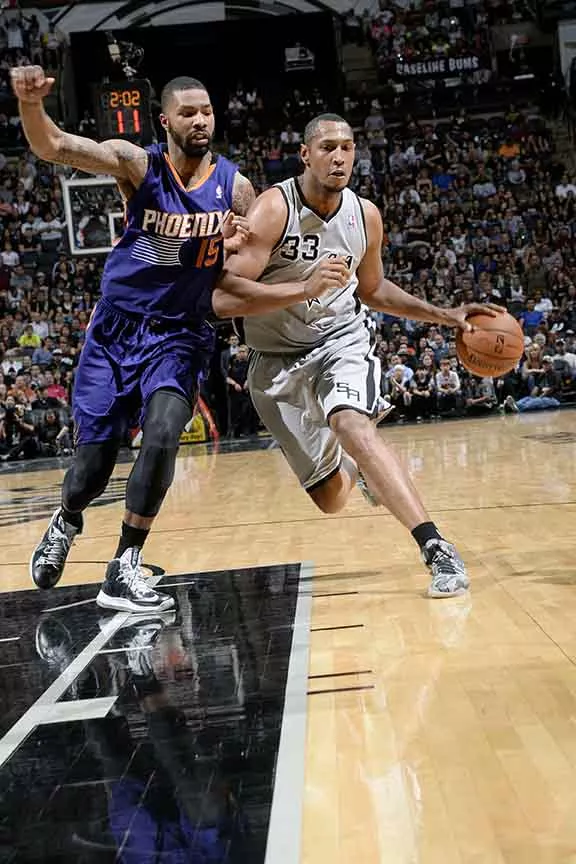 For the last decade, Spurs versus Suns was usually a must-see matchup. Led by two-time MVP Steve Nash, the Suns played the role of angry little brother to the Spurs before finally breaking through in 2010. These days the Phoenix attack is centered on a trio of point guards in Goran Dragic, Eric Bledsoe and Isaiah Thomas, who are not averse to simultaneously sharing the court. With San Antonio recently exhibiting a lack of focus against the dregs of the league, it could be a long night for Danny Green and Manu Ginobili as they chase around Phoenix's diminutive three-headed monster.
$15-$310, 7:30pm Fri, AT&T Center, One AT&T Center, (210) 444-5000, attcenter.com.
—M. Solis
Fri 1/9
Kathleen Madigan
Pop Matters named Kathleen Madigan one of the "Funniest Women on the Planet Right Now" along with feminist icons Tina Fey and Amy Poehler, but Madigan, the only stand-up to make the list, would be the kind of drinking buddy coveted by men and women equally. Quick to laugh in delight at her own funny stories, Madigan's delivery is so relaxed it's easy to forget she's talking into a microphone instead of over a beer glass. But concert hall or corner bar, no man or woman who values laughter would think to interrupt Madigan once she gets on a roll.
$24.50-$34.50, 8pm Fri, Tobin Center for the Performing Arts, 100 Auditorium Circle, (210) 223-8624, tobincenter.org
.
—Jeremy Martin
Fri 1/9
Engine & Diving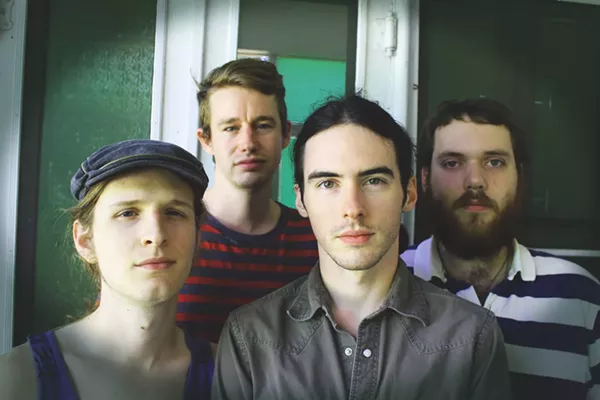 It's a new year and it's time for some new tunes, new sonic escapes from the numbing doldrums of day-to-day. If you're unfamiliar with ATX's Diving and Shreveport's Engine, Friday's show at Bottom Bracket might be the perfect place to start. You'll love Diving's tempestuous and math-rock-infused emo jams and Engine's spaced-out, Southern-rockish take on indie folk. For research purposes, we recommend you check out Diving's 2013 split release (with Kentucky's Sixteen) on SA's own Texas Is Funny Records and Engine's latest and greatest LP
Red Moon Rises
.
Free, 10pm Fri, Bottom Bracket Social Club, 1603 N Colorado, (210) 267-9160, facebook.com/bottombracketsocialclub
.
—James Courtney


Fri 1/9 - Sat 1/10
DreamWeek Highlights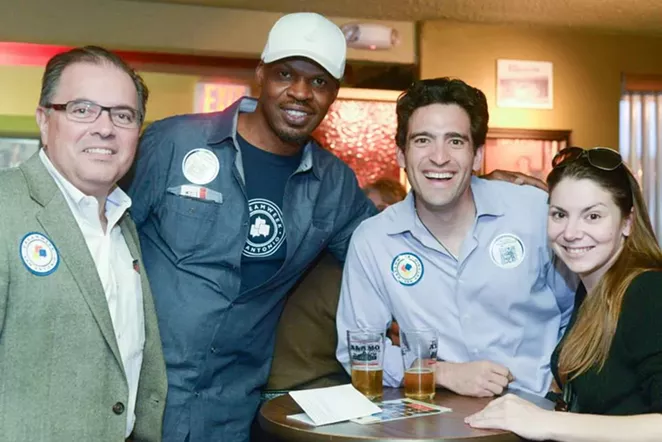 DreamWeek returns to San Antonio "to inspire and motivate the community to action in creating a more tolerant and enlightened society." Presented by The San Antonio Martin Luther King, Jr. Commission and DreamVoice, the 12-day summit (January 9-20) features keynote speakers, workshops, performances, celebrations and one of the country's largest MLK marches. The events revolve around 12 key themes: city, sports, cuisine, health, youth, environment, technology, education, arts, spirit, justice, and business. This week's highlights include the SA Ivy Educational Fund 2015 Educational Enrichment Dinner, featuring prominent author, performer, and commentator Cornel West ($100, 7pm Fri, Sky Room, University of the Incarnate Word, 847 E Hildebrand); the San Antonio Museum of Art's annual party with live music and specialty cocktails ($10, 6-8pm Fri, San Antonio Museum of Art, 200 W Jones); an evening of spoken word poetry hosted by 2nd Verse ($5, 9 pm-midnight Fri, Continental Café, 6390 Fairdale); an all day workshop for arts educators that includes writing, art-making exercises, and an exploration of SAMA's collections through the lens of tolerance ($15-$25, 10am–4pm Sat); and an Oratorial Contest with junior high and high school students presenting speeches on How MLK would respond to recent use of excessive force among law enforcement (free, 10am Sat, Second Baptist Church, 3310 E Commerce).
Visit dreamweek.org for a full schedule of DreamWeek events
.
—Murphi Cook

Sat 1/10
Performance Party XXX
Around this time last year, Jump-Start left its longtime home at Blue Star with a bittersweet bang that took shape in a "Wrecking Ball"-themed Performance Party that came complete with a Miley Cyrus-inspired invite. While its former digs now function as Brick, the veteran performance art troupe is rebooting within the creative enclave of Beacon Hill. For fans who've yet to visit the new headquarters, this 30th annual celebration—which showcases "actors, musicians, dancers, poets, fire-eaters, stilt-walkers, movers, shakers, magicians, y más" at four neighboring venues—is a must.
$5, 7-11pm Sat, Jump-Start, 710 Fredericksburg, (210) 227-5867, jump-start.org
.
—Bryan Rindfuss
Sat 1/10 - Sun 1/11
Flamenco A'lante: Prophecies

Formed in 2011, A'lante Flamenco seeks to provoke "emotional responses through music and dance that crosses cultural and linguistic boundaries." A fiery explosion of past and present, the Austin-based troupe's "Prophecies" summons Kahlil Gibran, a Lebanese philosopher and poet whose 1923 book
The Prophet
travels across the expanse of the human condition. In this imagined dialogue of dance and music the award-winning A'Lante challenges audiences to consider our modern techno-saturated lives in an effort to "move forward by first looking back."
$24.50, 8pm Sat, 3pm Sun, Tobin Center for the Performing Arts, 100 Auditorium Circle, (210) 223-8624, alanteflamenco.com
.
—MC
Sat 1/10 - Sun 1/11
Monster Jam
Monster Jam, for those unfamiliar with the cable network Speed, challenges drivers to pit their intellects against one another in a chess-like battle to see whose 12-foot, 5-ton monster truck can most rapidly circumnavigate an obstacle course. The Matchbox-licensed car-crushers scheduled to compete include Grave Digger, Shock Therapy and NEA (New Earth Authority) Police, which, according to the official Monster Jam website is "here now for the greater good of humanity … the law enforcement vehicle of peace, and it's on a mission to terminate." They forgot to add: fun for the whole family!
$21.26-$36.99, 7pm Sat, 2pm Sun, Alamodome, 100 Montana, alamodome.com
.
–JM
Sun 1/11
Mick Foley


Having been on the receiving end of more blood baths than he'd care to admit, three-time WWE champ and author (1999's
Have A Nice Day
and 2001's
Foley is Good
) Mick Foley takes the Rivercenter stage on January 11. Drawn from life experiences—including stories about losing an ear during a match, writing children's books and producing the 2014 documentary
I Am Santa Claus
with Morgan Spurlock—Foley's comedy is surreal and shockingly sensitive. A bonus for fans of the man formerly known as Dude Love, Foley's lone SA show concludes with a meet and greet and Q&A session.
$25, 6pm Sun, Rivercenter Comedy Club, 849 E Commerce, (210) 229-1420, rivercentercomedyclub.com
.
—Kevin Femmel