Thursday, January 15
"Hare & Hound Press + Artpace"


They're separate entities that operate in different ways, but Artpace and the Linda Pace Foundation share the vision of late founder Linda Pace, who believed "contemporary art is essential to a dynamic society." In celebration of Artpace's 20th year, and a gift to LPF from a longtime local collaborator, Pace's institutions unite for "Hare & Hound Press + Artpace: The Art of Collaboration." Culled from 100-plus printer's proofs, the exhibition opens concurrently with the similarly nostalgic "Untitled(Beginning)," an installation first unveiled at Artpace in 1995 by the late Cuban-American artist Félix González-Torres.
Free, 6-9pm Thu, Artpace, 445 N Main, (210) 212-4900, artpace.org
. —
Bryan Rindfuss
Thursday, January 15
San Antonio Cocktail Conference: Opening Night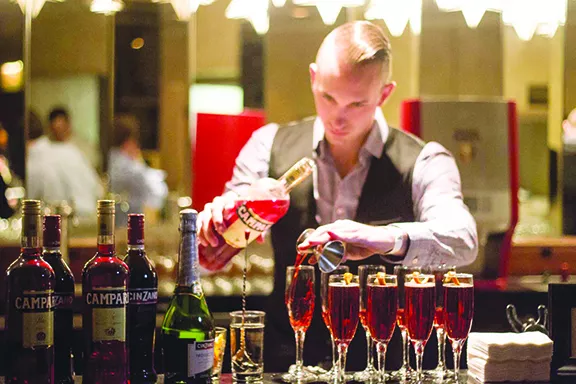 Because the San Antonio Cocktail Conference outgrew Bohanan's Courtyard almost immediately, the opening night festivities shifted to the Majestic Theatre in its second year. Now the third opening night affair held at the picturesque Majestic will feature a different floor plan with a stage over the seats, a better flow on the first floor and access to the second and adjoining Starlight patio, which overlooks a twinkly Houston Street. Opening night party-goers, who should don their finest cocktail attire, can expect live music by Mayer Hawthorne, 28 spirit stations and 16 food stations with noshes by the Art Institute; Guerilla Gourmet; Mixtli; The Granary 'Cue & Brew; The Friendly Spot; Inspired Occasions; Restaurant Gwendolyn; The Cookhouse; Folc; The Monterey; and Austin's La Condesa.
$100, 7-11pm Thu, The Majestic Theatre, 224 E Houston, (210) 226-3333, majesticempire.com
.
—Jessica Elizarraras
Thursday, January 15 - Monday, January 19
DreamWeek Highlights


Presented by the San Antonio Martin Luther King Jr. Commission and DreamVoice, DreamWeek soars into its second week. The 12-day summit, which seeks to "inspire and motivate the community to action," includes speakers, workshops, performances and celebrations that revolve around 12 key themes: city, sports, cuisine, health, youth, environment, technology, education, arts, spirit, justice and business. This week's highlights include The MLK Jr. commemorative lecture by anti-racist essayist, author and educator Tim Wise (free, 7:30pm Thu, Laurie Auditorium, Trinity University, One Trinity); Fanshen Cox DiGiovanni's one-woman show
One Drop of Love
—a multimedia performance produced by Matt Damon and Ben Affleck that explores race, family, love and pain ($34.50, 2pm & 8 pm Sat, Tobin Center for the Performing Arts, 100 Auditorium Circle); and Roxy Roca's expressions of love and soul music with "Happiness Is A Choice" presented by
Muze Collective Magazine
. The week culminates with one of country's largest MLK marches, an unforgettable 2.5-mile journey uniting thousands of individuals along with civic, social and religious organizations. For route information visit
sanantonio.gov/mlk
(free, 10-11:30am Mon, starts at MLK Jr. Academy, 3501 Martin Luther King Jr.).
For a full schedule of DreamWeek events visit
dreamweek.org
.
—Murphi Cook

Friday, January 16
Creatura, Transit Method, White Elefant


Daniela Riojas
Creatura
This Friday, shake off the wintry blues with an excellent and diverse lineup of bands at Bottom Bracket. For starters, SA's Creatura, who released one of our favorite local albums last year, plays throwback psychedelic rock music, living well in the house that Gracie Slick built. Up next, ATX's Transit Method makes music that's a wild amalgam of styles. From prog-rock to grunge to funkified psych-rock, these guys put it all together and make it work exceedingly well. Closing the night, local indie garage-rock act White Elefant just keeps getting sharper and ignoring the status quo.
Free, 10pm Fri, Bottom Bracket Social Club, 1603 N Colorado, (210) 267-9160
.
—James Courtney

Friday, January 16
"Anti-Fertility Garden"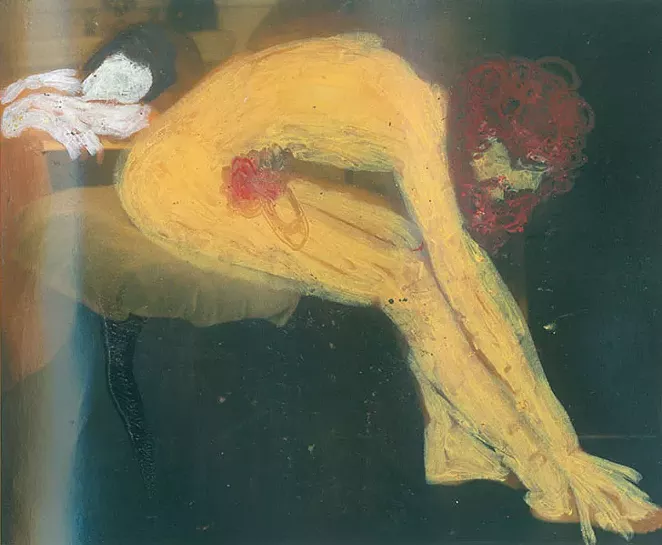 What do neem, papaya and myrtle have in common? Each purportedly holds the power to make men sterile. Dallas-based artist Mary Walling Blackburn's "Anti-Fertility Garden" is a two-part experience comprised of a garden filled with those sterilizing plants, and a gallery of drawings, sculpture, video, and handmade anti-fertility soap by Sophy Naess. Regardless of where you stand "genitals abound, but they aren't what they seem." Selected by guest curator Laurence Miller, Blackburn arrives amidst the tides of change as Anjali Gupta takes over for Hills Snyder as director of Sala Diaz.
Free, 6-9pm Fri, Sala Diaz, 517 Stieren, (972) 900-0046, saladiazart.org
.
—Murphi Cook
Friday, January 16
Bearded Love Concert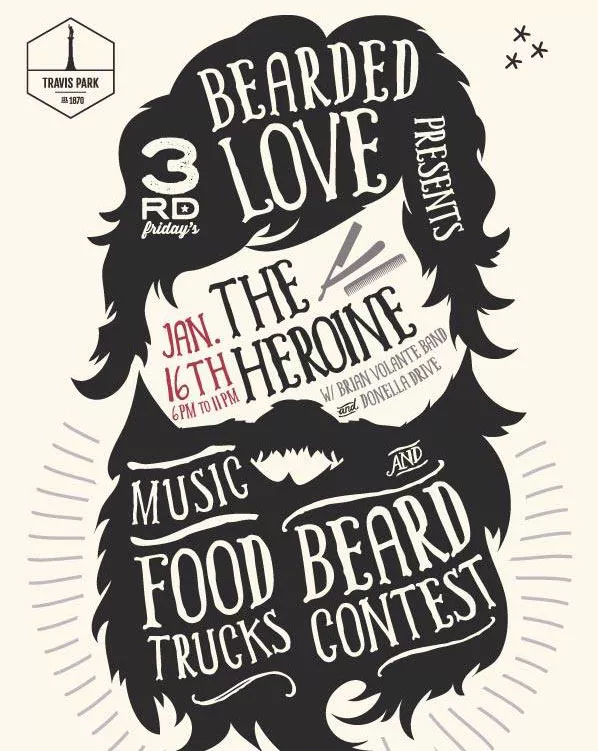 The January installment of Travis Park's family-friendly 3rd Friday music series celebrates SA's bearded community with a beard contest hosted by The Alamo Beard Club and prizes ranging from an Epiphone guitar to a $150 Harley Davidson gift card. Proceeds from the event benefit the Network for Young Artists (NYA), a nonprofit organization that promotes arts and culture through voice, dance, music and performing arts programs. Local acts Brian Volante Band, Donella Drive and hard-rocking headliners The Heroine provide the soundtrack for the evening. Bearded Love brings together local music, cuisine and businesses for a night of entertainment and, of course, awesome facial hair. Categories for the contest include: crowd favorite, beards six inches or longer, beards less than six inches, partial beard and best mustache.
Free
(
$10 donation to enter the contest), 6-11pm Fri, Travis Park, 301 E Travis, facebook.com/travisparksa
.
—Ainsley Caffrey
Saturday, January 17
Creative Creatures


Celebrating its one-year anniversary on Saturday, Creative Creatures is an event series that brings artists and musical acts together in an intentionally eclectic way. Part concert and part exhibit, it's a fantastic one-stop for getting yourself better acquainted with the local art and music scenes. This weekend's incarnation will feature over 35 creators, showcasing their talents in art, crafts, fashion and more. For music, we're looking forward to Tex-Mex flavored, ska-infused, punk rock thrashers Nada Mas Basura sharing the stage with dark and brooding synth poppers Dawn of the Phoenix.
$5, 8pm Sat, Fitzgerald's Bar, 437 McCarty, (210) 629-5141, facebook.com/creativecreaturessatx
.
—James Courtney
Saturday, January 17
Burlesque and Variety Show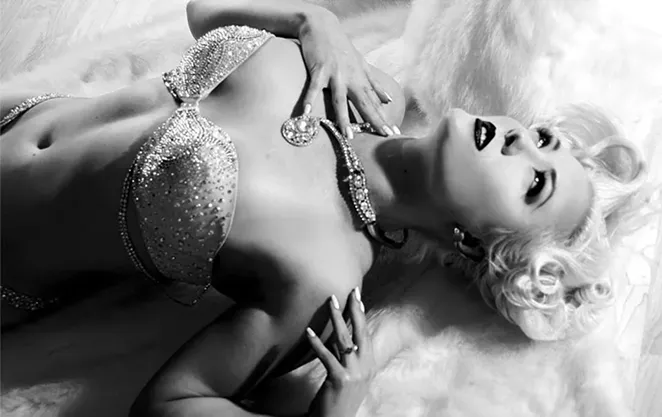 While most San Antonians dig into their coat closets for the first time in recent history, the Pastie Pops are prepping to peel off layers in a racy variety show mixing neo-burlesque, boylesque and lots in between. Hosted by Katie Red, the evening showcases troupe mainstays Pelvis Costello, Olympia DeWinter and Jasper St. James, along with such special guests as Elle Du Jour, Vixy Van Hellen (aka "The Bare Bottom of Bexar County") and Dallasite Missy Lisa (pictured). Founder of Dallas' Ruby Revue, Lisa took home the Most Classic award at the 2014 Burlesque Hall of Fame Weekend in Las Vegas.
$10-$30, 9pm Sat, The Uptown Studio, 700 Fredericksburg, (210)387-1617, facebook.com/pastiepops
.
—Bryan Rindfuss
Saturday, January 17 & Sunday, January 18
ZZ Top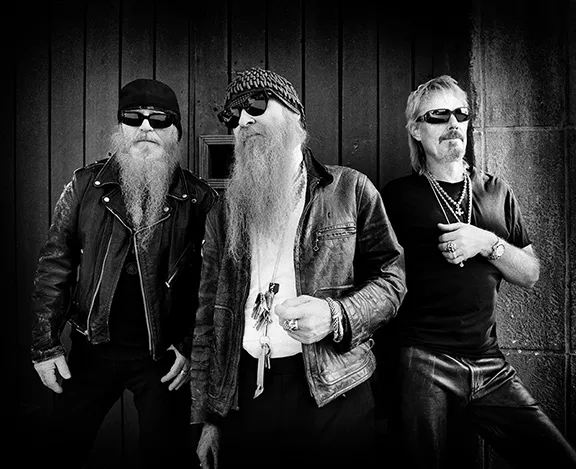 Recently, a friend asked me the name of "that one ZZ Top song, the one that's about a brothel." I replied that he was talking about the 1973 blues rock gem "La Grange," but I felt like it could have been any of the band's songs. The trio's trademark sound almost always calls to mind the sleazier side of life. Maybe it's their delightfully dirty approach to the blues or those sunglasses that seem meant to reflect the neon lights of some shitty dive. At any rate, these dudes are legends who have been as consistent as any classic rock band over the years—and their live shows really cook.
$45-$125, 8pm Sat-Sun, The Majestic Theatre, 224 E Houston, (210) 226-3333, majesticempire.com
.
—James Courtney


Sunday, January 18
Spurs vs. Jazz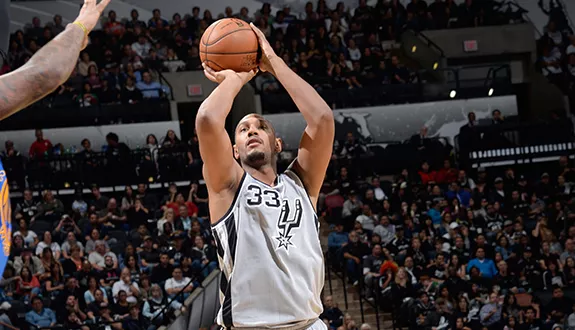 The Utah Jazz have been a thorn in San Antonio's side going back to the days when John Stockton ran the point and Karl Malone roamed the paint. More recently, the Jazz helped usher in a December to forget, when Kawhi Leonard injured his shooting hand during a loss in Salt Lake City. While remnants of the holiday hangover appear to be lurking in the shadows, Leonard is expected back on the hardwood sometime this week. While an appearance by Leonard Sunday would be a welcome boon, next Friday night against the Lakers and Kobe Bryant feels like a safer pick for his much welcomed return.
$25-$310, 6pm Sun, AT&T Center, One AT&T Center, (210) 444-5000, attcenter.com
.
–M. Solis