Thu 1/29 - Sun 2/1
True West


Big-screen success aside, multitasker Sam Shepard has made a lasting impact on American theater. Hailed as his masterwork, the Pulitzer-winning playwright's 1980 offering
True West
explores sibling rivalry and double nature via a tense encounter between estranged brothers Austin (a straitlaced screenwriter) and Lee (a drunken con-man). Brought to life over the years by the likes of Tommy Lee Jones, John Malkovitch and the late Philip Seymour Hoffman, the surreal dramedy returns to the AtticRep stage under the direction of David Connelly.
$18-$28, 8pm Thu-Sat, 2:30pm Sun, Tobin Center for the Performing Arts, 100 Auditorium Circle, (210) 223-8624, atticrep.org
.
— Bryan Rindfuss
Thu 1/29
"Air to Ground"


Artist Constance Lowe can't escape the hearty hold of the Midwest, no matter how many years she spends in San Antonio. In "Air to Ground," the St. Louis native combines her interests in satellite photography and geometric painting to develop works that "demonstrate how our natural environment and our relationship to it is increasingly abstract." Part of her larger
Garden Series
, these brightly colored, sharply textured collages evolve from NASA land satellite photographs. Beyond Thursday's opening reception, "Air to Ground" takes shape in a Valentine's Day social with the artist.
Free, 6-8pm Thu, Ruiz-Healy Art, 201 E Olmos, (210) 804-2219, ruizhealyart.com
.
— Murphi Cook
Thu 1/29
Vi//ZiNE Issue 7 Premiere Party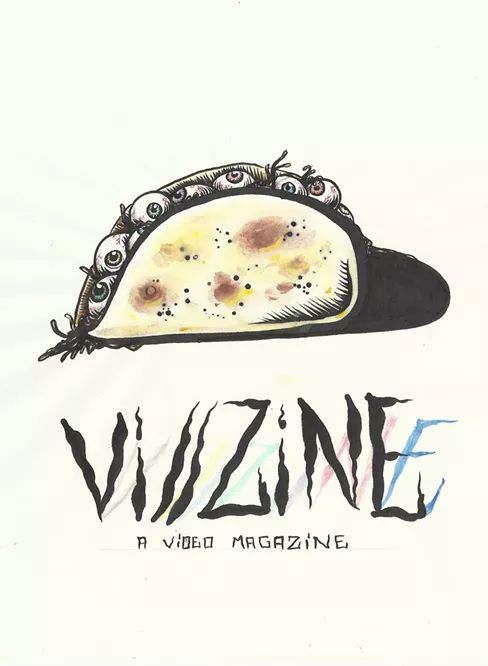 Vi//ZiNE
, SA's idiosyncratic DVD zine, celebrates the screening of its seventh issue, premiering outside on Bottom Bracket's patio. If issues one through six are any indication, the new reel will feature segments on San Antonio music and street art, plus skate vids, psychedelic Adult Swim-style vignettes and pieces on biking and DIY culture. Inside,
Vi//ZiNE
's prepared a sweet lineup of music, with the overdriven duo riffs of Lonely Horse, the noisy trip-hop of Wholly Vible and backpack powerhouse emcee Kree23. With Summer Moon and DJs ESPR and Errthang spinning.
Free, 8pm Thu, Bottom Bracket Social Club, 1603 N Colorado, (210) 267-9160, facebook.com/bottombracketsocialclub
.
— Matt Stieb


Thu 1/29
Globetrotters vs. Generals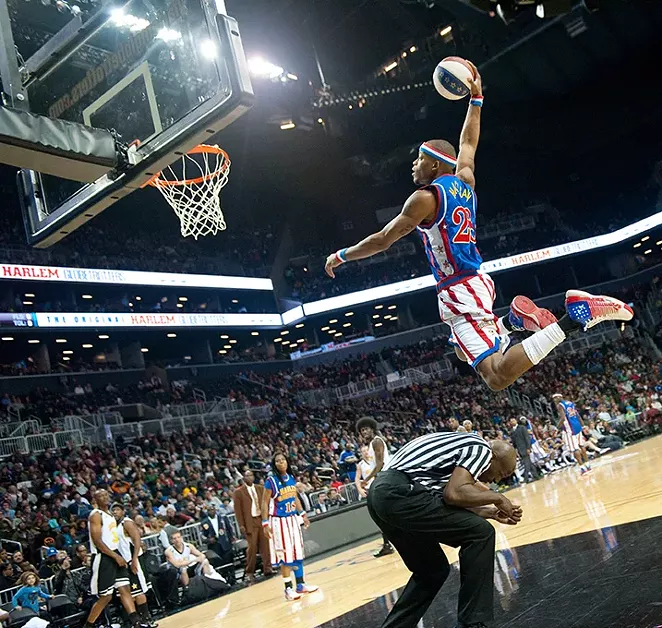 The Washington Generals have had a long run as icons of basketball futility, usually playing the foil to the Harlem Globetrotters, who they've lost to an estimated 14,000 times. This latest string of exhibition games recalls the last rare occasion the Generals prevailed — almost a half-century ago. Of course, the real draw is the hoop magicians from Harlem, whose trick shots and soaring dunks have dazzled young basketball fans since the '60s. While Meadowlark Lemon and Curly Neal have passed the baton to Big Easy Lofton and Ant Atkinson, basketball's court jesters remain an attraction.
$18-$155, 7pm Thu, AT&T Center, One AT&T Center, (210) 444-5000, attcenter.com
. —
M. Solis
Thu 1/29
GET REEL: Under the Skin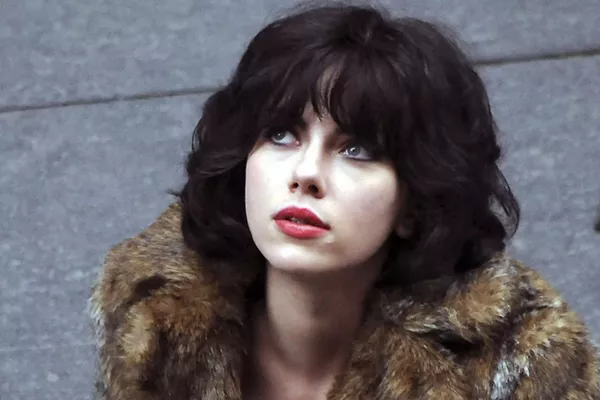 Under the Skin
is a chilly, beautiful, alien avant-garde creation disguised as a feature film, just as its seductive anti-heroine seems disguised as a woman. With little dialogue, Scarlett Johansson plays a predatory cypher who cruises Scotland in a van, picking up guys and doing something strange, symbolic and frightening to them. You may extrapolate a science-fiction explanation that director Jonathan Glazer doesn't bother to clarify from Michel Faber's novel, though it can also be seen as a conceptual dance with eerie music, ravishing photography and a buzzing ambience that implies something insectile, as in an early scene where Johansson gazes upon an ant and later when she's distracted by a fly. There was no chance anything this bizarre would get any Oscar nods, but don't let that stop you from seeking out one of last year's best films. The McNay screens it as part of its GET REEL Film Series.
Free, wine reception at 6pm, film at 6:30pm Thu, McNay Art Museum, 6000 N New Braunfels, (210) 824-5368, mcnayart.org
.
— Michael Barrett
Fri 1/30
Nina Diaz, Sarah Jaffe


NPR once gave SA songstress Nina Diaz some impressive cred as "one of the two or three most exciting, scary-good vocalists in rock today." The praise rings true if you cross-reference with the video of Diaz singing "Rebirth," one of the few tunes she has recorded in hi-fi since her hiatus from Girl in a Coma. As the band drops into orchestrated hits, Diaz sings of a former lover, her eyes wild with a frightening intensity and her voice scaling octaves with ease. Gaining momentum with a few well-received gigs toward the end of last year (including the inauguration of the Tobin Center's River Walk Plaza), we're looking forward to what the new year holds for SA's comatic star. Denton's Sarah Jaffe plays with rich textures in her orchestral indie rock arrangements, though her strong songwriting is just as arresting in acoustic form.
$10-$50, 9pm Fri, Sam's Burger Joint, 330 E Grayson, (210) 223-2830, samsburgerjoint.com
.
— Matt Stieb

Fri 1/30 - Sat 1/31
In One Take!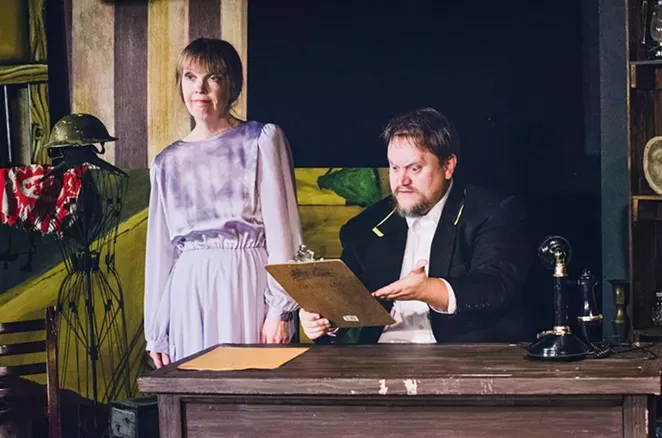 Regina C. Schneider directs Oregon native Martin Follose's fast-paced romantic comedy about a studio boss determined to get an actress and her ex-husband to portray Romeo and Juliet in what threatens to be the last 20 minutes of his career.
$10-$14, 8pm Fri-Sat, The Overtime Theatre, 1203 Camden, (210) 557-7562, theovertimetheater.org.
— Bryan Rindfuss

Sat 1/31
A Tribute to Quentin Tarantino
Versed in everything from knife throwing and snake charming to glass walking and fire eating, the daredevilish gals of Le Strange Sideshow dig into Quentin Tarantino's cult canon for a costumed night of burlesque fusion. Drawing inspiration from six flicks (including
Reservoir Dogs
,
Sin City
and
Pulp Fiction
), the night promises performances by Le Strange's core trio (Gaige, Aliska Wolfbane and Chamile Leon) and special guests (Lady Adonais, Martini Chevelle, Bethany Summersizzle and Sabor Insanity) set to a live soundtrack courtesy of The Phantomatics, Rock Bottom String Band and The Hares.
$7-$10, 9pm, Fitzgerald's, 437 McCarty, (210) 629-5141, facebook.com/lestrangesideshow
.
— Bryan Rindfuss
Sat 1/31
"Give It Up Like A Prom Date"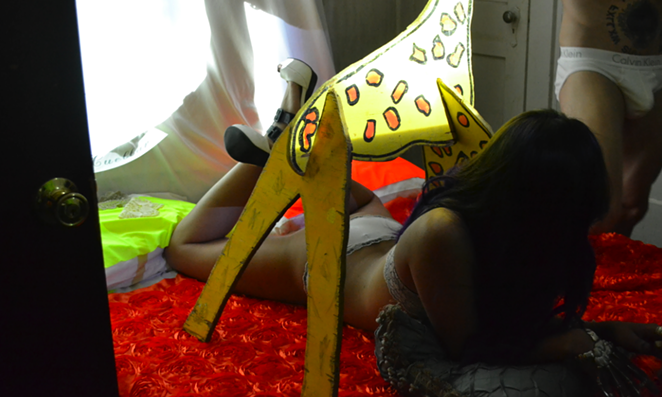 Invisible Gallery hosts an evening of naughty fun benefitting "Seven Minutes in Heaven," an erotic pop-up exhibition that takes over the seedy Fox Motel during Contemporary Art Month. Curated by by Jessica Garcia, the exhibition features paintings, sculpture, performance art and site-specific installations that explore sexuality and voyeurism. In addition to enjoying treats from Chamoy City Limits, drinks, live music and a raffle, attendees can find out this year's participating artists and place orders for the pop-up's signature coloring book. For details, visit
facebook.com
and
gofundme.com/koaoak
.
$10, 7pm Sat, Silkwörm Studio and Gallery, 1906 S Flores, (210) 607-1322
.
— Ainsley Caffrey
Sat 1/31
Legislate This! San Antonio


Burlesque performer Ginger Snaps launched
Legislate This!
in Austin in 2012 in response to the defunding of Planned Parenthood. "I decided that since I couldn't just follow Rick Perry around flipping him off, this was the next best thing," Snaps says. "A Texas tour of titanic proportions,"
Legislate This!
2015 kicks off in Austin and makes stops in SA and Houston, with all proceeds benefiting each city's Planned Parenthood chapter. The SA leg of the tour features performances by the Alamo City's own Constance T. Nople, Saterra Rene, Miss Chevious, Pystol Whips and Black Orchid, along with Austin-based Chola Magnolia and Alexandra Kayke, and Chicago's Teddy Bare. Local fire-eating gender-bender Foxxy Blue Orchid hosts the event.
$10-$15, 8pm Sat, The Uptown Studio, 700 Fredericksburg, (210) 387-1617, legislatethissa15.brownpapertickets.com
.
— Ainsley Caffrey