Wednesday, February 4
Reading with Rosaldo

Poet and anthropologist Renato Rosaldo will read pages from the book "The Day of Shelly's Death" followed by a conversation with writer Cecilia Balli.
Free, 6:30pm Wedneday, Museo Guadalupe, 723 S Brazos, (210) 271-3151, guadalupeculturalarts.org.
Wednesday, February 4
Doris Kearns Goodwin Presentation
Doris Kearns Goodwin, renowned presidential historian and Pulitzer Prize winning author, will present "Leadership Lessons of History: Doris Kearns Goodwin on the American Presidents" as the guest speaker for the 2015 Flora Cameron Lecture on Politics and Public Affairs at Trinity University. Her work has also been the source material for movies and documentaries. Her book,
Team of Rivals: The Political Genius of Abraham Lincoln,
was used as the basis for the film Lincoln by Steven Spielberg.
Free, 7:30pm Wednesday, Laurie Auditorium, Trinity University, 715 Stadium Drive, (210) 999-8117, trinity.edu.
Thursday, February 5
Face/Off




This week Wonderland of the Americas' free movie of the week Nicolas Cage and John Travolta go head-to-head in John Woo's
Face/Off
. Free, 7pm Thursday, Santikos Bijou Cinema Bistro, 4522 Fredericksburg, (210) 734-4552,
santikos.com
.
Thursday, February 5
Cartoonist Leigh Rubin: "A Twisted Mind is a Terrible Thing to Waste"
Courtesy
Cartoon by Leigh Rubin
Leigh Rubin, creator of the nationally syndicated cartoon "Rubes," visits for an amusing, presentation, "A Twisted Mind Is a Terrible Thing to Waste," on the creative and technical aspects of cartooning.
Free, 7pm Thursday, Central Library, 600 Soledad (210) 207-2500, mysapl.org.
Friday, February 6
Lily Hanson: "Trial Size"


Courtesy
Artwork by Lily Hanson
Epitome Institute's own Margaret L. Honeytruffle and London Idyllwild James co-curate Lily Hanson's "Trial Size," a sculptural exhibition designed to make the gallery space feel "like an imagined landscape or place inhabited by objects." Following the opening reception on February 6, "Trial Size" will remain on view by appointment through March 6.
Free, 6pm Friday, Epitome Institute 222 Roosevelt Ave (210) 535-0918, epitomeinstitute.com.
Friday, February 6
Kunst Party


Haust Collective takes over Brick with an art party featuring visual art by Anthony Rundblade, vintage apparel from montage and beverages courtesy of Alamo Beer.
Free, 6pm Friday, Brick at Blue Star, 108 Blue Star (210) 262-8653.

Friday, February 6
Lyn Belisle: "Neo Santos"

Courtesy
Artwork by Lyn Belisle
Lyn Belisle's exhibition "Neo Santos" features "assemblages and collages. The rich colors, textures, and symbolic objects in her work celebrate nature and humanity, as well as spirituality and mysticism."
Free, 6:30pm Friday, La Vida Gallery, 716 S Alamo (210) 224-3232,
lavidagallerysa.com
.
Friday February 6
A Chocolate Affair at Central Market


Courtesy
Sad men can enjoy Central Market's A Chocolate Affair, too.
Spending a Friday night at Central Market sounds kind of sad — until you add chocolate to the mix. The CM staff will turn the store into a chocolate dreamscape with samples and tasting stations throughout the area. Learn how to pair chocolate with a variety of products to really sweeten your February.
Free, but registration is required, 4821 Broadway (210) 368-8600,
centralmarket.com
.
— Jessica Elizarraras
Sunday February 8
Justin Parr and Robbie Nowlin at Hotel Valencia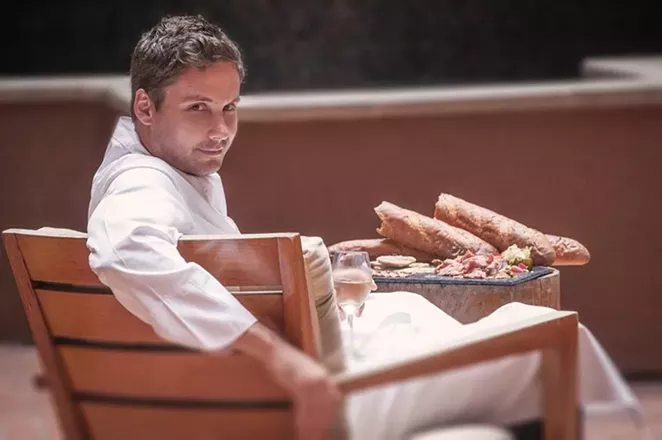 Courtesy
Chef Robbie Nowlin
Best pals artist Justin Parr and chef Robbie Nowlin are teaming up again. This time, Parr's art will be showcased inside Citrus and VBar at Hotel Valencia. Join the Sunday brunch reception with complimentary cocktails and light snacks.
Free, 2-4pm, 150 E Houston (210) 230-8412, hotelvalencia-riverwalk.com.
— Jessica Elizarraras