Thu 2/5
"A Twisted Mind Is A Terrible Thing to Waste"

Self-described "sit-down comic" Leigh Rubin drew his way into the cartooning business by launching a greeting card company in the 1970s and reached the masses through his syndicated mainstay
Rubes
— which factors into 400-plus media outlets, not to mention calendars, books and coffee mugs. Reminiscent of Gary Larson's
The Far Side
, Rubin's offbeat, single-panel comics often endow animals with human characteristics as a means to satirize everyday life. Central Library welcomes the native New Yorker for a talk about "the creative and technical aspects of cartooning."
Free, 7-8pm Thu, Central Library Auditorium, 600 Soledad, (210) 207-2500, mysapl.org
.
— Bryan Rindfuss
Thu 2/5
"Homage to Pollock"

In a short but explosive career, American painter Jackson Pollock (1912-1956) carved out a singular niche within the abstract expressionist movement. Marked by drips, splatters and splashes, Pollock's unconventional "action paintings" flew off gallery walls while sparking debate about artistic merit and intentionality. In 1949, at the peak of Pollock's success,
Life
magazine published a pivotal feature titled "Jackson Pollock: Is He the Greatest Living Painter in the United States?" Even after his death, Pollock remains a polarizing figure, with art collectors dropping as much as $140 million for a single painting (No. 5, 1948, which David Geffen sold in 2006) and naysayers discrediting his works as meaningless. Opening Thursday with a "martini and vino reception," AnArte's "Homage to Pollock" pushed six painters (Cristina Heitz, Laura Mijangos, Nadine Seymour-Munroe, Lucy Peveto, Lisa Shackelford and Tracy Williams) beyond their stylistic boundaries to celebrate Pollock and explore his seemingly chaotic aesthetic.
Free, 6-8pm (artists' talk at 6:45pm) Thu, AnArte Gallery, 7959 Broadway, (210) 826-5674, anartegallery09.com
.
— Bryan Rindfuss
Thu 2/5 - Sun 2/8
Talley's Folly


Lanford Wilson examines fear, family, love and disappointment in his Pulitzer-winning drama
Talley's Folly
. Following one lonely Jewish accountant and his quest to woo a reluctant lover on a balmy 1944 night, the play recounts 97 real-time minutes in the fated couple's lives. This heartfelt two-hander is second in
The Talley Trilogy
, a play cycle that chronicles the Talley family; Sally Talley, our unwilling mate, is the only character that makes an appearance in all three. Jim Mammarella directs Kathy Becker and Scott Leibowitz in the Vex's production.
$15-$31, 7:30pm Thu, 8pm Sat, 2:30pm Sun, Sheldon Vexler Theatre, 12500 NW Military Hwy, (210) 302-6835, vexler.org
.
— Murphi Cook
Fri 2/6
"Trial Size"

In her artist's statement for "Trial Size," Dallas-based Lily Hanson references "absurd objects" created by German-born sculptor Eva Hesse (1936-1970) as examples of works that "create a place of the imagination." Not unlike Hesse's curious "test pieces," Hanson's small-scale sculptures are presented as prototypes crafted from materials that "interact in ways that suggest relationships." Curated by Margaret L. Honeytruffle and London Idyllwild James, "Trial Size" opens First Friday at Epitome Institute — "an atelier, think tank and cultural repository dedicated to aesthetic investigation."
Free, 6-9pm Fri, Epitome Institute, 222 Roosevelt, (210) 535-0918, epitomeinstitute.com
.
— Bryan Rindfuss

Fri 2/6
Those Howlings

Those Howlings, an exuberant, grungy, quirky, pop-punk outfit from Austin, wants your help in celebrating the release of its latest offering
Blood Island
, out on cassette through San Antonio's own Yippee Ki Yay label. Those Howlings' music is especially dynamic in the live setting, where the group's endearing idiosyncrasies are given full reign to blossom into all-out strange-pop goodness. Our neighbors from the near north will be supported on this swell bill by local Yippee Ki Yay associates The Bolos (boozy, bluesy garage fuzz) and The Rich Hands (strutting, sweltering retro rock).
$5, 8pm Fri, K23 Gallery, 704 Fredericksburg, (210) 776-5635, facebook.com/k23gallery
.
— James Courtney


Fri 2/6
denitia and sen.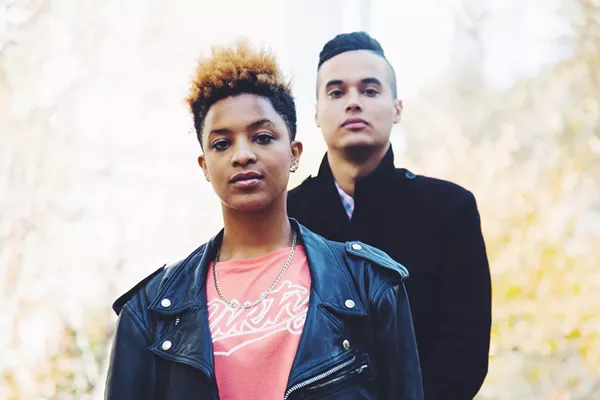 Contemporary R&B artists, from the new imports of PBR&B to more traditional Hennessy drinkers, can trace their art back to the genre's Adam: the bearded, beanie-clad Marvin Gaye on the cover of 1973's
Let's Get It On
. For his 12th album, the D.C. fox created a universe out of the bedroom, creating rich sheets of strings and funky rhythmic beds on which listeners could bump to. Without mincing words, it's the original fuck album, a micro-genre that would later include Rick James'
Street Songs
, Rhye's
Woman
, most Portishead and denitia and sene.'s
his and hers
. On the duo's 2013 debut, the cap-less and punctuation-fond pair produces love-making music that calls back to the dripping sexuality of Marvin Gaye while looking into the genre's future. On "how to satisfy.," Denitia Odigie sings a tale of third-person seduction as Sene orchestrates a crackling boom-bap pulse and neo-soul guitar licks. It's spacious, uncluttered R&B — bedroom music for typographers and Tumblrs.
$3, 10pm Fri, Hi-Tones, (210) 573-6220.
— Matt Stieb


Fri 2/6 - Sun 2/8
Gypsy


Ever wonder who originated the role of overbearing stage mother? Following relentless Mama Rose as she drags her two daughters across the country in hopes of fame and fortune on the 1920s Vaudeville circuit,
Gypsy
is loosely based on the memoirs of burlesque star Gypsy Rose Lee. Fearful of a lawsuit, Lee waited until her mother died before publishing the book that chronicled her childhood. Despite their tumultuous relationship, the stripteaser provided perfect inspiration for an American musical icon. Tim Hedgepeth directs Anna Gangai and 27 others in the Playhouse's production.
$12-$30, 8pm Fri-Sat, 3pm Sun, The Playhouse, 800 W Ashby, (210)733-7258, theplayhousesa.org
.
— Murphi Cook
Sat 1/7
Rick Springfield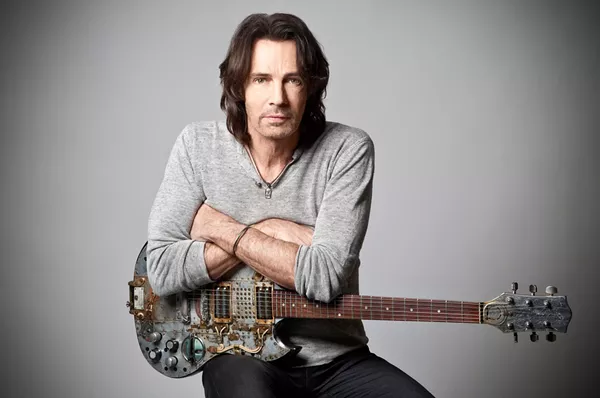 Considering it's been 33 freaking years since Australian power-popper Rick Springfield topped U.S. charts pining over "Jessie's Girl," and there's been no indication of a change in relationship status, "the point is probably moot," indeed. Whether you're Rick Springfield's obsessive songwriting persona or a Springfield fan who's spent the cost of a utility bill or two to watch Springfield play "stripped-down" solo acoustic versions of his hits and "new songs never played in public before," it's probably best not to hold your breath for that single unrequited crush to come through. There's plenty of fish in Springfield's discography, after all. How about "Everybody's Girl"? As a song, it's a pretty terrible piece of early '80s slut-shaming, but the subject at least seems to be keeping her options open. The inspiration for the spacey synths and unexpectedly sincere falsetto in "Inside Silvia" seems like a nice lady, but seeing as it's 2015, "The Man That Never Was," Springfield's collaboration with Foo Fighter Dave Grohl, is the most progressive choice.
$60-$125, 8pm Sat, Charline McCombs Empire Theatre, 226 N St. Mary's, (210) 226-3333, majesticempire.com
.
— Jeremy Martin
Sun 1/8
Come-Unity: Learn, Shop, Connect


Mujeres Mercado hosts a mixer with guest speakers and bloggers Anel Flores and Melanie Mendez-Gonzales (
Qué Means What
) and Michelle Hernandez (
Family Love In San Antonio
). After the mixer, Mujeres Mercado invites guest to meet the Vibrant Community's artists and shop for handmade work by Sol y Luna Soaps, BarbacoApparel, Sweet Craft Jewelery, Karma Candle Makers and more. Enjoy homemade entrées from Cocina Heritage and limpias (spiritual cleansings) by Laura Yohualtlahuiz Rios Ramirez (on a first come, first served basis).
Free, 2-6pm Sun, The Vibrant Community Space, 1414 E Commerce, (413) 695-0203, facebook.com/mujeresmercado.
— Ainsley Caffrey
Sun 1/8
Buffalo Soldier Day


Join the Institute of Texan Cultures for Buffalo Soldier Day and discover how African-Americans shaped the Texas frontier. After the Civil War, African-American soldiers became an integral part of the Army. These regiments of African-American infantry and cavalry were referred to as the Buffalo Soldiers. These soldiers scouted and mapped the Texas frontier, protected the mail, built telegraph lines and established connections with traders and families while at the fort. The Institute of Texan Cultures presents a living history of these soldiers with map-reading lessons and tool and equipment demonstrations. Outside the museum, guests will be transported to the 19th century with a recreation of a frontier fort, log house and one-room schoolhouse.
Free, noon-5pm Sun, Institute of Texan Cultures, 801 E César Chávez, (210) 458-2300,
texancultures.com
.
— Ainsley Caffrey