Monday, February 9 – Wednesday, February 11
Jewish Film Festival


The 14th Annual Barshop JCC Jewish Film Festival will continue through Wednesday, February 11. Two of the festival's films will be shown every day at Santikos Embassy 14, with
Bethlehem
and
The Green Prince
, two action-packed films that explore Arab-Israeli conflicts, showing on Monday night. The festival will close out on Wednesday with
A Borrowed Identity
. Based on the novel
Dancing Arabs
,
A Borrowed Identity
tells the story of Eyad, a Palestinian-Israeli boy who faces issues of culture shock and identity when he is sent away to a prestigious Jewish boarding school in Jerusalem.
$8 per film, $70 for a Festival Pack, Sat, Feb 7-Wed, Feb 11, Santikos Embassy 14, 13707 Embassy Row, (210) 302-6820, jccsanantonio.org/filmfestival.
Monday, February 9
"Funniest Person in South Texas"


While they both regularly showcase high-caliber touring acts, Rivercenter and Laugh Out Loud comedy clubs also champion emerging Texas comics via All Star Shows, Open Mic Nights and New Faces Showcases. Annually, the sibling clubs tag team in the month-long process of whittling down contenders battling for bragging rights and the title of "Funniest Person in South Texas." Likened to "comic Survivor," the 2015 edition takes shape via preliminary rounds at both clubs and culminates March 4 with a stand-up showdown at Laugh Out Loud.
$10, Mon, Feb 9, 8:30 pm, Rivercenter Comedy Club, 849 E. Commerce, (210) 229-1420, rivercentercomedyclub.com.

Tuesday, February 10
Generationals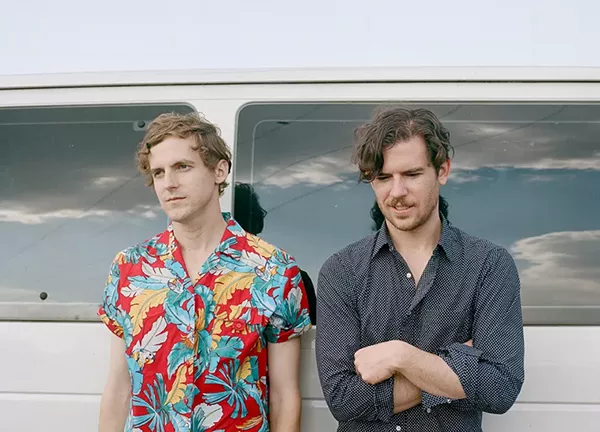 New Orleans duo Generationals makes catchy pop music with genre influences as far reaching as punk, R&B, new wave and dance. The twosome gave its popular sound a facelift with its 2014 release
Alix
, recruiting producer Richard Swift, who has produced for The Shins, Damien Jurado, Foxygen and Laetitia Saedier, among many others. The result is the act's most nuanced, polished and consistent album to date. Those who arrive early will be treated to the sexy, swanky, synthy stylings of Denver's Rose Quartz, who dropped the excellent and instantly grooveable Axis of LoveEP at the start of the year.
$10-$12, Tue, Feb 10, 9 pm, 502 Bar, 502 Embassy Oaks, Ste 138, (210) 257-8125.

Tuesday, February 10
The Paul Taylor Dance Company


Since 1954, Paul Taylor Dance Company has consistently created modern routines exploring the breadth of the human experience. Inspired by everything from sexuality to the futility of connection, these inimitable dances have been performed across the world with support from the U.S. Department of State. PBS junkies may be familiar with PTDC's works (including the Emmy-winning Speaking in Tongues) from televised performances dating back to 1978. ARTS San Antonio imports the New York-based company in its ongoing effort to "educate, enrich, and entertain the people" of the Alamo City.
$29-$110, Tue, Feb 10, 7:30 pm, The Majestic Theatre, 224 E. Houston, (210) 226-3333.

Tuesdah, February 10
Say Anything


The whole holding a boom box up in the air thing has gotten so tired and played out. So many guys in movies (and maybe in real life if you're lucky) have tried and failed to imitate the charming teenaged Lloyd Dobler in his profession of love to the smart and sweet Diane Court. There's something about Lloyd's determination paired with his terrible khaki trench coat and that lopsided way he stands while holding his chunky stereo over his head that makes girls melt. Join your fellow ladies and melt into one big puddle of love mush together at Alamo Drafthouse's Girlie Night.
$10.50, Tue, Feb 10, 7:00 pm, Alamo Drafthouse Stone Oak, 22806 US Hwy 281 North, (210) 677-8500, drafthouse.com.