Thu 3/5
Mnozil Brass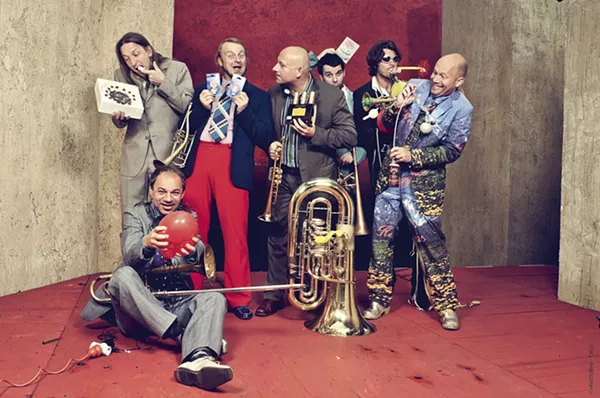 Many of the "fun-classical" acts making the rounds today take a spoonful of sugar approach to help the Mozart go down easier with a bit of pop and comedy mixed in. Austria's Mnozil Brass might be placed in that category, but there's never the sense they have a motive beyond enjoying themselves. Yes Yes Yes, the seven-piece horn band's current performance, is an apt title for the happy-go-lucky eclecticism of the program, which bounces from the Strauss marches of their native Bavaria to a "Bohemian Rhapsody" sing-along and back to Polish polka in the span of an hour.
$29-$110, 7:30pm Thu, Aztec Theatre, 104 N. St. Mary's St., 812-4355, theaztectheatre.com
.
— J.D. Swerzenski
Thu 3/5
John Mellencamp

John Mellencamp has stretched his brand of all-American rock through 22 studio albums and enough singles to fill all the mixtapes we made in high school. Four decades after his first release, Mellencamp is still packing auditoriums with his soulful sound and nostalgic lyricism. Although he's touring in support of his stripped-down 2014 album
Plain Spoken
, Mellencamp is sure to channel his John Cougar days with hits "Jack and Diane" and "Hurts So Good." He may have dropped the "Cougar" from his name 20 years ago, but the 63-year-old rocker still has bite.
$42.50-$252, 7:30pm Thu, Tobin Center for the Performing Arts, 100 Auditorium Circle, 223-8624, tobincenter.org
.
— Erik Casarez


Thu 3/5 - Fri 3/6
"Back from Berlin"

One of Cathy Cunningham Little's works featured in "Back from Berlin"
Opening in tandem with Contemporary Art Month's official kick-off and the crowning of Miss CAM Antonio 2015, the group show "Back from Berlin" brings together the first four San Antonio artists to take part in Blue Star Contemporary Art Museum's two-year-old Berlin Residency Program. Facilitated by a unique partnership between BSCAM, SA-based German curator/journalist Angelika Jansen and Berlin's Künstlerhaus Bethanien, the three-month residency provides each visiting artist with studio and living space, exhibition opportunities, access to workshops and studio visits with curators. Although local art scenesters are likely already familiar with the work of inaugural residents Vincent Valdez, Cathy Cunningham-Little, Ricky Armendariz and Karen Mahaffy, Jansen (who also acts as program liaison) notes: "All four artists came back raving about their experiences [and] how they are looking differently at creating art. For them there is a definite before and after Berlin."
Free, 6-9pm Thu-Fri, Blue Star Contemporary Art Museum, 116 Blue Star, 227-6960, bluestarart.org
.
— Bryan Rindfuss
Fri 3/6
Hurray for the Riff Raff

Alynda Lee Segarra's husky and emotive voice belies her tiny frame, just as her woeful and world-weary tunes seem incongruous with her mere 26 years of age. Through her main musical vehicle, Hurray for the Riff Raff, Segarra has already released a wealth of masterful and fiery material steeped in the traditions of Americana, with an organic Tin Pan Alley looseness and a riot grrrl swagger. The band's most recent effort, 2014's excellent
Small Town Heroes
, find's Segarra and company continuing to challenge and playfully subvert folk music traditions with brilliant results.
$15, 8pm Fri, Gruene Hall, 1281 Gruene Rd., New Braunfels, (830) 606-1281, gruenehall.com
.
— James Courtney


Fri 3/6 - Sun 3/8
Serpientes y Escaleras


In his book
Midnight's Children
, Salman Rushdie wrote, "The game of Snakes and Ladders captures, as no other activity can hope to do, the eternal truth that for every ladder you climb, a snake is waiting just around the corner." Drawing inspiration from the ancient Indian board game, Erik Bosse and Laurie Rae Dietrich's play
Serpientes y Escaleras
unfolds on the set of a game show hosted by Silverio Morena and psychic emcee Saligia Jones. Lucky members of the "studio audience" will be invited on stage to compete in the game of "virtues and vices, successes and setbacks."
$10-$15, 8pm Fri-Sat, 3pm Sun, Jump-Start, 710 Fredericksburg Rd., 227-5867, jump-start.org
.
— BR
Fri 3/6 - Sun 3/8
The Music of Abba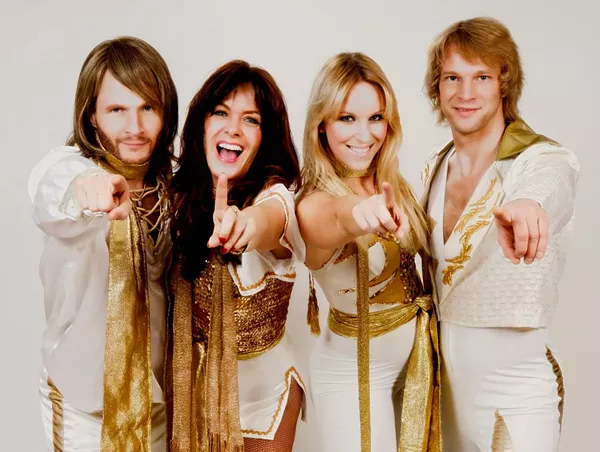 Pop quiz: what is the top grossing musical movie of all time worldwide? No, not
West Side Story
or
Chicago
or even
Grease
. The honor goes to
Mama Mia
, which has raked in James Cameron numbers since its 2008 release. The only possible explanation for this figure, beyond Pierce Brosnan's unforgettable vocal performance, must be the unstoppable power of Abba. More than three decades after the Swedish quartet relinquished their reign over the world pop charts, their AM-Gold hits simply refuse to fade away. Now, the San Antonio Symphony will do their part to keep Abba alive with the help of the world's most popular Abba tribute group, Arrival from Sweden. Though tracks like "Dancing Queen" and "Fernando" never lacked for pop bombast, the full symphony treatment should offer a whole new level to the band's widely adored catalog.
$25-$100, 8pm Fri-Sat, 3pm Sun, Tobin Center for the Performing Arts, 100 Auditorium Circle, 223-8624, tobincenter.org
.
— J.D. Swerzenski

Sat 3/7
Women's Day March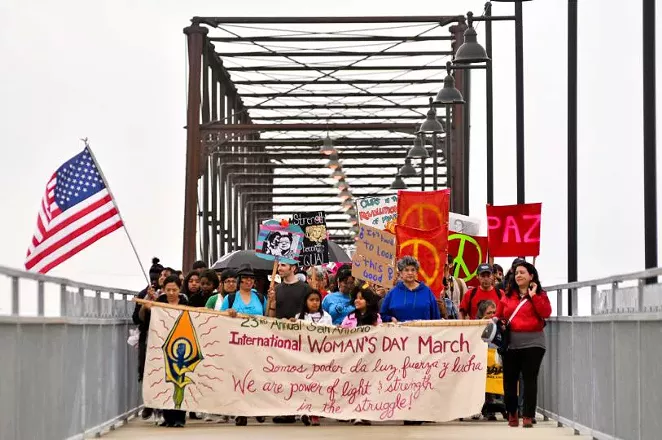 As proposed by German activist Clara Zetkin, the first ever International Women's Day took place in 1911 and brought together more than a million men and women to campaign for women's rights to work, vote and hold public office. Now a global celebration that takes shape in thousands of events, IWD recognizes the "economic, political and social achievements of women past, present and future." Following a theme of "Women Telling Our Stories," SA's 25th annual event steps off from Plaza del Zacate (500 W. Houston St.) and culminates with a rally featuring speakers and music by local accordion queen Eva Ybarra at Travis Park.
Free, 10am Saturday, sawomenwillmarch.org
.
— BR
Sat 3/7
Twin Productions Local Showcase
This Saturday night's a busy one for local music, largely because of the behemoth offerings at the Korova. While the Burger Revolution showcase is getting fuzzy in the basement, Twin Productions is presenting a righteous local music showcase on two stages in the main room. With more than 15 promising bands representing everything from pop and metal to electronic and indie rock, the show promises to be a swell opportunity to survey SA's musical up-and-comers. We're especially stoked to catch the grunge-pop of The 600 Band, the moody space rock of Remanon (above) and the post-hardcore thrashings of Signalman.
$10, 6pm Saturday, The Korova, 107 E. Martin St., 995-7229, thekorova.com
.
— James Courney


Sat 3/7
The Pastie Pops Rock!

Still abuzz from performing in January to a sold-out crowd, local burlesque troupe The Pastie Pops is gearing up to shimmy and shake to some of rock 'n' roll's greatest hits. Hosted by Austin-based comic Ralphie Hardesty in the cozy confines of Beacon Hill's Uptown Studio, the gang's latest foray into the art of undressing showcases the talents of SA's own Vixy Van Hellen (aka the "Bare Bottom of Bexar County") and former "Southern Fried King of Burlesque" Jasper St. James alongside Austin-based burlesque star Coco Lectric (above) and New York City gals Dottie Dynamo ("The Lovable Bundle of Tits 'N' Trouble") and Ginger Twist.
$10-$15, 9pm Sat, The Uptown Studio, 700 Fredericksburg Rd., 387-1617,
facebook.com/pastiepops
.
— Bryan Rindfuss
Sun 3/8
Empty Bowls

An example of a charitable idea that truly caught on, Empty Bowls brings together potters, educators, caterers and chefs in an effort to combat hunger. Devised in a Michigan high school in 1990 and now under the umbrella of the North Carolina nonprofit Imagine Render Group, the "international grassroots effort" follows a similar format in events across the nation: members of the community are invited to purchase a ceramic bowl and enjoy a simple meal of soup and bread, with proceeds benefiting organizations working to end hunger and food insecurity. Launched in 2000 by the San Antonio Potters Guild, the local chapter donated more than $58,000 to SAMMinistries in 2014. The 15th annual event brings an array of handcrafted ceramic bowls and soups from area eateries (from Bill Miller to Biga on the Banks) to the grounds of longtime host venue the Southwest School of Art.
$20 (includes handcrafted bowl, soup and bread), 11am-2pm Sun, Southwest School of Art, 300 Augusta St., 224-1848, samm.org
.
— BR