Thu 3/12
"One Way Trail"


For this year's incarnation of the annual Art in the Garden series, Blue Star Contemporary Art Museum and the San Antonio Botanical Garden have enlisted celebrated multi-disciplinary artist, urban re-imaginer and Carnegie Mellon art professor Kim Beck. In her work Beck brings the stamp of the natural organism to synthetic creation and the order of the built world to nature's particular prolificacy. Or, maybe, she reminds us that human beings are inextricable from nature, so our creations necessarily demand reflection through a natural lens. Her thoughtful and intellectually provocative art plays with our notions of urban and natural background noise, bringing fresh perspectives to our consciousness of the everyday. Beck's contribution to the Art in the Garden series, a multifaceted and multi-modal installation entitled "One Way Trail," expands on the nuances of these concerns and involves a sacrifice of the artist's own narrative voice to the personal whimsy of the characters that helped shape the project. The concept is simple: no one goes to a park and only experiences the park. We bring our lives and worldviews and emotional palettes to bear on our experience of any setting. Likewise, no one trail is the right trail, no one experience is exhaustive and no one understanding is complete. Through a mechanism of 16 'tour guides,' several trail heads and a multitude of color-coded, text-embellished signs, Beck's installation offers a plethora of alternatives to the 'predictable' or 'official' trail. Complete with phone-accessible snippets of audio from interviews the artist did with each guide — a motley crew that includes SAY Sí art students, two dogs, a Buddhist priest, a Texas rancher and a 95-year-old SA native, among others — "One Way Trail" envisions our stories, our preferences and our desires as integral parts of our experience of the park. By tracing the steps and thoughts of others, here and there as they meander through the park, we come to appreciate the many ways there are to appreciate a single thing. Click
here
to read the
San Antonio Current
's Q&A with Beck.
Opening reception: free, 5:30-7:30pm Thu, San Antonio Botanical Garden, 555 Funston Pl., 207-3250, sabot.org.
— James Courtney

Thu 3/12
The Temptations and The Four Tops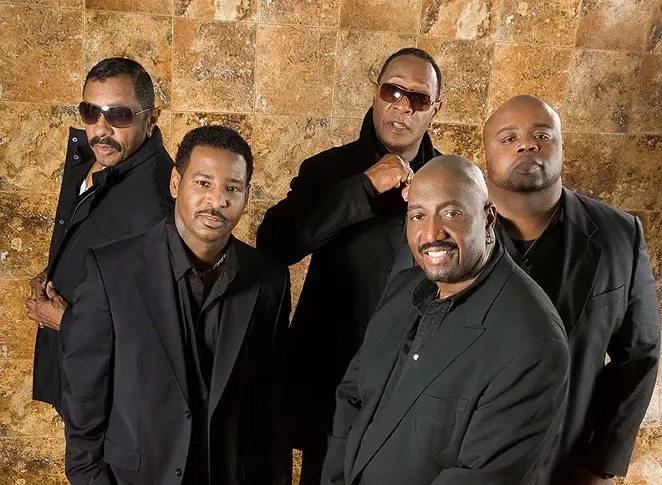 The landscape of American music would not be what it is today without the soulful contributions of Motown Records. And with that said, Motown Records wouldn't be the R&B juggernaut we know today without the musical styling of The Temptations and The Four Tops. The Temptations are synonymous with the sounds of the '60s thanks to hits like "My Girl," "Ain't Too Proud to Beg" and countless others. Despite several personnel changes over the last half-century, founding and sole surviving original member Otis Williams remains the leader and has been integral in maintaining the legacy of The Temptations. Best known for the ubiquitous rom-com soundtrack staple "I Can't Help Myself (Sugar Pie Honey Bunch)," The Four Tops maintained the same lineup for decades until founding member Lawrence Payton died in 1997. The legendary quartet's latest roster includes sole surviving original member Duke Fakir and Payton's son Roquel.
$44.50-$67.50, 7:30pm Thu, The Majestic Theatre, 224 E. Houston St., 226-3333, majesticempire.com
.
— Erik Casarez

Fri 3/13
Fed Up

Fed Up
might look like one of the scores of documentaries where the underlying message is that Coke and cheeseburgers are making our kids super-sized. But this film narrated by journalist Katie Couric and directed by Stephanie Soechtig gets bold when it starts pointing fingers at people besides Ronald McDonald and Tony the Tiger. Look out Michelle Obama: Your "Let's Move" campaign might look good on paper, but Soechtig argues it's not doing as much as it could to fight childhood obesity. The doc screens at the Botanical Garden in conjunction with Chipotle Sustainable Films.
Free, but RSVP requested at info@sabot.org
,
panel discussion at 7:15pm, film at 7:45pm Fri, San Antonio Botanical Garden, 555 Funston Pl., 207-3250, slabcinema.com
.
— Kiko Martínez

Fri 3/13
"Move Me"

Thrown into Contemporary Art Month's vivid mix back in 2012, the CAM Perennial exhibition tasks out-of-town curators with fishing from a vast and varied pool of San Antonio artists. As we outlined last CAM in Leslie Moody Castro's guest column
The Curator Diaries, the selection process — and sometimes even the exhibition's theme — relies heavily on studio visits. Although she knew little about the Alamo City's art scene, New Orleans-based curator Amy Mackie dove into it late last year when she narrowed down a list of 200 potential artists and conducted 20 studio visits. Offering a bit of a double entendre with its title, "Move Me" connects eight artists using physical movement as a visual tool as well as others creating works that "move" Mackie. Broad in its scope, the group show promises everything from conceptual video projects by Jimmy James Canales (above) and Jennifer Ling Datchuk to performance-based experiments by Roberto Celis and Kristin Gamez.
Free, 6-9pm Fri, Museo Guadalupe, 723 S. Brazos St., 271-3151, guadalupeculturalarts.org
.
— Bryan Rindfuss
Fri 3/13 - Sun 3/15
Crime and Punishment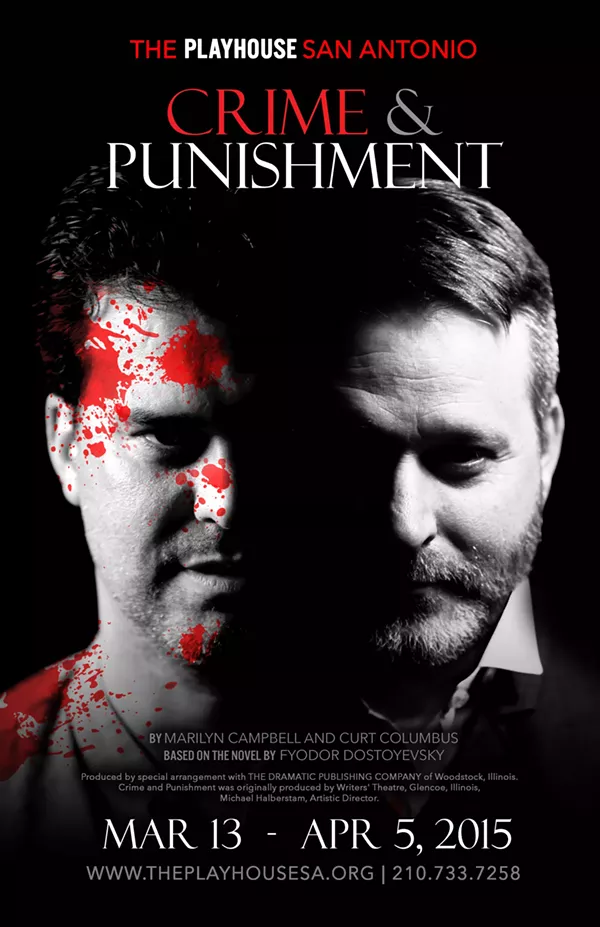 If you were ever assigned to read
Crime and Punishment
, chances are you joked it was both a crime and punishment. Dostoevsky's classic follows a down-and-out ex-student as he plots the death of an unsavory pawnbroker. Curt Columbus and Marilyn Campbell's fast-paced theatrical adaptation intriguingly tasks three actors with portraying an array of characters. Upon its 2007 debut,
The New York Times
wrote, "Who would have thought that the novel no high school student has ever finished reading would make such engrossing theater?" David Rinear directs the Playhouse's production.
$12-$30, 8pm Fri-Sat, 3pm Sun, The Playhouse, 800 W. Ashby Pl., 733-7258, theplayhousesa.org
.
— Murphi Cook
Sat 3/14
Lerma's: El Corazon del Conjunto

For more than 60 years, Lerma's Nite Club functioned as the vibrant center of the conjunto universe, hosting the likes of Eva Ybarra and Esteban "Steve" Jordan on its compact stage and providing a puro San Anto backdrop for the film
Selena
and Girl in a Coma's video for "Clumsy Sky." Shuttered in 2010 for code violations and now under the guardianship of the Esperanza Center, Lerma's has been designated a historic landmark. On Saturday, the nonprofit welcomes historian Susana Segura and accordionist Juan Tejeda to discuss the cherished venue's cultural significance.
Free, 10am-1pm Sat, Rinconcito de Esperanza, 816 S. Colorado St., 228-0201, esperanzacenter.org
.
— BR
Sat 3/14
San Antonio Folk Dance Festival

Supported by the Texas Commission on the Arts, the always-eclectic San Antonio Folk Dance Festival returns to Our Lady of the Lake with a full weekend of workshops and parties rooted in traditions from around the globe. While daytime sessions attract dancers of varying skill levels, Saturday evening's public concert wraps the best of the fest into a colorful showcase of global styles. Highlights from the 57th annual event include performances by New Orleans-based Komenka Ethnic Dance Ensemble, SA's own Raíces de Arte Español featuring Carmen "La Chiqui" Linares and Houston's Gazelle Turkish Dance Ensemble.
$7-$15, 7:30pm Sat, Thiry Auditorium, 411 SW 24th St., 431-3922, safdf.org
.
— BR

Sat 3/14
"Slick"


Evidenced by Los Angeles-based Institute for Figuring's "Crochet Coral Reef" (on view at the Southwest School of Art) and local artist Margaret Craig's haunting "Ocean Harvest" (on view at REM Gallery), ecology is a hot topic in the art world. Having grown up on the beaches of Florida, SA-based Sabra Booth counts the health of the oceans among the issues influencing her work. Inspired by the Deepwater Horizon oil spill, Booth's project "Slick" has so far taken shape in the form of a satirical animation, a book printed on rubber gaskets and an installation that toured Texas in a vintage RV.
Free, 7-10pm Sat, 3rd Space Art Gallery, 141 Cassiano St., arttothethirdpower.com
.
— BR
Sat 3/14
Tango Buenos Aires

Created by composer Osvaldo Requena, Tango Buenos Aires is billed as "the most authentic and uncompromising representative of the tango." Comprising 13 original works set to music composed by Astor Piazzolla, Aníbal Troilo, Fernando Marzán and others, the globetrotting company's new performance The Song of Eva Perón charts a journey through the life and times of the first lady of Argentina (1946-1952). Not unlike Andrew Lloyd Webber and Tim Rice's
Evita
, Tango Buenos Aires' production follows the icon's transformation from struggling actress to the influential wife of President Juan Perón.
$35, 8pm Sat, Jo Long Theatre, Carver Community Cultural Center, 226 N. Hackberry St., 207-7211, thecarver.org
.
— MC


Sat 3/14
Bush

When Gavin Rossdale's alt-rock outfit Bush dropped its sixth album last year (
Man on the Run
), it came just a few months away from the 20th anniversary of the group's landmark debut album
Sixteen Stone
. And while this latest album, the band's third release in the past 15 years, lacks the immediacy and sheer inspiration of Bush's first outing, it improves mightily on 2011's
The Sea of Memories
. As the band hits town this Saturday, fans might have a few questions. Will they play "Glycerine"? Probably. But, can they still rock a live show? Only one way to find out.
$39.50-$49.50, 8pm Sat, The Majestic Theatre, 224 E. Houston St., 226-3333, majesticempire.com
.
— JC