Thu 3/26 - Sun 3/29
The Irish Curse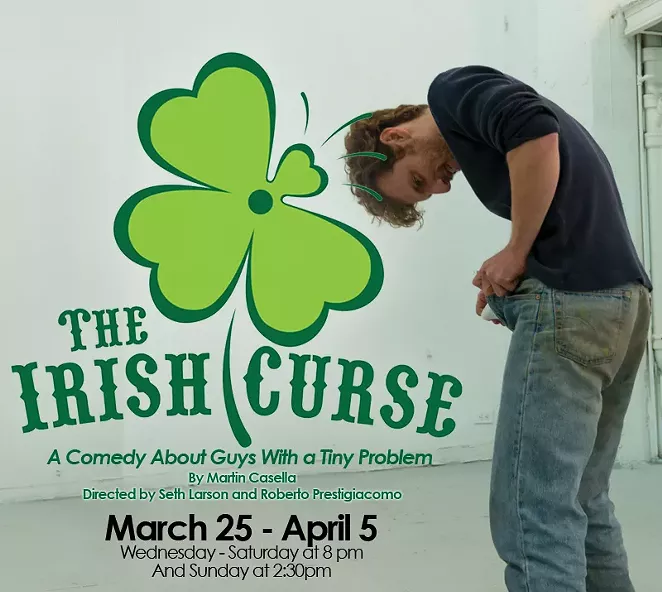 What's all this "luck of the Irish" stuff when there's a curse that warns "red nose, short hose" (aka big time boozers with tiny wankers). First produced in 2011 at Trinity, AtticRep revisits
The Irish Curse: A Comedy About Guys with a Tiny Problem
with a new vision. Chronicling a support group for under-endowed Irish-American men, the play picks up steam when a young member challenges their beliefs about the curse that plagues them. Directed by Roberto Prestigiacomo and Seth Larson, the comedy also tackles serious issues of masculinity and body image.
$18-$28, 8pm Thu-Sat, 2:30pm Sun, Tobin Center for the Performing Arts, 100 Auditorium Circle, (210) 223-8624, atticrep.org
.
— Murphi Cook

Thu 3/26
Life Itself
TV made Roger Ebert into America's most famous film critic, especially when he jousted with colleague Gene Siskel on their long-running show. But he was a writer first, winning a Pulitzer for his
Chicago Sun-Times
criticism. After Ebert published his 2011 memoir, Steve James began interviewing him for this doc on his life and career — including his prickly friendship with Siskel. Along with clips from their series and the talk show appearances that cemented their status as cultural icons, the film interviews Ebert's widow Chaz and such filmmakers as Martin Scorsese and Werner Herzog.
Free, 6:30pm Thu, McNay Art Museum, 6000 N. New Braunfels Ave., (210) 824-5368, mcnayart.org
.
— Michael Barrett




Fri 3/27
The CAMMIE Awards & CAM Closing Party

If you've been keeping up with Contemporary Art Month's 30th year, it's time to cast your vote in the 2015 CAMMIE Awards. Recognizing outstanding works in seven niche categories — from the Alchemic Reactions Award for Collaborating Artists to the I Am Not Spock Award for Doing the Unexpected — the CAMMIES are announced during a wrap party at the Linda Pace Foundation's serene CHRISpark. And don't let the ticket price dissuade you: Entrance to the event includes beer and wine, one ticket to redeem at Ay Papi's Puerto Rican food truck, a performance by artist Jimmy James Canales and eclectic grooves spun by DJ Agosto Cuellar.
$15, 7-10pm Fri, CHRISpark, 111 Camp St., (210) 226-6663, contemporaryartmonth.com
.
— Bryan Rindfuss
Fri 3/27 - Sun 3/29
Balanchine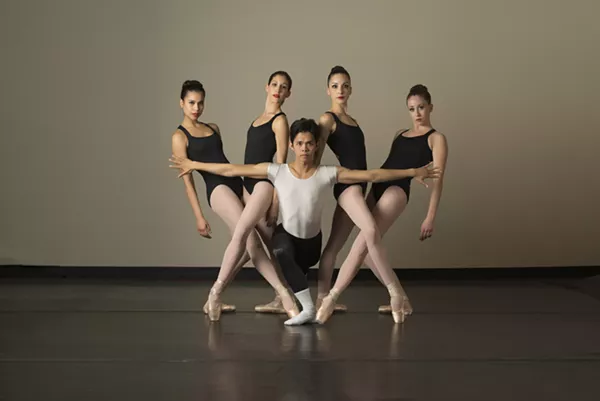 For the first time, Ballet San Antonio will perform a work by prolific George Balanchine. "Donizetti Variations" debuts as part of Balanchine, an evening of works that spotlight the work of the legendary choreographer. In order to be eligible to perform the late artist's work, a company must work with a
repetiteur
, a seasoned Balanchine performer that helps the artistic staff and dancers achieve the jaw-dropping athleticism and speed hallmark to the "Father of American Ballet." Balanchine closes BSA's inaugural season as the Tobin's resident ballet company.
$29-$93, 8pm Fri-Sat, 2pm Sun, Tobin Center for the Performing Arts, 100 Auditorium Circle, (210) 223-8624, balletsanantonio.org.
— Murphi Cook
Fri 3/27 - Sun 3/29
Blue Man Group


What started as a trio on Manhattan's Lower East Side grew into a cultural phenomenon that has doused the world in blue. The Blue Man Group returns to SA for five performances of their family-friendly fusion of music and comedy. With 25 years under their belts, chances are you've seen their bald blue antics before, but their message remains necessary today. Through interactions with the audience, the group hopes to help theatergoers "reconnect with their own sense of wonder and discovery" — a bold undertaking for our techno-driven society.
$45-$95, 8pm Fri, 2pm & 8pm Sat, 2pm & 7:30pm Sun, The Majestic Theatre, 224 E. Houston St., (210) 226-3333, majesticempire.com
.
— Murphi Cook
Sat 3/28
César E. Chávez March for Justice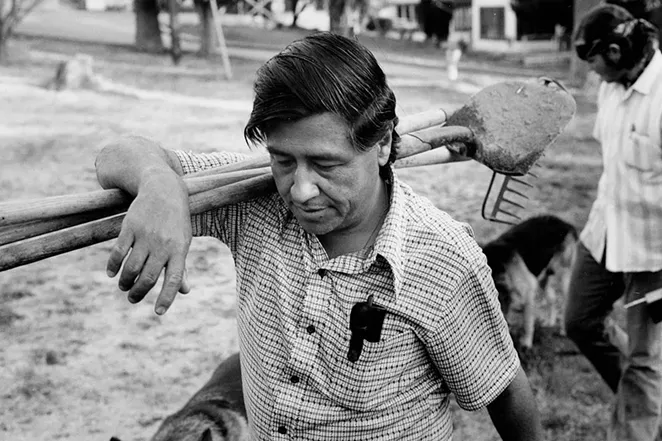 Driven by his own family's experiences toiling in the fields of Arizona, labor organizer César E. Chávez employed nonviolent forms of protest (including marches, boycotts and hunger strikes) to fight for fair wages and humane conditions for farm workers across Texas, Arizona, California and Florida. Synonymous with his motto "sí, se puede" (it can be done), the Mexican-American icon founded the National Farm Workers Association in 1962, which merged with the Agricultural Workers Organizing Committee to become United Farm Workers in 1966. A fitting choice, Grammy-winning tejano musician Little Joe steps up as grand marshal for San Antonio's 19th annual César E. Chávez March for Justice, which steps off from Avenida Guadalupe and culminates at the Alamo. Subject of the forthcoming documentary
Recuerdos: The Life and Music of Little Joe
, the native Texan not only supported and raised funds for Chávez, but his rendition of "Las Nubes" (a song about oppression, hope and liberation) is the UFW's official anthem.
Free, 10am Sat, Avenida Guadalupe, 1301 Guadalupe St., ceclef.org
.
— Bryan Rindfuss

Sat 3/28
Antonia Castañeda: Su Vida y Su Obra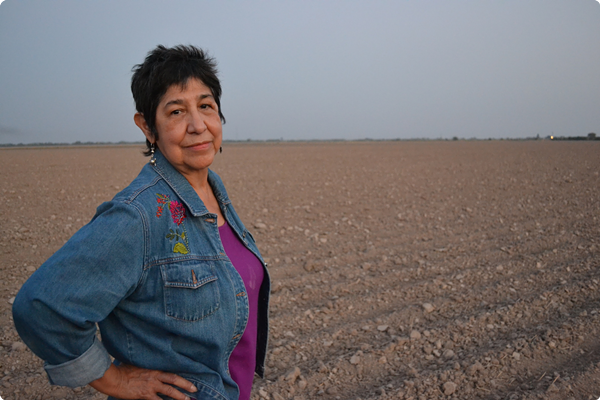 The Esperanza and Trinity University's MAS program team up to honor Chicana historian and activist Antonia Castañeda. Born in Crystal City, Texas, Castañeda has tirelessly advocated for an intersectional approach to race, class, gender and sexuality in the study of American history and politics. In addition to presentations by Marisela Barrera, María Berriozábal, Graciela I. Sánchez and others, the free event will highlight Castañeda's new book
Three Decades of Engendering History
as well as excerpts from the documentary
Antonia: A Chicana Story
.
Free, 7pm Sat, Esperanza Peace & Justice Center, 922 San Pedro Ave., (210) 228-0201
.
— Bryan Rindfuss
Sun 3/29
Síclovía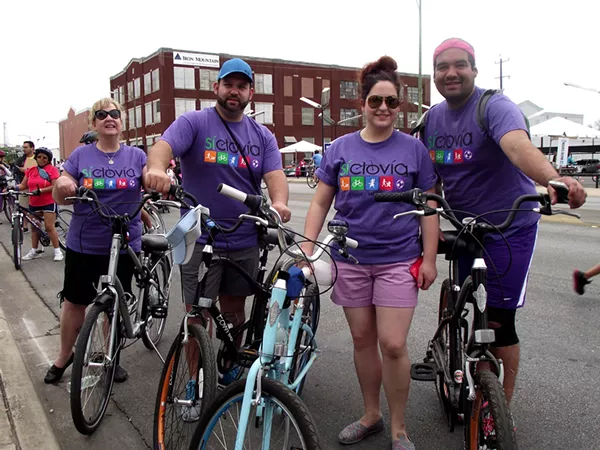 Making recreational use of closed-off streets since 1976, Colombia's cycle-centric concept "ciclovía" has inspired adaptations across the globe. Launched in 2011, SA's own Síclovía was an instant hit and is now considered the Alamo City's "largest free health and wellness event." Expected to draw more than 60,000 participants, Síclovía's latest chapter is set to turn Southtown into "a safe, fun place for walking, bicycling, jogging and enjoying outdoor activities." Those planning to attend the car-free, kid-friendly event are encouraged to take a safety pledge online at
ymcasatx.org
.
Free, 11am-4pm Sun, S. St. Mary's St. at S. Alamo St. to Mission Concepción, ymcasatx.org/siclovia
.
— Bryan Rindfuss
Sun 3/29
Buddy Guy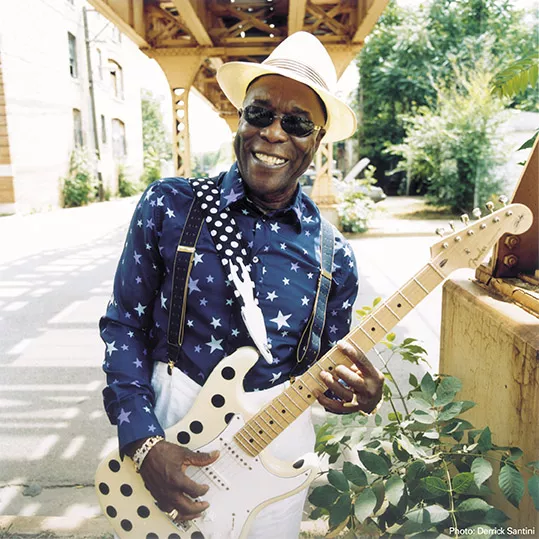 Blues guitar journeyman Buddy Guy wants you to feel something. His performances range from soft ballad whispers to bursts of ferocious blues-rock energy, often within the same tune. Born in Louisiana in 1936, Guy made the Windy City his home in the early '60s, marking his place as a father of Chicago Blues with the 1965 Chess Records release
Hoodoo Man Blues
featuring Junior Wells. Guy's guitar playing is virtuosic, emotional, extraordinary, disapproved by critics for being over-the-top and so much more than just the blues. If it weren't for Guy, guitar greats like Stevie Ray Vaughan and Eric Clapton might've stayed home. Later, Eric Clapton helped revive Guy's career in the 1990s with an all-star performance of top guitar players at London's Royal Albert Hall. In the hippie-folk-rock documentary
Festival Express
, chronicling a 1970 train tour across Canada, Guy sets the stage ablaze with electric guitar power to an afternoon audience of jaw-dropped stoners waiting for Janis Joplin. His performance in San Antonio 45 years later should be no less incendiary.
$35-$60, 8pm Sun, Aztec Theatre, 104 N. St. Mary's St., (210) 760-2196, theaztectheatre.com
.
— Kory Cook


Sun 3/29
Jorge Rodríguez-Gerada


A key figure in New York's 1990s-era "culture jamming" scene (a guerrilla-style form of "subvertising" involving the reconfiguration of logos, signs and billboards), Cuban-American artist Jorge Rodríguez-Gerada has made a name for himself with monumental portraits informed by vector graphics, land art and GPS technology. Possibly best viewed via helicopter or satellite, the individual portraits in his
Terrestrial Series
can cover up to 11 acres of land with strategically placed tons of soil, sand and gravel. In conjunction with Contemporary Art Month and the redevelopment of San Pedro Creek, Rodríguez-Gerada is installing a large-scale portrait in the parking lot of the Christopher Columbus Italian Society. Cameras, drones and web-based technology will offer "grounded" visitors an aerial perspective of the finished project.
Free, 3-6pm Sun, Christopher Columbus Italian Society, 201 Piazza Italia, (210) 223-8284, contemporaryartmonth.com
.
— Bryan Rindfuss