Thu 4/9
Through a Lens Darkly

Raised between the Bronx and Tanzania, Emmy-nominated filmmaker Thomas Allen Harris employs a blend of video, photography and performance to address everything from sexuality and spirituality to politics and identity. UTSA's Honors College celebrates the "cultural warrior" by screening his documentary
Through a Lens Darkly
, a film
Time
summed up as "a deep, rich dive into the history of African-American photography." A discussion with Harris follows the screening.
Free, 7pm Thu, Santikos Bijou, 4522 Fredericksburg Rd., (210) 734-4552, honors.utsa.edu.
— Bryan Rindfuss

Thu 4/9
17.5 Sexy Things to See in San Antonio Before You Die




If the name of Stars and Garters Burlesque's sultry new spectacle rings a bell, it's possibly because it resembles the title of our 2015 City Guide (
100 Things To Do In San Antonio Before You Die
). Teased as "a naughty numeration of local assets," the vaudeville-style show sees the troupe setting up shop at Laugh Out Loud. Emceed by Larry Garza, the "carnal countdown" of striptease and stand-up combines the talents of burlesque beauties (Pystol Whips, Suki Jones and Black Orchid, to name a few) and comics Brandi Dunagan, Regan Arevalos and Jess Castro.
$17, 8pm, Laugh Out Loud Comedy Club, 618 NW Loop 410, (432) 235-0414, starsandgartersburlesque.com.
— BR
Thu 4/9
Kevin Hart




San Antonio is the very first destination on comedian Kevin Hart's "What Now? Tour," which will see him go through 45 U.S. cities in the next four months. The "comedic genius" (at least that's the award being bestowed upon him at the MTV Movie Awards this weekend) started his stand-up comedy career in Philly in the late '90s and has since starred in movies such as
Ride Along
,
The Wedding Ringer
, and
Get Hard
opposite Will Ferrell. We're not sure if his tour's name poses a rhetorical question, but we'll venture to say more blockbusters, comedy specials, and sold-out arenas are in his future.
$49.50-$152, 7pm, AT&T Center, One AT&T Center Pkwy., (210) 444-5000, attcenter.com.
— Kiko Martínez

Fri 4/10
Gringo Star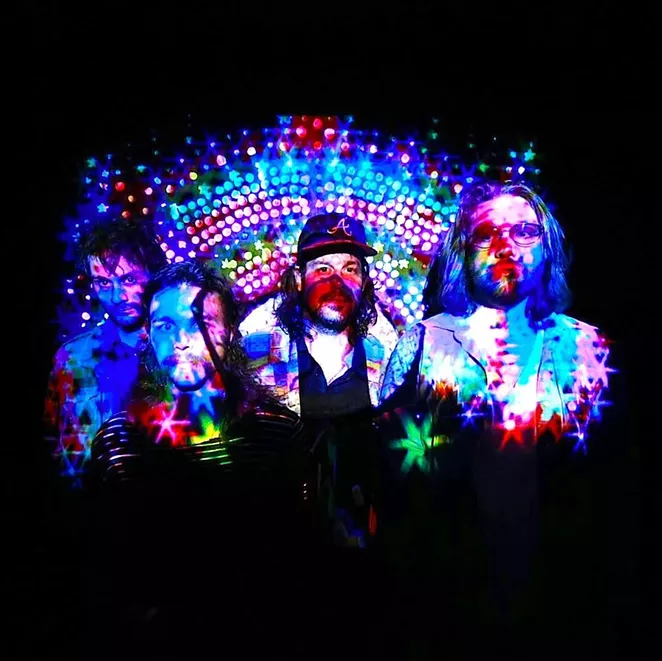 Atlanta-based indie rock outfit Gringo Star makes swirling, fuzzy and sepia-toned tunes that hearken, to some extent, back to mid-1960s garage-psych. The band members have, quite aptly, characterized the four-piece's familiar yet inventive sound as "paranoid pop," a term that nods to the nervous energy and spastic motion of their music. This month, the group announced on social media that its recently completed fourth LP should see a 2015 release. If it's anything like the most recent Gringo output (last year's excellent "Long Time Gone"/"World of Spin" 7-inch), we're in for a treat.
$10, 8pm, Paper Tiger, 2410 N. St. Mary's St., (210) 666-6666, papertiger.queueapp.com.
— James Courtney
Fri 4/10 - Sat 4/11
Maverick Music Festival


Last year at La Villita, Maverick Music gave San Antonio its first real music festival as defined by the 21st Century behemoths cultivated in Austin, Tennessee and Southern California. Now in its third year, Maverick Music Festival returns to the historic though tourist-heavy spot, boasting a strong lineup of rock 'n' roll, hip-hop and everything in between. Click
here
to read the San Antonio Current's full festival preview.
$39-$149, 5pm-midnight Fri, 11am-midnight Sat, La Villita, 418 Villita St., maverickmusicfestival.com.
— Matt Stieb
Sat 4/11
San Antonio Book Festival


With inspiration and support from the Austin-based Texas Book Festival, the San Antonio Public Library Foundation launched the San Antonio Book Festival in 2013 with a mission to "unite readers and writers in a celebration of ideas, books, libraries and literary culture." Expanding on a format that attracted more than 10,000 visitors and camera crews from C-SPAN last year, SABF's third outing (10 a.m. – 5 p.m. Saturday, April 11) will showcase 89 local, regional and national authors via free panels and presentations held between Central Library, the Southwest School of Art and the Empire Theatre. For year three, the festival makes its first foray into film with the San Antonio premiere of Joe Nick Patoski's Doug Sahm documentary
Sir Doug and the Genuine Texas Cosmic Groove
(1 p.m., Charline McCombs Empire Theatre, 226 N. St. Mary's St.) and introduces the aspiring author competition Pitchapalooza (1:30 p.m., Coates Chapel, Southwest School of Art, 300 Augusta St.) while also bringing back the 2014 fan favorite "Literary Death Match." Said to marry "the literary and performative aspects of Def Poetry Jam, rapier-witted quips of American Idol's judging (without any meanness) and the ridiculousness and hilarity of
Double Dare
," LDM tasks authors with performing "their most electric writing" before an audience and panel of judges. The Alamo City's second stab at the competitive reading series pits Neal Pollack, Isabel Quintero, Lance Rubin and Natalia Sylvester in a literary ruse to be judged by Luis Alberto Urrea, Molly Cox and Wendi Aarons ($10-$50, 7 p.m., Charline McCombs Empire Theatre). Click
here
for our full preview of the festival.
Free except for Literary Death Match ($10-$50), 10am-5pm Sat, Central Library (600 Soledad St.), Southwest School of Art (300 Augusta & 1201 Navarro St.), Charline McCombs Empire Theatre (226 N. St. Mary'sSt.), saplf.org/festival.
— BR

Fri 4/10 - Sun 4/12
Doña Rosita's Jalapeño Kitchen

Nationally acclaimed Chicana performance artist Ruby Nelda Perez returns to the Alamo City with her signature piece
Doña Rosita's Jalapeño Kitchen
. Written by Rodrigo Duarte-Clark, the one-woman show takes us to the last supper in the barrio of Salsipuedes, a neighborhood on the brink of extinction due to a new shopping mall development. Recognized by the National Endowment for the Arts as an American Masterpieces touring artist, Perez expertly weaves English, Spanish and Spanglish into her irresistible and irreverent collaborations with Latino writers.
$12-$15, 8pm Fri-Sat, 3pm Sun, Guadalupe Theater, 1301 Guadalupe St., (210) 271-3151, guadalupeculturalarts.org.
— Murphi Cook
Fri 4/10 - Sun 10/12
Lady Day at Emerson's Bar & Grill


Set in a Philadelphia bar circa 1959, Lady Day at Emerson's Bar & Grill fuses biographical narrative and song to imagine one of Billie Holiday's final performances. Upon its 2014 debut, critics called the play "unrealistically stuffed" with detail, but praised it for its music; it subsequently earned actress Audra McDonald a Tony. But can you blame a playwright for too many details? From a stint in prison to heroin abuse, Holiday's life was unrealistically stuffed with unhappiness. Michelle Burnett leads the local production.
$5-$10, 8pm Fri-Sat, 2:30pm Sun, Watson Theatre, St. Philip's College, 1801 Martin Luther King Dr., (210) 486-2000, alamo.edu/spc/fine-arts.
— MC
Sat 4/11
El Primer Border Town Art Collective


This weekend, Zac Cimi Arte, one of West Side San Anto's newest art galleries, is hosting a multi-arts showcase that celebrates border life and art, particularly in the oft-maligned city of Laredo. The all-ages event will feature musical performances by La Grange-based singer-songwriter Cass Adcox, Laredoan hip-hop outfit i35 ConneKt and DJ Street Samurai. While the music keeps your head nodding, local and Laredo-based artists (such as Nina Donley, Edmundo Martinez and Carlos Ramos) will display artwork in various media. Bonus: Mexican hotdogs and other border-inspired treats.
$3, 6-11pm, Zac Cimi Arte, 2003 S. Zarzamora St. # 3104, (210) 725-0391, zaccimiarte.com.
— JC
Sat 4/11
Welcome to Night Vale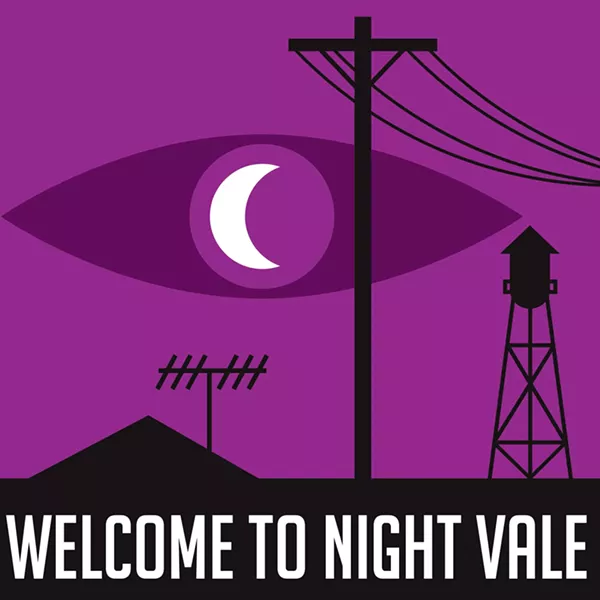 Although listeners can't resist drawing comparisons between the wildly popular podcast
Welcome to Night Vale
and the work of H.P. Lovecraft or David Lynch (or even likening it to
A Prairie Home Companion
narrated by
The Twilight Zone
's Rod Serling), true fans claim it's unlike anything that came before it. The supernatural brainchild of writers/creators Joseph Fink and Jeffrey Cranor,
Night Vale
owes some of its hypnotic charm to narrator Cecil Baldwin, an actor, performer and member of the experimental New York theater troupe Neo-Futurists. As radio host Cecil Palmer, Baldwin navigates the bizarre landscape of Night Vale, an imaginary desert town inhabited by angels, dragons, a menacing Glow Cloud and "dark hooded figures with unknowable powers." Given plot twists and anecdotes that involve everything from a gay romance to a PTA bake sale benefiting "Citizens for a Blood Space War," the podcast inspires both binge listening and an imaginative canon of fan art. With a novel set for release in October,
Night Vale
's first official U.S. tour stops at the Aztec with a brand new script enhanced with live musical accompaniment from Brooklyn-based electronic composer Disparition (aka Jon Bernstein) and British psych-pop surrealist Mary Epworth.
$25-$30, 8pm, Aztec Theatre, 104 N. St. Mary's St., (210) 812-4355, theaztectheatre.com.
— BR