Thu 4/16 - Sun 4/19
Tejano Explosion


Los Kumbia Kings All Starz
From humble beginnings as a small but well-curated show, Fiesta's Tejano Explosion has grown into a 10-day extravaganza featuring more than 20 of today's hottest Latin music stars. Kicking off Thursday and culminating on April 25, this year's insanely stacked line-up includes Selena's brother and consummate Tejano hitmaker, A.B. Quintanilla and his band Los Kumbia Kings All Starz, David Lee Garza y Los Musicales, Little Joe y La Familia and Jay Perez, a Grammy-winning Saytown native who still has mad love for his
gente
. Pro tip: entry is half-price before 6 p.m.
$12-$16 per night, 5pm-1:30am Thu-Sun, 1000 block of W. Commerce St., tejanoexplosionsa.com.
—
James Courtney

Fri 4/17
WEBB Party: ¡Última Fiesta!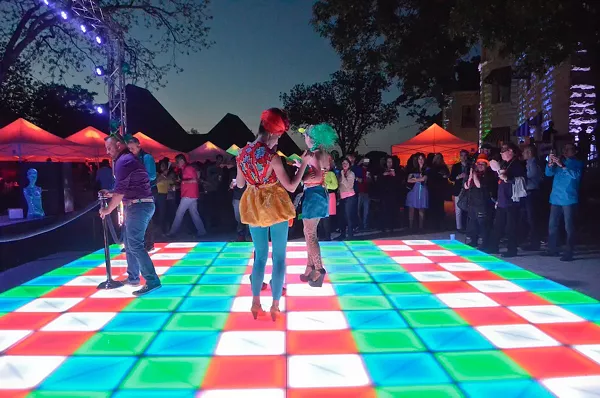 As the Ethiopian proverb goes, "When spider webs unite, they can tie up a lion." Guided by this concept of collective strength, WEBB Party launched in 1990 and has become both the San Antonio AIDS Foundation's signature fundraiser and one of Fiesta's wildest outings. As suggested by its title, ¡Última Fiesta! heralds the end of an era as WEBB Party moves to Halloween. Emceed by Crys Stone, the monumental evening includes bites from area eateries, a "Fiesta Flourish" fashion show by designer Agosto Cuellar and performances by the multi-genre dance troupe Austin City Showgirls and local drag stars Sasha Taylor and Nilaya Milan Raven.
$85-$100, 7:30pm-midnight, Lambermont Estate, 950 E. Grayson St., (210) 225-4715, webbparty.net.
— Bryan Rindfuss




Fri 4/17 - Sat 4/18
Alejandro Diaz: "It Takes a Village"

David Shelton Gallery
Make Tacos Not War
Artist Alejandro Diaz lives in New York City, but his influence can be felt all over his native San Antonio. It seems about every third house I go into here in SA has one of his hilarious neon pieces ("Make Tacos, Not War"), and his former Southtown house, now known as Sala Diaz, is one of the premier cutting-edge alternative spaces in Texas. Diaz created the space because he wanted to create "a living, breathing sculpture, a high-low mix of art and craft." Diaz comes back to San Antonio to install "It Takes A Village," a much-anticipated show opening at the Linda Pace Foundation's SPACE gallery on April 17. In a phone interview, Diaz offered the following preview of the exhibition: "I'll be making some works of art in which I reinterpret iconic styles to address current issues of class and culture. I'll be using Allen Jones-type furniture made by local craftsman (and a relative by marriage) Carlos Cortes. I'll have a tapestry handmade in Guadalajara using the Gobelin style that was popular in France in the 1800s. It looks like something from Mexico in the 1970s. I'm using many different styles and craftspeople, because it really does take a village to get all of these ideas across." Click
here
to read our full Q&A with Diaz.
Free, opening reception: 6-8pm Fri; artist talk: 2-3pm Sat, SPACE, 111 Camp St., (210) 227-8400, lindapacefoundation.org. On view through September 12.
— Gary Sweeney
Linda Pace Foundation
Mexi-cans
Sat 4/18
Crizzly


Gauged by the metric of total reach, EDM producer Crizzly might have the greatest influence of all San Antonio area artists — sorry Doug, Flaco and the Butthole Surfer boys. Born Chris Lee Marshall, the 24-year-old sizzurp-slurred his first and middle names to Crizzly and began producing Skrillex-style dance music in 2011. The Boerne native has a pretty consistent plan of attack. He finds a track from the trap and crunk heroes of Memphis, Houston and Atlanta, sending them through an EDM bootcamp. Out of the process emerge uniform, bass and drop-heavy soldiers that Crizzly deploys on SoundCloud and at EDM festivals worldwide. Crizzly's digital tracks easily reach the six-or-seven digit view count while becoming a heavy-hitter in the touring bro-rave circuit. With Antiserum, Laxx, Crias and Katabolic.
$20-$25, 8:30pm, Alamo City Music Hall, 1305 E. Houston, alamocitymusichall.com.
— Matt Stieb


Sat 4/18
Incognito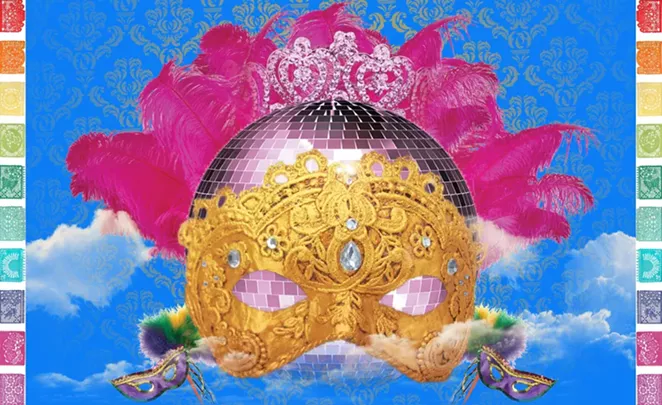 Formed in 1970s-era Houston by a group of artists, dancers and musicians, URBAN-15 has been a part of San Antonio's creative landscape since 1983. Billed as "Fiesta's most adventurous event," the nonprofit's Incognito invites revelers to "come as they aren't." Highlighted by a costume contest with cash prizes, the masked ball promises to get revelers grooving to the sounds of Austin mainstay Beto and the Fairlanes. The fusion-minded brainchild of SA native Robert Skiles, the eight-piece band crafts a blend of "Texas salsa" spiked with "high flyin' horns and explosive percussion."
$20-$40, 8pm-midnight, Whitley Conference Center, 285 Oblate Dr., (210) 736-1500, urban15.org.
— BR
Sat 4/18 - Sun 4/19
Fiesta Arts Fair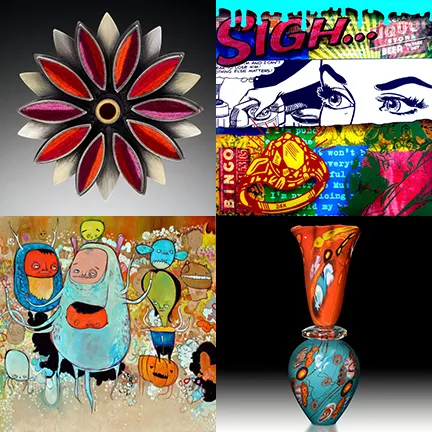 Clockwise from top left: works by Fiesta Arts Fair artists Michele Friedman, Rick Abrams, Chris Vance and Steve Palmer.
A cherished Fiesta tradition for more than 40 years now, Fiesta Arts Fair routinely draws crowds of 12,000-plus to the historic grounds of the Southwest School of Art. While it spotlights upwards of 100 artists showing and selling works in all media (from jewelry and ceramics to textiles and photography), the two-day event is equally known for its always eclectic music lineup. Among standouts on this year's bill are hyper-local mainstay Los #3 Dinners (12:30 p.m. Saturday) country traditionalist Dale Watson (2:30 p.m. Sunday) and fusion-minded barrio big band Bombasta (4 p.m. Sunday). The kid-friendly favorite also features a Children's Art Garden with hands-on activities (including opportunities to craft Fiesta medals and crowns) and food and refreshments (beer, wine and margaritas) available for purchase from La Gloria, El Machito, Say.She.Ate, Chocollazo and Chamoy City Limits.
$5-$10 daily, $16 for a weekend pass, 10am-6pm Sat, 11am-5pm Sun, Southwest School of Art, 300 Augusta, (210) 224-1848, swschool.org.
— Bryan Rindfuss
Sun 4/19
A Day in Old Mexico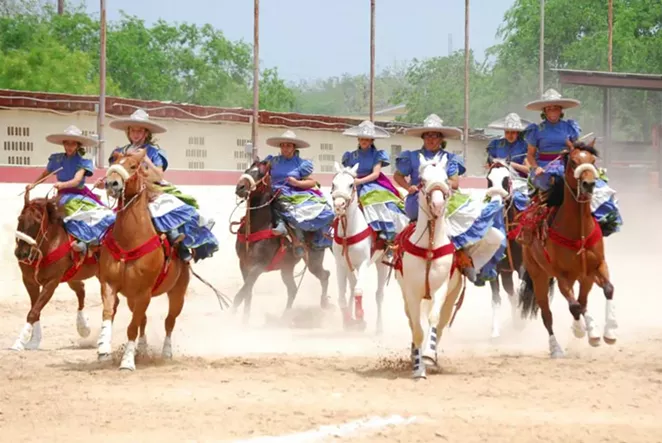 Devised during the hacienda system as a method to prepare horses and riders for war and formally institutionalized in the post-revolutionary period,
charrería
is the national sport of Mexico. For the last six decades, the Asociación de Charros de San Antonio has championed
charrería
(often described as Mexican rodeo), competing throughout the year and attracting a diverse crowd each April with its beloved Fiesta
charreada
A Day in Old Mexico. Of the 10 official
suertes
(competitive roping and riding events performed in period costumes), the all-female
escaramuza
stands out as a fan favorite. Created during the 1950s and officially added to the
charreada
mix in 1992, the choreographed skirmish showcases a team of young ladies demonstrating precision skills (some inspired by the
soldaderas
who fought alongside men in the Mexican Revolution) while riding sidesaddle in colorful dresses named after Pancho Villa's legendary companion Adelita.
$5-$15, noon-6pm Sunday, Charro Ranch, 6126 Padre Dr., (210) 393-5758, sacharros.org.
— BR
Sun 4/19
Deco District Arts and Music Festival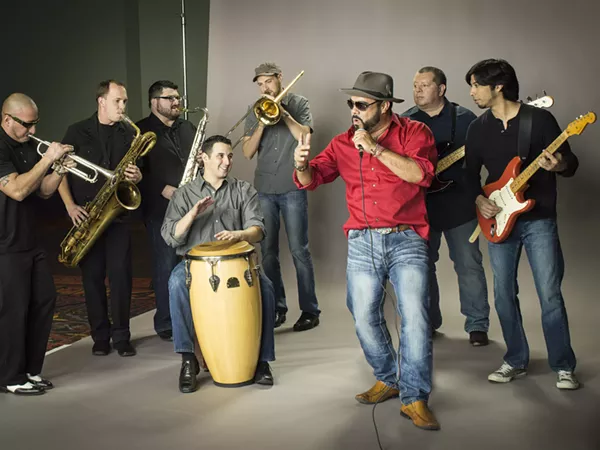 Let's get something straight: Fiesta is among the greatest things ever. That being said, attending every event can really wrack your wallet. Well, the Deco District Arts and Music Festival can help. The increasingly sprawling and diverse happening is free and features outdoor boutiques, music and festive food in a sublime urban locale. Our favorite part this year is the dizzying musical lineup, which showcases 30 artists — including throwback West Side rockers Los #3 Dinners, ATX's Migrant Kids, Kansas City's Making Movies, San Anto's own Bombasta and NYC DJ Kenny Summit — on three stages.
Free, noon-10:30pm, Deco District, 1800 Fredericksburg Rd., (210) 226-5611, nya.us.
— JC
Sun 4/19
John Wiese

Loud, grating, terrifying, experimental, cacophonous: These are just a few words that come to mind when thinking of the three heavy acts on Sunday's avant-noise bill at Paper Tiger. Headed up by West Coast musique concrète/noise specialist John Wiese, the evening will also feature performances by like-minded locals SKN KVR and Blacknail. While Wiese's work represents an almost academic exploration of the field recording, tape manipulation and noise buffet, SKN KVR stands as a testament to the wilderness of chaos in performance and achieves a dada-esque challenging of the boundaries of music.
$5, 9pm, Paper Tiger, 2410 N. St. Mary's St., papertiger.queueapp.com.
— JC
Sun 4/19
Stone Temple Pilots


To many folks, children of the "Plush" '90s, Stone Temple Pilots ceased to exist when they kicked lead singer Scott Weiland out of the band in 2013, replacing him with Linkin Park's Chester Bennington. Indeed, the band has notched just one release since canning Weiland, 2013's tepid
High Rise
EP, and seems more focused on touring behind the music that Weiland helped create. But what music it is. How can any self-respecting STP fan even consider seeing the band live without Weiland at the helm? That's between you and your rock gods, but it should be an interesting show at the very least.
$26-$56, 8pm, Aztec Theatre, 104. N. St. Mary's St., (210) 812-4355, theaztectheatre.com.
— JC