Thu 4/23 – Sun 4/26
A Night in Pinche San Antonio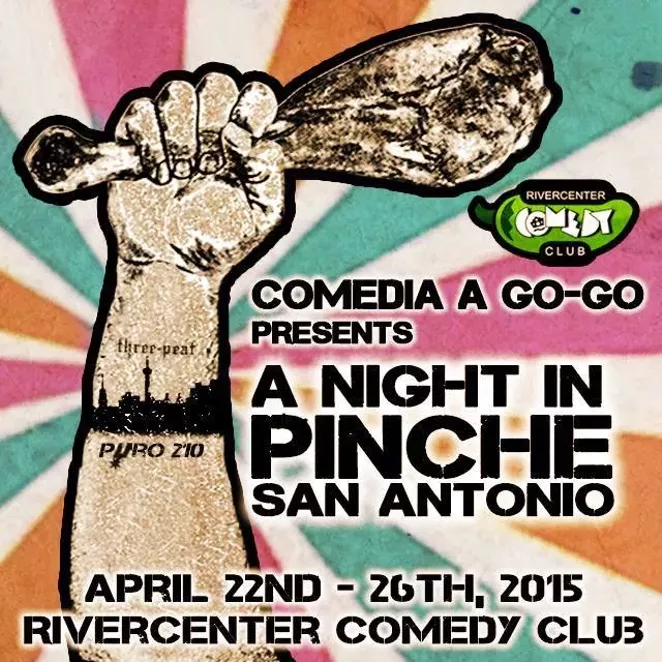 Do you have a love/hate relationship with all things Fiesta? Is maddening traffic and getting beer poured over your head at NIOSA not your idea of a fun night out, but Selena music, funnel cakes and drunk girls are? Local sketch comedy troupe Comedia A Go-Go promises five fun-filled nights of laughs at the expense of the city's 11-day pachanga with its unique blend of no-holds-barred humor featuring funnymen Regan Arevalos, Jess Castro, Joel Settles and Larry Garza. Take Garza's advice and "NIPSA this in the buttsa."
$12, 8:30pm Wed-Sun, 8:30pm & 10:30pm Fri-Sat, Rivercenter Comedy Club, 849 E. Commerce St., (210) 229-1420, rivercentercomedyclub.com.
– Kiko Martínez
Thu 4/23
Lee Fields and the Expressions




Though he's the backbone of revival labels like Soul Fire and Truth & Soul, Lee Fields is anything but a revivalist soul singer. The 64-year-old has been going strong since 1969, though the past 15 years have arguably been the most robust in his career. Along with Daptone strutter Charles Bradley, Fields is at the vanguard of the genre, a master of sounds crafted in Philadelphia, Detroit and Memphis. With a whetted horn section and a band entrenched in the pocket, Fields explodes into howling, scraped melodies on faithfulness (or lack thereof). With D.T. Buffkin and DJ Steven Lee Moya.
$15, 8pm Thu, Paper Tiger, 2410 N. St. Mary's St., papertiger.queueapp.com.
— Matt Stieb
Thu 4/23
Ryan Adams

There's a popular argument among older generations that music isn't what it once was. Ryan Adams turns that argument on its head by combining elements of classic rock with contemporary songwriting for a sound that's simultaneously nostalgic and refreshing. Whether he's singing odes to the Big Apple with "New York, New York" or exorcising his inner guitar-rock demons with "Gimme Something Good," Adams carves out his own niche in the realm of rock 'n' roll. He could easily be regarded as a modern-day Tom Petty, but also channels Neil Young and The Boss while staying true to himself.
$49.50, 8pm Thu, Gruene Hall, 1281 Gruene Rd., (830) 606-1281, gruenehall.com.
— Erik Casarez
Fri 4/24
Battle of Flowers Parade


Playoff season and Fiesta go together like chicken-on-a-stick and paying $4 for 8 ounces of beer. It only makes sense then for Peter Holt, owner of the San Antonio Spurs and HoltCat, to lead this year's Battle of Flowers Parade as grand marshal. How else are you going to honor the theme of "This Land Is Your Land," a nod to the U.S. and its beauty, than with the owner of America's team? We're crossing our fingers for an appearance by a few players, a visit from the Coyote and a live performance of the "Spuran Spuran" video. Where are my
cascarones
?
$12-$25, vanguard at 11:30am, parade at 12:30pm Fri; parade route at battleofflowers.org.
— Jessica Elizarraras
Fri 4/24
John Mulaney

Pay no attention to the outdated bio suggesting to catch John Mulaney on his eponymous Fox sitcom. In case you missed it,
Mulaney
, which
Entertainment Weekly
called "stunningly not funny" and named last year's fourth-worst show, was canceled after 13 episodes. Better to forget the failed "stab at a new-century
Seinfeld
" and remember when Mulaney was
New in Town
, as in the 2012 special that had
EW
calling him "one of the best stand-up comics alive." Catch him now before he finds his own Larry David and retires to a garage full of vintage Porsches.
$29.50, 7:30pm Fri, Charline McCombs Empire Theatre, 226. N. St. Mary's St., (210) 226-3333, majesticempire.com.
— Jeremy Martin
Sat 4/25
'Fiesta Folks'

Amanda Bianchi, one of photographer Josh Huskin's many "Fiesta Folks"
Local photographer Josh Huskin invites revelers to wrap up Fiesta shenanigans with his latest exhibit, "Fiesta Folks." Huskin told the
San Antonio Current
that his goal with this project, which ultimately included an astounding 95 shoots in six days, was to "make fun and creative photos in the studio using confetti and playing off of everyone's different personalities."
Think of it as a visual exploration of the multi-faceted soul of Fiesta. The result will be on display at Saturday's one-night-only show, which will feature refreshments from Southerleigh and Ranger Creek.
Free, 4pm Sat, Fl!ght Gallery, 134 Blue Star, (210) 872-2586, facebook.com.
— James Courtney
Sat 4/25
King William Fair

Grab the kids and hit the tree-lined streets of Texas' oldest historic district for King William Fair — a colorful day of arts, music, food and kid-friendly fun. Expected to draw more than 50,000 visitors, the Fiesta favorite boasts nearly 200 vendor booths set against the picturesque backdrop of Victorian homes and gardens. This year the San Antonio Symphony serves as Grand Marshall for KWF's always-eccentric morning parade (think vaudevillian magic, clog dancing and costumed pooches). As a bonus, the King William Association has partnered with Alamo Beard Club for a decorated beard contest.
$10, 9am-6pm Sat, King William; for a map of the fair, visit kwfair.org.
— Murphi Cook

Sat 4/25 – Sun 4/26
"Jamie Wyeth"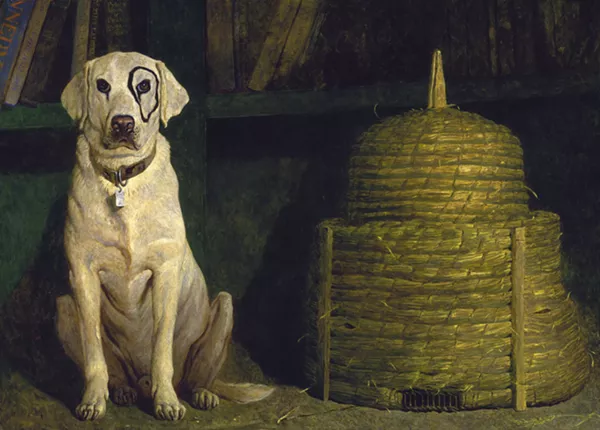 Museum of Fine Arts, Boston
Jamie Wyeth, Kleberg, 1984
Painter Jamie Wyeth grew up between Pennsylvania and Maine in what's been dubbed "America's first family of art." With inspiration from his grandfather (N.C. Wyeth, 1882-1945) and father (Andrew Wyeth, 1917-2009), not to mention aunts and uncles, Wyeth emerged as a masterful portrait artist while still in his teens. By the age of 20, he was represented in private collections and had been lauded as the "finest American portrait painter since the death of John Singer Sargent." Beyond famed portraits of icons (such as John F. Kennedy, Andy Warhol and Rudolf Nureyev), Wyeth has built bodies of work exploring the Maine coastline, a reverence for nature and a curious fascination with pumpkins. Organized by the Museum of Fine Arts in Boston and billed as the first comprehensive retrospective of the artist, the simply-titled "Jamie Wyeth" encompasses 100 paintings, works on paper, illustrations and assemblages spanning his 60-year career. As one of only three tour stops, the San Antonio Museum of Art hosts the traveling exhibition through July 5.
$15-$20, 10am-5pm Sat-Sun, San Antonio Museum of Art, 200 W. Jones St., (210) 978-8100, samuseum.org.
— Bryan Rindfuss

Sat 4/25
Fiesta Flambeau Parade


There ain't nothing like a good old-fashioned light show to dazzle and delight, and the Alamo City's got just about the best one around. Hailed as "America's largest illuminated parade," the Fiesta Flambeau has served as the spectacular culmination of Fiesta for nearly 70 years. Close to 750,000 viewers are expected for the family-friendly 2.8-mile jaunt downtown featuring local bands, dance groups, international marching bands, and incomparable floats celebrating this year's theme of "Television: Then and Now." Host of ABC's
Primetime: What Would You Do?
and San Antonio native John Quiñones steps in as Grand Marshall for the glow-stick-free spectacle.
$15-$25, vanguard at 6:40pm, parade at 7:15pm Sat; parade route at fiestaflambeauparade.org.
— MC
Sat 4/25
Los De Esta Noche Album Release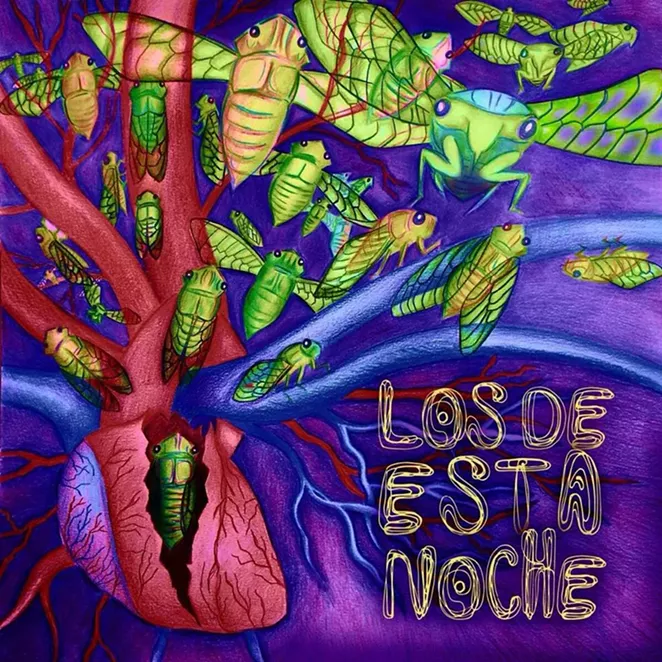 San Antonio septet Los De Esta Noche are mockingbirds of style, picking up on genres and spitting them back with accuracy and attitude. On their new self-titled album, the nocturnal homies take a swing at cumbia, ska, rocksteady and Tex-Mex rockabilly, trading Spanish for English as gracefully as they swap out their rhythms. Listening to the nine-track album is an exercise in conjecture — it's damn near impossible to guess what's coming up in the queue. Like a SparkNotes guide to Afro-Latin music, the band summarizes their influences into quick, three-to-five minute bites. The only thing to expect from the record is, well, the unexpected. This is a band that can go anywhere within the studio. While the album might sound like it's recorded by nine different bands, Los De Esta Noche's live set is a boisterous act indeed, with the styles piling on top of each other like drinks in your stomach, each more potent than the last. With Grupo Frackaso.
$5, 10pm Sat, Phantom Room, 2114 N. St. Mary's St., twitter.com.
— MS