Monday, May 5
Think Big Movie Marathon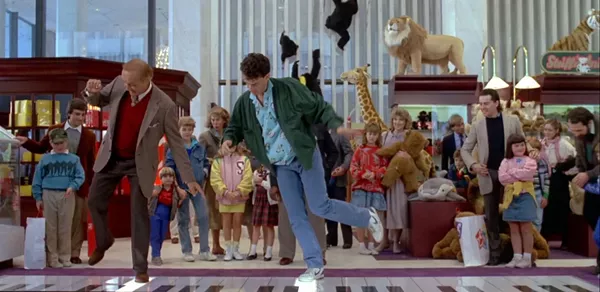 Part of the national fundraising initiative Give Local America, the
Big Give S.A.
unites 877 organizations for a 24-hour period designed to "bring nonprofits and donors together, expand the idea of online giving, connect people to the causes that move them the most and, of course, make giving fun." As an added incentive to show your favorite nonprofit some love with a donation of $10 or more, each participating organization is eligible for matching funds and a variety of prizes totaling $650,000. To celebrate the occasion and encourage generosity, Texas Public Radio and Slab Cinema are teaming up for the aptly titled "Think Big Movie Marathon." Promising a funny, strange walk down memory lane (not to mention encounters with the likes of Zoltar, The Dude and Large Marge), the free triple feature kicks off with Penny Marshall's nostalgic fantasy
Big
(7:30 p.m.), continues with Tim Burton's cult classic
Pee-wee's Big Adventure
(9:35 p.m.) and wraps up with the Coen brothers' surreal stoner comedy
The Big Lebowski
(11:10 p.m.).
Free, 6:30pm, Pearl Amphitheater, 200 E. Grayson St., tpr.org.

Tuesday, May 5
The Last Picture Show


Northeast Lakeview College will screen Peter Bogdanovich's classic remake of Larry McMurtry's masterpiece
The Last Picture Show
to close out their Small Texas Town film series. A bittersweet coming-of-age story, Bogdanovich's rendition stars Timothy Bottoms, Jeff Bridges and a young Cybil Shepherd. This story beautifully portrays that awkward period of life between boyhood and manhood and pays perfect homage to McMurtry's work.
Free, 6:30pm, Northeast Lakeview College Performing Arts Center, 1201 Kitty Hawk Rd.,
event flyer
.

Tuesday, May 5
Tiki de Mayo




The Brooklynite is bringing San Antonio a Cinco de Mayo party to quench all of your thirst and hunger needs. To spice up the evening, a special tiki menu infused with Latin flare will be available. In addition, the tiki inspired food truck, Locavore, will be cooking up some Hawaiian cuisine.
Free, 8pm, The Brooklynite, 516 Brooklyn, (210) 444-0707, Facebook events page.

Tuesday, May 5
A Puro De Mayo Party


El Mirador owner Chris Hill and his talented crew are teaming up with Puro Pinche to celebrate Cinco de Mayo. There will be complimentary botanitas (appetizers) served and fantastic drink specials. The event supports Dress for Success San Antonio and The Big Give SA.
Free, 6pm-10pm, El Mirador, 722 S. St. Mary's St., (210) 225-9444.
Wednesday, May 6
12th Annual Betty Page Contest


Can you channel the effortless sexiness of the '50s greatest pin-up girl? Show up to Brass Monkey dressed in your best Betty Page look, and you may win $1000.
Free admission, 21 and up, 10pm, Brass Monkey, 2702 N. St. Mary's St., Facebook event page.