Courtesy
WWE World Heavyweight Champion Seth Rollins
In the world of pro wrestling, there is no one on the planet who is hotter at this very moment than the reigning WWE World Heavyweight Champion Seth Rollins. The former Architect of The Shield honed his high-flying skills paying his dues on the independent wrestling circuit. Since coming to the main roster of the WWE in 2013, he has soared to the top and become one of the company's top talents.
Now in the of the role of anointed, hand-picked corporate face of the company, Rollins has been placed into programs with the top talents in the business, including winning his title in the main event of Wrestlemania 31. The Authority's chosen one was able to take time on his day off to talk about his time coming up in the business, his part in one of the most dominant faction's in wrestling history, and facing off against the legendary Undertaker as he gets ready to headline another edition of WWE Monday Night Raw on June 1 at the AT&T Center.
So, when did you start watching wrestling? Did you have any favorites?
Oh, I was probably about 3 or 4 years old. You know the 80s were a great time for wrestling then, and that's when I was watching. Guys like Hulk Hogan, Randy Savage, Mr. Perfect, Demolition, the Legion of Doom — those were my guys growing up.
How did you actually break into the business? I think that is still something people just aren't wholly aware of.
When I was 18, I graduated high school, and then I sought training that summer. It didn't pan out. I was getting trained out at the Ring of Honor school out in Philadelphia, but I didn't have the money, and I didn't have any idea of out how to live out on my own. I was just an 18-year-old kid, you know. So, I moved back home, and I ended up training that fall out of a shipping warehouse in Chicago with a guy named Danny Daniels, a local independent legend if you will. He has his own company in Chicago now, and it's doing well. And after a few months, I started having matches on the Midwest independent scene.
You had a really successful career on the independent circuit. How did you transition from that to getting a developmental contract with WWE?
Well, I was Ring of Honor champion at the time. I had a contract coming up with them, and I was 24 at the time. I was thinking about trying to advance my career, and the WWE was a place that I always wanted to end up working. So, I put out some feelers to see what kind of interest there was in bringing in the Ring of Honor world champion, which they did.
One thing led to another and after a bit of a bidding war with them and TNA and Ring of Honor, I decided to go down to FCW in Tampa. I signed a developmental deal with them. I moved down to Florida and train with [WWE trainer] Dr. Tom [Pritchard] and the rest of the FCW guys.
You were down there when WWE made the change from FCW to the new WWE NXT. What was that like seeing it go through such a big change?
When I went down to FCW, it wasn't anything like it is now. They have a state of the art facility in the WWE Performance Center. They have full weight room on site. They have doctors, trainers, seven rings, and they have their own show on the WWE Network. All that good stuff. When I was in NXT, we didn't have any of that. We had a weekly syndicated show in Florida where we taped out of a warehouse with a couple of practice rings wrestling in front of local crowds of a good 20 to 30 people. When I was champion down there, you know, I was out putting fliers on telephone poles. It wasn't anything like it is now.
How did they treat you when you first got there? I mean, you came in as the Ring of Honor world champion and had built a name for yourself. Were you given a certain amount of respect for what you'd accomplished to that point?
I was told that what I had done before I got to WWE didn't matter. I was basically starting from scratch. The guys who are coming in now, [current NXT champion] Kevin Owens, Prince Devitt, Sami Zayn, Neville, all those guys got preferential treatment for being on the indie scene for as long as I was.
It was a completely different world back then. So, when we changed over to NXT, the transformation was immediate and vast. Even though I was there in the beginning stages of it, I could tell that WWE was investing in their future more than they had ever had.
So, again, before getting to the WWE, you had had this great career already. What types of things did you need to work on while in FCW or NXT? Is there anything specifically that helped you out?
It was just learning how to wrestle for TV, I guess. Performing in front of a live audience is different from performing in front of television cameras. It took me time to get used to that. And, developing a television personality, I guess, which was something you didn't in the independents. It's just a different animal. Just getting adjusted to that was the biggest thing for me.
How much work goes into developing "Seth Rollins?" How much of it is your TV persona as opposed to just being you?
SR:
It's half and half, you know. I mean, you've gotta have elements of your own personality in the character but at the same time, it's something you've gotta be conscious about. When you're on the indies, you just show up and do your thing. It's not something most performers think about. You know, like "who is Seth Rollins?"
In FCW or NXT, you're trying to set yourself apart, and a lot of it has nothing to do with what you do in the ring. You have to make strides mentally as far as sitting down and thinking about things like persona. It was a change of pace for me, but it was a challenge that was fun to take on.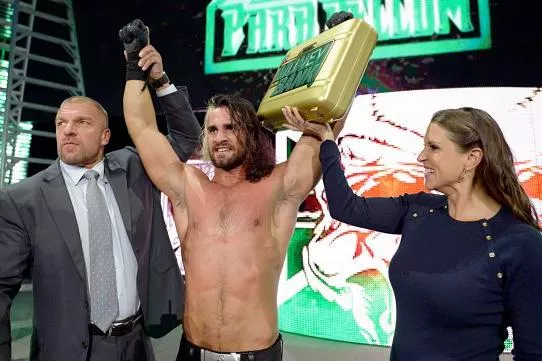 Courtesy
Seth Rollins after winning "Money In The Bank."
So, let's talk a little bit about forming The Shield. You guys got together while you were down in NXT. How did that all come about?
The Shield was a crazy thing. It just kind of happened all of a sudden, you know. (Dean) Ambrose, myself and Roman (Reigns) had never teamed up in any other fashion, and we had been rivals in some places. But, we all wanted the same thing. We all had the same goals in mind. We wanted to make an impact, and we thought it would be easier with the three of us together than each of us trying individually. When you have some guys to watch your back, it gives you more confidence to be sure. We all played off each other's strengths and covered each other's weaknesses as a unit. We just clicked from the very beginning.
What was it about the three of you that made clicking so easy? I mean, you went on to have an amazingly successful run together as arguably one of the best factions in wrestling history. What made that work?
You know, I would have to say it was our work ethic, and we had that "chip on our shoulder" mentality. All of us had the very same goal of being the absolute best. We wanted to come in, and we wanted to change the game, the whole vibe, the whole scene. The guys that were coming out of the developmental, in our eyes, they just weren't cutting it. They were just happy to be there kind of guys and we were just the opposite.
We wanted to be better than everybody, and we wanted to push everybody to be better, too, and when you've got three guys like that you start pulling people out of their comfort zones, that's when things start to change. I think when you look back at the kind of turning point in the WWE as far as stylistically, I think you'll be able to look back at the debut of The Shield as kind of a marker for the start of a different era.
They put you guys in almost immediately in programs with the biggest stars the company had at the time and they booked you over all of them. Was there a point in that whole run where you could take a step back and say, whoa, we're in the ring with so-and-so, and we're being treated as equals with them?
Oh yeah, definitely. I think any time you're in the ring with The Undertaker, that'll do it. We got to be in the ring with a lot of different personalities, but the first on that really got us all into a different state of mind was staring across the ring at The Undertaker. That was special for all of us I think.
What ultimately went into the decision to split you guys up?
It was just one of those things, man. We had a little bit of a rocky period after Wrestlemania XXX. Not everybody was on the same page. We had a couple of classics against the reunited Evolution, but from there we didn't have anything left do. We had some matches with the Wyatt Family and the stuff with Evolution, but for three-man units there isn't anywhere else to go. It was time to make a change, and I just happened to be the guy to ignite that fire. People hated me for it, but in reality, they should be thanking me for it if you look at where all three of us are. It's paid big dividends.
Since the split, you've been on an incredible run. You won Money in the Bank, you won the World Heavyweight Championship at Wrestlemania 31. What's this time been like for you? Growing up wanting to be a wrestler, is this what you thought it would be like?
It's been awesome, you know. I mean, there's a lot of responsibility with the situation, but it was something that I was ready for and it was something that I wanted. I'm super excited to just have all the opportunities that I've had, getting to do
The Today Show
, getting to do
The Daily Show
, walk out of 'Mania as the champion, and getting to main event pay-per-views. I still try to go out and have the best match on the card and it's a lot of responsibility, like I said, but it's still something I take a lot of pride in.
Got it. So, you're coming here to San Antonio again for Raw. Our city has a long history tied into pro wrestling and with the WWE. What is it like for you when you come here?
It's a wonderful city. It's got such an awesome culture. The vibe down there is great. All the Latin influences going on. It's got its own unique personality, and everyone seems really cool and nice. Every time I've gone to San Antonio, whenever I go out to a gym or a restaurant, everybody's really personable and I've always enjoyed it. I'm looking forward to coming back and rocking Texas again.
WWE Monday Night Raw
$20-$115, 6:30pm Monday, June 1, AT&T Center, 1 AT&T Center Pkwy., ticketmaster.com