Thu 7/2 - Sun 7/5
'Maestro of Pop'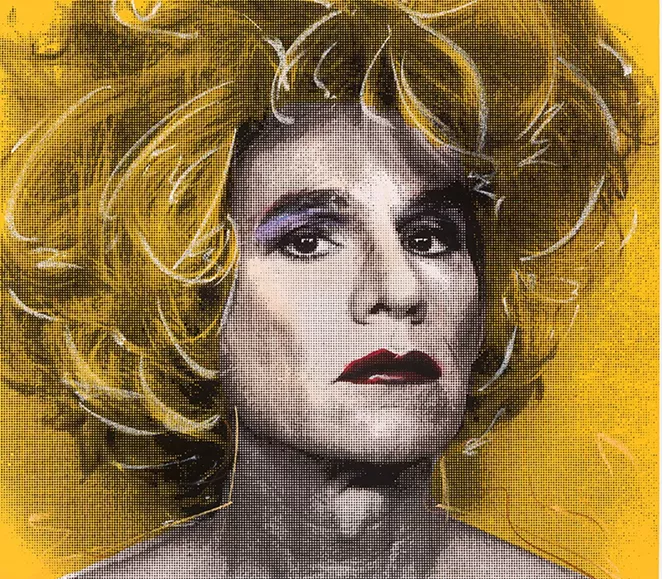 A key figure within LA's Chicano art scene, Richard Duardo co-founded the politically-minded collective Centro de Arte Público in 1977 and earned the nickname "West Coast Warhol" through his poppy, silk-screened portraits of celebrities such as Jimi Hendrix, Duke Ellington and Lauren Bacall. Outside of his artwork, Duardo turned his mastery with serigraph printing and publishing into a business, acting as managing director of the downtown print shop Modern Multiples. He collaborated with everyone from David Hockney and Keith Haring to Banksy and Shepard Fairey. Upon Duardo's passing in 2014, iconic comic and avid art collector Cheech Marin told the Los Angeles Times, "An artist could have no better friend than Richard." With "Maestro of Pop," the McNay celebrates the master printer with a collection of 20 large-scale works gifted to the museum by UTSA president Ricardo Romo.
$5-$10, 10am-9pm Thu, 10am-4pm Fri, noon-5pm Sun, 10am-4pm Tue, McNay Art Museum, 6000 N. New Braunfels Ave., (210) 824-5368, mcnayart.org.
— Bryan Rindfuss
Thu 7/2 - Sun 7/5
Military Appreciation Week




Enjoy the comedy stylings of U.S. military veterans-turned-stand-up comedians Bobby Henline, Raul Sanchez and Anthony Torino, as they raise money for military support groups. The trio make up Crosshairs Comedy, a team of vets "who have taken on comedy as their new battlefield." Henline, who did four tours in Iraq, ended his military career in 2007 after a roadside bomb burned over 40 percent of his body. "I had a good time in Iraq, but that last tour was a real blast. It took me four tours to realize my lucky number is three."
$16, 8pm Thu, 8pm & 10:15pm Fri- Sat, 8pm Sun, Laugh Out Loud Comedy Club, 618 NW Loop 410, (210) 541-8805, lolsanantonio.com.
— Kiko Martínez
Thu 7/2 - Fri 7/3
'Re-enactment'


Wanrudee Buranakorn, It Gets Harder Every Day
UTSA's off-site gallery Terminal 136 hosts an opening reception for artist and educator Wanrudee Buranakorn's "Re-enactment." Born and raised in Thailand and now based in Wisconsin, Buranakorn explores physical beauty, desire, melancholy, dreams and contemplation via juxtaposed photographs presented as diptychs and triptychs.
Free, 6-9pm Thu-Fri, Terminal 136, 136 Blue Star, (210) 458-4391, art.utsa.edu.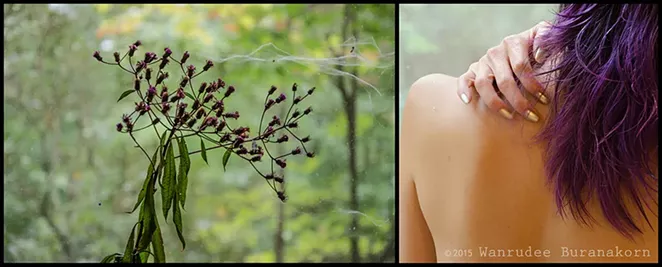 Wanrudee Buranakorn, Gravitate
Thu 7/2
Mash-Up Series: 'Furniture & Fashion'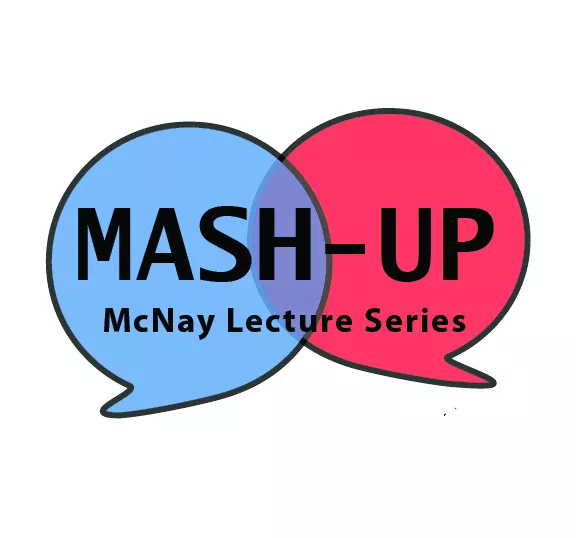 Designed to uncover connections between seemingly disparate topics, the McNay's unconventional, interactive Mash-Up lecture series picks back up with "Furniture & Fashion," a session pairing Andrew Wit (an international practitioner in residence at Ball State University) and local fashion designer Angelina Mata.
Free, 6:30-7:30pm Thu, McNay Art Museum, 6000 N. New Braunfels Ave., (210) 824-5368, mcnayart.org.
Fri 7/3
Lonely Horse

Let's face it: Lonely Horse is about to take over the world. With its début album finally slated to drop in early August (on Nouveau Riche Records) and a massive tour planned, the high-octane desert-rock power duo is poised for big things. As such, we should relish the opportunity to see them rock in the quaint confines of Imagine Books and Records while we still can. Friday's intimate show, which will also feature musical performances by Shamans Among the Machine and Octahedron, will be an all-arts event, showcasing art, clothing and photography by local vendors.
Free, 6-11pm Fri, Imagine Books and Records, 8373 Culebra Rd., (210) 236-7668, imaginebookstore.com.
— James Courtney

Fri 7/3 + Sun 7/5
Water by the Spoonful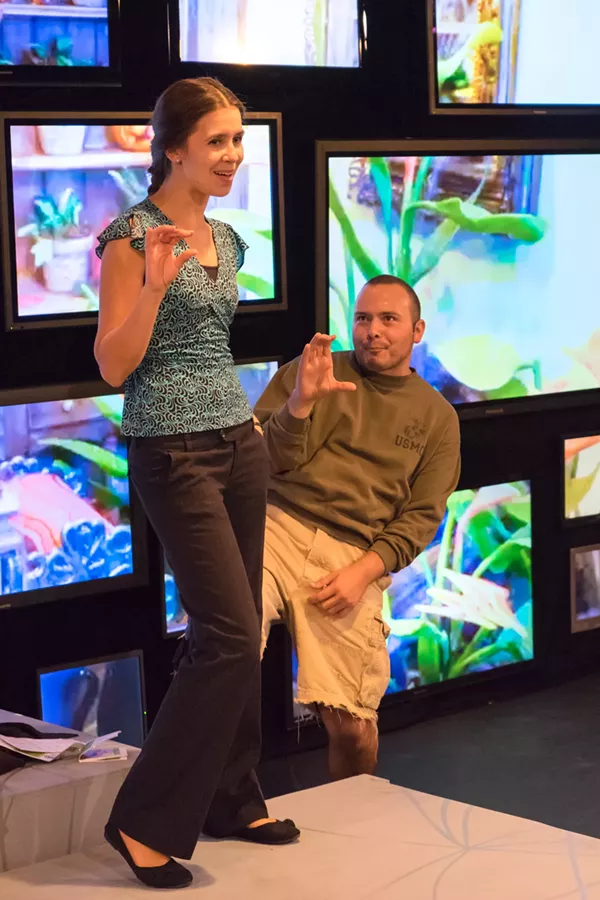 Pennsylvania-born playwright and composer Quiara Alegría Hudes made her first big splash in the theater world as librettist of the musical slice of life
In the Heights
. Hudes' flair for interweaving narratives took a turn for the dramatic with her "Elliot Trilogy," a cycle of plays surrounding an ex-Marine's search for meaning following a tour of Iraq. Skipping straight to Hudes' Pulitzer-winning second chapter,
Water by the Spoonful
, the Playhouse delves into a tangled web strung together by a fractured family and an online chat room for addicts.
$12-$30, 8pm Fri, 3pm Sun, The Playhouse, 800 W. Ashby Pl., (210) 733-7258, theplayhousesa.org.
— BR
Sat 7/4
Freedom to Say I Do


Even before the Supreme Court's favorable ruling in the same-sex marriage case of Obergefell v. Hodges, Unity Church of San Antonio took a leap of faith in planning "Freedom to Say I Do," a series of "inspiring but not religious" ceremonies that culminate with open house receptions complete with cupcakes. The brainchild of UCSA member Gail Johnson and minister Rv. Linda Martella-Whitsett, the daylong event exemplifies the non-denominational church's Statement of Inclusivity. Couples wishing to tie the knot should bring a marriage license (obtained at least 72 hours beforehand) and
register online at unityofsa.org
.
$25, 9:30am-5pm Sat, Unity Church of San Antonio, 1723 W. Lawndale Dr., (210) 824-7351, unityofsa.org.
— BR
Sat 7/4
4th of July Celebration


Tie your least favorite lawn chair or most mobile grill to one of the trees at Woodlawn Lake Park as the San Antonio Parks Foundation and City of San Antonio team up for the 15th annual 'Murica bash. This year's festivities include live music, an All-American Military cook-off, a children's parade and kids' zone, a Zumbathon to sweat off all those holiday treats and more. Pack those picnic baskets, blankets, bug spray and get there early to grab coveted seating for the Fireworks Extravaganza (you may want to leave the pups at home for this one).
Free, 8:30am-11pm (fireworks at 9:30pm) Sat, Woodlawn Lake Park, 1103 Cincinnati Ave., (210) 212-8423, saparksfoundation.org.
— Jessica Elizarraras
Sat 7/4
Pride Bigger Than Texas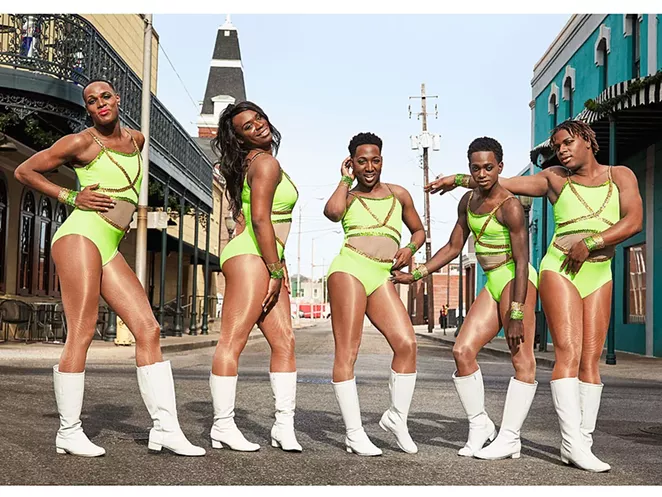 Given the Supreme Court's landmark decision last week, the LGBT community has plenty to celebrate during what's been dubbed "Texas Marriage Freedom Weekend." Presented by Bud Light and benefiting an array of local organizations, the annual Pride Bigger Than Texas festival takes over Crockett Park with food, music and live entertainment from the likes of Pride Championship Wrestling and Mobile, Alabama-based, gay dance team/reality TV stars the Prancing Elites (pictured). As a bonus leading up to the Rainbow Dash (8pm), High Heel Race (8:45pm) and parade (9pm), Pride San Antonio will facilitate a mass same-sex wedding in the park.
$10 (parade free), 11am-11pm Sat, Crockett Park, 1300 N. Main Ave., pridesanantonio.org.
— BR
Sun 7/5
Mar y Machas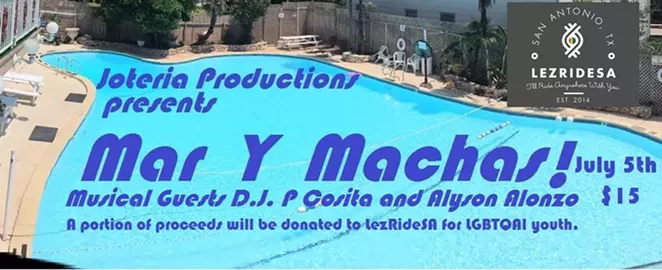 Ladies, are you looking to jumpstart your summer? How about an opportunity to get wet and wild, sans the annoyance of the masculine gaze? Thanks to the new operation Joteria Productions — dedicated to high-quality, all queer female events — you'll have that chance on Sunday. For a small donation, join the pool party where you'll enjoy good company, food by chef Nadia Casaperalta and music by queer crooner Alyson Alonzo. Proceeds will go, in part, to benefit LezRide, a fast-growing collective that seeks to provide safe and fun outdoor community activities for the LGBTQA youth of SA. No boys allowed.
$15, 4-10pm Sun, Laguna Del Rio Swim Club, 1409 Donaldson Ave., (210) 352-5392, facebook.com.
— JC