Thu 7/16
Summer 2015 International Artists-in-Residence


A detail of Wafaa Bilal's exhibition "The Things I Could Tell..."
Acting as guest curator for the summer installment of Artpace's International Artists-in-Residence program, Istanbul-based Ian Alden Russell selected Gabriel Martinez (Houston), Wafaa Bilal (New York) and Fatma Bucak (London/Istanbul) — a group he felt would "form a sort of family." With shared "points of connection in their negotiation of social and political issues," the trio has spent the last two months creating projects that explore public space and interaction (Martinez), chromotherapy as it relates to war veterans (Bilal), and immigration and the U.S.-Mexico border (Bucak).
Free, 6-9pm (curator and artists' dialogue at 7pm) Thu, Artpace, 445 N. Main Ave., (210) 212-4900, artpace.org. Through September 13.
— Bryan Rindfuss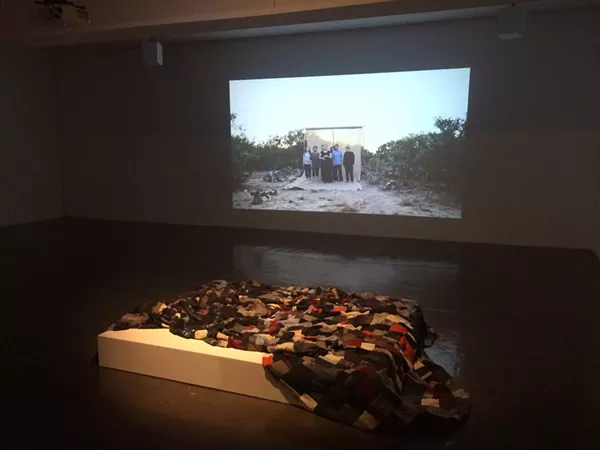 An installation view of Fatma Bucak's exhibition "Over a line, darkly"
Thu 7/16 - Sat 7/18
"10 Whispers"


Curated by Crystal Galvan, AnArte's all-female exhibition "10 Whispers" features work in an array of media from such emerging talents as Amada Miller, Ali Wiesse and Anais Cantu. Inspired by the natural world, Wiesse creates layered graphite drawings "evocative of living organisms and [her] own body." Rendered in gouache and watercolor on paper, Miller's piece 17 Heads showcases her flair for whimsy and keen sense of style. As for Cantu, her fascination with abandoned structures comes to light via photographs of the ruins of Hot Wells Hotel & Spa and lesser-seen corners of Alcatraz Prison.
Free, noon-5pm Thu-Sat, AnArte Gallery, 7959 Broadway, (210) 826-5674, anartegallery09.com. Through August 8.
— BR




Brittany Ham, Women in the Park

Fri 7/17 - Sat 7/18
Jimmy James: "Hearing Is Believing"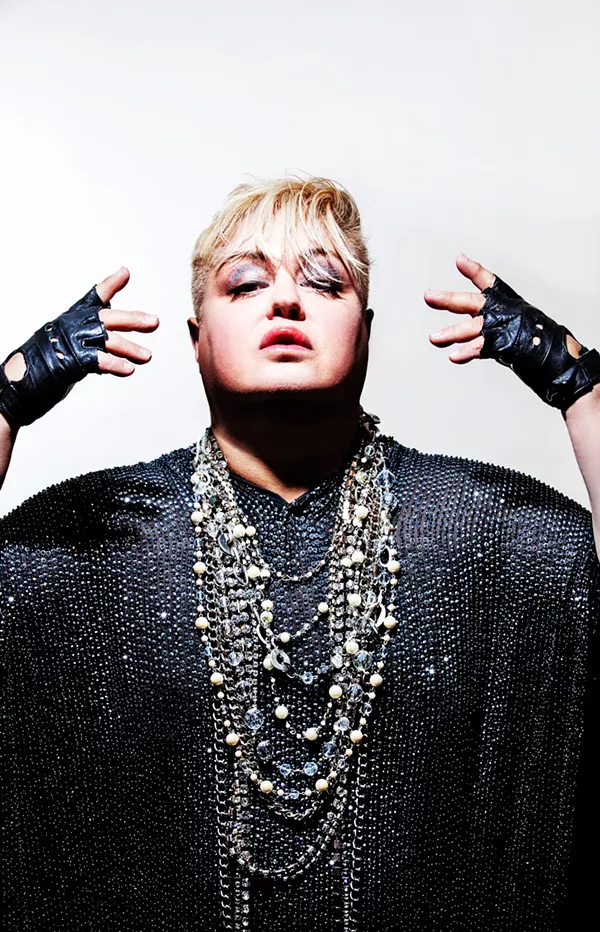 It's safe to say Jimmy James boasts one of the more colorful careers ever launched in San Antonio. Born James Jude Johnson in Laredo in an undisclosed year (he's "older than Britney but younger than Madonna"), he started impersonating Marilyn Monroe on a whim in the early 1980s and perfected the act flawlessly enough to land in an Atlantic City revue that led to talk show appearances (from
Donahue
to
Geraldo
), performances at high-profile events (for the likes of Whoopi Goldberg, Joan Rivers and Elton John) and national advertising campaigns (including L.A. Eyeworks and Kenar). Although possibly known better by younger audiences for his original club hit "Fashionista," James is a wildly talented vocal impressionist who shifts effortlessly between such iconic voices as Cher, Elvis, Barbra Streisand, Judy Garland and Eartha Kitt. We caught up with the Los Angeles-based entertainer in anticipation of "Hearing Is Believing," a two-night homecoming engagement combining impressions, original songs and star-studded anecdotes within the unassuming confines of Marty's Cocktails.
$15-$20, 9pm Fri-Sat, Marty's Cocktails, 130 Isom Rd., (210) 341-9259, brownpapertickets.com.
— BR
Click
here
to read our Q&A with James.
Fri 7/17
Chingo Bling: No Mames Tour


Following rapper/comic/entrepreneur Chingo Bling's Twitter feed (the way, for example, President Barack Obama does), you get plenty of punchlines. A recent freestyle "Jewelry to a Raspa" talks about "rolling blunts as big as flautas," and this year's Masahouse 2 opens with a riff on hip-hop artist ILoveMakonnen titled "I Don't Sell Tamales No More." To find the jokes these days, however, you must pick them out of the flood of responses triggered by his "Open Letter to Donald Trump," a passionate defense of immigrants that got enough social media heat to catch CNN's eye, as honest, funny and plainspoken as you'd expect from an artist who called his only major-label release to date They Can't Deport Us All. Currently touring as a stand-up (joined Friday by comics Mario "Superstar" Salazar, Jesus "Midnite" Castillo and Mark Riojas), the Houston native and Trinity University alum will still be doing what he does best — cracking jokes and not shutting up.
$20-$30, 8pm & 10:30pm Fri, Guadalupe Theater, 1301 Guadalupe St., guadalupeculturalarts.org.
— Jeremy Martin


Fri 7/17 - Sun 7/19
Grease


Grab your leather jacket and your felt poodle skirt because the T-Birds and the Pink Ladies are cruising into town. Following a group of high school seniors in 1959,
Grease
explores the complexities of summer lovin' and hormone-riddled identity. Inspired by his time at Chicago's William Howard Taft, Jim Jacobs developed the risqué musical with Warren Casey in 1971. In subsequent productions and the 1978 film, much of the play's vulgarity was diluted; however, today those greasers still manage to tackle teen pregnancy, rebellion and gang violence with hip-shaking style.
$12-$30, 8pm Fri-Sat, 3pm Sun, The Playhouse, 800 W. Ashby Pl., (210) 733-7258, theplayhousesa.org. Through August 16.
— Murphi Cook
Sat 7/18
Paper Trail


Paper Trail SA is an art fair and exhibition that will showcase contemporary works of art and design on paper. Featuring more than 30 artists and vendors, the event will also include live printmaking demonstrations. We are particularly excited to peep new works from Cruz Ortiz's Snake Hawk Press, St. Sucia, Carlos Pozo, and Luna Mala Press. For a chance to mingle with artists, dig Friday's mixer at Freight Gallery and Studios (8:30 p.m. at 1913 S. Flores St.). Remember, the more we support cutting-edge, communal art events like this, the more of them we will have.
Free, 11am-8pm, Brick at Blue Star Arts Complex, 108 Blue Star, (210) 884-8019, papertrailsa.com.
— James Courtney
Sat 7/18
Cartel Land


With its lens trained on two vigilante groups fighting drug cartel violence on opposite sides of the U.S-Mexico border, Matthew Heineman's daring documentary
Cartel Land
boasts all the suspense of a narrative film. Following leaders Dr. José Mireles (aka "El Doctor"), of Michoacán's Autodefensas, and Tim "Nailer" Foley, of Arizona Border Recon,
Cartel Land
has been described as both "a classic western set in the 21st century" and "a crazy, violent trip into Mexico's deadly drug war and America's border paranoia." The Guadalupe premieres the doc in advance of its official release next week.
Free, 7pm Sat, Guadalupe Theater, 1301 Guadalupe St., (210) 271-3151, guadalupeculturalarts.org.
— BR


Sat 7/18
"All School Exhibition"


Chris Sauter, Exploding Silos
Southwest School of Art shows San Antonio what its hoards of creative types have been up to in its annual "All School Exhibition." Featuring recent works from the likes of Chris Sauter, Margarite Guggolz and Gary Schott alongside a pool of juried students, studio artists, adjunct faculty and the talented teens of "Bee Nation," the well-rounded group show sprawls across The Ursuline Hall Gallery and Russell Hill Rogers Galleries to encompass a staggering range of content, medium and talent. With a member's preview on Friday, the show officially opens to the public with a reception on Saturday.
Free, 2-4pm Sat, Southwest School of Art, 300 Augusta St., (210) 224-1848, swschool.org.
— MC
Sat 7/18
The Smashing Pumpkins & Marilyn Manson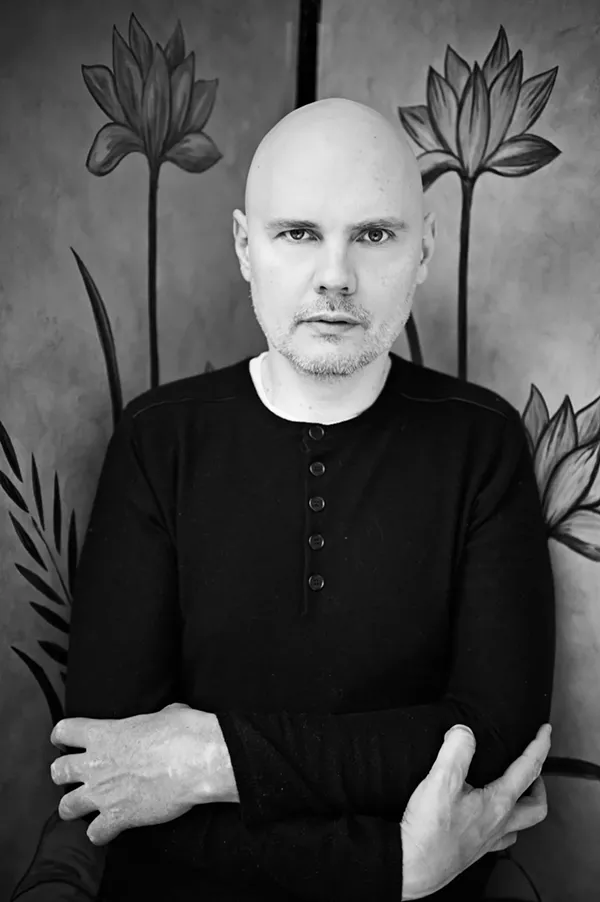 The Smashing Pumpkins are a hell of a lot better than Marilyn Manson. Which is why the pair of '90s-repping, alt-rock icons' "The End Times Tour" that swings through SA on Saturday seems somewhat preposterous. It's like giving equal billing to a footnote and a multi-chapter section in a book. At any rate, Billy Corgan (pictured) and company, who released their surprisingly killer ninth album
Monuments to an Elegy
last year, are experiencing a renaissance of sorts and, we all just have to deal with the fact that they've brought along their sometime ally, sometime enemy for the ride.
$37.50-$57.50, 7pm Sat, Freeman Coliseum, 3201 E. Houston St., (210) 444-5000, attcenter.com.
— JC

Sat 7/18 - Sun 7/19
"Miguel Covarrubias: Culture and Caricature"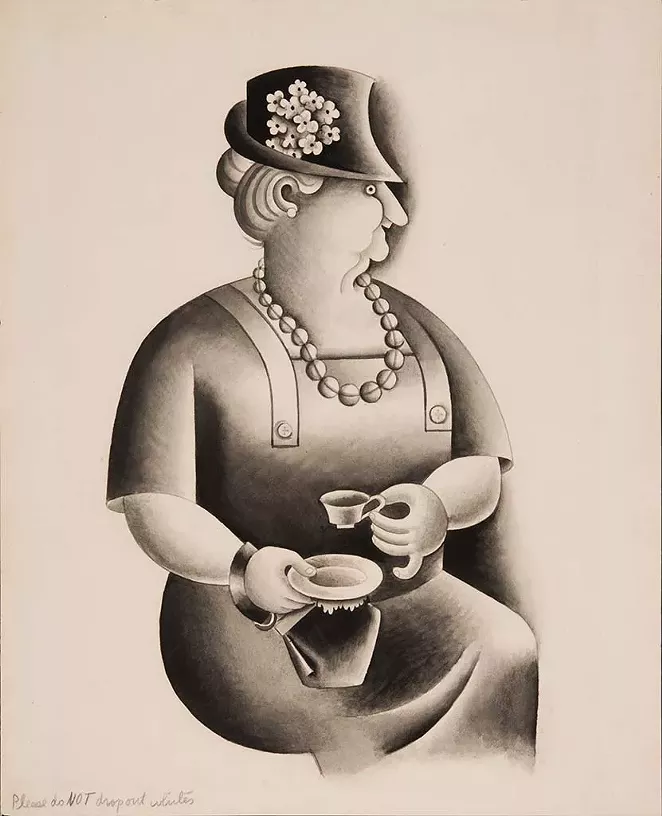 Miguel Covarrubias Mexican, Self-Portrait Caricature
Rightfully dubbed "Mexico's Renaissance Man," Miguel Covarrubias (1904-1957) made a name for himself as a caricaturist, writer and commercial illustrator but also made significant contributions to the realms of theater, ethnography and archaeology. Born in Mexico City, Covarrubias moved to New York on a government grant in 1923, fell in with an elite crowd and emerged as go-to caricaturist for the likes of
Vanity Fair
,
The New Yorker
and
Vogue
. Published in 1925, his book, The Prince of Wales and Other Famous Americans put a witty spin on icons of the era (Charlie Chaplin, Babe Ruth and Calvin Coolidge among them) while his 1927 offering Negro Drawings celebrated the spirit of the Harlem Renaissance. On their honeymoon in Indonesia, Covarrubias and his wife Rosa Rolanda became enraptured with Balinese culture and collaborated on the 1937 book The Island of Bali. Compiled from the collections of the San Antonio Museum of Art, Yale University and Austin's Harry Ransom Center, "Miguel Covarrubias: Culture and Caricature" showcases 140 works, along with a selection of Mexican folk art collected by Covarrubias' friend Nelson Rockefeller. $5-$10, 10am-5pm Sat-Sun, San Antonio Museum of Art, 200 W. Jones Ave., (210) 978-8100,
samuseum.org
.
Through October 18.
— BR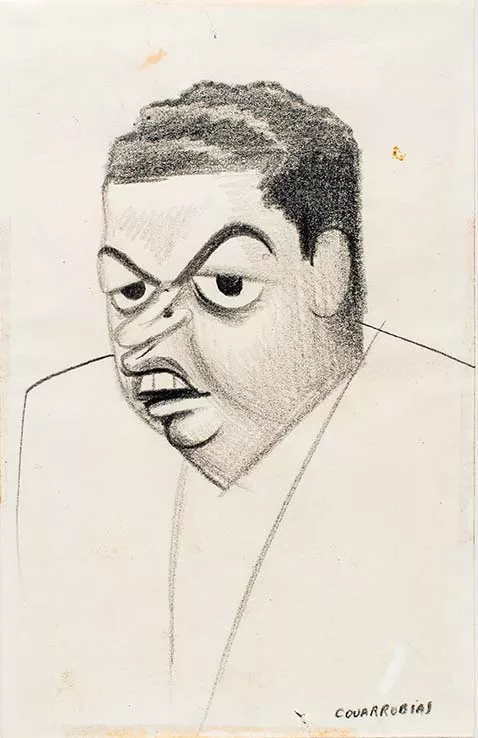 Miguel Covarrubias Mexican, Self-Portrait Caricature