Thu 7/23 - Sun 7/26
Cristela Alonzo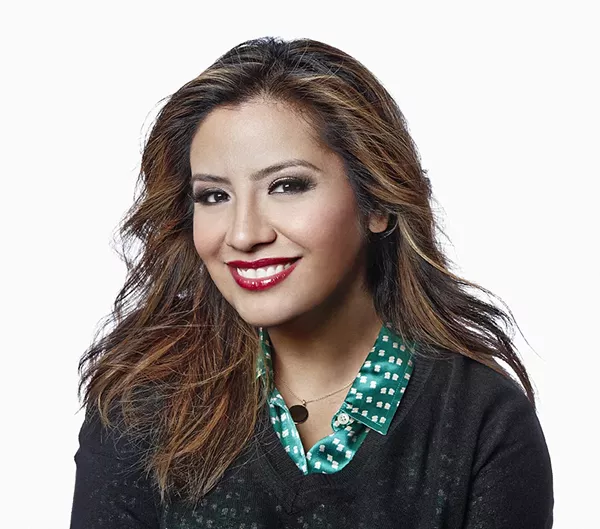 The comedian from San Juan, Texas, who "once had a show named
Cristela
," as she so eloquently wrote in her blog back in May, returns to the stage for the first time in SA since her semi-autobiographical comedy series was cancelled by ABC after only 22 episodes. Alonzo was the first Latina ever to create, produce, write and star in her own network TV series in the U.S. Despite the short-lived sitcom, she writes that it's only the beginning for her. "Trust me,
Cristela
the show might be done … but Cristela the person has just started."
$20, 8pm Thu, 8pm & 10:15pm Fri-Sat, 8pm Sun, Laugh Out Loud Comedy Club, 618 NW Loop 410, (210) 541-8805, lolsanantonio.com.
— Kiko Martínez




Fri 7/24
"Mexica Rock Cruzes y Cositas"


Former high school classmates Israel Rico and Karen Faye have teamed up for their first joint show, "Mexica Rock Cruzes y Cositas." Rico's Chicano pop art takes iconic cartoons and posters and gives them whimsical makeovers — Jimi Hendrix turns into a
calavera
with flaming electric guitar and Speed Racer turns into a Speed Cholo with a teardrop tattoo. For her part, relative newcomer Faye (whose artwork is also permanently displayed at Johnny's Mexican Restaurant) will feature her 3D paintings and crosses on canvas combining religious overtones and references to SA history.
Free, 6-9pm Fri, IAMA Coffee House, 1627 Broadway, (210) 669-4277, iamacoffeehouse.com.
— Jessica Elizarraras

Fri 7/24
Gemini Ink @ Tacoland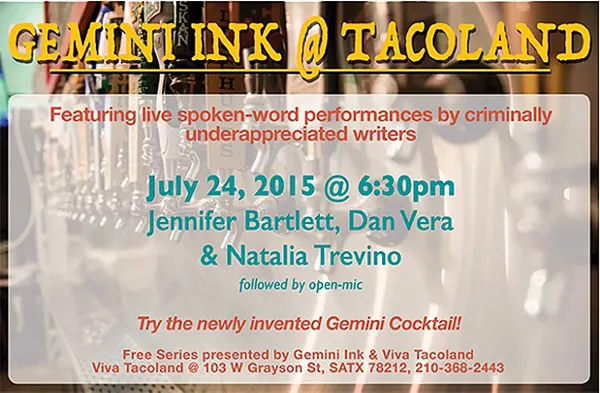 Similarly exploring marginalized voices within the context of poetry, visiting authors Dan Vera and Jennifer Bartlett join Northwest Vista College assistant professor Natalia Treviño to inaugurate Gemini Ink @ Tacoland, a new series launching in tandem with the mini-conference "Like Oak Trees: How Writing Transforms Community." Born in South Texas to Cuban parents and now based in Washington D.C., Vera won the first ever Letras Latinas/Red Hen Poetry Prize for 2013's
Speaking Wiri Wiri
— a collection that weaves language, taste and culture into a witty tapestry inhabited by everyone from Captain Kirk to Carmen Miranda. Currently at work on a biography of late poet Larry Eigner (1927-1996), Brooklyn-based Bartlett draws from her own experiences with cerebral palsy to challenge stereotypes and champion the disabled through her works, the most recent being the deeply personal collection
Autobiography/Anti-Autobiography
. Promising to defy any preconceived notions one might have of a literary function, the nonprofit's outdoor reading comes complete with signature Gemini cocktails (crafted from cucumber vodka, mint, lime and agave) and an open mic to follow.
Free, 6:30pm Fri, Viva Tacoland, 103 W. Grayson St., (210) 368-2443, geminiink.org.
— Bryan Rindfuss
Fri 7/24
Rey Lopez Birthday Bash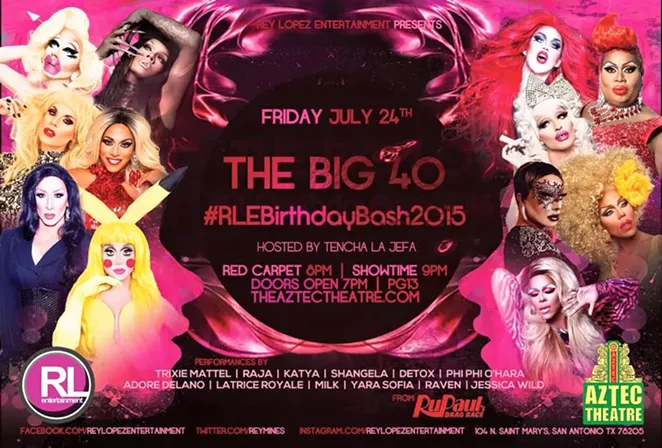 Although he's never one to skimp on live entertainment, promoter/LGBT nightlife influencer Rey Lopez takes things over the top with his summer birthday extravaganzas. Perhaps to help soften the blow of the big four-oh, Lopez has enlisted a dozen glamazons fished out of the exotic waters of
RuPaul's Drag Race
. After kicking off with a red carpet arrival hosted by SA's own Foxxy Blue Orchid (8pm), the drag-star-studded affair showcases the talents of "Debutantess of the Deep South"/Paris, TX native Shangela, self-described "mermaid witch" Adore Delano, Bexar County jailbird Phi Phi O'Hara and many more.
$20-$30, 9pm Fri, Aztec Theater, 104 N. St. Mary's St., (210) 812-4355, theaztectheatre.com
.
— BR


Fri 7/24
Martin Lawrence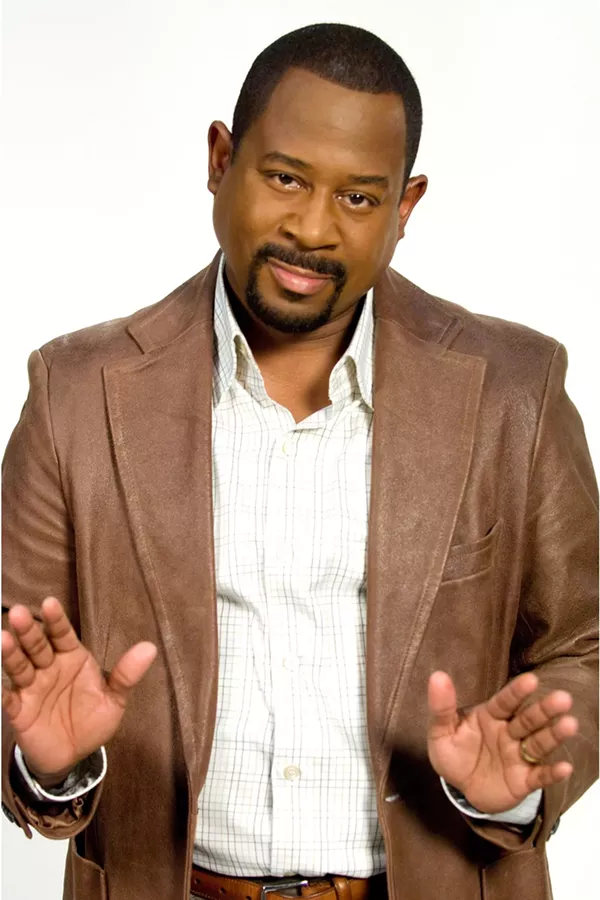 Prosthetic artists spent hours transforming Martin Lawrence into the title character in the
Big Momma's House
trilogy, but his stand-up special
You So Crazy
proved he can embody an entire cast using nothing but a microphone and stool. Most comics structure their acts to call back to previous punchlines; Lawrence enacts a dramatic multi-character third-act plot twist inside a vagina. Hollywood special effects would make this a graphic gag, but when it's conjured onstage using nothing but words and gestures, it's closer to a collective hallucination.
You
so crazy, indeed.
$59.50-$79.50, 8pm Fri, The Majestic Theatre, 224 E. Houston, (210) 226-3333, majesticempire.com.
— Jeremy Martin


Sat 7/25
Briscoe Blast!

Launched in 2005 complete with a commemorative flag that now flies in 30 states and six countries, National Day of the Cowboy (NDOC) seeks to promote and preserve the cowboy's role in America's rich Western heritage. Designated as the fourth Saturday in July, NDOC's 11th annual celebration takes shape on a local level at the Briscoe. Besides free museum tours, the event includes live music by the Texas Weather Band, campfire tales with Miss Tiffany of Storytime Chicks, an appearance by Alex Ingram (Miss Rodeo 2014), a prop-filled photo booth and grub for purchase from Cheesy Jane's.
Free, noon-5pm Sat, Briscoe Western Art Museum, 210 W. Market St., (210) 299-4499, briscoemuseum.org
.
— BR
Sat 7/25
My Arab Fall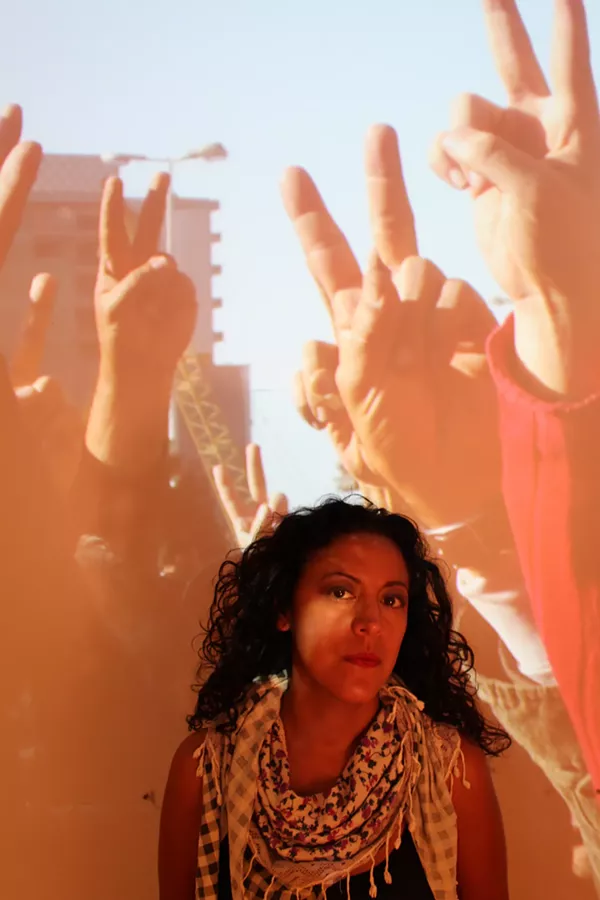 Anna De Luna photographed by Doyle Avant
For Anna De Luna, things changed about 10 years ago; San Antonio's roles for Latinas suddenly seemed to disappear. Frustrated but not beaten by the sudden loss of work, she turned inward and developed
Chicana Atheist
, a solo show that explores her own identity. Later, she transformed her work with the San Antonio AIDS Foundation into
The AIDS Lady
, a piece that has been performed in Walgreens parking lots and beyond to promote HIV awareness and testing. Her latest work,
My Arab Fall
, chronicles her time as a tourist in Egypt after their Arab Spring, positioning her view as a Westerner alongside that of an Egyptian activist.
Free, 5pm & 8pm Sat, Performing Arts Center – Black Box Theater, Palo Alto College, 1400 W. Villaret Blvd., (210) 486-3000, facebook.com.
— Murphi Cook
Click
here
to read our full story on De Luna and fellow Chicana theater artist Marisela Barrera.
Sat 7/25
Richard Blanco
As the Macondo Writers' Workshop, founded by Sandra Cisneros and focused on developing community-minded creative writers, celebrates its 20th anniversary, you're invited to take part by way of a special reading from esteemed poet Richard Blanco. When he read at Barack Obama's inauguration, Blanco became the first Latino poet to perform the honor and has received numerous other accolades and recognitions for his works. Those especially jazzed about local literary activities should also plan to attend the free Macondo Writers' reading on Friday at 7pm (also at Guadalupe Theater).
$15-$25, 7pm Sat, Guadalupe Theater, 1301 Guadalupe St., (210) 271-1011, guadalupeculturalarts.org.
— James Courtney
Sun 7/26
The Power of a Dream


The underdog sports movie hits close to home in
The Power of a Dream
, a documentary film featuring University of the Incarnate Word student, personal trainer and reserve Bexar County firefighter Eric Castillo who, at the age of 30, became the oldest player ever to take the field for UIW's Division I football team. Although he had never played organized football before, Castillo's determination earned him a spot on the 95-man roster during his last season of NCAA eligibility. It was an experience he hopes inspires others to aspire to become something greater than past mistakes. "Falling down is a part of life that provides us with the tool of motivation for personal growth," Castillo told the
San Antonio Current
. "No matter what age you're at when you come out of that dark place in your life, any dream you have ever had is more obtainable when you're fighting for something at your very lowest." Later this year, Castillo will graduate with his degree in kinesiology exercise science with a minor in nutrition and communications. He also plans to join the Fire Academy next month.
$15, 6pm Sun, Santikos Palladium, 17703 I-10 W, (210) 798-9949, eventbrite.com.
— KM


Sun 7/26
María y José
A powerful presence in the wild Mexican hybrid genre called Ruidoson (literally "noise song"), María y José, the stage moniker of Jalisco, Mexico-born Tony Gallardo, brings a unique combination of reggaeton, tribal and electro-cumbia to Hi-Tones this Sunday. Surprisingly organic for electronic music, Gallardo's sound is kinetic and raw, his aural collages expressive of tropical settings, traditional Jalisco music, sweaty all-night clubs and, on a darker note, the dystopian labyrinth of drug-war violence. Gallardo is joined on the rad bill by fellow sonic/cultural-collagist Chico Ye and local outré cumbia duo Nag Champa.
$3, 9pm-2am, Hi-Tones, 621 E Dewey, (210) 573-6220,
facebook.com/nuevosesquemas
.
— JC