Cosplay/Cosplay Contest

If you've ever dreamed about being your favorite anime/comic/cartoon character, but society restrains you from living out your fantasy in public, San Japan: 8-Bit is the opportunity you need to be who you long to be. In general, cosplay means to become one with the character being portrayed, with most cosplayers making the costume from scratch, so many would consider the main event to be admiring the craftsmanship and time put into the intricate costumes/makeup/wigs.
Dealer Room/Artist Alley


Character figurines, kigurumi onesies, kawaii plushies and just about anything Japanese, oh my! The Dealer Room typically host around 150 vendors, selling their wares for
reasonable
prices and the Artist Alley is the hub for handmade crafts that'll suit just about every different taste. Be sure to bust open that piggy bank.
SA Current
Masquerade Ball
Masquerade Ball


With ornate mask, rainbows of embellished gowns, and fancy suits that would make Sailor Moon's beau Tuxedo Mask envious, San Japan's Masquerade Ball will bring out the finer things a anime convention can promise. Just be sure to remain respectful of the ball's dress code found
here
.
San Japan Idol

Can you sing the Pokemon theme song better than your fanatic friends, or out-do any J-rock and J-pop star?
If you're itching to show San Japan what you got, then it's time to throw your wig to the ground as you jam out like you've never done before. Contestants will be judged by their vocal ability, stage presence, lyric memorization and overall look to win the coveted champion trophy.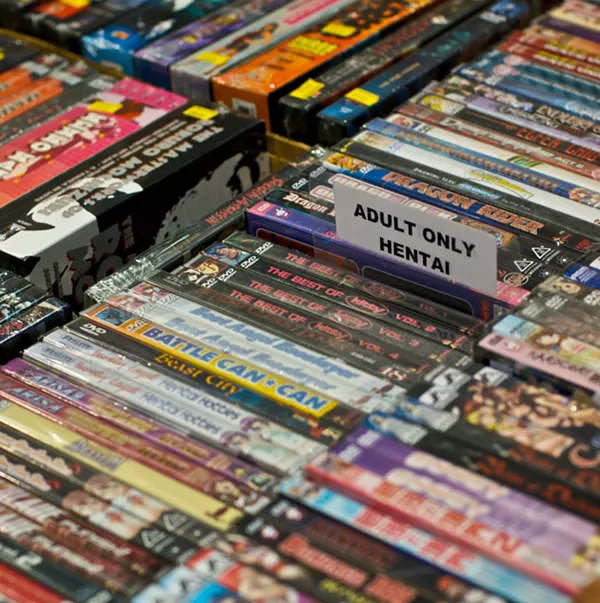 Wikipedia
Adults Only
Anime Swap Meet


If you have full volumes of
Naruto
and
Death Note
gathering dust in your collection and want something that involves a little more "action," this is the event for you. Hentai, for those embarrassed to ask, is anime porn, so it's about as dirty and adorable as you can expect it to be. Finally, Hentai will no longer come wrapped in a plastic.
Lolita Fashion Show/ Lolita Tea Party
For those curious, Lolita fashion has no relation to the scandalous literary masterpiece
Lolita
, the style is instead a response to the growing popularity of revealing, over-sexualized clothing. Lolita women are turning back to the Victorian era as their inspiration, with frilly frocks, stiff tulle petticoats and sugar, spice, and everything nice as their dress code.
Poke-Battle Live!
The rules are simple, the trainer must know the moves of their Pokemon and be as quick as possible with attacks and defenses. The other requirement is to have fun with it and "be the very best that no one ever was."

Live Music
Famous violinist known for her video game, anime and movie covers, Taylor Davis mixes old world charm with modern compositions. Her YouTube channel has compiled more than 50 million hits as her fingers bleed with passion for her art. Other musical guest include SA's own Ocarina jammer David "Docjazz4″ Ramos, Chiptune raver DJ Cutman, cosplay popstar Kieran Strange and nerd-rocker Professor Shyguy to just name a few.

Panels
There're a whopping total of 170 panels to choose from, including
"
Horrible Fanfiction Theater: Revengence," "Asian Horror Movie Panel," "Nerdcore Stand-up Comedy Show," and "Who Wants To Be a Weeaboo?"

Special Guest
Voice actors and animators make up the bulk of San Japan's special guest.
Voice actresses
Ghost In The Shell
series' Mary Elizabeth McGlynn,
Pokemon/Sonic the Hedgehog
series' Lisa Ortiz,
Titan
's Jessica Calvello, Carli Mosier. Voice actors include Guinness Book of World Records-holder Steve Blum and anime dub artist Brett Weaver.
Animators include CG game designer Mitsuru "Mick" Kouzai and anime artist/producer Yuji Matsukura.