Thu 7/30 - Sun 8/2
San Antonio Film Festival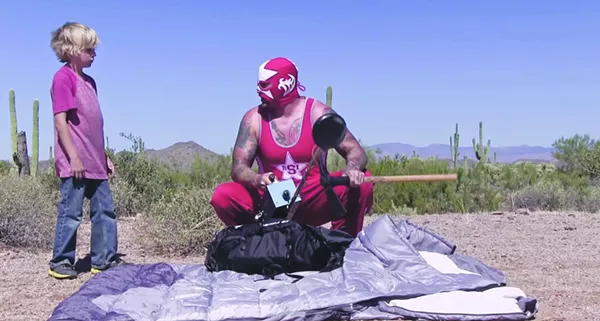 A wrestler searches for a lost treasure in Little Red and the Rhode Island Strangler (5pm Thursday).
San Antonians love their movies and it shows with the growing count of film festivals, contests, slams, series and special screenings that continually pop up all across the city during any given month. From Texas Public Radio's summer film programming to competitions like the San Antonio 48-Hour Film Project to the countless outdoor big-screen showings at places like Mission Marquee Plaza, Travis Park and Main Plaza (not to mention new players in the game like the inaugural Alamo City Film Festival later this year), one might think San Antonio has quite an appetite for cinema. "It's exciting," Adam Rocha, San Antonio Film Festival director, told the
San Antonio Current
last month in anticipation of the 21st annual San Antonio Film Festival, which runs through August 2. "Everyone needs a diversion from everyday life. In our industry, it comes in the form of filmmaking and festival-building." Find out what kind of lineup Rocha and his team have assembled this year as the SAFF takes place at the Tobin Center for the Performing Arts for the first time. For a full schedule, visit
safilm.com
.
$10-$15 per film, $99-$125 for a festival badge, Thu-Sun, Tobin Center for the Performing Arts, 100 Auditorium Circle, (210) 223-8624, safilm.com.
— Kiko Martínez
Click here for our full story on the San Antonio Film Festival.
Fri 7/31
"Seditious Industrial Complex Licensing Office"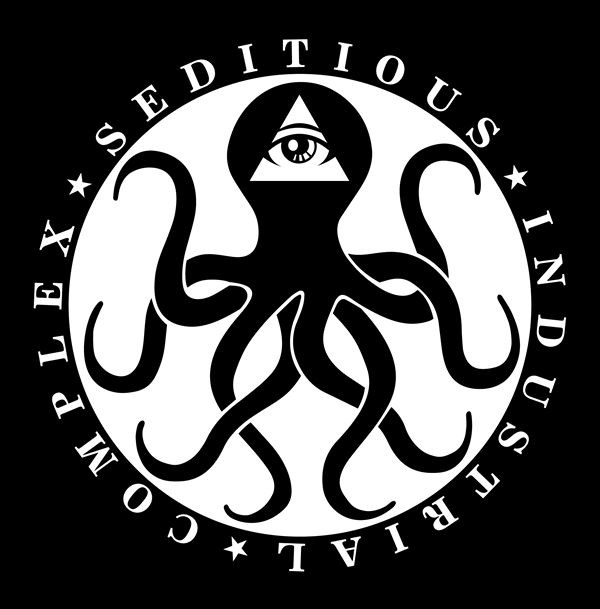 After posing a number of odd questions (Does the everyday rub you wrong? Are you uppity?), the press release for Sala Diaz's latest offering announces a "new line of mutinous consumer goods" available exclusively through the gallery. Masterminded by Stevan Živadinović (who was allegedly "born in a fictitious country" and teaches video game design at SAY Sí), the high-concept project reportedly comprises a patent license and a public domain license that will be up for grabs during an "intensive presentation" enhanced with a participatory performance by members of the Aesthetic of Waste.
Free, 6-9pm Fri, Sala Diaz, 517 Stieren St., (972) 900-0047, saladiazart.org
.
— Bryan Rindfuss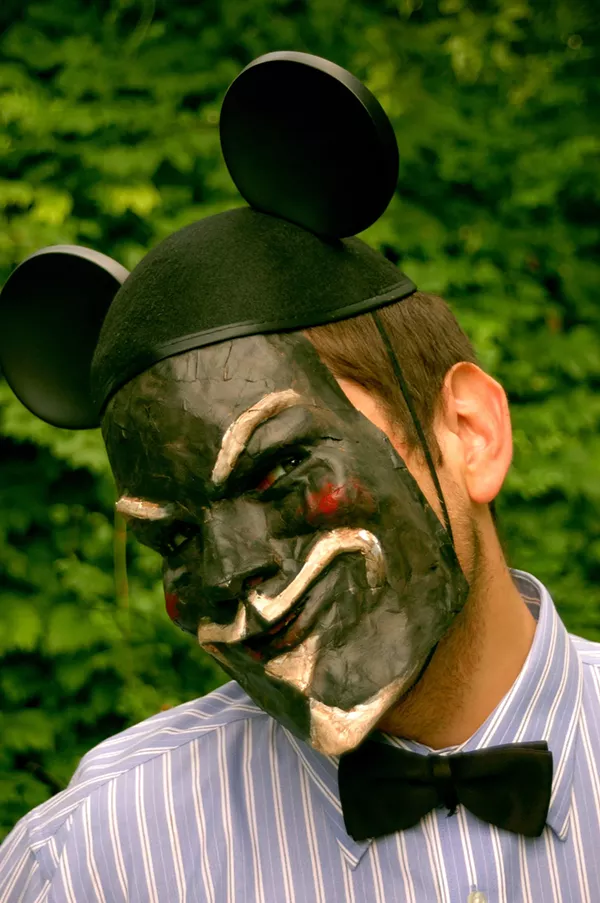 According to Živadinović, this photo is "somewhat representative of what the show is about, but is also kinda misleading."
Fri 7/31
Televangelist
This Friday night, join area math rock outfit Televangelist in celebrating the release of the group's new LP. Boasting some of the more riveting and mesmerizing live performance chops in town, the young quartet is sure to take the stage with a confident fury, based on the strength and depth of these new songs, which build elegantly upon the knotty and intricately pulsing progressive rock of earlier efforts. Supporting Televangelist on the well-envisioned bill are local notables Donella Drive, Tera Ferna, The Sky Divided and This Is Where Two Oceans Meet.
$5, 9pm Fri, Limelight, 2718 N. St. Mary's St., (210) 735-7775, thelimelightsa.com.
— James Courtney
Fri 7/31
"Voodoo Survived!"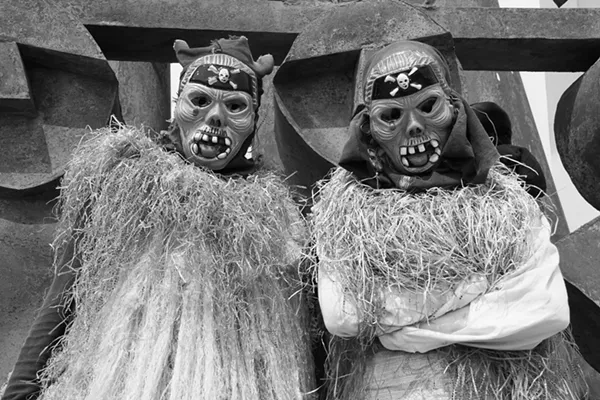 A collective of like-minded artists and patrons, The Olaju Art Group serves as a platform for emerging talent while promoting the arts and culture of West Africa. Spotlighted by the group's Exposure Through The Arts (ETTA) initiative, Nigerian freelance photographer Akpan Nseabasi uses his work "to raise awareness on underrepresented subjects," including the often stereotyped religion of voodoo. Hosted by St. Mary's University, Nseabasi's photographic exhibit "Voodoo Survived!" trains its lens on the Voodoo Festival held annually in the West African nation of Benin.
Free, 6-8:30pm Fri, Greehey School of Business, St. Mary's University, One Camino Santa Maria St. (parking available in Lot T), fromwestafrica.wordpress.com.
— BR
Fri 7/31
Night at the DoSeum: "ReDo Recess"

The new San Antonio Children's Museum, awesomely dubbed The DoSeum, has been generating quite a buzz among tykes and the taller talkers about town. The massive yet inviting state-of-the-art facility is forward-thinking brilliance from building design to the boss exhibits that encourage learning through play. For all of us adults who wish we could have the place all to ourselves, now's our chance. On Friday, big Doers (21 and up) are invited for a cocktail party/educational play date like no other. Tacos and Tequila is bringing the food and booze, you bring the playful curiosity.
$20, 7-9pm (doors at 6:30pm) Fri, The DoSeum, 2800 Broadway, (210) 212-4453, thedoseum.org.
— JC
Fri 7/31
"Cursive Wanderings"

In their imaginative collaborations, "visual pen pals" Greg Rubio and Ann-Michèle Morales incorporate elements of the surrealist parlor game exquisite corpse and mail art. Charmingly old-fashioned, the duo's practice is rooted in sketch books — filled with everything from poppy collages to architectural patterns — that have been snail-mailed to and from Texas cities (San Antonio, Austin, Harlingen, Houston, Corpus Christi) and even to Mexico. On view through October 2, Rubio and Morales' exhibit "Cursive Wanderings," comprises a selection of books and sculptural objects.
Free, 6-9pm Fri, Guadalupe Theater Gallery, 1301 Guadalupe St., (210) 271-3151, guadalupeculturalarts.org.
— BR

Fri 7/31 - Sat 8/1
San Antonio Burlesque Festival


Gone are the days when the image of burlesque is a pale vixen with a very large feather. From bearded drag to sideshow, today's burlesque stars look beyond the birdcage for routines with an empowering punch and for two nights, only those stars will make San Antonio their playground. Now in its fourth year, the San Antonio Burlesque Festival has gained momentum since its early days as a mostly local and regional showcase. Today's iteration of SABF packs a wild wallop, offering more than 60 performances of classic and neo-burlesque acts with renowned headliners from across the country. The Friday Night Showcase features performances from a bevy of local performers, as well as Ruby Rage, a New Orleans performer that sent shockwaves through the burlesque community after she lost her regular gig over her weight. The evening concludes with a number from burlesque legend Judith Stein. Things heat up for the Saturday Night Spectacular as dozens of local and national acts stretch the boundaries of burlesque and vie for titles such as Best Duo, Best Costume and Most Creative. Headlining the evening is Miss Indigo Blue (Miss Exotic World 2011). The famous headmistress of Seattle's Miss Indigo Blue's Academy of Burlesque also teaches a Saturday workshop in the art of tassel twirling.
$20-$50, doors at 7pm, show at 8pm Fri-Sat, Woodlawn Theatre, 1920 Fredericksburg, (210) 267-8388, sanantonioburlesquefest.com.
— Murphi Cook
Click here for our full story on San Antonio Burlesque Festival.
Fri 7/31 - Sat 8/1
Bobby Lee


A cast member of
Madtv
from 2001 to 2008 with memorable roles in
Pineapple Express
and
Harold and Kumar Go to White Castle
, Bobby Lee — to hear him tell it — is still, like most good stand-up comics it seems, a massive disappointment to his parents. Lee's onstage imitations of his father are almost always variations on a single theme: that Lee is an unfunny loser. The caricature, hilarious as it is, is completely wrong. While impressions of immigrant parents are probably the most well-tread trope amongst Asian-American comics, San Diego native Lee's hyperactive act, which focuses at least as much on his relationship problems and his life as a recovering addict as it does his Korean-born father, is personal, relatable, and — sorry dad — damn funny.
$20, 8pm & 10:15pm Fri-Sat, Laugh Out Loud Comedy Club, 618 NW Loop 410, (210) 541-8805, lolsanantonio.com.
— Jeremy Martin
Fri 7/31 - Sun 8/2
San Japan: 8-Bit


People of San Antonio: Pikachus are coming. Get ready for Gokus. Brace yourself for Batmen. It's time for San Antonio's largest convention of all things nerddom. San Japan will take place from Friday through Sunday with events split between the Grand Hyatt and the Henry B. Gonzalez Convention Center. This year's event promises to be the biggest yet; what was once a convention of less than 1,000 attendees has exploded to nearly 20,000 people. "San Antonio has a really strong fandom population. Lots of people are into anime; it's become more mainstream over the past few years," David Ramirez, community relations director for San Japan, told the
San Antonio Current
last week. "It's not something that just geeky people are into on the weekends." San Japan's hundreds of events run the gamut from panels on costuming and crafting to concerts and dance parties, meet-and-greets with voice actors, quiz shows and trivia contests. And it's not just anime — the convention flirts with all facets of internet, pop and Japanese cultures.
$15-$50, Fri-Sun, Henry B. Gonzalez Convention Center (200 E. Market St.) & Grand Hyatt San Antonio (600 E. Market St.), san-japan.org.
— Michael Marks

Click here for our full story on San Japan.

Fri 7/31 - Sun 8/2
Cuero, La Ruby Red, y El Big Bird


Chicana theater artist Marisela Barrera has previously adapted works by Sandra Cisneros and Ana Castillo but turned inward for Cuero, La Ruby Red, y El Big Bird — a three-act play developed from her own short stories. Inspired by recollections of her upbringing in the Rio Grande Valley, the production employs a cast of four — and live music by Azul Barrientos — to explore borderland memories of playground politics in Eagle Pass, Selena daydreams and Friday nights at McAllen's Gaslight Club and a winged beast that haunts the Mexican ghost town of Guerrero Viejo.
$8-$10, 8:30pm Fri-Sat, 3pm Sun, Jump-Start Performance Co., 710 Fredericksburg Rd., (210) 227-5867, jump-start.org.
— BR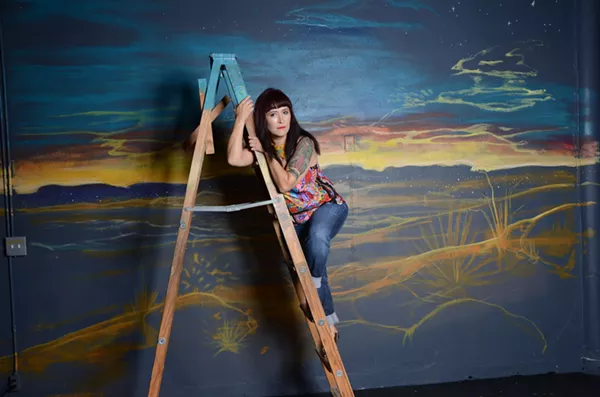 Marisela Barrera on the set of Cuero, La Ruby Red y El Big Bird.