Monday, August 10 - Saturday, August 15
Pop'n Plates Vol. 3: Luis Colon


Luis M. Colon, owner of FOLC, takes over the Rosella Coffee Co. kitchen for the Pop'n Plates guest chef series. This week, from 4 p.m. to close, Colon will be dishing out a tastefully designed menu, featuring pea toast, a killer mortadella sandwich with root beer mustard and more. Enjoy this limited menu with wine pairings suggested by the chef himself.
Prices vary, 4pm - 11pm, Monday - Saturday, Rosella Coffee Co., 203 E. Jones Ave., facebook.com.
Monday, August 10
Boyz N The Hood


Teen angst, neighborhood politics and institutional racism ignite in the powder keg in this debut feature from John Singleton, a film that made him the youngest person to ever be nominated for a Best Director Oscar. Tre Styles, Doughboy and Ricky are figuring out what to do with their lives during a hot springtime in South Central Los Angeles. Navigating gang allegiances, girlfriends and family histories, the trio's futures are laid out for them in a few pivotal weeks.
$10.50, 7:30pm Monday, Alamo Drafthouse Park North, 618 NW Loop 410, (210) 677-8500, drafthouse.com.

Monday, August 10
Circuit Des Yeux, Saakred, Marisa Anderson




With expansive textures and an utterly unforgettable voice, Circuit Des Yeux's In Plain Speech is a transformative listen. A bellwether of creativity and queer art in San Antonio, Saakred has stepped into new territory with Make Believe, a vision of taut and emotional rock 'n' roll. Blues guitarist Marisa Anderson dropped out of college at 19 to walk the U.S. for 15 years, an experience that informs her flawless guitar playing and crisp songwriting. With Aux Aux.
$7, 9pm Monday, Paper Tiger, 2410 N. St. Mary's, papertiger.queueapp.com.

Wednesday, August 12
Salud! Culinary Nights: The Bug Dinner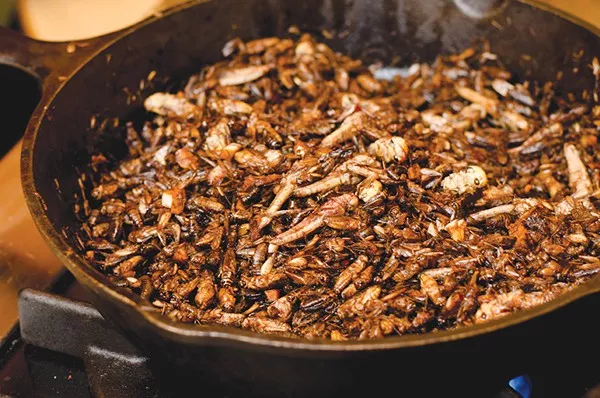 The Witte Museum will welcome chefs Stephen Paprocki and Ernest Lopez. The chefs will join Dr. Harry Schafer, the museum's curator of archeology, as well as Meghan Curry, founder of Bug Vivant, in educating attendees on the nutritional benefits of eating insects. Food will be paired with beers from Karbach Brewery.
$50 for nonmembers, $45 for members, 6:30-8:30pm, 3801 Broadway St., (210) 357-1900,
wittemuseum.org
.
Thursday, August 13
The Goonies

It's
our
time down here — in Southtown. Freetail Taproom is hosting a free screening
The Goonies
, otherwise known as every 80's child's adventure fantasy realized in cinematic form, in which a group of plucky, outcast kids go on the hunt for a pirate treasure in order to stave off the looming foreclosures of their parent's home. You know, kids stuff. Rocky road? Yes, of course there will be scoops of the ice cream flavor when you buy a pint, plus plenty of Baby Ruth candy bars.
Free, 8:30pm Thursday, Freetail Taproom, 2000 S. Presa St., facebook.com.