Monday, August 18

A Band Called Death
Paper Tiger and Transmission homies Fun Fun Fun Fest team up for a screening of the 2012 doc A Band Called Death. Directed by Mark Christopher Covino, the flick approaches the career of Detroit proto-punks Death and the massive following the trio acquired well after their original run came to an end.
Free (with purchase of $5 food and beverage voucher), 9:30pm, Mon., Alamo Drafthouse Park North, 618 NW Loop 410, (210) 677-8500, drafthouse.com.
Tuesday, August 18
Coors Light Free Concert Series, Ft. Los Texmaniacs, Fea, Lonely Horse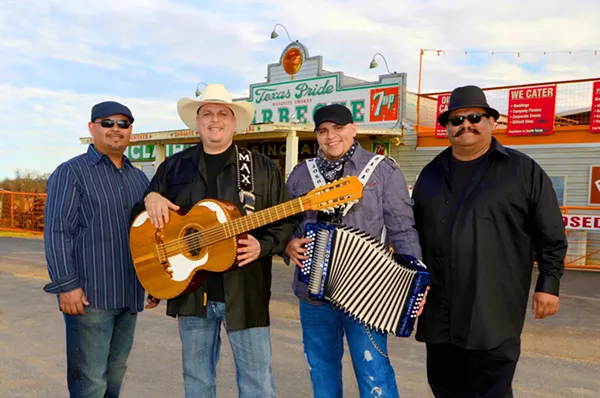 he Coors Light Free Concert Series is a music series hosted by the
San Antonio Current
and La Villita's Arneson River Theater every third Tuesday of the month! Join us August 18 at 7 p.m. for our fourth series of the year. We'll have musical performances by Lonely Horse, Fea, and our headliner, Los Texmaniacs. Bajo sexto player Max Baca was born into the conjunto tradition, with his father, Max Sr., playing the music in their hometown of Albuquerque. Fairly early in his career, San Anto legend Flaco Jiménez invited Baca to come play in his band. Inspired by Flaco's Texas Tornados, Baca started his own tejano-crossover band, Los Texmaniacs. With his brother Josh on accordion, Baca y Los Texmaniacs can rep cantina conjunto or pop-funk covers of "Low Rider." This breadth of style makes for an inexhaustible live show and some impressive trophies, including a Grammy for Best Tejano album in 2010 for their album Borders y Baile. With FEA, Lonely Horse.
Free, 7:50pm. Tue., Arneson River Theatre, 418 Villita St., facebook.com
Tuesday, August 18
Braindead Comedy Anniversary Show


Braindead Comedy celebrates its first anniversary with a free show featuring sets by New York City stand-up Mike Robles (Comedy Rumba, Que Locos, Loco Comedy Jam), local mainstay Alex "Koolaid" Ansel and cohorts Rafael Molina, Christopher Chavez Sr., Jeff Stone and Eric Packard.
Free, 9:30pm Tue, Zombies, 4202 Thousand Oaks, (210) 281-8306,
facebook.com

Tuesday, August 18
Rango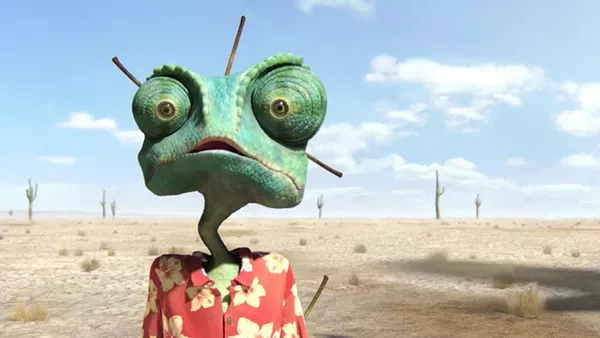 Academy Award-winner for Best Animated Feature in 2011 and the first-ever animated film made by George Lucas' Industrial Light & Magic, this family-friendly installment of the Briscoe's Comedic West film series stars Johnny Depp as a pet chameleon who gets stranded in a small Mojave Desert town where water is scarce and danger lurks around every corner. When it first came out, I dubbed the film, which includes a Fear and Loathing in Las Vegas reference, as a kind of imaginative tribute to a movie genre from which kids would benefit. Free ($5 suggested donation), 6:30pm, Tue., Briscoe Museum of Western Art, (210) 299-4499, 210 W. Market St.,
briscoemuseum.org
Wednesday, August 19
Weird Al Yankovic: "The Mandatory World Tour"


Weird Al" Yankovic is the biggest-selling comedy recording artist in history. Now in his fourth career decade, he has won three Grammys (with 15 nominations) and countless accolades for classics like "Eat It," "Like a Surgeon," "Yoda," "Smells Like Nirvana," "Amish Paradise" and "White & Nerdy." For the rollout of his 14th studio album, Mandatory Fun, "WEIRD AL" YANKOVIC world-premiered eight videos in eight days, taking the Internet by storm. The videos, including parodies of Pharrell Williams' "Happy" ("Tacky"), Robin Thicke's "Blurred Lines" ("Word Crimes"), Lorde's "Royals" ("Foil"), and Iggy Azalea's "Fancy" ("Handy"), garnered over 46 million views in the first week. Yankovic also set the U.S. record for having the most tracks from one album on Spotify's viral top 10 at one time, taking the first 4 spots. In addition, "Word Crimes" debuted in the Billboard Top 40, making Al one of only three people to have had Top 40 singles in each of the last four decades (the other two are Michael Jackson and Madonna).
$27.50-$75, 8pm Wed, Majestic Theatre, 224 E. Houston St., (210) 226-3333, majesticempire.com