Thu 8/20
Daniel Johnston


Jeremiah the Innocent — the iconic frog depicted in Austin's
Hi, How Are You
mural and made famous by a T-shirt worn by Kurt Cobain — is a gateway drug into the music of its owner, Daniel Johnston. Once hooked, the listener will find the ATX transplant's melodies masked by the lack of polish that makes up the bulk of his discography. Beyond the fuzz and grit, a brilliance is found in this form of music, in the purest sense of the word. It's pretty catchy, too. Toted by many respected musicians as the premier singer-songwriter in independent circles, Johnston lives up to the hype — if you're willing to abandon the concept of conventional songwriting and shiny production. With Dana Falconberry.
$20, 8pm Thu, Paper Tiger, 2410 N. St. Mary's St., papertiger.queueapp.com.
— Shannon Sweet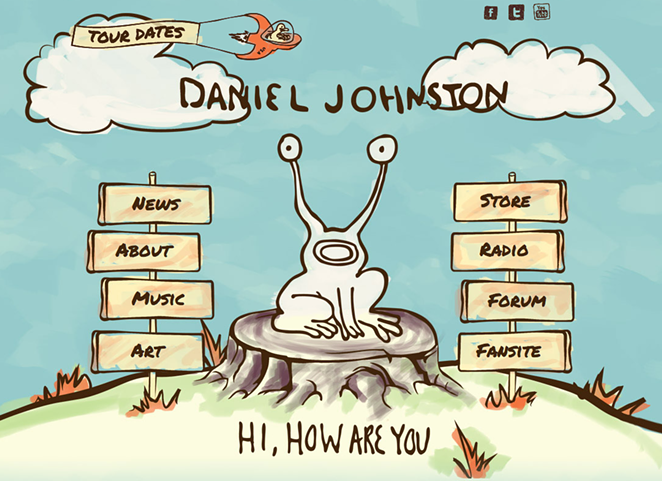 Thu 8/20
Jenny Browne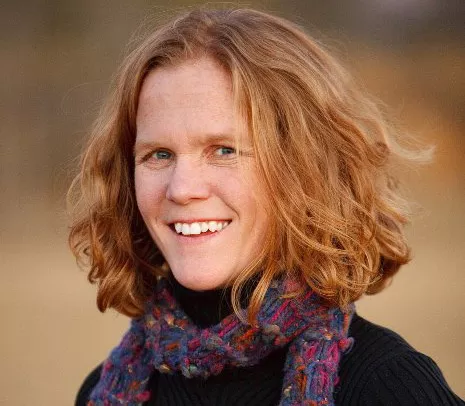 As a part of its wonderful Women and Words lecture series, the McNay Art Museum welcomes Trinity University assistant professor and poet Jenny Browne. Her topic is the life, work and legacy of one of America's most beloved and prolific poets, Emily Dickinson. The lecture is meant as a tie-in to the ongoing exhibit "Lesley Dill: Performance as Art" — which draws liberally from Dickinson's singular body of work — and will hopefully help illuminate how the private life of this poetic genius, and relative recluse, drove her vast creative impulse.
Free, 6:30pm Thu, Chiego Lecture Hall, McNay Art Museum, 6000 N. New Braunfels Ave., (210) 824-5368, mcnayart.org.
— James Courtney


An installation view of the McNay's "Lesley Dill: Performance as Art"
Thu 8/20
E.T. the Extra-Terrestrial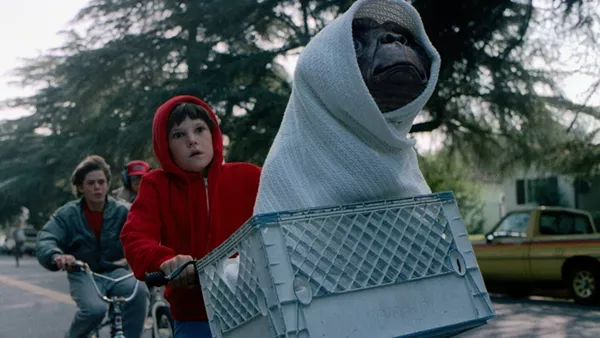 Main Plaza Conservancy and SATX Pedal Power's outdoor Cycle-In Cinema series continues with Steven Spielberg's 1982 sci-fi classic starring San Antonio native Henry Thomas as a troubled child who summons the courage to help a friendly alien escape Earth and return to his home-world. Concessions will be available for purchase from Blue Star Ice House and El Oasis Café #2.
Free, 8:45pm Thu (weather permitting), Main Plaza, 115 N. Main Ave., (210) 225-9800, mainplaza.org.




Thu 8/20 - Sun 8/23
Boeing, Boeing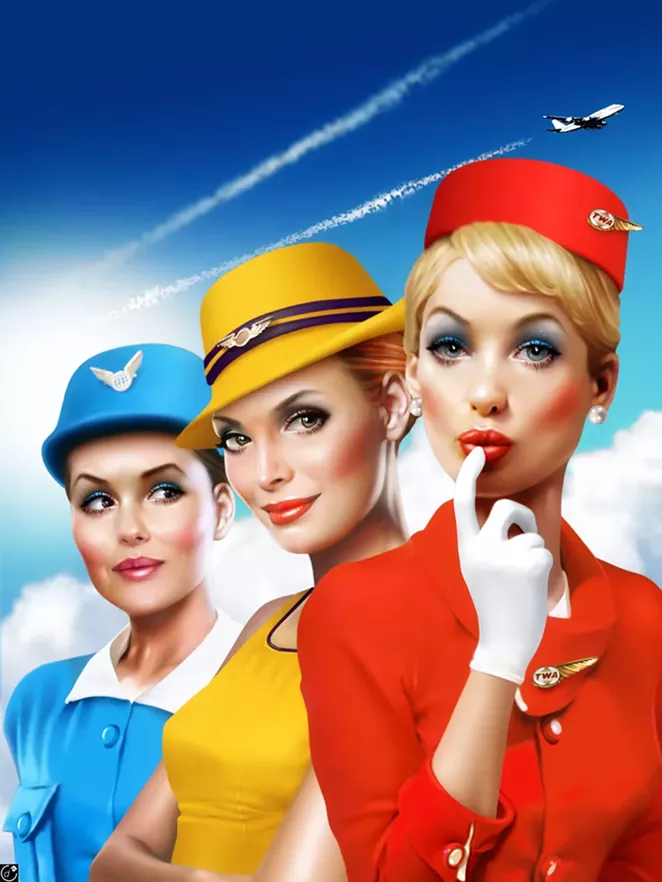 The Vex's 2015-2016 season takes flight with
Boeing, Boeing
, a classic bedroom farce that inspired a film adaptation billed as "the big comedy of nineteen-sexty-sex." Revived in 2008 with its mod look and swinging '60s sensibility firmly in tact, the Tony-winning sex comedy is tame by today's standards, albeit guilty of a few stereotypes embodied by a rotating trio of "air hostesses"
The New York Times
summed up as "the take-charge, health-obsessed American; the sentimental, lusty Italian; and, most hilariously, the dominating but thin-skinned German."
$16-$22, 7:30pm Thu, 8pm Sat, 2:30pm Sun, Sheldon Vexler Theatre, 12500 NW Military Hwy., (210) 302-6835, vexler.org.
— Bryan Rindfuss

Photo by Naomi Phillips
Ben Scharff (as Robert), Christie Beckham (as Gretchen) and Robert Carenzo (as Bernard) in the Vex's production of Boeing, Boeing
Fri 8/21
Eva Ybarra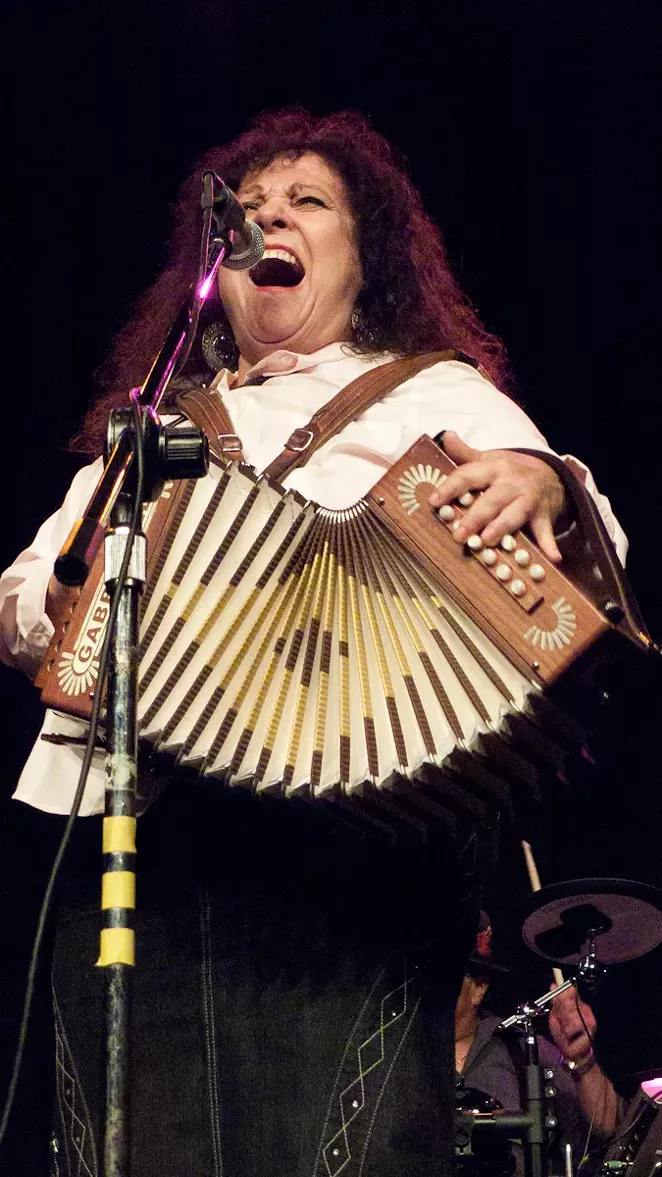 Performing since the age of six, Eva Ybarra boasts a lengthy career peppered with record deals, dancehall gigs and festival appearances. Celebrated earlier this year in Joel Settles' multimedia production
La Reina del Acordeón
, Ybarra taught herself the accordion by listening to the radio, fought for her place in a male-dominated genre and now describes the original songs she writes as "progressive conjunto." A rare opportunity to experience the local treasure in an intimate setting, Hi-Tones' fourth anniversary party brings Ybarra to the stage with support from honky tonk 'n' roller (and
Current
contributor) D.T. Buffkin.
$5, 9pm Fri, Hi-Tones, 621 E. Dewey Pl., (210) 785-8777, facebook.com.
— BR
Fri 8/21
Death


Detroit proto-punk trio Death's album
... For the Whole World to See
was something of a stalled prophecy. In 1974, in the studio at Columbia, the African-American Hackney brothers were denied a deal by studio prez Clive Davis for refusing to change their name (despite having one of the greatest band names of all time). The tunes sat in the can until Drag City released them in 2009. It was a revelation. Death's immense speed and unflinching tone put them years ahead of the punk explosion, with more energy or attitude than many of the genre greats. As the 2012 doc
A Band Called Death
states on the poster: "Before there was punk, there was Death."
$18, doors at 8pm Fri, Paper Tiger, 2410 N. St. Mary's St., papertiger.queueapp.com.
— Matt Stieb


Fri 8/21
The NeverEnding Story


After earning Oscar nods with his 1981 war epic
Das Boot
, German director Wolfgang Peterson made a surprising departure with 1984's
The NeverEnding Story
— a special-effects-fueled adaptation of a fantasy novel by Michael Ende. Borrowing bits and pieces from
Alice in Wonderland
and
The Dark Crystal
, the film uses a story within a story to immerse a young boy in a magical kingdom threatened by a menacing wave of "Nothingness." While
The New York Times
likened it to
The Pre-Teen-Ager's Guide to Existentialism
, Roger Ebert asked, "Were children's movies this nihilistic in the old days?"
Free, 8pm Fri, Raymond Rimkus Park, 6440 Evers Rd., Leon Valley, (210) 684-1391, slabcinema.com.
— Bryan Rindfuss
Fri 8/21
Piñata Protest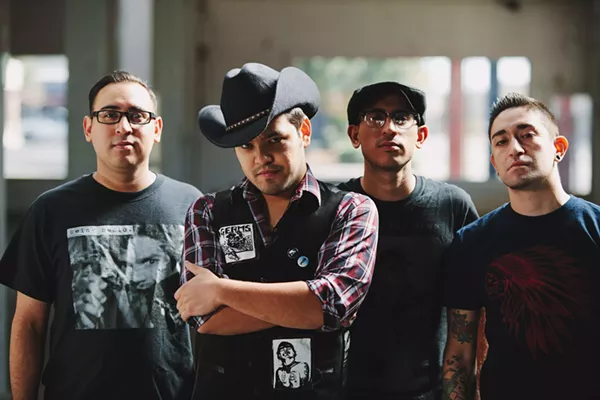 In a nuevo-Latin@ musical takeover, Do210 presents a trill trio of acts that loosen and expand upon Latin American sonic tradition. Repping San Anto, headliner Piñata Protest, no doubt familiar to our readers, has rightly gained national traction over the past few years with its breakneck and boisterous blend of punk and tejano. Also on the bill are SA's Grupo Frackaso and ATX's Money Chicha, offering up, respectively, a visceral, thrash-infused brand of cumbia and heady, danceable psychedelic cumbia. La Botánica will provide vegan eats and Miller Lite's bringing the booze.
Free with RSVP, 8pm Fri, Guadalupe Theater, 1301 Guadalupe St., (210) 271-3151, do210.com.
— JC


Sat 8/22
"Illustrator Series"


Ray "Tattooed Boy" Scarborough
With fans of comic books, sci-fi flicks, gaming and cosplay getting geared up for Alamo City Comic Con (September 11-13 at the Henry B. Gonzalez Convention Center), the San Antonio Public Library follows suit with the "Illustrator Series" — a cluster of exhibits hosted by branches across the city. Showcasing works by five like-minded locals, the series kicks into full swing this Saturday with a pair of overlapping receptions featuring works by Mike Fisher and Ray "Tattooed Boy" Scarborough. While Fisher (who runs the animation, cartoon and graphics studio Goofa Man Productions) is known for a retro aesthetic and his character 3-D Pete, Scarborough puts a recognizable spin on iconic figures (from Selena to Frankenstein) and recently loaned his talents to our cover story commemorating the 30th anniversary of
Pee-wee's Big Adventure
.
Free, 2pm Sat, Parman Branch Library, 20735 Wilderness Oak (Mike Fisher); Forest Hills Branch Library, 5245 Ingram Rd. (Ray "Tattooed Boy" Scarborough); mysapl.org.
— BR

Sun 8/23
LGBT Wedding Expo
Just because the Supreme Court legalized gay marriage doesn't mean every vendor is going to be LGBT-friendly. The Rainbow Wedding Network helps take the guesswork out of planning with the "Same Love, Same Rights" LGBT Wedding Expo. Uniting 30 wedding professionals to answer questions and help attendees create their ideal ceremony, reception and honeymoon, the touring expo seeks to provide planning resources for any budget. And this event isn't just for lovers, there will be plenty of music, giveaways, presentations and more to help singles and advocates celebrate the day.
Free with RSVP, 12:30-3:30pm Sun, The Westin Riverwalk, 420 W. Market St., (210) 224-6500, samelovesamerights.com.
— Murphi Cook