Thu 9/3
"The Wandering Flight"


Cecilia Paredes, Calabria
Internationally renowned artist Cecilia Paredes is known for blending in. Using paint and fabric to carefully camouflage her body against wallpaper backdrops, her "photo performances" make the viewer question where identity ends and environment begins. In "The Wandering Flight," Paredes' photographs tell the tale of a dream of flying; yet, as in her work before, her character's body fades into the surroundings, inhabiting "a perfect symbiotic realm." Born in Lima, Peru, the (currently) Philadelphia-based artist has called many countries home thanks to her marriage to a United Nations officer. Her work reflects this ever-present sense of relocation: "I would arrive somewhere and then I would have to leave. This was very much the story of my life. You would try to blend in to the landscape and make of yourself this background."
Free, 6-8pm Thu, Ruiz-Healy Art, 201-A E. Olmos Dr., (210) 804-2219, fotoseptiembreusa.com.
— Murphi Cook

Thu 9/3
"Under Construction: Havana 2015"


Few American citizens have been to Cuba. However, with recent shifts in national attitudes and U.S. foreign policy towards the longtime pariah of the Caribbean, that may soon change. Two San Antonio art journalists, Tami Kegley and Page Graham, recently got the opportunity to visit the island nation's capital, Havana, on the occasion of the 12th Havana Biennial art exhibition. Their work, which depicts not only art but also a city in various states of dilapidation, majesty and transition, will be displayed in a Fotoseptiembre exhibition entitled "Under Construction: Havana 2015." Described by Kegley as "heartbreakingly beautiful," the photo essay of sorts exposes the rushed facelift that many countries haphazardly undergo when the U.S. decides to court them. As such, the exhibition is filled with a tension between old and new, global and local, rich and poor and, of course, joy and pain.
Free, 7pm Thu, Dorcol Distilling Company, 1902 S Flores St., fotoseptiembreusa.com.
— James Courtney




Thu 9/3 - Fri 9/4
"Narrative Axis"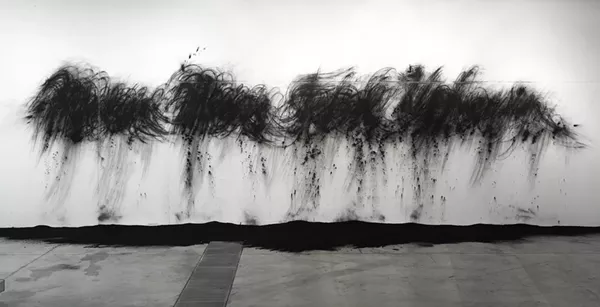 Arturs Virtmanis, Meta Scrawl
With Fotoseptiembre filling SA's galleries and art spaces with photography in all flavors, Blue Star Contemporary trains its lens on an older form of expression through a first-time collaboration with The Drawing Center. Founded in '70s-era SoHo by curator Martha Beck, the New York City institution celebrates drawing as "primary, dynamic, and relevant to contemporary culture, the future of art, and creative thought." Inspired by a two-year program that encourages artists to "find new approaches for contextualizing and exhibiting their work," BSCAM's "Narrative Axis" brings together eight of The Drawing Center's selected artists, including SA's own Joey Fauerso, who heads the drawing program at Texas State University and is cited as a "major force behind this collaboration." Opening in tandem with New York-based sculptor Jeffrey Brosk's solo show "Territory" and the Mosaic Student Artist Program's sci-fi-inspired "Xeno," the exhibition invites creative participation via a pop-up "Drawing Lab" complete with alternative materials and artist-led activities.
Free, 6-9pm Thu, noon-9pm Fri, Blue Star Contemporary Art Museum, 116 Blue Star, (210) 227-6960, bluestarart.org.

— Bryan Rindfuss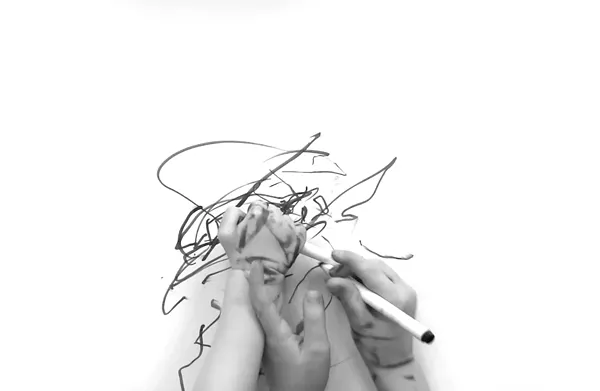 Joey Fauerso, Drawing Battles 1
Thu 9/3
"The Thin Line"


Anne Deleporte, Found Drawing
Sometimes, in our quest to grasp large concepts and comfort ourselves with feelings of wholeness, we overlook the vast importance of the individual parts that contribute to a whole. "The Thin Line," a new exhibition at Cinnabar, focuses on excavating and exploring the line, which is the fundamental visual element, the beginning of all of our visual discernment. The exhibit, curated by Pamela Auchincloss (founder of the eclectic curatorial collective Eleven+), features the work of seven female artists who explore the basic line and its infinite possibilities.
Free, 6:30-9pm Thu, Cinnabar, 1420 S. Alamo St., Suite 147, (210) 557-6073, cinnabarart.com.
— JC


Thu 9/3
X Marks The Art: "Resymbol"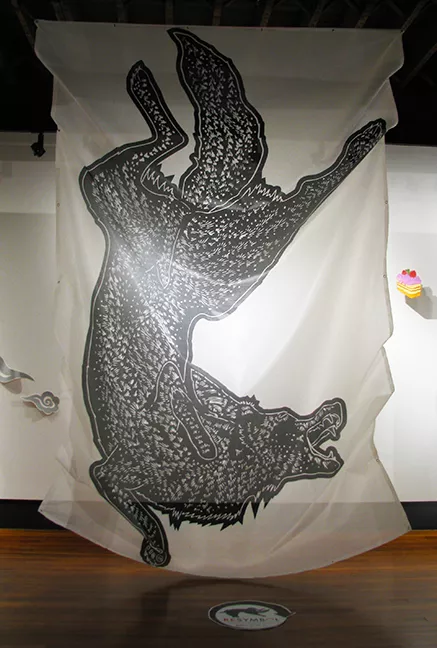 Public Art San Antonio's initiative X Marks The Art aims to "activate underutilized and vacant downtown properties by introducing new, creative, dynamic installations and artistic happenings." Exemplified by 2014's "Redrawing the City," these creative interventions can blur lines between art installations and accidentally brilliant window displays. Uniting eight local talents (including Ricky Armendariz, Elizabeth Carrington and Robert Tatum), "Resymbol" takes shape in a public preview before it's dispersed into the downtown landscape.
Free, 5-7pm Thu, Culture Commons Storefront Gallery & Exhibit Hall, 115 Plaza de Armas, (210) 207-6960, getcreativesanantonio.com.
— BR


Fri 9/4 - Sun 9/6
Renaissance on the River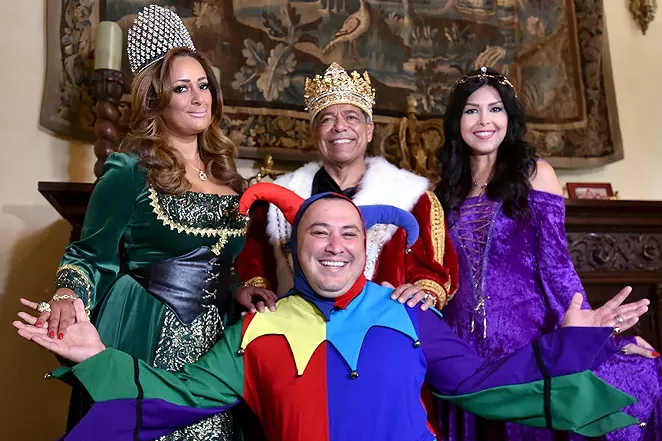 Queen Karen Grace, King Henry García, Princess Luisa Riojas and Jester Cleto Rodríguez photographed by R.C. French
William Shakespeare's influence, over the centuries since his life and death, cannot possibly be overstated. His contributions to the stage, the page and the English language itself are multifaceted and unparalleled, making him perhaps the most important writer in the history of the world. This weekend, folks of all ages are invited to experience the magic of the Bard at La Villita, which will be transformed into a family-friendly, renaissance fair-style environment. Think of it as a Shakespeare-focused variety show. The special incarnation of Shakespeare in the Park will feature movie screenings of
The Tempest
,
Romeo and Juliet
and
Hamlet
, performances of
A Winter's Tale
and the wildly successful comedy
The Complete Works of William Shakespeare (Abridged!)
and a special presentation of
Hello, Shakespeare!
by The Magik Theatre Young Players. Also featured on the grounds will be falconry, noble combat games, food, drinks, magic shows, crafts, music and games. Details, reservations and schedule information are available at the website below or by phone.
Free, 5-11pm Fri, 1-11pm Sat-Sun, La Villita, 418 Villita St., (210) 227-2751, magiktheatre.org.
— JC
Sat 9/5
Dirty Nerdy

It's time to hit the books and dust off your spectacles because the long dog days of summer are (almost) over. In true back-to-school fashion, the Pastie Pops are geeking out for
Dirty Nerdy
, a one-night-only homage to all your dorkiest pleasures. Ranging from "nerdlesque" and boylesque to drag and cheeky comedy skits, the evening showcases troupe members Jasper St. James, Betty Cash, Mary Annette and Paige MeLater alongside Tifa Tittlywinks (Houston), Ginger Snaps (Austin), Zaftigg Von BonBon (Austin) and the Alamo City's own Kristi Lopez.
$10-$40, 9pm Sat, The Uptown Studio, 700 Fredericksburg Rd., (210) 387-1617, facebook.com/pastiepops.
— MC
Sat 9/5 - Sun 9/6
"28 Chinese"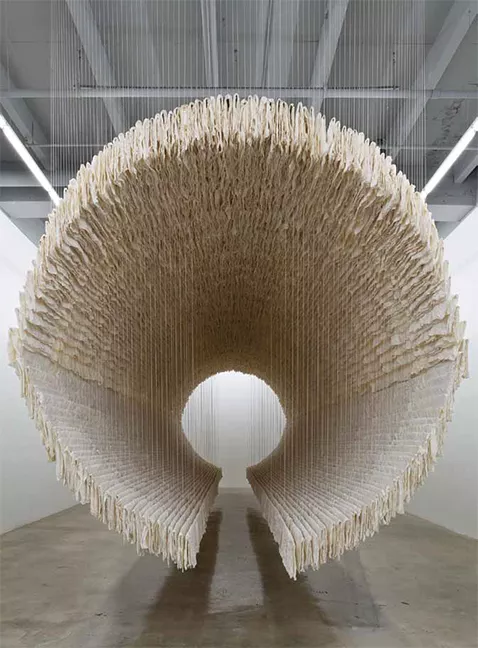 Launched in 1960s-era New York on a budget of $25 per month, The Rubell Family Collection is now among the largest privately-owned contemporary art collections in the world. Between 2001 and 2012, the Rubells conducted 100-plus studio visits in China, buying works by 28 artists. Encompassing everything from a two-legged table by Ai Weiwei to a 50-foot paper and bamboo "boat" by Zhu Jinshi, the resulting bounty comes to light in a SAMA exhibition that "asks us to question any preconceived ideas about what art from China looks like."
$15-$20, 10am-5pm Sat-Sun, San Antonio Museum of Art, 200 W. Jones Ave., (210) 978-8100, samuseum.org. Through Juanuary 3, 2016.
— BR

Ai Weiwei, Table with Two Legs
Sun 9/6
Échale! Latino Music Estyles


Sadly rained out on Memorial Day, Échale! resurfaces on Sunday with its eclectic summer lineup thankfully intact. After a slight reinvention last year as a block party, the kid-friendly concert series returns to its riverfront digs at Pearl with a triple bill combining Houston's 10-piece "Gulf Coast soul" ensemble The Suffers (fronted by powerhouse vocalist Kam Franklin), Venezuelan "supergroup" Los Crema Paraiso and San Anto's beloved barrio big band Bombasta. The free shindig kicks off with beats from the all-female Chulita Vinyl Club and also features varied vendors and concessions.
Free, 6-10pm Sun, Pearl Amphitheater, 100 E. Grayson St., (210) 212-7260, pearlechale.com.
— BR


Sun 9/6
Mötley Crüe


Few bands epitomize the sex, drugs and rock 'n' roll mantra as vividly as Mötley Crüe. The hair-metal legends swashbuckled their way through the '80s before diving into a decade-long hangover — only to be resurrected in today's nostalgia-crazed era. While their lifestyle often overshadowed their glammed-up metal, the boys cut their teeth on Mick Mars' iconic guitar riffs and Vince Neil's shrieking vocals. Synonymous with every aspect of hair metal (from the fist-pumping anthem "Shout at the Devil" to monster ballad "Home Sweet Home"), Mötley Crüe lands in SA as part of its alleged "Final Tour."
$69.50-$125, 7pm Sun, Alamodome, 100 Montana St., (210) 207-3663, alamodome.com.
— Erik Casarez