Thur 9/10
"The Works"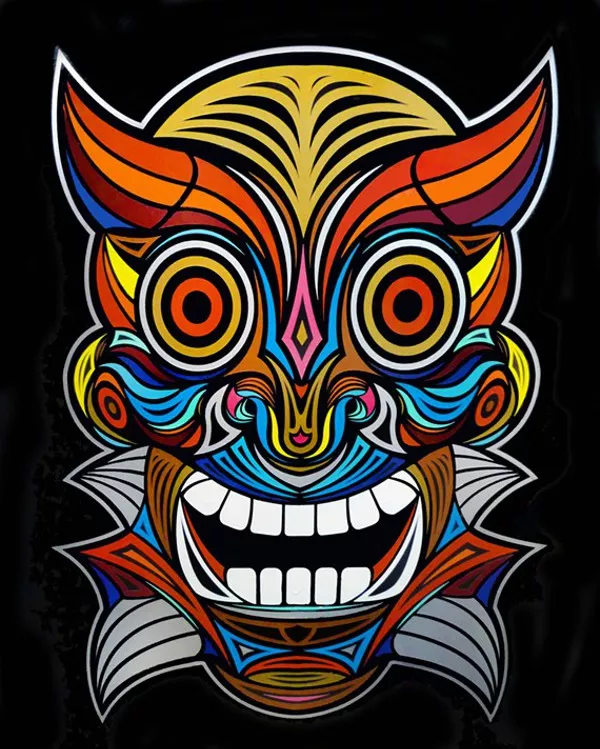 San Antonio artist, arts mentor, technical illustrator and graphic designer David Peche creates vivid, eye-catching works that are bursting with intense color and hallmarked by the kind of ultra-clean lines you might expect from someone who makes his living in graphic design. His totem/logo-like artwork typically focuses on a single central subject, often an animal, skull or humanoid face, which is embellished with fine line detail work and emotive channels of color. Thursday evening, catch the opening of his new solo exhibition, which runs through December 4.
Free, 4-6pm, Moody Learning Center (4th Floor), San Antonio College, 1300 San Pedro Ave., (210) 486-1346.
— James Courtney
Fri 9/11
Familiar Institutions: B(l)ack Talk featuring Khadijah Queen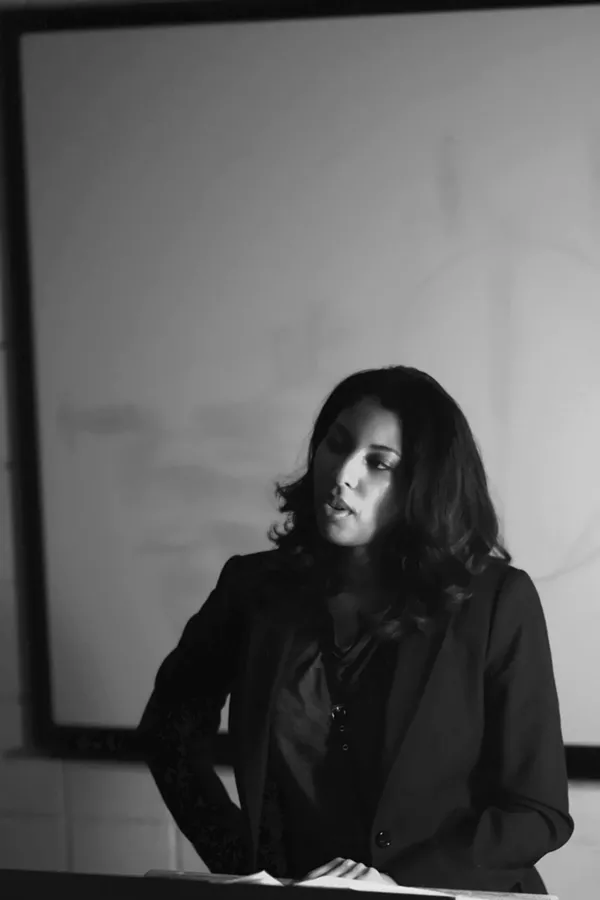 Gemini Ink and the Southwest School of Art co-host a free evening of art and poetry with celebrated African-American poet Khadijah Queen. In addition to a reading from Queen's forthcoming book Fearful Beloved, the event includes a talk by African-American art historian Deborah Roberts, a spoken-word performance by Andrea "Vocab" Anderson and an exhibit featuring six female visual artists who created works in response to Queen's poetry.
Free, 6:30pm, Russell Hill Rogers Lecture Hall, Southwest School of Art, 1201 Navarro St., (210) 734-9673.
Fri 9/11
Midday Veil
Seattle's Midday Veil wants us to believe they're of another dimension, and by the sounds of it, they could very well be stranded extraterrestrials. Off their upcoming release This Wilderness, lead single "Empire is No More" is an synth-rock epic that could soundtrack the fall of a great civilization, with mystic flourishes and intergalactic rays of sound.
9pm, Paper Tiger, 2410 North Saint Mary's St.
Fri 9/11- Sat 9/12
E.T. the Extra-Terrestrial in Concert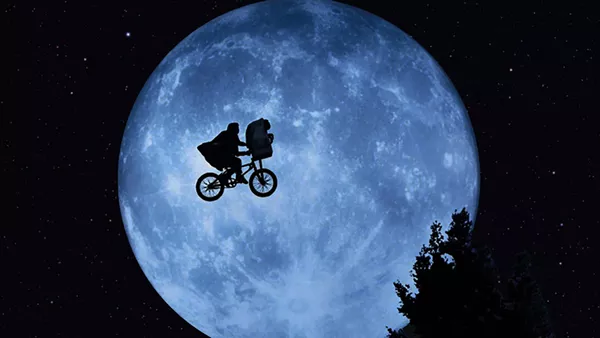 Thirty-three years ago, Steven Spielberg's film following the friendship between a lonely boy named Elliot and a stranded extraterrestrial took this planet by storm. Now, audiences of all ages can experience the magic of E.T. set to live music as the San Antonio Symphony performs John Williams' Oscar-winning score in sync with the film. Allegedly based on Spielberg's own imaginary friend created in the wake of his parents' divorce, the film stars an adorable Drew Barrymore and San Antonio's own Henry Thomas. This event is one you'll definitely want to phone home about.
$25-$65, 8pm Fri, 7pm Sat, The Majestic Theatre, 224 E. Houston St., (210) 226-3333, sasymphony.org.
— Murphi Cook


Sat 9/12
One Man Breaking Bad


Despite the fact that AMC's highly regarded series Breaking Bad ended nearly two years ago, for some, symptoms of withdrawal persist. And for that, there's LA actor Miles Allen. In One Man Breaking Bad – The Unauthorized Parody, Allen singlehandedly zips through all 60 episodes of the high-school chemistry teacher-turned meth dealer saga in only 75 minutes. Featuring spot on impersonations of beloved characters including Walter White, Jesse, Saul and Walt Junior, the R-rated homage has been described as "a love letter to fans of the series."
$35, 4pm & 8pm, Tobin Center for the Performing Arts, 100 Auditorium Circle, (210) 223-8624, tobincenter.org.
— MC

Sat 9/12
'Je Suis Une Femme'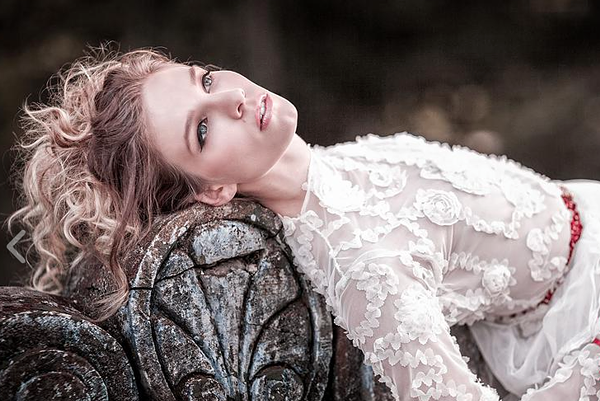 Courtesy
Leighton Whittington
Last year about this time, Leighton Whittington raised more than a few eyebrows with "Salvation," a début collection and (literal) big reveal spiked with Catholic references and styling choices one might label as NSFW. Far from a sophomore slump, Whittington's follow-up sees the former ballet dancer and model spinning inspiration from Givenchy and YSL into wearable looks made from luxe French fabrics. Rendered in a palette reminiscent of the French flag, "Je Suis Une Femme" premieres at Brick with a presentation bookended by live performances of Édith Piaf classics.
$25, cocktail hour at 7pm, show at 8:15pm, Brick, 108 Blue Star, (210) 884-8019,
leightonw.com.
— Bryan Rindfuss
Sat 9/12
Bon Appetit!, Gallantry
Opera Piccola presents a performance of Bon Appetit!, an opera inspired by Julia Child, the television chef and author who helped popularize French cuisine in America. Laura Mercado-Wright will play Child, with Kristin Roach as conductor and Cynthia Stokes as stage director. At intermission, French chocolate cake will be served to those in attendence. In addition to the short foodie show, Opera Piccola presents Douglas Moore's one-act parady opera/hospital drama that spins a wicked love triangle against itself.
Carver Community Cultural Center, 8pm

Sat 9/12
Una Noche en la Gloria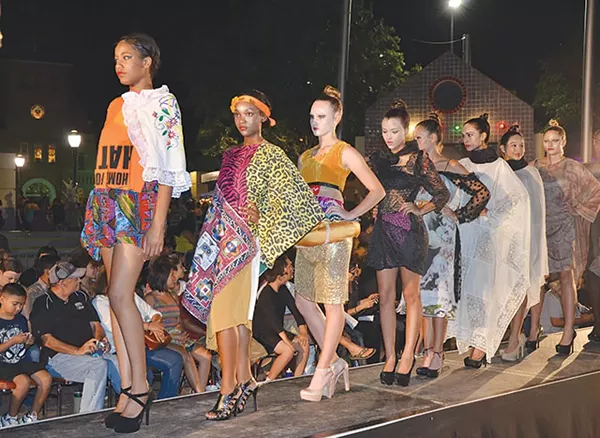 The wild brainchild of Gabriel Quintero Velasquez, Una Noche en la Gloria has united artists, poets, musicians and fashionistas since its 2009 launch. Moved from October to September to cap off Avenida Guadalupe's Diez y Seis de Septiembre festivities (9 a.m.-5 p.m. at 1327 Guadalupe St.), the multidisciplinary block party takes over 20-plus West Side venues with exhibits and performances leading up to the ever-imaginative Runway en la Calle (10:30 p.m.). Billed as the "most liberating runway event of the year," the 2015 edition showcases designers Agosto Cuellar, Angelin de Carlo and Echo Higuchi, among others.
Free, 5-11:30pm, S. Brazos St. at Guadalupe St., lagloriaarts.com.
— BR


Sat 9/12- Sun 9/13
San Antonio Record Show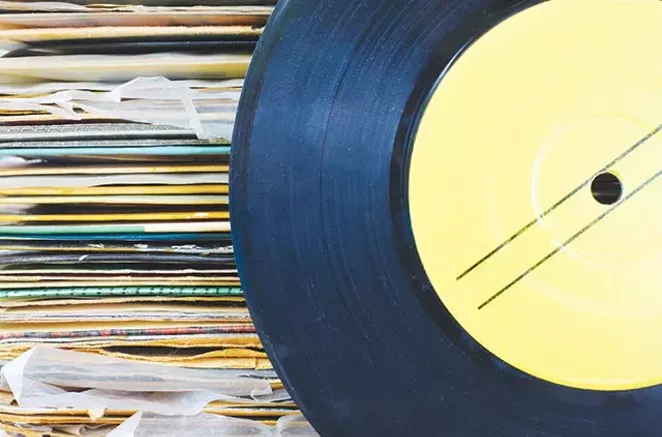 Thanks to Jesse Galvan of the Music Connection, SA vinyl freaks won't have to visit the Austin convention to cruise through stacks of their favorite 7- and 12-inch discs. If there's an aroma of obsession in the air, you're in the right place.
Schertz Civic Center, 8am
Sun 9/13
Don Quixote


Bringing together the passionate, soulful cultures of Spain and India, the Sahrdaya Foundation premieres its 21st-century stage adaptation of Miguel de Cervantes' 17th-century novel Don Quixote. Directed and choreographed by Bharatanatyam exponent Sheejith Krishna, the production combines poetry, music, dance and theater to unfold the timeless tale with universal relevance.
$29-$110, 7:30pm, Charline McCombs Empire Theatre, 226 N. St. Mary's St., (210) 226-2891.