Super Emo Friends


J. Salvador
Wolverine and Batman are really feeling their sadness.
The lives of superheroes are devastating, if you really think about it. It's a wonder how any saving the world gets done when, given what they typically go through, your favorite comic book character should be curled up in a ball in their bedroom listening to The Cure. They should be completely incapacitated by their own deep sadness at all times.
J. Salvador gets it. The Los Angeles-based artist is the man behind Super Emo Friends, a collection of paintings featuring pint-sized versions of movie and comic characters whining about their miserable and depressing lives. His work is simultaneously adorable and heartbreaking. A dejected looking
Gizmo
cries out for a bath. A super sad Superman admits he never knew his parents. A bereaved
Harry Potter
confesses he just wants his family, and
Jar Jar Binks
dangles from a rope because he is hated by everyone, everywhere.
"I did it to cheer myself up," Salvador told the
San Antonio Current
. Whatever works, right?
His first subject in 2009 was the poor, sad orphan everyone knows as Batman. An initial series of 12 paintings garnered an immediate positive response, despite the sad subject matter. At the request of friends, Salvador began to sell prints of his original work online. Soon the prints went viral. Super Emo Friends was lucrative enough for Salvador to quit his full-time in marketing. He now sells his work at roughly 25 cons a year.
For Alamo City Comic Con, Salvador made a special
Pee-wee's Big Adventure
print depicting the famous "There's no basement at the Alamo" scene in honor of San Antonio.
Prints are available for purchase at
superemofriends.com
. You can follow Salvador both on
Twitter
and
Instagram
.
Timothy Pittides


Timothy Pittides' intricately detailed movie posters belong in an art gallery as much as they do in a theater. The San Antonio-based illustrator's work evokes a vintage, distinct style that draws from both comic and fine art influences.
Pittides told the
San Antonio Current
that he particularly drew inspiration from '90s era comic book artists such as
Spawn
's Todd McFarlane and Image Comics founder Erik Larsen. Among his fine arts influences, he named Vania Zouravliov and Aaron Horkey as two illustrators he admires. Zouraviliov and Horkey are known for their work for Mondo, an off-shoot of the Alamo Drafthouse theater chain that commissions artists to design posters for classic and genre films.
Timothy Pittides
Movie posters Indiana Jones and the Temple of Doom, Killer Klowns from Outer Space and The Toxic Avenger.
Pittides, a freelance artist since 1996, is currently working toward a graduate degree in fine arts with a concentration on illustration and printmaking. His clients include Marvel, Troma Entertainment, Studio Canal and Upper Deck Entertainment. Though most of his illustrations are done for genre films, he shows his work primarily in galleries. Pittides says he exhibits at conventions like Alamo City Comic Con for fun, adding it's an opportunity to reach a wider audience.
You can view and purchase his posters at
pittidesart.com
.
Rob Ozbourne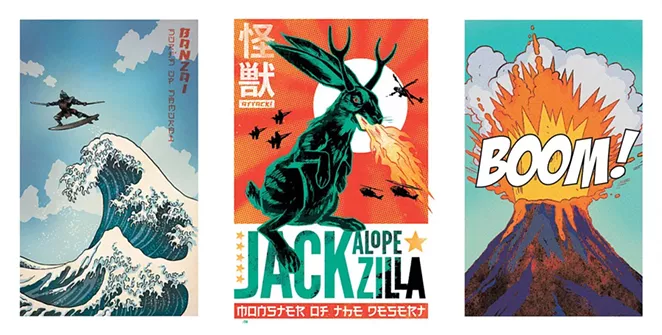 Austin-based graphic artist Rob Ozbourne's technicolor designs evoke a pop art sensibility that immediately brings Roy Lichtenstein to mind, the artist who brought the comic art look to the fine art realm.
Indeed his posters showcase the fluidity between fine art and the traditional comic style. Each design incorporates Ben-Day dots to reflect the four-color printing process of comic and newspaper print, and many of his designs reference iconic paintings, such as Katsushika Hokusai's "The Great Wave off Kanagawa." Ozbourne's "Surf Up" series of prints depicts a samurai warrior, wrestler Randy Savage and the Dude from The Big Lebowski riding on top of the immediately recognizable wave from the 19th century Japanese painting.
Ozbourne, who says he sells his prints at 10 comic conventions a year, self-published a graphic novel in 2005. His clients include Valient Comics and Lucasfilm, which commissioned work this year for its annual May the Fourth celebration.
You can view and purchase Ozbourne's prints at
robozborne.com
.
APDAT Print Co.


APDAT stands for Awesome People Doing Awesome Things, and, admittedly, the company, which does live T-shirt screen printing at concerts, festivals and comic conventions, is pretty damn awesome.
The Houston-based company is only two years old but has attracted a following for their contemporary, playful designs, many of which have a Texas influence.
The trio behind the shirts include designer Gabby Nguyen, her brother Jason Nguyen, and Gabby's Jason Cannon. Their screen printing booth is a huge draw at comic conventions. Attendees pick a design and color and can watch their shirt be printed right on the comic con floor.
"We've never had a bad con," Connon told the
Current
. He added the company reveals limited edition designs for each convention they attend. For Alamo City Comic Con, three designs were unveiled, including an 8-bit version version of The Alamo inspired by the castle in the original
Super Mario Bros.
video game.
The limited edition Alamo design is still available at the company's online store. Find them at
apdatprintco.com
.
Mica Angela Hendricks


Who couldn't love a face that terrifying? That adorable, nightmare creature is the creation Mica Angela Hendricks, an illustrator based out of Fort Hood.
The stuffed animal which looks like a cross between a pug, a gremlin and a demon from the darkest depths of hell, is called a Dream Keeper.
Hendrick began making Dream Keepers for her young daughter Myla. It was she who inspired the name after a friend of hers called her stuffed toy ugly. Myla told her friend that they chase bad dreams away.
Each Dream Keeper features a hand-painted resin face and a unique fabric cover. Hendricks told the
Current
that her daughter wanted her to make more, and so to get them out of the house, she asks Myla to give each stuffed animal a name and a kiss on the nose so they can send them out into the world.
Hendricks caught the media's attention a few years ago because of her collaborations with Myla. Each night, Hendricks, whose illustrations evoke a sort of storybook dreaminess, would draw a head in her sketchbook, leaving her daughter to complete the picture by adding on a body and filling out the scenery. Hendricks would then take over to fill in the work with color. Together they create whimsical illustrations that showcase Hendricks' talent as an artist and her child's playful imagination. Their work caught the attention of
Good Morning America
, Buzzfeed and the Huffington Post.
Mica Angela Hendricks and Myla Hendricks
Mica Angela Hendricks illustrative collaboration with her daughter Myla went viral.
Hendricks says she may not be making Dream Keepers much longer. (She has made
a lot
of them.) But she says for the time being people can purchase them on her
Etsy store
. You can follow Hendricks on her at her website,
micaangela.com
and
busymockingbird.com
.