Tue., Sept. 29
Glow Roll SA an Evening in Travis Park
Come out and enjoy bike riding Downtown Tuesday in San Antonio. Attach lights to your bikes and enjoy the park, music, food, and social ride through downtown San Antonio.
Free, Tue. Sept. 29, 5 pm-8pm, Travis Park, 301 E Travis St., facebook.com

Wed., Sept. 30
Hump Wednesdays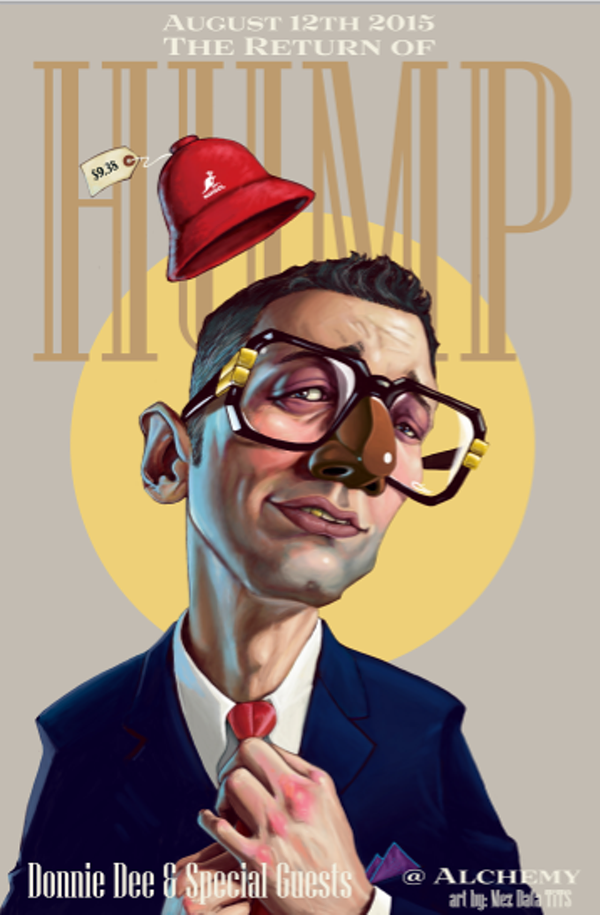 Every Wednesday at Alechemy. Featuring DJ Donnie Dee and special guests.
Free, Wed. Sept. 30, 8pm-12am, Alchemy,
1123 N Flores St.,
(210) 320-1168.
Thu., Oct. 1
King Kong vs. Godzilla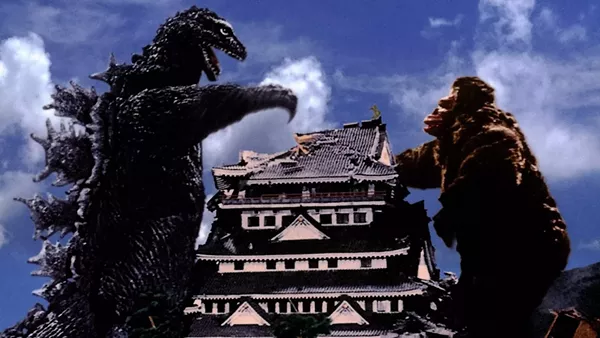 Courtesy
Still from King Kong vs. Godzilla
San Antonio Bijou's free movie of the week is Ishiro Honda's 1962 film
King Kong vs. Godzilla
.
Free, Thu. Oct. 1, 7pm, Santikos Bijou Cinema Bistro, 4522 Fredericksburg Road, (210) 734-4552.


Thu., Oct. 1
Art Opening: "Take Home a Nude"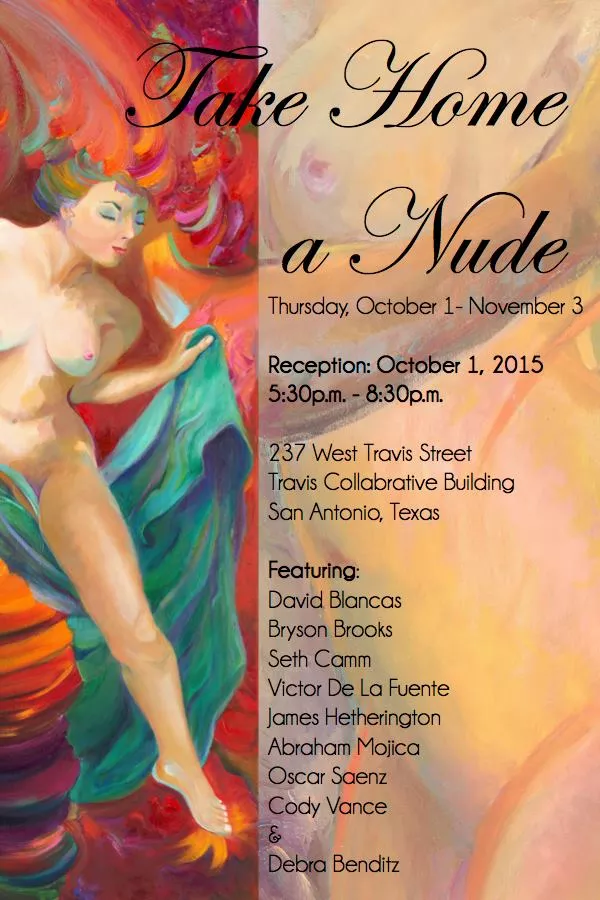 Karen Evans curates diverse works by local artists David Blancas, Bryson Brooks, Seth Camm, Victor De La Fuente, James Hetherington, Abraham Mojica, Oscar Saenz, Cody Vance and Debra Benditz.
Free, Thu. Oct. 1,5:30 pm-8:30 pm, Debra Benditz Art Studios, 237 W. Travis St., (512) 588-2606.
Thu., Oct. 1
David Eagleman
KLRN, the Trinity Distinguished Scientists Lecture Series and The Mind Science Foundation co-host a screening and presentation with neuroscientist David Eagleman in conjunction with his forthcoming TV series exploring how the brain functions and why people feel and think the things they do. Guests are encouraged to RSVP at
klrn.org
.
Free, Thu., Oct. 1, 7:30 pm, Laurie Auditorium, 715 Stadium Dr., (210) 999-8117.
Fri., Oct. 2 - Sun., Oct. 4
Yanaguana Garden Grand Opening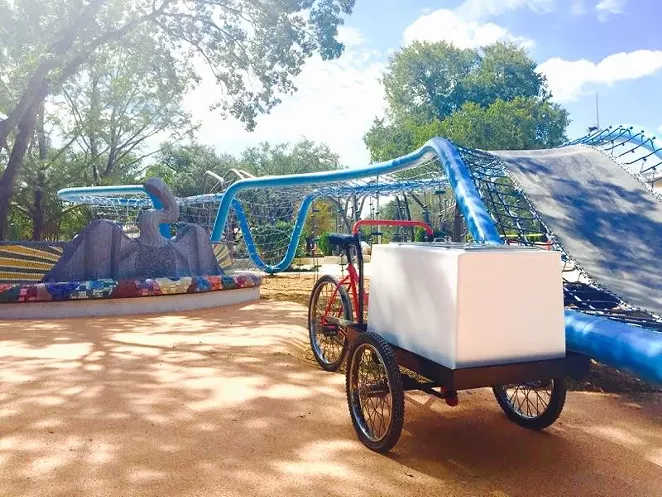 Courtesy
The all-new Yuanaguana Gardens at the revitalized Hemisfair Park.
All of San Antonio is invited to attend the grand opening of the first new park in Hemisfair, Yanaguana Garden. Weekend celebrations begin on First Friday, October 2, at 6 p.m., and continue into the evening with music, food and fun for all ages. The official ribbon cutting is at 9:30 a.m., Saturday, October 3 with children friendly activities planned all day. If art and health are more your thing, come by Sunday October 4 beginning at 10 a.m. for art activities, yoga demonstrations, hula hooping and more.
Free, 6pm-12am, Fri., Oct. 2, 9am-6pm, Sat., Oct. 3, 10am-4pm, Sun., Oct. 4., Yuanaguana Garden, Hemisfair Park, 434 S. Alamo St., (210) 260-5678, hemifair.org


Fri., Oct. 2
Toybox Monster
Alta Vista Skate Shop Y Gallery, a splendid place that fuses the traditional skate-shop vibe with an arty bent, presents an exhibition of work by artist and skater Daniel Howard, who works under the
nom de
paintbrush Toybox Monster. And if that first sentence didn't contain enough off-kilter juxtapositions to whet your curiosity, Howard's work, brightly colored and playfully morose, is worth seeing for novelty reasons alone. This exhibit is entirely comprised of art made on or from recycled skateboards. Check out some of his work before you head out on Instagram (
@toybox_monster
).
Free, 7:30-9pm, Alta Vista Skate Shop Y Gallery, 640 S. Presa St., (210) 592-1413.


Fri., Oct 2 - Sat., Oct. 3
The "Immersed" Art Collection
Promising a fresh perspective on the Linda Pace Foundation's sprawling collection, "Immersed" gathers works by 17 artists, including Francesco Clemente (Italy), Tracy Emin (England) and Chiho Aoshima (Japan). Conceived by curator Annette DiMeo Carlozzi as a tribute to Pace's pioneering spirit, the exhibition aims to evoke "the cool heat of intense engagement, riffing in unexpected ways on the immersive experiences of art-making and art-viewing." Following Friday's reception, SPACE hosts a Saturday afternoon conversation with Carlozzi and artists Byron Kim, Anne Chu and Iñigo Manglano-Ovalle.
Free, 6-8pm Fri, 2-3:30pm Sat, SPACE, 111 Camp St., (210) 227-8400, lindapacefoundation.org.
Sat., Oct. 3
Banned Book Brunch


In observance of Banned Book Week (September 27-October 3), the Underground Library hosts a community book brunch designed to promote literacy through the sharing of stories with an emphasis on cultural, political and social consciousness.
Free, 10am-12pm Sat., Movement Gallery/Underground Library, 1412 E. Commerce St., (210) 299-2666.
Sat., Oct. 3 - Sun., Oct 4
Yanaguana Indian Market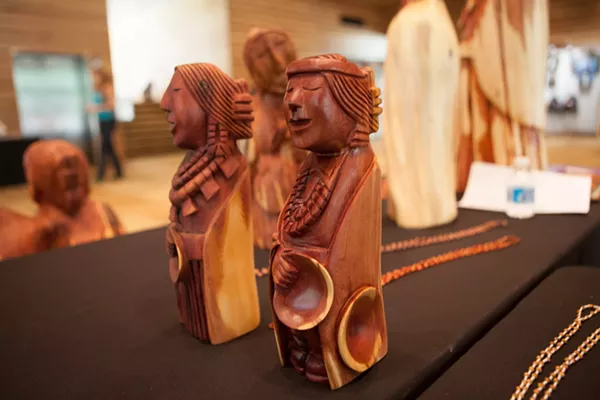 Yanaguana Indian Arts Market The Briscoe welcomes 40 Native American artists for this second annual event featuring handcrafted works of art (including basketry, jewelry, carvings, beadwork, pottery) along with storytelling, dancing, musical performances, demonstrations and Native American-inspired food.
Free, 10 am-4 pm Sat.-Sun., Briscoe Western Art Museum, 210 W. Market St., (210) 299-4499.