Thu 10/1 - Sun 10/4
"Miró: The Experience of Seeing"


His name may pop up in conversations about surrealism, abstract expressionism and dadaism, but Spanish master Joan Miró defied movements and easy classification. Born in Barcelona in 1893, Miró drew deep inspiration from his native Catalonia (and especially the seaside town of Mont-roig) but evolved considerably among the avant-garde icons of 1920s-era Paris — Pablo Picasso and André Breton among them. Exemplified by his heavily symbolic
Still Life with Old Shoe
(1937), elegantly abstracted series
Constellations
(1939-1941) and immersive triptych
The Hope of a Condemned Man
, Miró employed his own visual vocabulary to address the political landscape and illustrate the atrocities of war. Culled from the permanent collection of Madrid's Museo Nacional Centro de Arte Reina Sofía and highlighting the artist's later years (from 1963 to 1981), the traveling exhibition "Miró: The Experience of Seeing" brings together more than 50 paintings, drawings and sculptures said to "plumb the process of making art."
$15-$20, 10am-4pm Wed, 10am-9pm Thu, 10am-4pm Fri, 10am-5pm Sat, noon-5pm Sun, 10am-4pm Tue, McNay Art Museum, 6000 N. New Braunfels Ave., (210) 824-5369, mcnayart.org. Through January 10, 2016.
— Bryan Rindfuss

Thu 10/1 + Sat 10/3
Madama Butterfly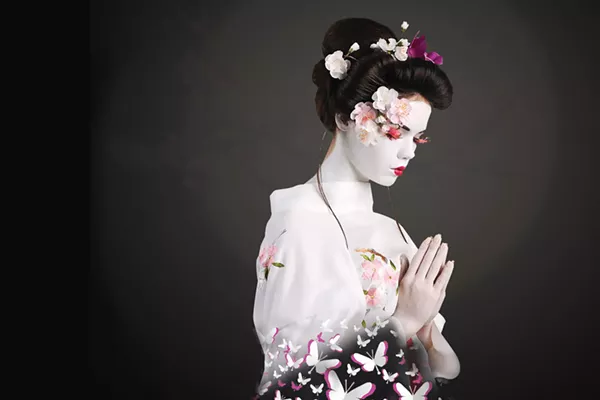 OPERA San Antonio and the San Antonio Symphony bring the tragedy of unrequited love to the stage with Giacomo Puccini's
Madama Butterfly
. Set in 1902 Japan, the opera follows a young geisha who unfailingly waits for her lieutenant husband's return. Featuring soprano Maria Kanyova in a performance that conveys "the young wife's innocence, vulnerability and pain," the opera is among the most frequently performed around the globe despite its disastrous premiere in 1904. Puccini revised the opera four times after that to great success.
$31.50-$199, 7:30pm Thu & Sat, Tobin Center for the Performing Arts, 100 Auditorium Circle, (210) 223-8624, tobincenter.org.
— Murphi Cook
Thu 10/1 - Fri 10/2
"A Village Dreams"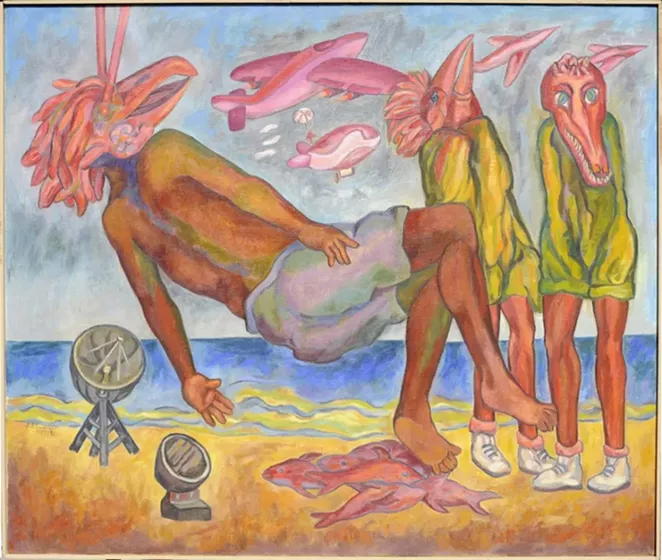 Kent Rush curates a small selection of paintings by late artist and La Palomilla collective member Jose Guadalupe Guadiana. Created between the 1990s and early 2000s, the folk-figurative works recount compelling and endearing stories of the inhabitants of a village lost in the rapture of their dreams.
Free, 6-9pm Thu-Fri, Terminal 136, 136 Blue Star, (210) 458-4391, art.utsa.edu.
Fri 10/2
Toybox Monster
Alta Vista Skate Shop Y Gallery, a splendid place that fuses the traditional skate-shop vibe with an arty bent, presents an exhibition of work by artist and skater Daniel Howard, who works under the nom de paintbrush Toybox Monster. And if that first sentence didn't contain enough off-kilter juxtapositions to whet your curiosity, Howard's work, brightly colored and playfully morose, is worth seeing for novelty reasons alone. This exhibit is entirely comprised of art made on or from recycled skateboards. Check out some of his work before you head out: instagram.com/toybox_monster.
Free, noon-9pm, Alta Vista Skate Shop Y Gallery, 640 S. Presa St., (210) 492-1413, facebook.com.
— James Courtney
Fri 10/2
Mike Epps: The Real Deal Tour

"Y'all think I'm going to hell for that one?" Mike Epps asks the audience after a particularly over-the-top bit toward the end of his first stand-up special,
Underrated … Never Faded & X-Rated
. The response sounds like a nearly unanimous, "Yes." Epps, seemingly never at a loss for words, is quick to retort, "Then you're going too, for laughing." Though Epps more than lives up to his self-imposed "X" rating, his biggest laughs come from, as the title of his current tour suggests, giving audiences the "Real Deal." Whether he's raging against the smug spokespeople on daytime television trade-school commercials or admitting that people still refer to him as Day-Day (his character in
Next Friday
), Epps — who's also slated to play Richard Pryor in two upcoming films — is at his best when he's simply telling his own frenetically charged, unrepeatably profane version of the truth. If he goes to hell for that, he'll be dragging theaters full of delighted audiences along with him, riffing on how sweaty his balls are the whole way down.
$53-$103, 8pm, The Majestic Theatre, 224 E. Houston St., (210) 226-3333, majesticempire.com.
— Jeremy Martin
Fri 10/2 - Sat 10/3
"Immersed"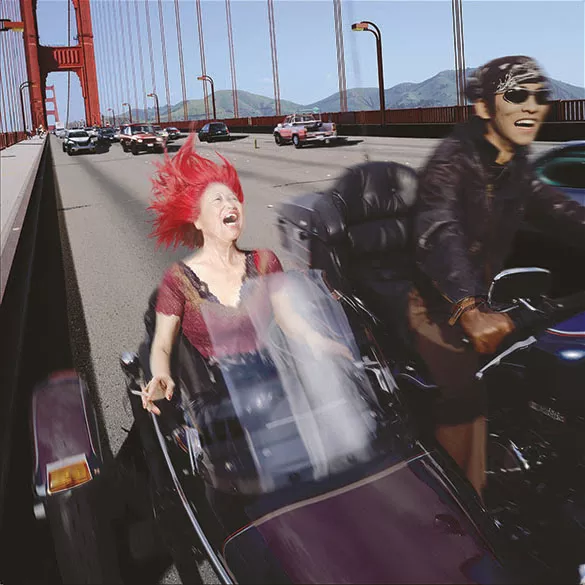 Promising a fresh perspective on the Linda Pace Foundation's sprawling collection, "Immersed" gathers works by 17 artists, including Francesco Clemente (Italy), Tracy Emin (England) and Chiho Aoshima (Japan). Conceived by curator Annette DiMeo Carlozzi as a tribute to Pace's pioneering spirit, the exhibition aims to evoke "the cool heat of intense engagement, riffing in unexpected ways on the immersive experiences of art-making and art-viewing." Following Friday's reception, SPACE hosts a Saturday afternoon conversation with Carlozzi and artists Byron Kim and Anne Chu.
Free, 6-8pm Fri, 2pm Sat, SPACE, 111 Camp St., (210) 227-8400, lindapacefoundation.org.
— BR


Fri 10/2 - Sun 10/4
American Idiot
Green Day always knew their Grammy-winning rock opera would be more than just a record. Developed by frontman Billie Joe Armstrong with director Michael Mayer,
American Idiot
translates the concept album into a rock musical unlike any other. Following three disillusioned suburban youths trying to find meaning in a post 9/11 world, the show includes very little dialogue, relying instead on the band's lyrics to tell its story. Hardcore fans delight: The musical contains songs from several albums and even an unreleased track. Kurt Wehner directs the Woodlawn's production.
$17-$26, 7:30pm Fri-Sat, 3pm Sun, Woodlawn Theatre, 1920 Fredericksburg, (210) 267-8388, woodlawntheatre.org.
— MC
Sat 10/3
Huevos Rancheros Gala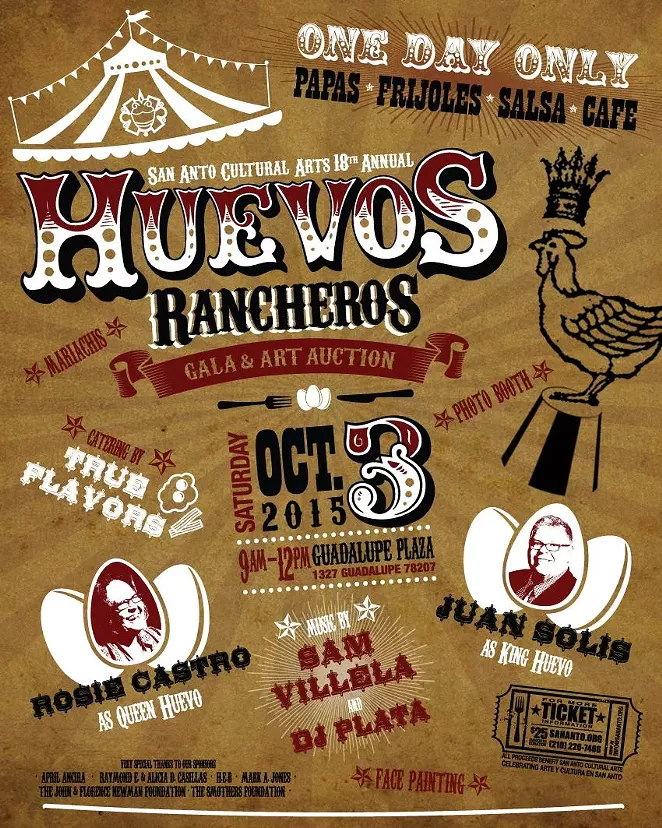 Easily the most casual "gala" on the Alamo City's social calendar, San Anto Cultural Arts' all-inclusive fundraiser celebrates the egg as a symbol of artistic creation while honoring local heroes in the heart of the West Side. Providing support to the nonprofit's public art programs and community newspaper, the Saturday morning affair feeds the masses with huevos rancheros and entertains them with live music, a silent auction and raffle. The 18th annual event sees Juan Solis and Rosie Castro inheriting King and Queen Huevo crowns from David Gonzales and Antonia Castañeda.
$25 suggested donation, 9am-noon, Avenida Guadalupe, 1327 Guadalupe St., (210) 226-7466, sananto.org.
— BR
Sat 10/3
Movable Art Party

After successful outings in King William and Blue Star, the Artist Foundation's Movable Art Party heads east to activate an array of spaces in historic St. Paul Square. Billed as "the most creative event of the year," the nonprofit's signature fundraiser promises an "anything-goes evening of art and performance." Besides highlighting the talents of AF grant winners (including puppeteer Zach Dorn, choreographer Stephan Gaeth and flamenco diva Tamara Adira), MAP fuels the festivities with food from The Esquire, Dignowity Meats and Tim the Girl, plus libations from Alamo Beer, Bending Branch Winery and Dorcol Distilling Co.
$125-$150, 7-11pm, St. Paul Square, artistfound.org.
— BR
Sun 10/3
Helmet performing Betty


Any guitar geek turning abrasion into beauty in 2015 owes something to Helmet, the New York quartet that cut through the cocaine bullshit of '80s metal with a string of wounded, focused albums during the Clinton years. In an era where record sales and signing bonuses flowed like bagged wine, Helmet was one of the few alt-bands signed to a major label that made a stylistic push forward, with touches of jazz and noise built into their drop-D affront. For her 21st birthday, Helmet is taking its third record,
Betty
, out on a spin across America. Head to toe their most ambitious effort,
Betty
is a thrashing, storming example of what guitars and angst could do together in the 1990s. Though some touches on the album — overdriven tone, high-pitched snare and roaming bass — would become touchstones of the nu-metal abhorrence, you can hardly blame Page Hamilton for his progenies' obnoxious taste and white dreads. After
Betty
gets her time on the stage, Helmet will run through career hits and material from their newest release,
Seeing Eye Dog
.
$17, 8pm, Paper Tiger, 2410 N St. Mary's, papertigersa.com.
— Matt Stieb