Tuesday, October 6
The People's Nite Market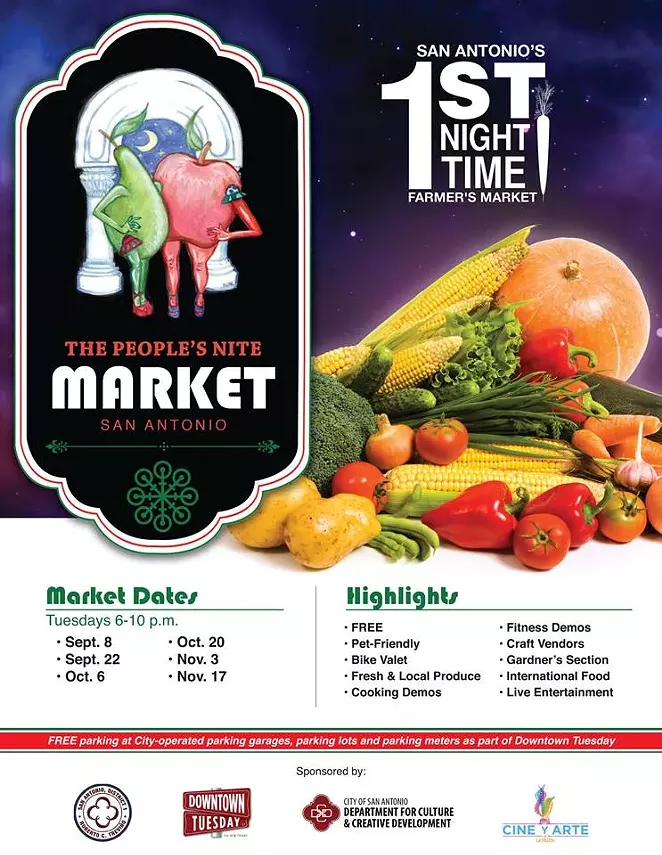 Courtesy
The People's Nite Market
Downtown Tuesday hosts the third The People's Nite Market at La Villita. The market features local produce, activities, live entertainment, and more.
Free, 6pm, Tue., La Villita Historic Arts Village, 418 Villita, (210) 207-8614, getcreativesanantonio.com
Tuesday, October 6
Arsenic and Old Lace




Courtesy
Arsenic and Old Lace
Northeast Lakeview's monthly free screening is Arsenic and Old Lace. Cary Grant tries to keep the woman he loves from finding out that his family is a bunch of crazy-pants murderers.
Free, 6:30pm, Tue., Northeast Lakeview College, 1201 Kitty Hawk, (210) 590-5401, alamo.edu
Tuesday, October 6
The Lost Project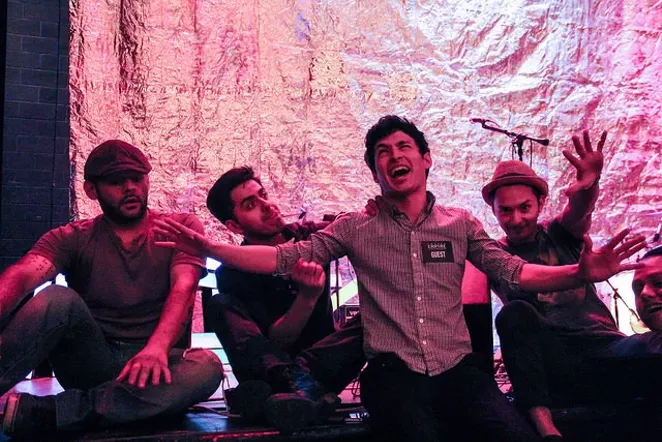 FIle Photo
The Lost project
Far From Where You Are, The Lost Project's debut 2015 effort, is an impressive sonic melting pot, drawing on pop, punk, ska, reggae, progressive rock and alternative rock. While The Lost Project's live sets have always included heavy doses of ska, mixed up in an edgy pop-punk vibe, the album finds the trio accomplishing an impressive blending act, where many seemingly disparate elements coalesce to form a remarkably cohesive and polished whole.
Free, 9pm, Tue., Nesta, 122 Nogalitos, (210) 354-3399, facebook.com
Wednesday, October 7
1st Wednesday
Courtesy
1st Wednesday
Taps y Tapas and Alamo Bike Shop are hosting a neighborhood party in the 5 Points area, featuring San Antonio's own Nik Soupe' and DJ Freeverse.
Free, 7pm, Wed., Taps Y Tapas, 1012 N Flores, (210) 277-7174, facebook.com

Thursday, October 8
Eight Legged Freaks
Courtesy
Eight Legged Freaks
The Santikos Bijou free movie of the week is the 2002 campy horror film Eight Legged Freaks. When a bunch of poisonous spiders get exposed to toxic waste, they become giants and begin to attack a nearby small town where it's up to David Arquette to save the day.
Free, 7pm, Thur., Santikos Bijou, 4522 Fredericksburg, (210) 734-4552, santikos.com

Friday, October 9
Yelp's Brews And Booze


Courtesy
Yelp
Yelp continues their celebration of local breweries and distilleries by hosting an event at the Busted Sandal. There will be tours, live music, goodie bags and more. People who check-in using the Yelp app will get $1 off of pints. Free, 6:30pm, Fri., Busted Sandal Brewing Company, 7114 Oaklawn, (210) 872-1486,
bustedsandalbrewing.com
Friday, October 9
Oktoberfest


Courtesy
Alamo Beer Company
Bier steins, lederhosen, polka music and plenty of German fare mark Alamo Beer Company's 1st Oktoberfest! With a bier garten, bier hall and bier brewed using German methods the three-day celebration inaugurates a new South Texas tradition. Entertainment includes The Tubameisters and New Braunfels' German-Czech inspired group Bohemian Dutchmen. Both groups are scheduled to perform the entire weekend. Join the Alamo Brewers, Saturday at 1:30 for polka lessons. Food trucks will be on site and the company's new beer, ALAMO Oktoberfest, will be available.
Free, 12pm, Fri., Alamo Beer Brewing Company, 202 Lamar, (210) 872-5589, alamobeer.com
Friday, October 9
Regina Morales
Regina Morales, local artist and in-house graphic designer at Next Day Custom Tees, will present her first solo exhibit at K23 Gallery starting this Friday. While Morales' work in general is apropos of what you might expect from a graphic designer — frequently text-laden, minimalistic and precise — this 10-piece exhibit will focus on her obsession with slasher/horror flicks and, in general, the kitschy (and not-so-kitschy) macabre. The artist will have a limited number of prints for sale and will also unveil a new Halloween-themed shirt she designed for the gallery. Time to get spooky.
Free, 7pm, Fri., K23 Gallery, 702 Fredericksburg, (210) 776-5635, facebook.com
Saturday, October 10
"Xanax Keeps Me Strong"


Viewed from far enough away, everything in the human experience is minute and fleeting. This is true for feelings and materials, for people and their ideas/hang-ups, and — as in the case of Megan Solis' new solo exhibition "Xanax Keeps Me Strong" — it's true for art exhibits. In this one-night-only show presented by The Lullwood Group, Solis uses collage, drawing and performance to plumb the often excruciating distance between comfort and discomfort. In her colorful and disorienting renderings, burdensome anxiety and smirking ease are playfully considered as permanently conjoined elements of our lives.
Free, 7pm, Sat., The Lullwood Group, 107 Lone Star, facebook.com