Thu 10/8 - Sun 10/11
Dixie's Tupperware Party


Since her early days entertaining "straight Republican white women" in Orange County living rooms, wayward Southern belle Dixie Longate — an over-the-top drag character created by writer/actor Kris Andersson — has earned comparisons to Dame Edna and emerged as an unlikely ambassador for Orlando-based Tupperware Brands Corp. Putting an unapologetically trashy spin on the Tupperware-party format, Andersson's signature show (touring since 2008 and coming to SA as part of the Tobin Edge Series) combines comedic storytelling, a storyline about homegrown entrepreneur Brownie Wise, and actual sales of plastic food storage containers. In addition to raunchy laughs and a handy Tupperware catalog, guests can expect to be called "hooker" — which Dixie naturally considers a term of endearment.
$36.50-$51.50, 7:30pm Thu, 8pm Fri, 5pm & 8pm Sat, 2pm Sun, Tobin Center for the Performing Arts, 100 Auditorium Circle, (210) 223-8624, tobincenter.org.
— Bryan Rindfuss
Fri 10/9
"New Works by Regina Morales"


Regina Morales, local artist and in-house graphic designer at Next Day Custom Tees, will present her first solo exhibit at K23 Gallery starting this Friday. While Morales' work in general is apropos of what you might expect from a graphic designer — frequently text-laden, minimalistic and precise — this 10-piece exhibit will focus on her obsession with slasher/horror flicks and, in general, the kitschy (and not-so-kitschy) macabre. The artist will have a limited number of prints for sale and will also unveil a new Halloween-themed shirt she designed for the gallery. Time to get spooky.
Free, 7pm, K23 Gallery, 702 Fredericksburg Road, (210) 776-5635, facebook.com/K23Gallery.
— James Courtney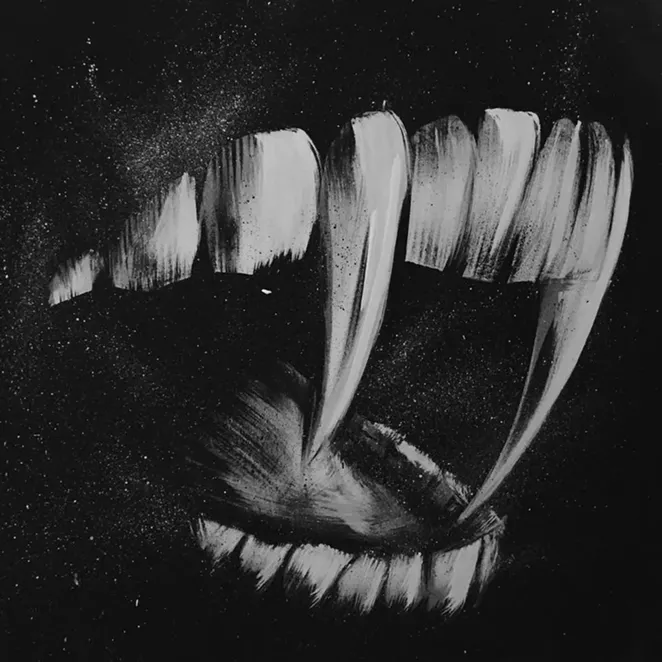 Fri 10/9 - Sat 10/10
Red


Comprised of Artist Foundation grant winner Zach Dorn and
Current
contributor Murphi Cook, Miniature Curiosa has intrigued local audiences since it rolled into town in 2013. Promising a (slightly) kid-friendlier counterpart to such previous spectacles as
Moon City and Tonight a Clown Will Travel Time
, the multimedia puppet troupe's new collab with the Magik re-envisions Little Red Riding Hood as a troubled teen navigating a forest that's as much John Hughes as it is Brothers Grimm. Set in the 1980s, the duo's
Red
comes complete with a Prince-inspired soundtrack.
$12-$15, 9:45am, 11:30am & 7pm Fri, 2pm Sat, Magik Theatre, 420 S. Alamo St., (210) 227-2751, magiktheatre.org
.
Through November 8.
— BR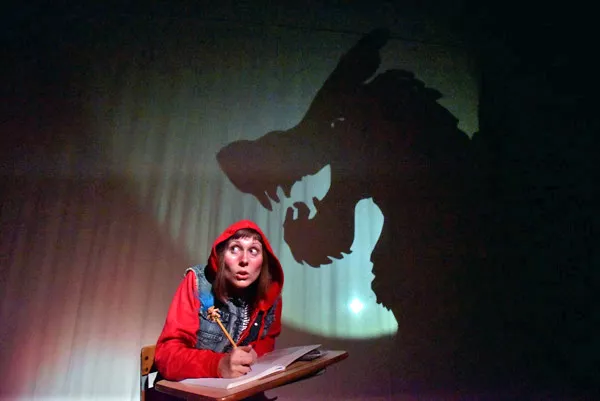 Fri 10/9 - Sun 10/11
Swan Lake


Mashing up references from the Russian folktale
The White Duck
, German author Johann Karl August Musäus'
The Stolen Veil
, and the life of Bavarian King Ludwig II, Tchaikovsky's 19th-century ballet
Swan Lake
is mysterious, iconic and notoriously complicated. Initially dissed by critics and now cemented as a production that challenges and defines ballet companies, the tale of transformation and ill-fated passion lands at the Tobin on the wings of Ballet San Antonio. Given its recent staffing shakeup, BSA's take on
Swan Lake
(set to a live soundtrack courtesy of the San Antonio Symphony) promises a note-worthy season opener.
$14.50-$134, 7:30pm Fri-Sat, 2pm Sun, Tobin Center for the Performing Arts, 100 Auditorium Circle, (210) 223-8624, tobincenter.org.
— BR

Fri 10/9 - Sun 10/11
Flamenco Fest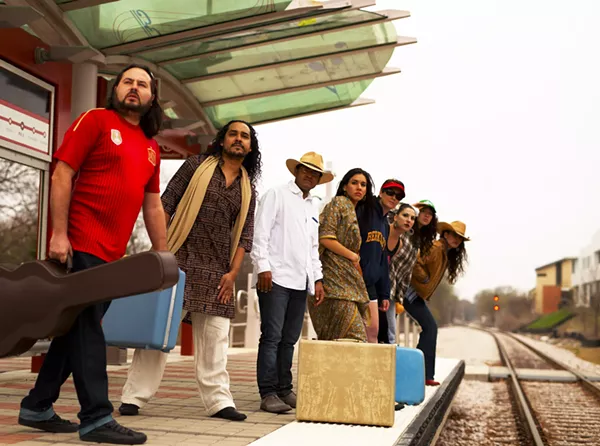 Photo by Estrella Chacon
Austin-based dance company A'lante Flamenco
Flamenco, with its mixed roots in Spanish, Jewish and Moorish culture, may be the perfect art form to express ideas of migration and multiculturalism. With their latest production
Desplazados
, part of this year's sixth annual Flamenco Fest at the Guadalupe Cultural Arts Center, the Austin-based dance company A'lante Flamenco draws from recent events (such as the influx of unaccompanied children arriving in the U.S. from countries in the Northern Triangle) but also from the experiences of its own members, several of whom are also immigrants living in the United States.
Desplazados
will mark A'lante Flamenco's second appearance at Flamenco Fest. Their first was in 2012 with their production of
The Red Shoes: A Flamenco Fairytale
. Now in its sixth year, Flamenco Fest has, for the most part, continued to expand each year since moving from the Cameo Theatre to the Guadalupe Theater in 2013.

Highlights
The Guadalupe Dance Company presents an encore performance of
Pisando Fuerte: A Flamenco Journey
, staged by guest choreographer Miguel Vargas of Seville and featuring San Antonio vocalist Chayito Champion.
$15-$35, 8pm Fri, 1301 Guadalupe St.
The San Antonio Parks and Recreation Flamenco Dance Program presents
Flor Flamenco
with performances by Sonya Jimenez, guitarists Steve Arispe and Luis "El Tiburon" Linares, and guest artist Vicente Griego from New Mexico.
$15-$35, 8pm Sat, 1301 Guadalupe St.

A'lante Flamenco presents
Desplazados
. The company is the recipient of the Austin Critic's Table Award for Best Ensemble 2013/2014 for their production of
Prophecies
.
$23, 3pm Sun, 1301 Guadalupe St.

Carmens de la Calle hosts a pre-show "Dueling Guitars and Paella Brunch" with a performance by guitarists Steve Arispe, Luis "El Tiburon" Linares and Randy Cordero.
$45, noon & 2pm Sun, 320 N. Flores St.
For tickets and details, visit
guadalupeculturalarts.org/event/flamenco-fest
.
— Marco Aquino
Sat 10/10
Artpace Chalk It Up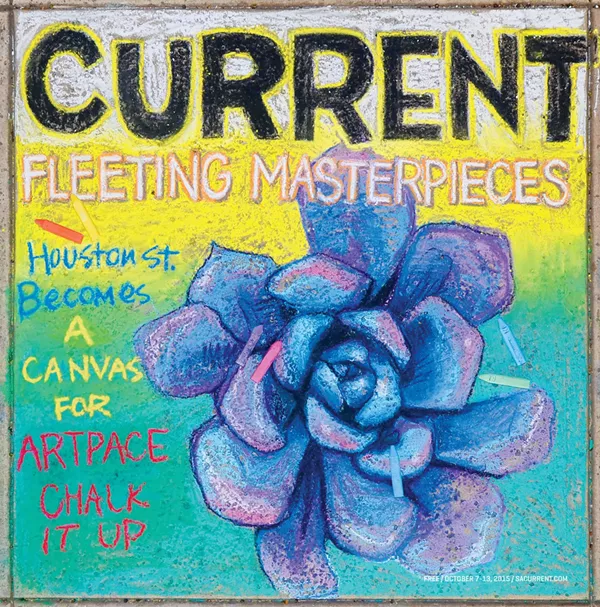 For a lot of local art lovers, "kid-friendly" might not be the first thing one associates with contemporary-art mainstay Artpace. And that's probably one reason people love it. In a city obsessed with family events, Artpace, a downtown oasis for challenging works by up-and-coming local and international artists, is almost defiantly adult.
And the defiant adults who patronize the organization for its heady artist talks and swanky gatherings may also casually overlook an annual Artpace festivity that generally lacks both free booze and a foreign-born curator holding forth on Lacan's concept of the real. We're talking about Chalk It Up, Artpace's very kid-friendly daytime pachanga. The event, which features dozens of artists and students creating ephemeral chalk drawings and installations along Houston Street in the heart of Downtown SA, is tied into Artpace's substantial arts-education arm.
"It's a definitely a family event, but it's a street festival and there's vendors and there's food and there's music and there's the local businesses up and down Houston," says Roberta "Nina" Hassele, who's returning to curate Chalk It Up's 19 featured artists for the third year in a row. Aside from featured artists, there are also school teams in the "Team Works" section and San Anto-style blue chippers, like Cruz Ortiz and Ethel Shipton, as "showcase artists." And if Chalk It Up is cool enough for them, it's cool enough for you. As Hassele mentioned, there are also performances, installations, workshops by the likes of Mobile Om yoga, food and music. "The first time I went was without my son, and it was great," said Hassele. "I love seeing the art that people create, it's so beautiful and so out of the ordinary from what they do. People love it. I'm not talking about tourists, I'm talking about San Antonians." And if you can't bear the thought of attending an Artpace event without an adult beverage in hand? Hassele slyly suggests that there are plenty of places downtown to get a bloody mary on Saturday morning.
Free, 10am-4pm Sat, Houston Street between N. Flores and Jefferson streets, (210) 212-4900, artpace.org.
— Callie Enlow


Sat 10/10
San Antonio Fashion Awards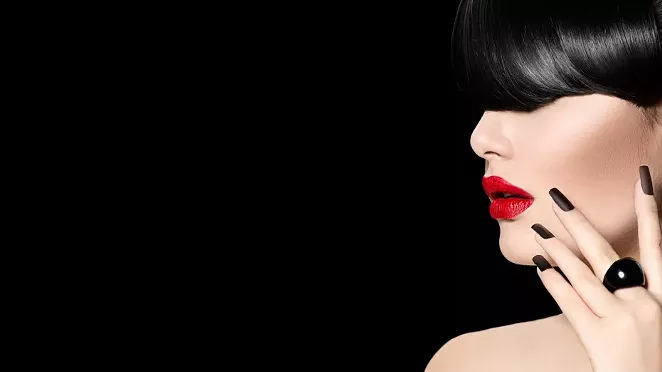 In keeping with its dedication to the "growth of the professional fashion industry in San Antonio," online network Style Lush TV is set to celebrate local tastemakers at the inaugural San Antonio Fashion Awards. Reflecting nominations (July 1-31) and a voting period (August 22-September 18), SAFA recognizes talent in 11 categories, ranging from womenswear designer and local retailer to fashion blogger and makeup innovator. Hosted at the Tobin in advance of Fashion Week San Antonio, the red-carpet event follows an "Oscars glam" theme and benefits The Zero Limits Foundation.
$60, 6:30pm, Tobin Center for the Performing Arts, 100 Auditorium Circle, (210) 223-8624, tobincenter.org.
— BR
Sat 10/10
"Xanax Keeps Me Strong"


Viewed from far enough away, everything in the human experience is minute and fleeting. This is true for feelings and materials, for people and their ideas/hang-ups, and — as in the case of Megan Solis' new solo exhibition "Xanax Keeps Me Strong" — it's true for art exhibits. In this one-night-only show presented by The Lullwood Group, Solis uses collage, drawing and performance to plumb the often excruciating distance between comfort and discomfort. In her colorful and disorienting renderings, burdensome anxiety and smirking ease are playfully considered as permanently conjoined elements of our lives.
Free, 7-10pm, The Lullwood Group, 107 Lone Star Blvd., facebook.com/thelullwoodgroup.
— JC


Sat 10/10
All Hallows' Tease


From New Year's to Pride Month to Christmas, SA's fun-loving Pastie Pops know how to shake up the season — and fall is no exception. Emceed by glam-bear queen Foxxy Blue Orchid, the troupe's autumnal
All Hallows' Tease
rounds up the usual suspects (Jasper St. James, Vixy Van Hellen and Elle Du Jour, among others) and introduces Lucy Lips. And since "no one likes to trick-or-treat alone," the night of "hair-raising, spine-chilling and ultra-sexy burlesque" enlists the scantily clad talents of Chola Magnolia, Austin-based Ruby Lamb and "Transoceanic Tropical Tease" Black Orchid.
$10-$40, 9pm, The Uptown Studio, 700 Fredericksburg Road, (210) 387-1617, facebook.com/pastiepops.
— BR
Sun 10/11
L'Age d'Or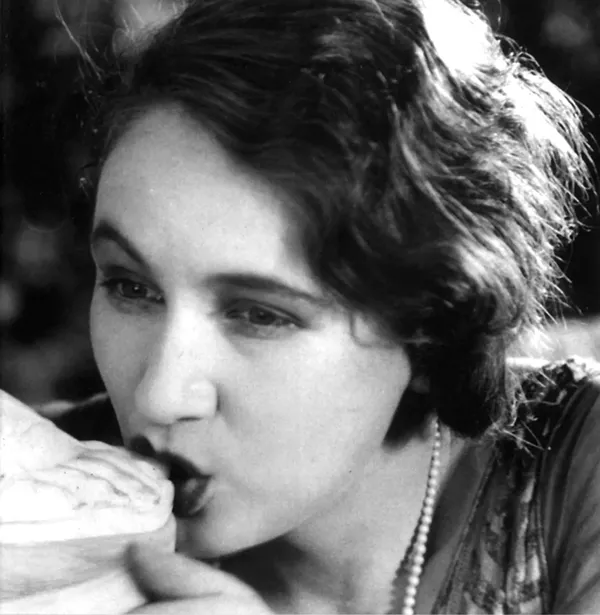 The McNay's This Is Not a Film Series may not be a series, but all its titles are connected to Spain and the touring exhibition
"Miró: The Experience of Seeing."
This Sunday's entry, accused of blasphemy and obscenity, sparked a riot in a Paris theater in 1930 and was withdrawn from circulation for decades.
L'Age d'Or (The Golden Age)
is a surrealist dream-piece and the first feature by Spain's Luis Buñuel. He collaborated with Salvador Dalí, with artist Max Ernst among the actors. The vignettes involve a couple who commit such symbolic taboos as licking a statue's toes, while the coda is a scene from the Marquis de Sade's
120 Days of Sodom
with a Christ impersonator. Running just over an hour, this act of provocation screens at 2 p.m., following an exhibition tour and "tapas-inspired movie treats."
$15-$20, 2pm, McNay Art Museum, 6000 N. New Braunfels Ave., (210) 824-5368, mcnayart.org.
— Michael Barrett