Thu 10/15
"Echoes of Mexico"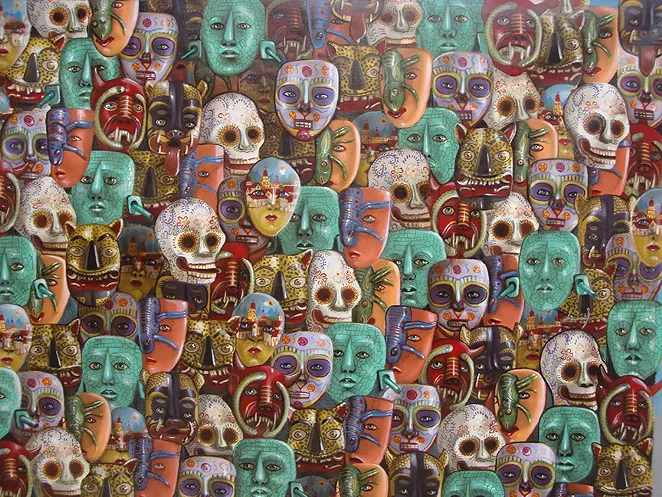 If one were to imagine the American pop-art movement cultivated south of the border, the translation might look something like "Neo-Mexicanidad," a genre championed by Guadalajara-born painter Ismael Vargas. In his vibrant canvases, Vargas puts a kaleidoscopic spin on iconic Mexican fixtures — sombreros, masks and ceramics seem to repeat ad infinitum — while presenting everyday objects in oddly compelling arrangements. On Thursday, Ruiz-Healy Art unveils Vargas' aptly titled "Echoes of Mexico" and a companion catalog featuring an essay by esteemed local author John Phillip Santos.
Free, 6-8pm Thu, Ruiz-Healy Art, 201-A E. Olmos Drive, (210) 804-2219, ruizhealyart.com.
— Bryan Rindfuss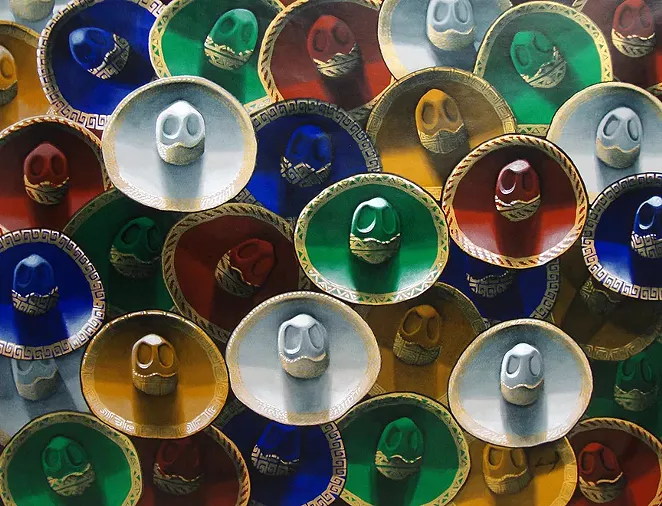 Thu 10/15 - Sat 10/17
The Rocky Horror Show


With just a jump to the left and a step to the right, John Waters-approved
RuPaul's Drag Race
alum and self-described "glamour toad" Ginger Minj slips into Frank-N-Furter's fishnets for the Woodlawn's latest take on
The Rocky Horror Show
. No stranger to the theater, Minj recently set out on tour with her original show
Crossdresser for Christ
and is also fine-tuning a forthcoming album likened to a hybrid of Jennifer Holliday and Meatloaf. Artistic director Greg Hinojosa's 2015 vision for
Rocky
adds '80s-inspired touches to the absurdist classic that feeds on audience participation.
$35-$50, 8pm Thu, 11pm Fri-Sat, Woodlawn Theatre, 1920 Fredericksburg Road, (210) 267-8388, woodlawntheatre.org.
— BR
Thu 10/15 - Sun 10/18
San Antonio Missions World Heritage Celebration Weekend


For better or worse — most likely for the much better — the San Antonio Missions have officially been named a World Heritage Site by The United Nations Educational, Scientific and Cultural Organization (UNESCO). What this means is that, alongside more than 1,000 other sites around the world (in 163 nations), our beloved smattering of Spanish missions has been deemed important in UNESECO's admirable quest "to encourage the identification, protection and preservation of cultural and natural heritage around the world, considered to be of outstanding value to humanity." This weekend, at and around the historic sites, all of San Anto is invited to celebrate and engage with the missions and their historical/cultural heft. Highlights of the family-friendly bonanza known as the San Antonio Missions World Heritage Celebration Weekend include a lecture on the life of the missionaries at Alamo Hall (Thursday), student art exhibits at Espada and San Juan (Friday), an art- and song-filled evening at Concepción (Friday), an archeology festival and the Official World Heritage Inscription ceremony on at Mission San José (Saturday), guided tours of Yanaguana trail and Acequia trail with the San Antonio River Authority at Mission San Juan (Saturday) and an outdoor mass with Archbishop Gustavo García-Siller at Mission San José (Sunday).
Free (some events require RSVP), various locations (see website), (210) 207-0221, missionsofsanantonio.org/celebration-weekend.
— James Courtney
Fri 10/16 - Sun 10/18
Beauty and the Beast


Since its appearance in 18th-century France, the fairytale
Beauty and the Beast
has sparked myriad adaptations (crafted by everyone from Jean Cocteau to Philip Glass) but none with quite the punch of the billion-dollar musical. Planted on Broadway from 1994 to 2007, the musicalized
Beauty
expands on Disney's animated blockbuster via new songs by Alan Menken and Tim Rice. Belle, her beastly prince and his castle filled with enchanted household items invite you to be their guest at a limited run presented by NETworks and Broadway in San Antonio.
$35-$95, 8pm Fri, 2pm & 8pm Sat, 2pm & 7:30pm Sun, The Majestic Theatre, 224 E. Houston St., (210) 226-3333, majesticempire.com.
— BR


Sat 10/17
Orchesta Buena Vista Social Club: Adiós Tour


The release of the Buena Vista Social Club's eponymous album in 1997 was something of a musical equivalent to uncovering the Dead Sea Scrolls. The Cuban sound had been ubiquitous in American culture through the 1940s and '50s, be it through Dizzy Gillespie's famed Afro-Cuban Orchestra or Desi Arnaz's portrayal as bandleader Ricky Ricardo on
I Love Lucy
, then with the embargo in 1960 … nothing. The signal went silent. It was easy to imagine, at least from an American perspective, that all the musical, artistic and cultural energy emanating from Cuba just stopped cold with the rise of Fidel Castro and communism. This made the Buena Vista Social Club all the more special: Here was a vanished form, assumed lost for good, suddenly rebroadcasting, and sounding more vibrant than ever. That the voices behind that record — bandleader Compay Segundo, singer Ibrahim Ferrer, pianist Rubén González — were the same musicians that had captured American audiences before the embargo, made the LP's impact that much more substantial. Nearly two decades have passed since Buena Vista emerged from Havana, and those audiences have kept feeling their sound in sold-out shows the world over. To maintain the vitality of the band, Buena Vista has invited a cast of modern Cuban musicians into the fold to further push the sound. Despite the band's many senior members, they've never failed to come alive in concert, a tradition that's continued from their historic first appearances in Havana up through their upcoming show this Saturday at Laurie Auditorium.
$29-$110, 7:30pm Sat, Laurie Auditorium, Trinity University, 715 Stadium Drive, (210) 999-8117, artssa.org.
— J.D. Swerzenski
Click
here
to read our full story on Buena Vista Social Club.
Sat 10/17
Montage Dance Party


Locally owned modern and vintage retailer Montage has earned a solid reputation with its stock of unique clothing and stylish jewelry, but the store's mixers place it far ahead of the competition. In addition to cocktails, beer and hip-shaking tunes (curated by Ben Luhrman), the latest installment of Montage's Moonlight Dance Party series features giveaways from Paper Tiger and Transmission Events, and a photo booth by Anthony Ibarcena to help you remember the night. A portion of the proceeds benefits CASA (Child Advocates of San Antonio).
$20 donation, 9pm-2am Sat, Montage, 423 W. Grayson St., (210) 324-0157, montagestyle.com.
— Sebastian Oates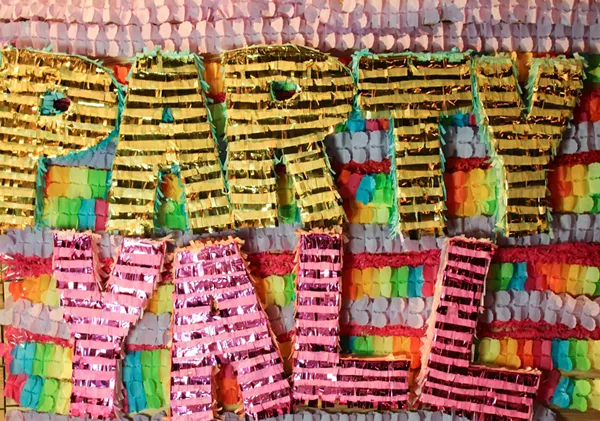 Sat 10/17
Mini Maker Faire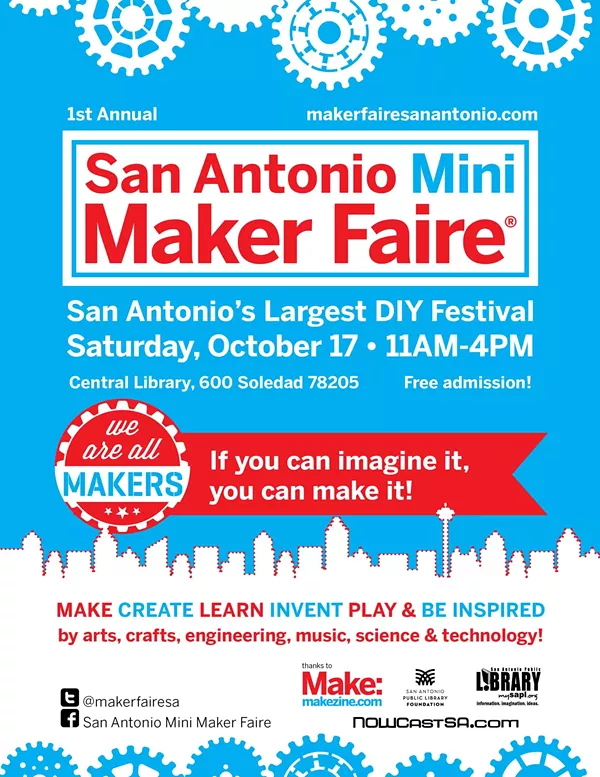 Maker Faire, billed as the "greatest show (and tell) on Earth," is a celebration of maker culture and ingenuity. Maker culture, a term denoting a wide swath of new-age inventors and tinkerers who often specialize in robotics, 3D printing and various electronics, has exploded since the mid-2000s. The original Maker Faire event was held in San Mateo, California, and, in 2014, celebrated its ninth annual show with some 1,100 makers and 130,000 people in attendance. Now, all you San Antonio inventors, amateur engineers and technology-based seekers can get in on the action.
Free, 11am-4pm Sat, Central Library, 600 Soledad St., (210) 207-2500, makerfairesanantonio.com.
— JC

Sat 10/17
Urban Bush Women


Founded in 1984 by Missouri native Jawole Willa Jo Zollar, the Brooklyn-based troupe Urban Bush Women has employed contemporary dance as a medium to explore subjects ranging from the Gnawa musical traditions of Morocco to the work of African-American activist W.E.B. Dubois. Known for its dedication to issues surrounding social justice and the African diaspora, UBW — which has performed on five continents and earned accolades from the National Endowment for the Arts, the U.S. Department of State and the Bessie Awards — lands in SA as part of the Carver Community Cultural Center's 2015-2016 season.
$35, 8pm Sat, Jo Long Theatre, 226 N. Hackberry St., (210) 207-7211, thecarver.org.
— BR
Sun 10/18
Small Black

It has always seemed like Brooklyn's Small Black — which early on in the late-2000s chillwave surge was mixing acoustic and synthetic instrumentation into a delightful, aqueous murk — was way better than most of the acts out of that micro-genre. This show at 502 Bar, just two days after the slated release of the group's exquisite third LP
Best Blues
, provides a great opportunity to look at what the act has done and where it is now. However, fans can expect no major departures here. Small Black just keeps getting more fluent in its own electro-emotive parlance, and churning out rad, synth-driven dream-pop.
$8-$12, 9pm Sun, 502 Bar, 502 Embassy Oaks, (210) 257-8125, 502bar.com.
— JC


Sun 10/18
The Internet


The Internet doesn't sound like an Odd Future Records joint. Fronted by Syd the Kyd and The Martian, the sextet makes songs of love and lust that tread more along jazz and R&B than Odd Future's jarring confidence and braggadocio.
Purple Naked Ladies
(2011) had Syd baring a softer, innocent side backed by Erykah
Baduizm
-era soul and funk that would shadow them under the umbrella of alternative R&B. Two years later,
Feel Good
found Syd more confident with the sensual "Don'tcha" as her pillow-soft vocals exposed a newfound swagger still coupled with her innocent come-ons of "starstruck on all of you."
Feel Good
also found Syd latching onto hooks, ditching aimless jazz-for jazz's sake jam sessions in favor of melodies only Pharrell could possibly produce. No longer the innocent romantic, in
Ego Death
the Kyd is the lovelorn paramour reminiscing on jealous lovers and old flames while fantasizing of "kilos in the back seat" with girls of "cigarettes and sex on [their] breath." Her syrupy falsettos are meshed with the warmth of '70s soul and lush reverb, drawing out bedroom vibes on a Sunday morning.
$20, 8pm Sun, Alamo City Music Hall, 1305 E. Houston St., alamocitymusichall.com.
— Alejandra Ramirez