Courtesy 13th Floor San Antonio
Let's face it. Halloween isn't a one-night affair anymore. The Halloween season creeps up on us earlier every year, and October is jam-packed with events and festivities tied to the holiday. Here's a look at some of the ways you can conjure your Halloween spirit, plus a preview of some of the ways San Antonio plans to celebrate Día de
los
Muertos this year.
The Haunted Houses

Courtesy 13th Floor San Antonio
Nope!
Waiting in a seemingly interminable line to get the crap scared out of you at a haunted house is Halloween tradition. Every year you tell yourself that these annual haunted houses that crop up are so very, very fake, but inevitably your time among the slow-moving horde waiting to get inside is spent building up the unimaginable terrors lurking just around the corner of those confusing, dark passages. Local masochists have plenty of options. 13th Floor, SA's largest haunted house, is luring in
victims
visitors two themed attractions to fill-up on nightmare fuel. There's burial ground, a hotel basement turned tomb, and The Void, which, we don't even want to know.
13th Floor may be the most popular local haunted house attraction, but it's not the only one. Options include Psycho Asylum/Slaughter House,
Fearesta
, and Terror Mansion, which claims to be a haunted house that's actually haunted. If you're looking for some homemade horror, there's Terrors Haunted House, otherwise known as the residence of Halloween enthusiast Mike Valdez. And, of course, there's Ripley's Haunted Adventure for a more family-friendly fright.
Looking for something different? Try Great Room Escape. Get locked a room with 11 other participants and either flesh-eating zombie or a deranged serial killer, depending on the theme. Together you must decipher hidden clues riddles in order to unlock your freedom. And you only have an hour to do it. The immersive experience is extra-terrifying for anyone who is scared of interacting with people.
No matter which haunted house you visit just remember: if things get too real when an ax-wielding murder zombie jumps out right in front of you, just tell yourself, "It's just a seasonal employee. It's just a seasonal employee."
13th Floor Haunted House
$24.99 and up, through Nov. 14, 13th Floor Haunted House, 1203 E. Commerce St., (210) 910-6450, 13thfloorsanantonio.com
Psycho Asylum/Slaughterhouse
$28 and up, through Nov. 14, Pycho Asylum, 1201 E. Houston St.,
psychoasylumsa.com
Fearesta
$17 and up, through Oct. 31, Fearesta, 3363 E. Commerce St., fearesta.com
Terror Mansion
$20.00 (Haunted House), $50 (Ghost Tour), Terror Mansion, 414 W. Laurel St., (210) 226-2666, terrormansionusa.com
Ripley's Haunted Adventure
$20.99 and up, open daily, Ripley's Haunted Adventure, 329 Alamo Plaza, (210) 226-2828,
ripleys.com
Great Room Escape
$39.95, open daily, Great Room Escape, 1203 East Commerce St., (210) 504-4698,
greatroomescape.com/sanantonio


Terrors Haunted House
$5, 8pm, Fri., Oct 23 - Sun., Oct. 25 and Thu., Oct. 29 - Sat., Oct. 31, Terror Haunted House, 300 Escalon, (210) 812-6639, facebook.com/terrorshauntedhouse
The Theme Park Terrors

Courtesy Six Flags Fiesta Texas
Six Flags Fiesta Texas and SeaWorld San Antonio have undergone their annual Halloween transformations, offering a number of special haunted attractions in addition to the usual coasters and thrill rides that bring people out to the park. If the admission price doesn't scare you off — full price tickets for a family of four at Six Flag's FrightFest can set you back around $250 — take the kiddos out for a full day's worth of entertainment. Six Flags has added four new haunted attractions for this year's Fright Fest, including the Chupacabras From Hell scare zone, featuring costumed actors dressed as the legendary goat-suckers. I don't know about you, but the idea of a theme park employee stalking me in a chupacabra get-up sounds even more terrifying than an actual chupacabra. Also new are Slaughterhouse 6, a haunted mansion featuring creepy, murderous farm children, and Nightmares, a maze that forces you to confront your greatest fears. (There is an additional fee for both attractions.)
Over at SeaWorld. there's
Unearthed Scarlett's Revenge
, a haunted house attraction featuring a terrifying demon who was buried beneath the park and mistakenly unearthed by park maintenance (or so they say). SeaWorld tapped
The Blair Witch Project
producer Robin Cowie to craft a demented, demonic storyline. The attractions' trailer already has us saying a resounding, "Nope!"
Six Flags Fiesta Texas Fright Fest
$59.99 and up, through Nov. 1, Six Flags Fiesta Texas, 17000 IH-10 West,(210) 697-5050, frightfest.sixflags.com
SeaWorld Howl-o-Scream
$60- $124.75, through Oct. 31, SeaWorld San Antonio, 10500 Sea World Dr., (210) 523-3000, seaworldparks.com
The Zombie Mayhem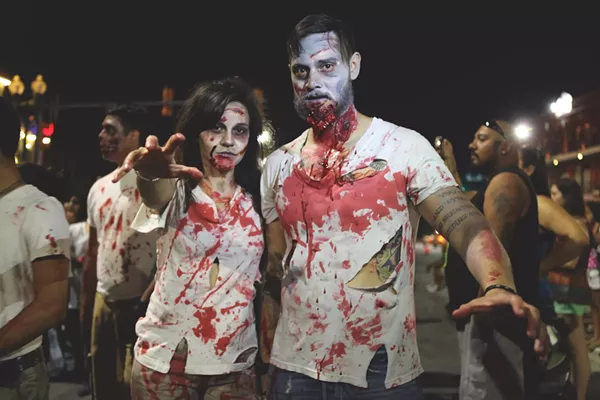 If you're the type to have detailed zombie apocalypse plan in place, don't be alarmed this Sunday when downtown is seemingly overrun with the undead. That flesh-eating horde is very much alive, so no need for the machete. This Sunday is the annual San Antonio Zombie
Walk,
when hundreds of locals rip their clothes and paint on their best zombie face to shuffle through the streets of downtown. But it's not the only zombie-themed event happening this week.
On Tuesday, the San Antonio Tuesday Night Bike Club is hosting a zombie ride at Alamo Beer, benefitting the Texas Diaper Bank. And this weekend is the 4th annual Zombie Con, featuring local authors and artists, zombie memorabilia, plus a zombie costume contest, a brain-eating
contest
and a zombie rave.
San Antonio Tuesday Night Bike Club Diaper Drive and Zombie Ride
Free (packaged diaper donations encouraged), 6pm, Tue., Oct. 20, Alamo Beer, 202 Lamar St., facebook.com
Zombie Con 2015 - Defcon Z
$10, 5pm-12am, Sat., Oct. 24, Plaza Del Rey Ballroom & Bingo Hall, 2716 Fredericksburg Rd, zombiecontx.com
San Antonio Zombie Walk
Free, 5pm, Sun. Oct. 25, Tower of the Americas, 739 E, Cesar Chavez, facebook.com

Día de Muertos Details
Courtesy
Muertos Fest is early this year.
The annual Día de
los
Muertos celebrating brings the holiday early this weekend at La Villita. The two-day festival will feature live music, including Girl in a Coma, performed at the Arneson River Theater, original art from many local artists, a procession, a living altar, and more. This festival boasts the largest open altar exhibition in San Antonio, plus a procession, a zombie bazaar, art vendors and more.. This is only the first of the many Día de
los
Muertos celebrations taking place over the next few weeks. There'sSAY Sí's Muertitos Fest, Dia de Los Perros and more. Here are some of the many Dia De Los Muertos celebrations happening around town.
Día de los Muertos at La Villita
Free, 10am-11pm, Sat., Oct. 24, 12pm-10pm, La Villita Historic Arts Village, 418 Villita St., muertosfest.com


Dia De Los Muertos at Traders Village
$3, Sat., Oct. 24, 12pm, Traders Village, 9333 SW Loop 410, (210) 623-8383, tradersvillage.com
Guadalupe Cultural Arts Center Día de los Muertos Celebration
Free, 2pm-7:30pm, Sat., Nov. 1, Guadalupe Cultural Arts Center, 723 S Brazos, (210) 271-3151, guadalupeculturalarts.com
SAY Sí 9th Annual Muertitos Fest "Noche en Oaxaca" Opening Night Fundraiser

$35-$40, 7pm-10:30pm, Thu., Nov. 5, SAY Sí, 1518 S Alamo, (210) 212-8666, classy.org

SAY Sí 9th Annual Muertitos Fest First Friday
Free, 6pm-10pm, Fri., Nov. 6, SAY Sí, 1518 S Alamo, (210) 212-8666, classy.org
SAY Sí 9th Annual Muertitos, Family Day
Free, 12pm-4pm, Sat., Nov. 7, SAY Sí, 1518 S Alamo, (210) 212-8666, classy.org
Dia De Los Perros
$16-$27,12pm, Sat., Nov. 7, The Cove, 606 W Cypress, (210) 227-2683,
facebook.com
This is just a small sample of ways you can get your Halloween on this month and beyond. Stay tuned for more events, including family-friendly fare, haunted tours and more.